Google has already told us that the Pixel Watch 2 will show up on October 4 at a Made by Google event and that we'll be able to pre-order it right away. There are still some things we don't know, though, like pricing, specifics on feature and hardware changes, and the options we'll have should we decide to buy. According to information we've viewed today that has been reliable in the past, we believe we know the color choices for both LTE and WiFi/Bluetooth models, as well as the colors of upcoming bands, included the new Sport band.
Pixel Watch 2 case colors: The original Pixel Watch shipped last year with cases that were Champagne Gold, Matte Black, and Polished Silver. Depending on the case, Google then swapped out their Active band for colors like Hazel, Obsidian, Charcoal, and Chalk. For the new Pixel Watch 2, it doesn't appear that things will change much.
The info we've reviewed shows the Pixel Watch 2 coming in Gold, Black, and Silver cases once again, with both LTE and WiFi models getting all three colors. The in-the-box included Active band might also be pretty similar, where Gold will find a Hazel band, Black with find an Obsidian band, and Silver will come with two choices. Those choices will be some version of a "White," possibly Chalk or Porcelain band. The other choice will be "Bay," which depending on the color site you view, is either a cool green or brown.
For reference, here are all of the non-US Pixel Watch 2 model numbers with their colored bands:
LTE & WiFi (Silver/White): GA05027-GB, GA05031-GB
LTE & WiFi (Silver/Bay): GA05028-GB, GA05032-GB
LTE & WiFi (Gold/Hazel): GA05026-GB, GA05030-GB
LTE & WiFi (Black/Obsidian): GA05025-GB, GA05029-GB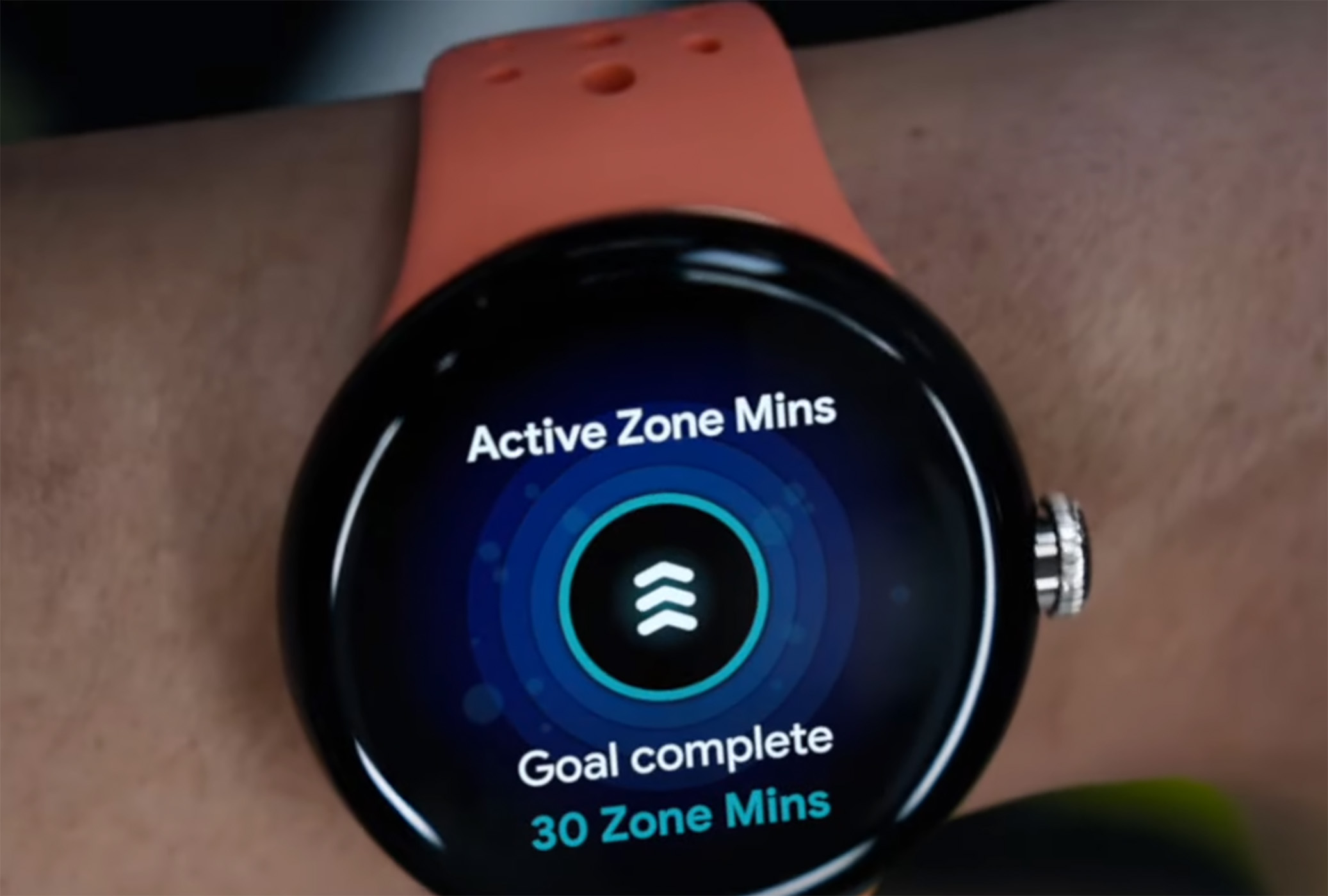 New Pixel Watch 2 Sport bands: Now, because this is a new watch launch, you kind of need to release some new watch bands to accompany it, right? The Sport band that was seen during the Women's World Cup on the wrist of Megan Rapinoe in a Google ad (above) is on the way in other colors. Rapinoe is wearing what I'm going to assume is the Coral (GA05167-WW) version of the Sport band, which has holes throughout like you might find on what is often referred to as a racing watch band.
We also expect the Pixel Watch 2 Sport band to come in Hazel (GA05065-WW), Moondust (GA05166-WW), Obsidian (GA05064-WW), and Porcelain (GA05068-WW) shades. There should be small or large size choices, as well.
While we've seen this band referred to as being for the Pixel Watch 2, Google sent this band to Pixel Superfans in recent weeks to wear on their original Pixel Watch. That's good news for those of us hoping to be able to continue using our current line of watch bands on the new Watch 2.
Faster charger? If there is one bit of fun new info here, it's the listing of a "Pixel Watch 2 USB-C Fast Charging Cable." It's hard to know what that means when suggesting it'll be "fast," but anything is likely faster than the slow 5W wireless charger that the Pixel Watch has right now. While the Pixel Watch doesn't have a large battery – and the Pixel Watch 2 isn't expected to be much bigger – slow charging on a smartwatch is a frustrating thing to deal with, especially if you have to charge them everyday. Should this listing truly be suggesting an improvement, we'll take it.
For the rest of all that is new with the Pixel Watch 2, be sure to read through our breakdown of Google's first teaser.