After reviewing the Galaxy Z Flip 4 last year, I spent a good chunk of time with it on a personal level, with my reviewer hat off. I genuinely enjoyed using that phone for an extended period of time and even watched as my wife adopted one as her own. But that love of the Flip 4 from my end didn't last that long because the Pixel 7 showed up a couple of months later and was an absolute winner. So I was curious how I might take to the new Galaxy Z Flip 5 and if it could win me back, especially with its one major improvement.
Well, I've spent the past couple of weeks with a Flip 5 that Samsung sent over to review and I certainly have plenty to say about it. That said, there also isn't really much new to say because not a lot has changed outside of the new cover display. So let's try to unwrap those two things and see if we can help you decide whether or not to buy one.
Here is our Galaxy Z Flip 5 review.
What do I like about the Galaxy Z Flip 5?
Design and hardware. There are two major design changes for the Flip 5 over previous Flip foldables. Samsung figured out a way to get the hinge to work in a way that brings the two halves together so that they are almost flat. The big hinge gap from older models is gone and it really helps this phone look polished and refined. The other big change is through the cover display, where Samsung put a 3.4-inch Super AMOLED panel in an odd shape that takes up almost all of the cover area.
Those two items alone show the maturity of Samsung as a foldable maker. They only needed to slightly tweak things to get to this place of design perfection because they were already almost there. And yeah, I'd say this flip phone design is about as perfect as it gets.
I say that because the phone is the perfect width to hold in a single hand when open. There are perfectly balanced bezels on the inner display, which is the one you'll look at the most. The fingerprint reader that doubles as the power button is exactly where it needs to be. And the folding mechanism clamps together in a way that isn't harsh or too powerful – it just bumps together so eloquently.
So you now have this big cover display to show you more information, one of the best hinge systems in the business, and more polish in every other area. You can't get better than this in flip phone form, at least from what I've seen in this market.
Display (inside). Samsung is using a 6.7-inch FHD+Dynamic AMOLED display with 120Hz refresh rate on the inside of the Flip 5. It is a bit excessive in length and ends up as this elongated weird shape, but it isn't super wide while you are holding it. That leads to effortless one-hand usage, where you can reach across the phone without much work.
When you stare at the display as you do whatever it is you do on a phone for hours, you get a vibrant picture that gets surprisingly bright in outdoor situations. It's also incredible at holding proper color at various viewing angles, has this softness when you slide your finger across it, and is quite responsive. It might not be the quickest of all displays as it tries to follow your finger, but it's plenty quick. Samsung is also letting it get very dim when you need it to, has continued to include dark themes and adaptive brightness and blue light filters as well.
I have zero complaints about the inside display that Samsung used here. For a piece of glass that folds to look and feel this good when using it, I'm just so impressed.
Software. The Galaxy Z Flip 5 runs Android 13 out of the box with Samsung's One UI 5.1.1 on top. It'll get 5 years worth of updates and 4 Android version updates, so it'll be supported for a really long time, just like all Samsung phones. If you buy a phone like the Flip 5, you are essentially buying into the best software update support in the Android industry. By the time you've read to this point in this review, the Flip 5 will have received an update – mine is downloading the August patch right now.
When it comes to the software itself, Samsung continues to load up its phones with an absurd amount of settings to tweak and other phone-specific features to take advantage of. Since this is a foldable, you get two screen experiences with two very different software experiences. I actually think the cover screen software is one of the weaker points of this phone, but we'll get to that later in this review. The inside screen's software is very good.
The Flip 5 has all of Samsung's good One UI ideas, like its support of Android wallpaper and style colors, a plethora of settings for your lock and home screens and sounds and vibrations and notifications, all of the lovely display settings I use regularly (referenced above), and some fun Labs stuff that you might need to go looking for. Samsung's One UI is still mostly quick, is still themed to a mostly on-trend style, and doesn't mess with core Android features, namely notifications.
Where the Flip 5 shines is when the phone folds. I can't begin to describe how handy it is to jump on a video chat and fold the phone to any angle so it can be set down while you chat, freeing up your hands. The same goes for taking photos with other people where you might not want to have to hold the camera.
The software gets an A- for me and I'll get into why as we get into the cover screen later. Mostly, though, Samsung is doing a lot right still with One UI. And hey, One UI 6 and Android 14 are right around the corner.
Performance. Samsung is powering the Galaxy Z Flip 5 with a Snapdragon 8 Gen 2 chip from Qualcomm, 8GB RAM, and 256GB or 512GB storage. This phone is typically pretty quick at most tasks. I've played tons of Pokemon GO on it, read my share of Threads, scrolled Instagram, watched YouTube videos, and sent hundreds of messages through Telegram on it. It handles those things as you would expect.
Where I would complain some is where you find these odd hiccups in the UI, mostly when using the gesture navigation system. I know that I just talked about how Samsung's software is pretty great, but it also might be getting extremely bloated at this point. What I'm talking about is this hitch or hiccup that happens when in an app and you swipe up to either go home or to the app switcher or to quickly switch apps. It just pauses and vibrates in this awful way before finishing the task. And I want to blame the software because my Galaxy S23 does the exact same thing. It is a One UI issue.
But overall, this phone will run as smooth as you'll need it to about 95% of the time. The high refresh rate display is helping there too, but this Qualcomm chip has proven to be another good one.
Fingerprint reader. You know I had to shout out the fingerprint reader that Samsung used here. Yes, we once again get a side-mounted fingerprint reader that is a part of the power button. It is also once again incredibly fast and works every single time you need it to. Using a phone without those trash in-display fingerprint readers is such a wonderful thing.
Camera. The camera setup here is fine. While not necessarily an improvement over the Z Flip 4 (it's the same camera setup – 12MP ultra-wide + 12MP wide), which wasn't really better than the Flip 3, things aren't worse. If anything, this is a solid shooter when you need it in most situations, it just won't ever be considered one of the best. That's unfortunate for a $1,000 phone, but also not surprising. Cameras in most phones these days are good, if not great compared to years ago, you just won't find a next-level shooter here like you might find on the Galaxy S23 Ultra or Pixel 7 Pro.
All of that may sound like I'm being extra critical about this phone, but I think it's more of me just accepting the fact that Samsung is doing the bare minimum on a $1,000 foldable phone. That's both sad and is-what-it-is level stuff. The camera isn't bad – it's also not amazing. Again, it's fine.
The camera here is quick to load, focus, and snap in all of the situations I needed it. I found it locking on faces to be particularly quick, which is wonderful when you have a child who moves. Its portrait mode can be good at times and also overdo it with the blur too. It's solid with landscape shots, as you might expect a modern camera to be, and decent enough with low lighting. I took a bunch of photos on a little outing in the Columbia Gorge a week ago and thought the phone took several excellent shots. In fact, I'm not sure it took what I would consider to be a really bad shot, and so that left me confident in the camera going forward.
Samsung's camera app remains bloated with more features than I care to describe. It's perfectly good at just being a camera, though. So if you never touch a single setting and simply open it to shoot photos, it'll be great. If you want manual controls and hyperlapse things and night modes and portrait videos, it has that. It'll scan QR codes, optimize scenes automatically, let you shoot in HEIF, and so much more.
And to make this as clear as ever that this isn't a top tier camera, here's an indoor low light shot from the Z Flip 5 compared to the iPhone 14 Pro. Both shots are fine, but it's quite obvious how much better a high-end camera is than Samsung's Flip line.
Galaxy Z Flip 5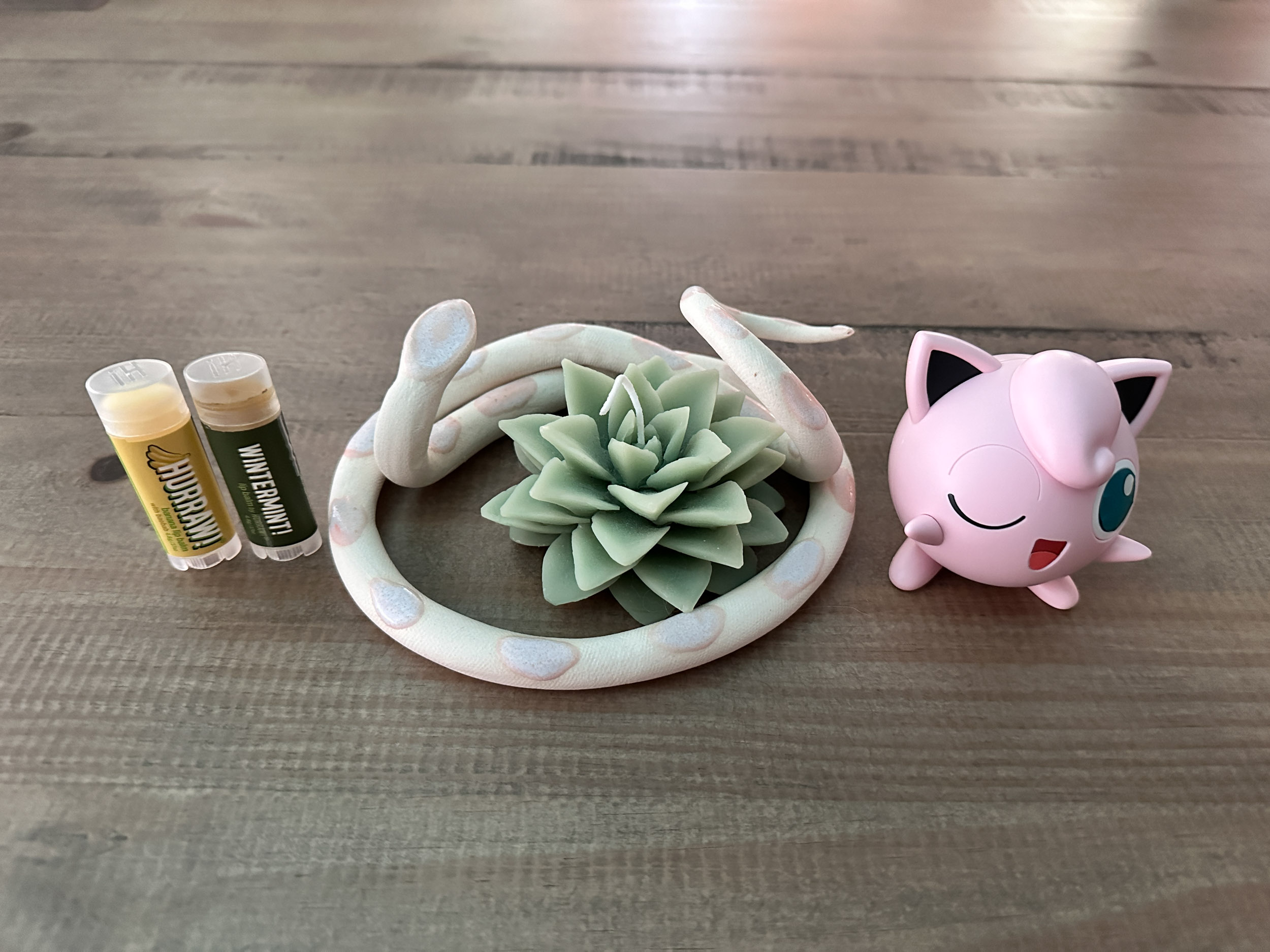 iPhone 14 Pro
What's bugging me about it?
The cover screen. I know I mentioned above that the new and bigger cover display is a big addition to the design and hardware of the Flip 5, but that doesn't mean it is any good in use. I've already written a pretty long piece on how limited the new cover screen is and I highly recommend you read that to get the full picture.
But in short, the new cover screen is indeed bigger. It shows more information and can be customized in a handful of fun ways. Unfortunately, Samsung limited it in ways that I find inexcusable. You can't really do much on the cover screen. You can't respond to all messaging apps or access the quick settings actions you find in regular notifications. You can't just run any app you want on it. It was supposed to help you limit the number of times you needed to fully open the phone, but it doesn't do that at all.
The software on the cover screen, if I'm being brutally honest, is shit. It's as if they slapped their Galaxy Watch horizontal card system onto a phone cover as if that would be a good idea. But that means notifications are busted and don't work like they should. The panels that you can add to the screen aren't very useful because they are of Samsung's choosing. And you need 3rd party software in order to fully unlock what Samsung should have let you do out of the box.
I've had this phone for however long now and I rarely use the cover screen because it will only force me to open the phone anyway. It is so far a waste of a good idea. Here's to hoping Samsung listens to some criticism and opens this thing up.
Unfolding it all of the time. I think back to last year when I was heavily using the Z Flip 4 and I think the reason I left it for the Pixel 7 wasn't just because the Pixel 7 was awesome. I think I was tired of opening and shutting a phone to do any little task. After spending this review period with the Flip 5, I'm already starting to feel that fatigue.
What's frustrating about that is that I went into this review hoping that wouldn't happen because we had this new cover screen. Well, you know how I feel about that, and so yeah, the cover screen didn't solve flipping fatigue and has instead kept me tired. I just don't want to open a phone all of the time, but that's what you do with a flip phone.
The bigger foldables like the Galaxy Z Fold 5 and Pixel Fold make so much more sense to me. You can do almost everything you would on a regular phone from their outer displays, but then you get this bonus on the inside that's a mini tablet. The big issue with those devices is weight and portability, of course, but I'm leaning towards accepting that over a flip phone that gives me no choice other than to open dozens if not hundreds of times in a day.
Battery life. In my Flip 4 review, I raved about battery life with the Snapdragon 8+ Gen 1 that Samsung included. For the Galaxy Z Flip 5, I was expecting similarly great battery life, knowing the battery was the same size (3700mAh) and that we had already seen the Snapdragon 8 Gen 2 work magic inside the smallest Galaxy S23. Unfortunately, something is off here. Battery life on this Flip 5 is not good at all. I can barely get this thing to last me through an entire day, and I'm not even heavily using it.
The heaviest usage day I captured a screenshot of showed 2 hours of screen on time and 19% battery at 10PM. I had other days where I was under 2 hours of screen on time and had around 30% left, but that's hardly using the phone. I know the types of users who are reading this and are probably in shock at those numbers. No, this phone isn't going to get you 4-5 hours of screen on time in a day – you will be looking for a charger. And let's hope you have a 25W charger laying around or you'll be waiting.
Should you buy a Galaxy Z Flip 5?
We are starting to say this every year, but if you don't already own a Galaxy Z Flip and want a foldable flip phone, the Galaxy Z Flip 5 is the one to get. If you own one, the upgrades here aren't really a big enough deal to make that swap, unless unlike me, you somehow find that the cover display software is usable.
But really, what we have is a flip phone with an upgraded processor, new hinge system, and a bigger cover display that has good software and support, a nice inner display, decent camera, and pretty poor battery life. It's a mixed bag that essentially meets the flip phone story that's told every year.
This is a solid phone that folds in half and costs $1,000. Try to save some money on it with a trade-in to make its weaker areas hurt less.