RootMetrics released two reports this week: US State of the Mobile Union and State of 5G in the US. The takeaway? If you're a mobile customer in the US, especially in a metropolitan area and regardless of which carrier you pay each month, you're living the good life.
The reports detail that every carrier is doing pretty darn well, not just in reliability but in 5G speed (by US standards). In their testing, AT&T won or shared the most United States RootScore Awards of any carrier for the fourth consecutive time. This includes wins in speed, data, calls, and texts. However, it's not as if Verizon and T-Mobile are slouches. Each carrier scored in the low to high 90s. Again, pretty much everybody is a winner in the latest reports.
RootMetrics was a bit more clear about its 5G winner, that being T-Mobile in the first half of 2023. In 5G Availability, T-Mobile wins. 5G Speed? T-Mobile wins. The only loss came at the hands of Verizon who took the dub in 5G Reliability.
In its report, RootMetrics wrote the following, which we think is important to note. "T-Mobile delivered the best combination of 5G availability plus speed of any carrier in 1H 2023, while also offering the top 5G reliability in 25 markets, an increase from 19 in 2H 2022. While T-Mobile's tally of 5G reliability wins trailed those of AT&T and Verizon, T-Mobile improved its 5G reliability and continued to lead the competition for both 5G availability and speed, allowing T-Mobile to provide the Best 5G experience for the fourth consecutive test period."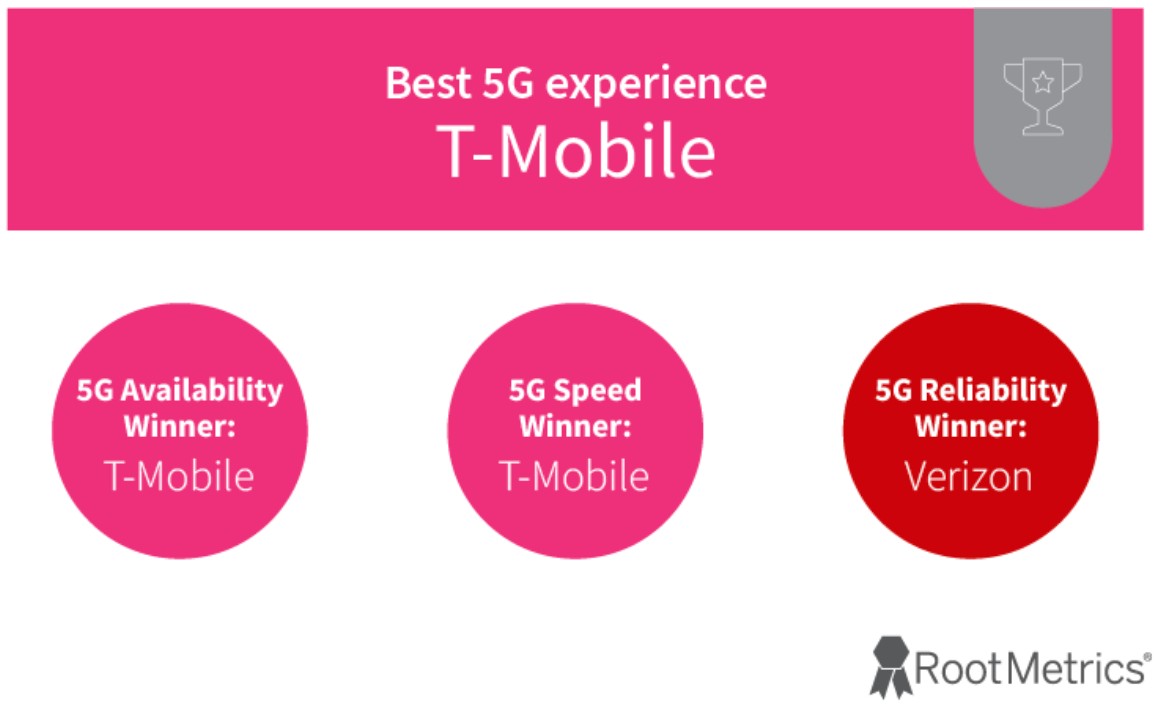 To view the full reports and sweep through the data, follow the links below. Plenty of information and useful graphics to be had.
// RootMetrics [2]