Something weird has happened in recent years – I've become a case fan. I know, it's probably weird to hear me admit that. But after spending the better part of a decade keeping my smartphones naked, the designs of smartphones have turned me toward finding the best thin cases out there to take some of the edge off and give me a bit more grip while trying to preserve their $1,000 exteriors.
At the moment, I'm still on the smallest Galaxy S23. This phone, in my opinion, is borderline perfect on almost all levels. The size is excellent if you aren't into massive phones, but the battery life is surprisingly superior to my Pixel 7 and almost any other smallish phone. The camera is solid too and Samsung's One UI is good enough as long as I avoid the built-in launcher. I love this little phone, which you already know.
That said, this phone is both slippery and sharp if you don't have a case on it and that's why I've tried to find the best thin Galaxy S23 case out there. I went thin because the small size is one of the main reasons I love this phone, so I didn't want to add any bulk. Here's what I've settled on and regularly dance between: Peel and Pitaka cases.
Best Thin Cases for the Galaxy S23 Series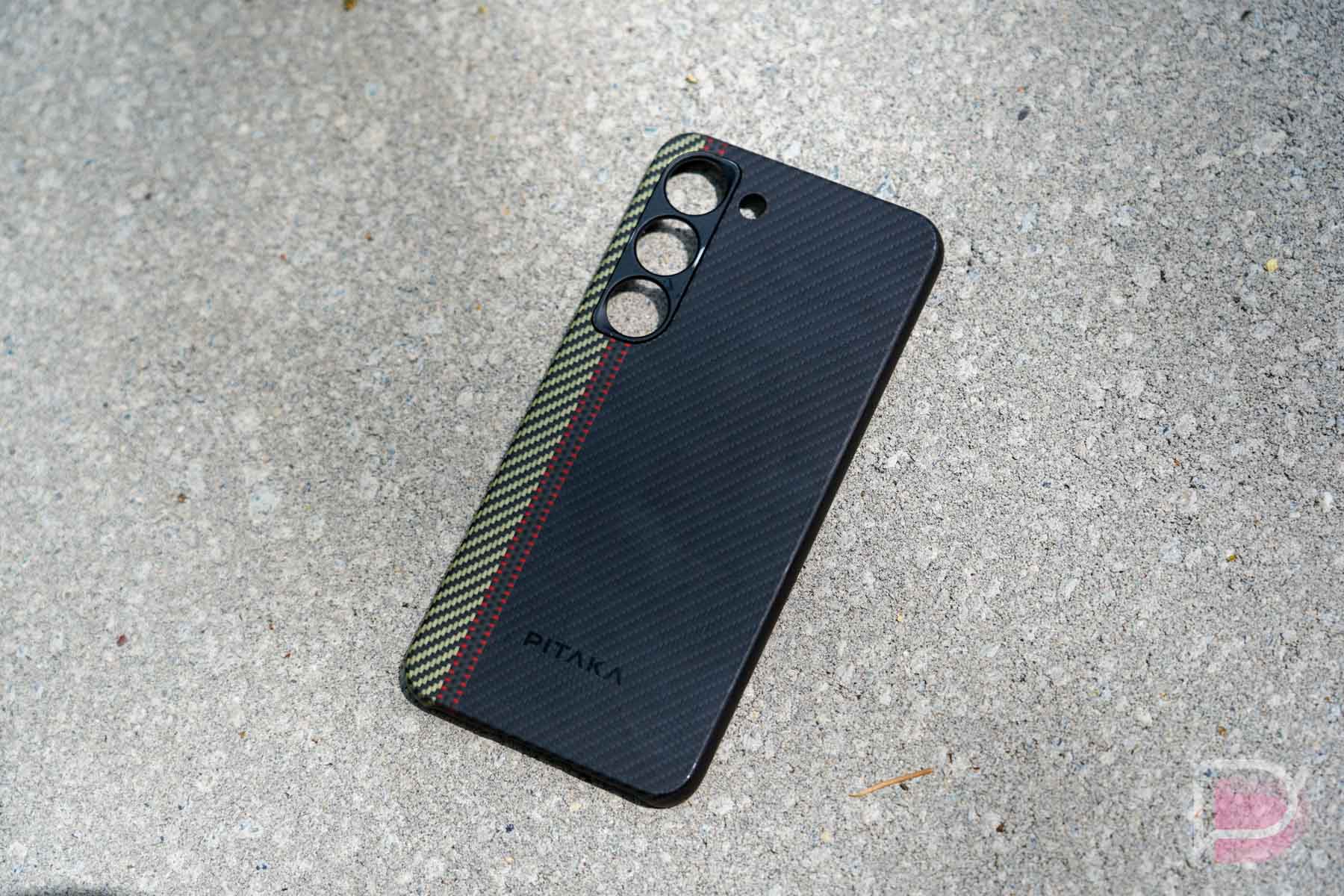 Pitaka MagEZ Case 3
I've talked about Pitaka cases in the past and absolutely understand that they aren't for everyone. I also get that they are ridiculous expensive for a case. I still like them a lot. They offer up an extremely thin yet durable amount of protection, leave panels open for ports and buttons, and can use all of the MagSafe accessories that were once only available to iPhones.
The latest Pitaka case for the Galaxy S23 that I've been using is the Pitaka MagEZ Case 3. This case is available for the Galaxy S23, Galaxy S23+, and Galaxy S23 Ultra. It typically costs $65 (!). Again, I know that's insane.
These Pitaka cases essentially made Aramid Fiber super popular in thin cases, fit insanely well, and now come in a variety of colors or patterns instead of just plain ol' carbon fiber weave. I own the "Overture" color way you see here and I think it's pretty slick.
I love them because they attach with an insane amount of rigidity. Like, these cases are hard to remove and I think that's a good thing. They also leave open side and bottom gaps for buttons and ports. Most cases cover these things, but I actually like to still touch the actual buttons when controlling power or volume and Pitaka cases allow for that.
And then yeah, the MagSafe stuff is pretty great. For those not familiar, Pitaka cases feature a circular magnet on their inside to attach to MagSafe accessories like chargers. So all of those fancy iPhone chargers that suspend an iPhone in air and look super cool, can be used with a Galaxy S23 if it has a Pitaka case.
This is by far my favorite case, but feel free to try and find a cheaper alternative on Amazon. Just look for a combination of "aramid fiber" and "thin galaxy s23 case" and "magsafe." That should turn up some alternatives, I just happen to have used this case and can easily recommend it if you don't mind spending that kind of cash.
Amazon Links: Galaxy S23 | Galaxy S23+ | Galaxy S23 Ultra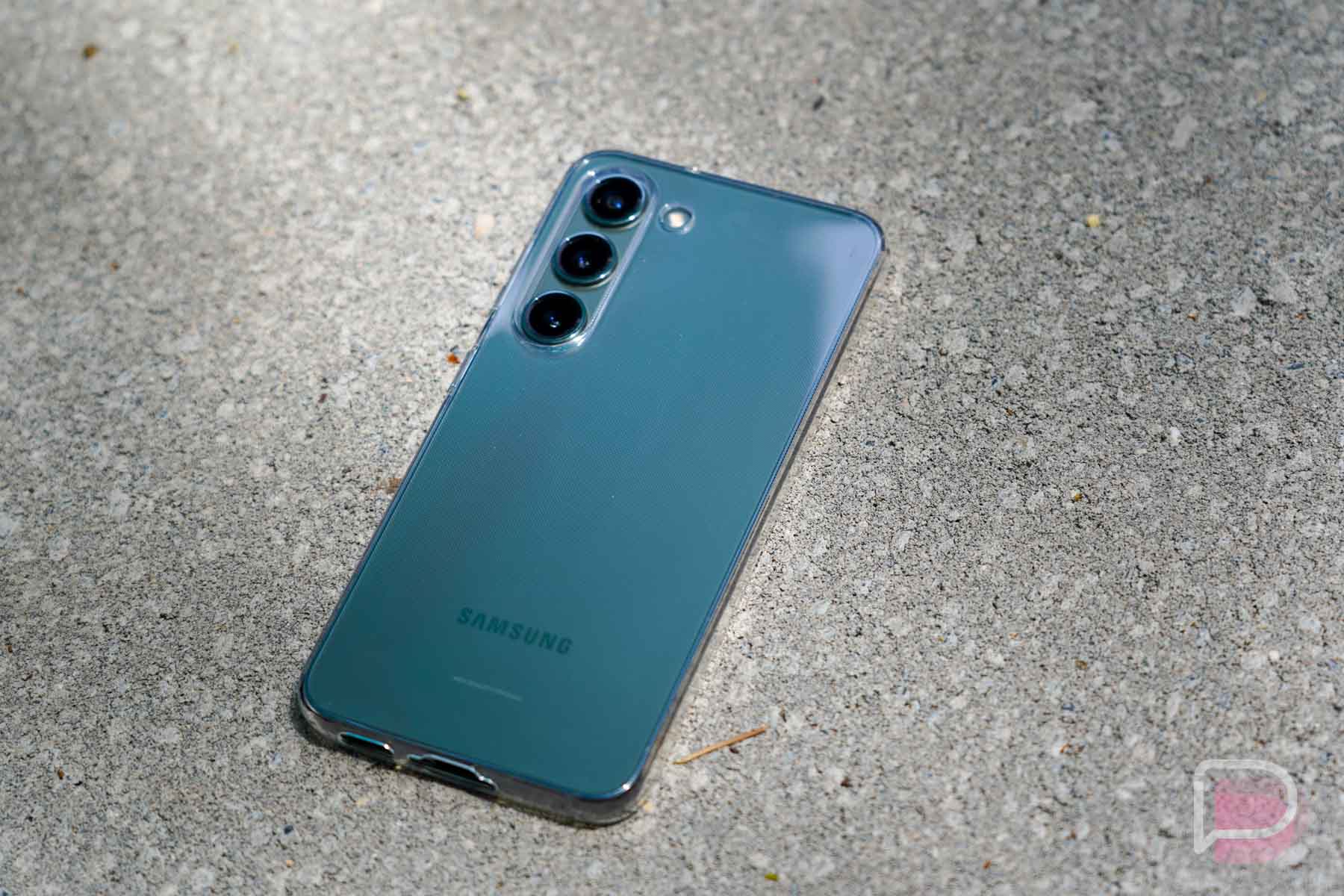 Peel Super Thin Samsung S23 Case
The other case I love because (again) I've actually used it is the Peel Super Thin series for the Galaxy S23. Peel has been around for a long time and was one of the first to really push super thin cases for smartphones. Plenty of brands have copied them, but these still carry good quality and often offer you various color and softness options.
For the Galaxy S23 series, Peel is only offering the Super Thin Case in "Clear," which is like a thin and softish clear TPU. It feels wonderful in the hand even if it does cover buttons and provide all-around protection with cutouts on the bottom. What I can tell you is that it is still extremely thin, but the softness to its finish, along with the clarity, really make for an excellent fitting case.
I do wish they offered more colors, but it's obvious that the iPhone market is much bigger for them than Android. For example, they offer 10 different colors and finishes for the iPhone 14 Pro line and only this single clear color for the Galaxy S23. I own the Jet White Super Thin Case for the iPhone 14 Pro and it's awesome.
Peel offers this case for the Galaxy S23, Galaxy S23+, and Galaxy S23 Ultra in case you are interested. It's semi-expensive, like the Pitaka case, coming in at $39. You have to order it direct from Peel too.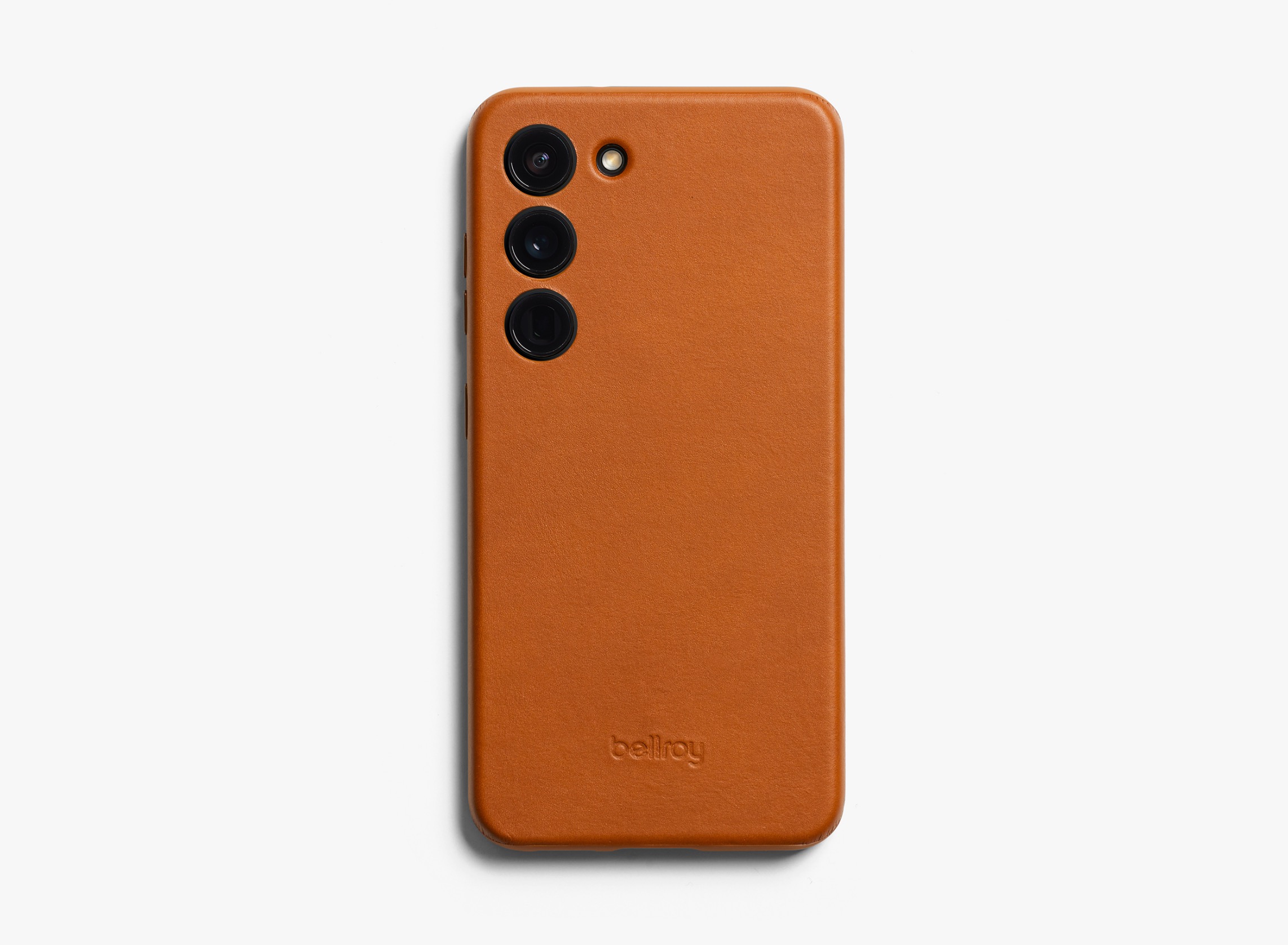 Other super thin Galaxy S23 case options
So those are the two that I use and can recommend, but I get that they are stupidly expensive and probably not something you would want to pay for. If that's the case, here are a couple of other options to consider:
Spigen Thin Fit (Shop): You can't ever go wrong with a Spigen Thin Fit case, especially on a Galaxy S23 device. While not the thinnest of them all, this is still a thin case from one of the best case makers in the game. They also run cheap at under $20 and come in a handful of colors.
PHNX Galaxy S23 Thin Case (Shop): I believe this company used to be called MNML and they used to make really nice thin case alternatives to Peel. They make a super-duper thin Galaxy S23 series case that's $29, which is $10 cheaper than the Peel case and comes in 3 colors options.
Bellroy Leather Case (Shop): And finally,  the Bellroy Leather Case is a classic on any phone, but would look stunning on a Galaxy S23. This is not technically a thin case, but it's thin enough and if it's like any of the old Belloy Leather Cases, it'll be great.
What am I missing – what other thin Galaxy S23 cases are you loving?