This is going to sound wild when I say it, but Google announced in September of last year that Google Assistant reminders would move over to Google Tasks as the default app for them going forward. They said that change would happen "soon," so we figured within a few weeks or even a couple of months. That change is only now rolling out to everyone and you can go ahead and set it up immediately if you aren't prompted to do so.
So we're on the same page, I'm talking about the reminders that are created from you shouting "Hey Google, remind me to buy beer at 4PM!" That's a reminder that Google Assistant has handled forever. Assistant would even contain a list of reminders you could manage as essentially the hub of your reminder life. Since that never really made much sense, Google has decided that Google Tasks is a better location for those reminders to live. While this is yet another weird change by Google, I think it will ultimately be the right move without Google releasing an app called Google Reminders.
A couple of Google Tasks updates rolled out this week that have now triggered the change. The latest update I received this morning is 2023.05.08.530550774.1.
Once you have that new version of Google Tasks, you may receive a notification saying the following:
See reminders in Google Tasks: Better organize your to-dos using lists, sorting and more. You can still use your voice to set reminders with Google Assistant.
Should you not see an automated prompt about the change, you should be able to manually start the process by saying "Reminders" to Google Assistant.
If you tap on that notification or the "Start setup" button, you'll be taken to a new screen that tells you all about seeing reminders in Google Tasks, that you can continue using your voice with Google Assistant devices, that it'll be the one-stop shop for all of your reminders, and it works with Gmail and Chat because it has become the central hub for these types of activities.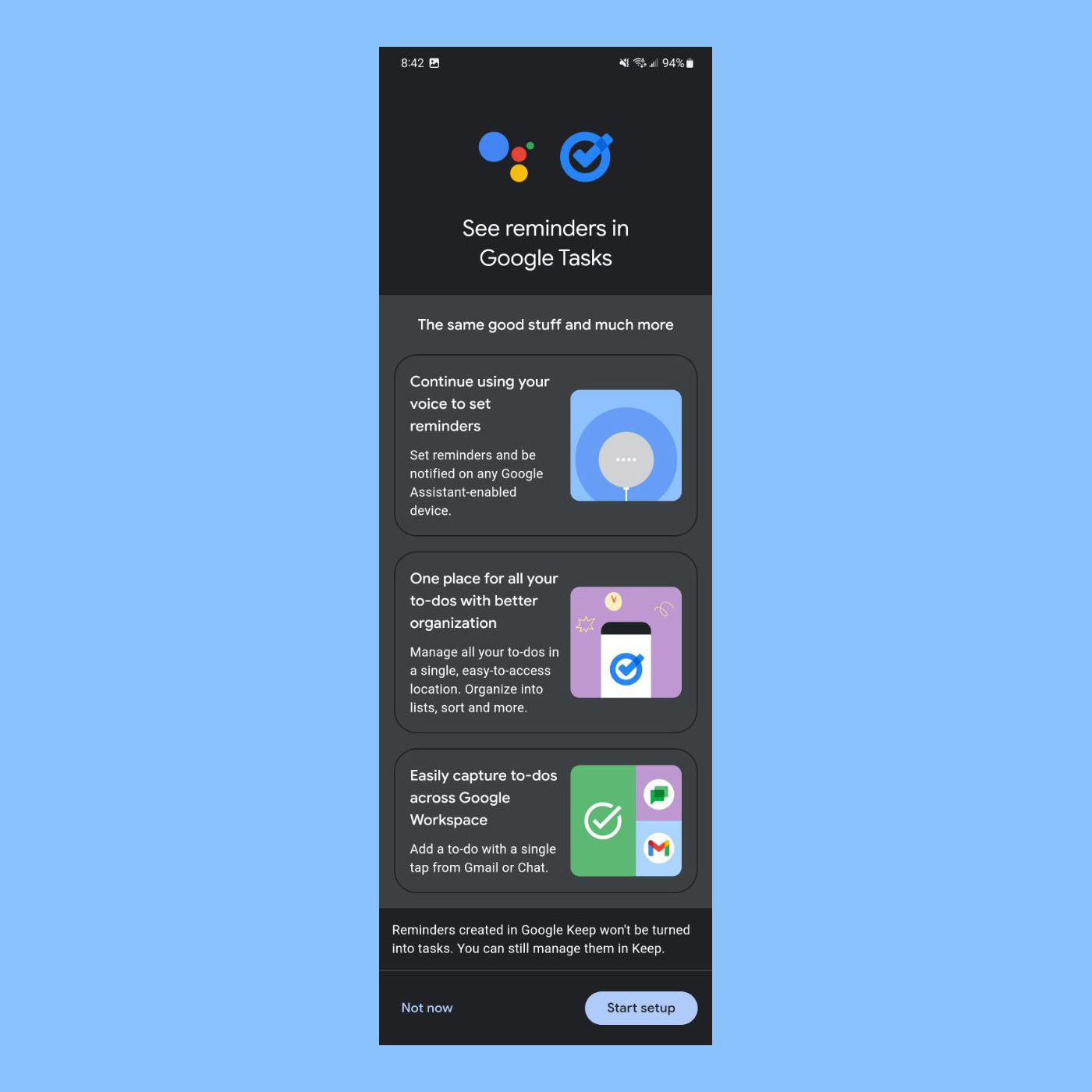 Once you click another "start setup" from that screen, Google will then attempt to import any remaining Assistant reminders you have into Tasks. For example, I had at least 4 and they are all now, including a couple that I had created this morning before the change went live. It took a couple of minutes, but we're all good.
You should also see a pop-up about notifications from Tasks. If for some reason you have not turned on notifications for Google Tasks, you'll want to do so to get notifications about your reminders. You can do this from the prompt informing you of this or by heading into Settings>Apps>Tasks and then switching Notifications to "Allowed."
For those curious, Google Keep reminders are separate from these. You can still maintain and manage Keep reminders within Keep. However, going forward, if you shout at Google Assistant to set a reminder, it'll load that into Google Tasks.
Get used to Google Tasks, friends.
Google Play Link: Google Tasks