Peloton has made a serious move today to try and get folks looking to meet fitness goals to do so through the Peloton app. A new set of tiers will get you started with Peloton for as little as free – yes, I said free.
Now, before we get too far into this story, understand that we are talking about the Peloton app and not their bike or treadmill or rower. If you own those, you already pay a monthly subscription to get access to all of the classes that Peloton offers. Instead, we're talking now about the app, which is targeted at folks who want to take advantage of the thousands of fitness classes that Peloton offers, yet don't want to own Peloton hardware.
To provide a basic breakdown of the new Peloton App plans, you really only need to consider there being a free, introductory tier with limited access, a middle tier that gives you good access to most services with a limit on cardio equipment classes (like those for your own treadmill, spin bike, and rower), and a tier that gives you unlimited access to everything.
Here are the prices for the new Peloton app tiers and a matching comparison chart:
Peloton App Free: $0 – Limited amount of free classes on cardio equipment, plus limited free classes for strength, cardio, outdoor running, etc.
Peloton App One: $12.99/mo – Unlimited classes for strength, cardio, outdoor running, access to programs and challenges, only 3 classes per month for cardio equipment.
Peloton App+: $24/mo – Unlimited access to everything, including exclusive classes and cadence tracking.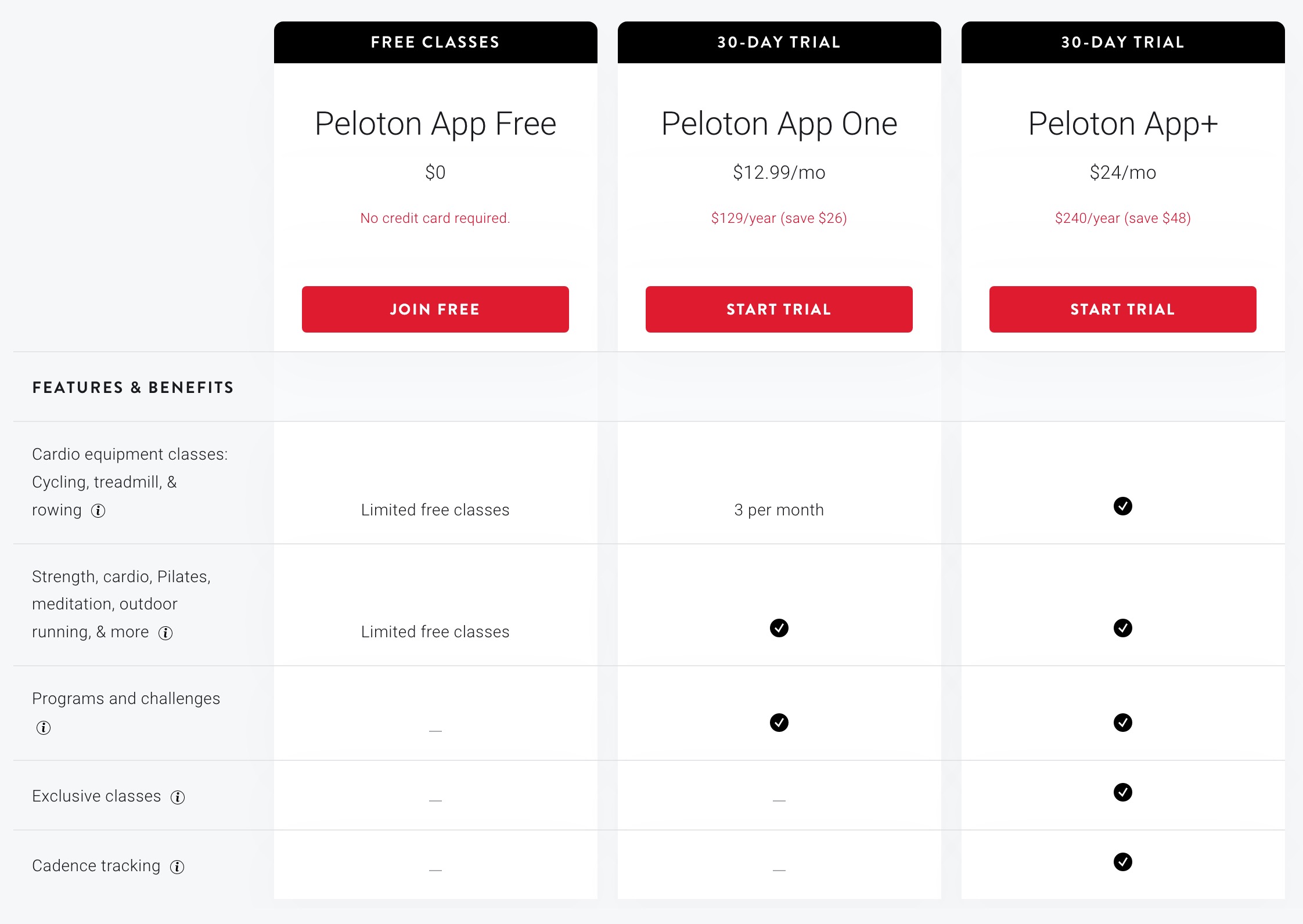 So to recap, Peloton does offer a free tier through its app now, with "limited free classes" of both cardio equipment and the other types of fitness classes. Peloton suggests this tier for those just getting started on a fitness journey or who want to see what the Peloton app is like. You could then pay $13 to get more access, but still with limits on cardio equipment. Or you could pay a hefty $24 and get it all.
Google Play Link: Peloton
// Peloton