The Pixel 7a has not been a well-kept secret and you likely know so much about it already. In fact, I wouldn't be surprised if you told me that you know everything about it. But hey, it is now official, as is the price, the specs, and when you can buy one.
For the Pixel 7a, Google is taking their A-Series and giving it a number of upgrades, three that I find very important to the experience. All around, most of the device has seen upgrades over the Pixel 6a, so don't get that twisted. There is a price increase because of everything that is new, though. Let's talk about it.
The Pixel 7a starts at $499 for the unlocked model with sub-6 5G support. If you want the version with 5G mmW support, you'll have to spend $549. For almost all of you, you will not need the 5G mmW version and can instead love life with fast 5G in sub-6 land. Expect carrier deals to lower the price some or at least spread the cost out over several years.
In the specs department, the Pixel 7a has the following:
Display: 6.1″ OLED at 90Hz (1080p, Gorilla Glass 3, 429ppi)
Processor: Google Tensor G2, Titan M2
RAM: 8GB LPDDR5
Storage: 128GB UFS3.1
Battery: 4385mAh, 18W wired charging, Qi wireless charging
Camera (rear): 64MP main (f/1.89, 80° field of view, 13MP ultra-wide (f/2.2, 120° field of view)
Camera (front): 13MP (f/2.2, 95° field of view)
Connectivity: WiFi 6E, Bluetooth 5.3, NFC, Dual SIM
Software: Minimum 5 years of security updates
Security: Fingerprint unlock, Face unlock
Durability: IP67, aluminum frame
Other: Stereo speakers, USB-C 3.2
Size: 152 x 72.9 x 9.0mm, 193.5 g
Colors: Charcoal, Sea, Snow, Coral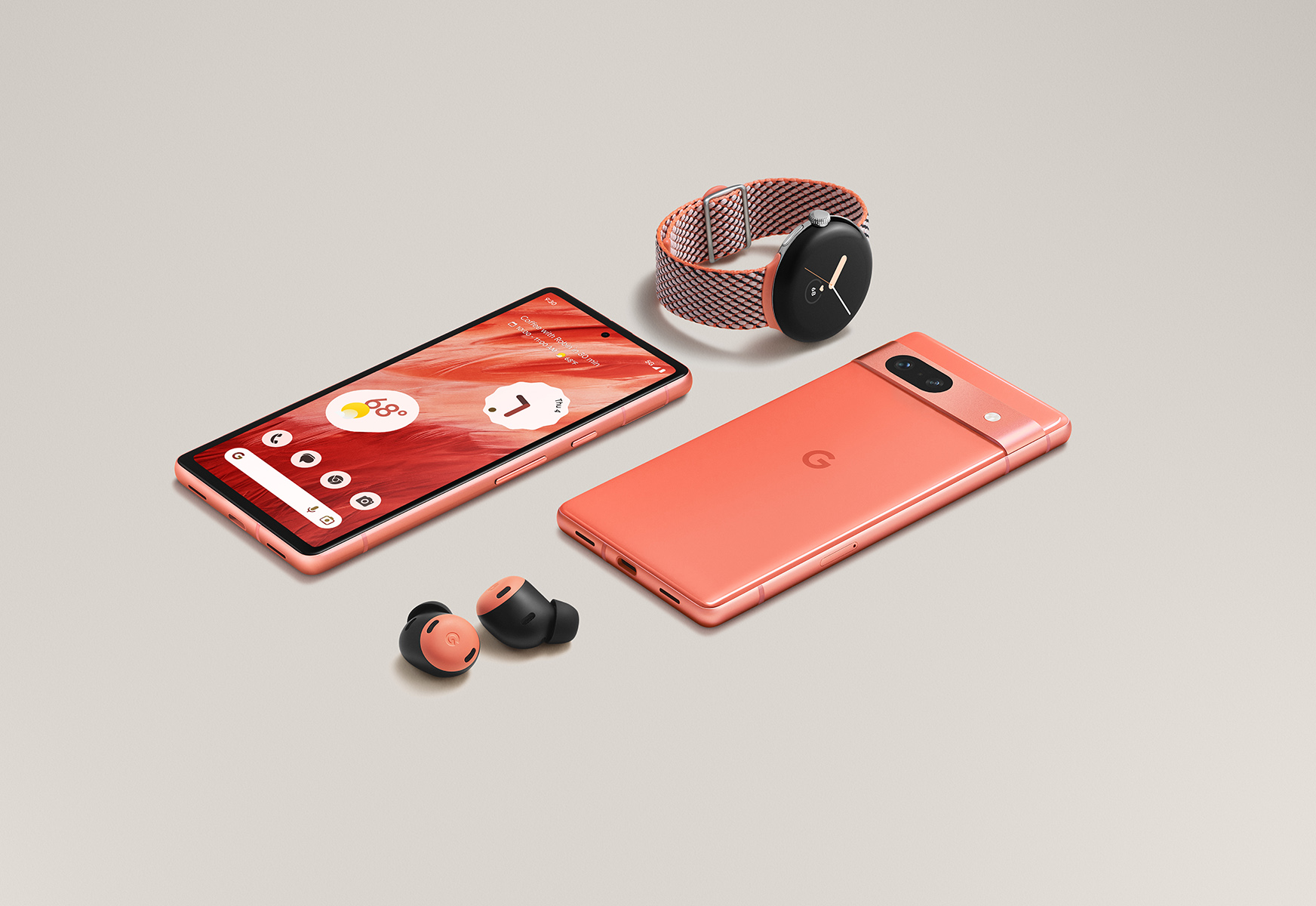 As you can see from the last, Google is indeed using its Tensor G2 chip from the Pixel 7 and Pixel 7 Pro. They also tossed in a 90Hz refresh rate for the display and gave it wireless charging. Those three items are the big ones I referred to above because you get the performance from Google's Pro phones, a higher refresh rate for a smoother viewing experience, and the convenience of wireless charging for a couple of hundred dollars less.
Some of the rest has changed too, like a new camera setup with main 64MP shooter (that we are very much testing still), an upgrade to WiFi 6E, IP67 water and dust resistance, and the metal frame. By all means this is a really big upgrade over the Pixel 6a.
The design matches that of the Pixel 7 line too, and you'll find colors of Charcoal, Sea, Snow, and Coral. The Coral option is an exclusive to the Google Store – Sea is the light blue you've seen around.
The Google Pixel 7a is available today, May 10.
We'll have our unboxing and review for you here shortly. Yep, we've been testing one!