T-Mobile's latest Uncarrier announcement is Phone Freedom, a 3-pronged attack on the industry's new standard of 3-year contracts.
Phone Freedom consists of Go5G Plus, a new plan offered to new and existing customers, The Easy Unlock, designed to help AT&T customers rid themselves of a carrier-locked smart device, and the Go Back Guarantee which allows the consumer to truly have the option of who they give their money to each month.
For details on the Go5G Plus plan, we have that information here, but to summarize, it's a plan designed to help subscribers upgrade devices every two years (instead of three), while ensuring the best device deals are available to you, regardless of whether you're a new customer or existing subscriber. T-Mobile describes it as a supercharged version of its Magenta MAX plan.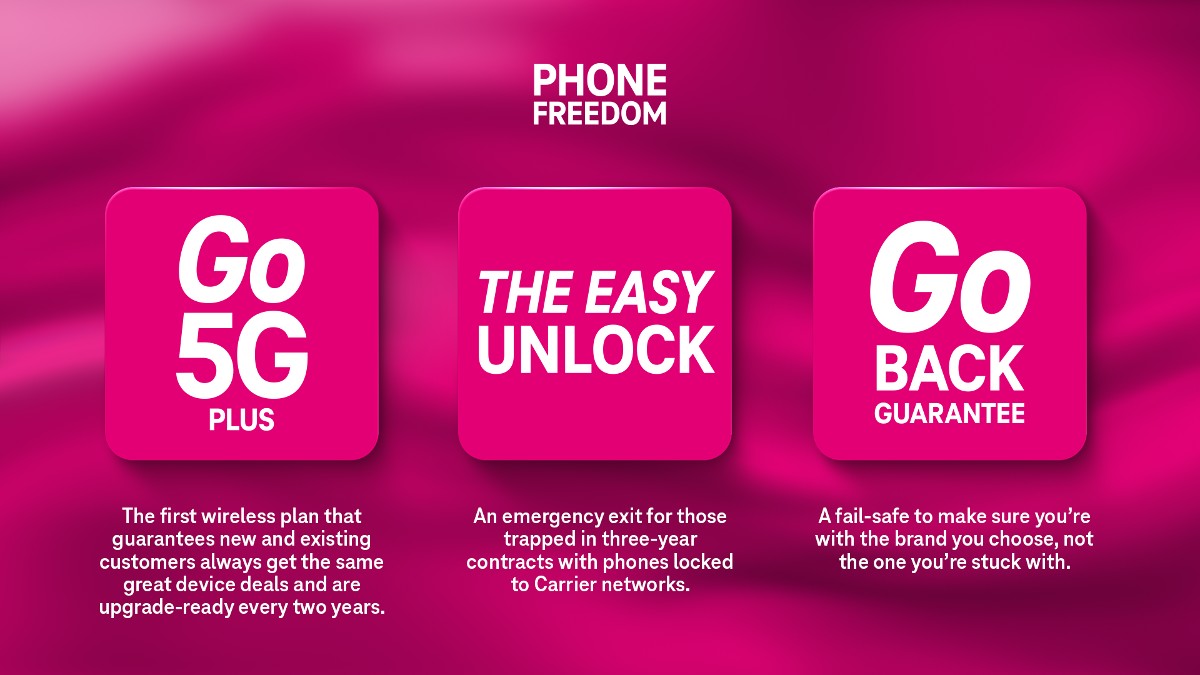 The Easy Unlock is for those on AT&T who, even after they have paid off their device, are stuck with a device locked to AT&T and may not want to go through the hassle of getting it unlocked. It's all designed to keep you with AT&T. T-Mobile has an idea for that. In addition to helping pay off money due on your device (up to $650 via a prepaid Mastercard), T-Mobile will now allow you to trade-in an eligible locked device and a get a new phone on their dime, most likely by way of monthly bill credits. The difference between what T-Mobile and AT&T are doing? T-Mobile at least gives you a choice, which is where the next piece of announcement comes in.
Let's say you leave AT&T, but things aren't working on T-Mobile. Apparently T-Mobile is cool with that and doesn't intend to gouge your eyes out. "T-Mobile will cut ties without any hard feelings and help you switch back by giving you $50 back per voice line to help cover the cost of your bill if you decide to leave within 30 days," as written in the announcement.
Phone Freedom is available starting April 23, with The Easy Unlock available for only a limited time.
// T-Mobile