Over the weekend, Google announced that its Nearby Share app for Windows was now available in beta. It was weird timing (being on a weekend) because the release of this app is a pretty big deal for those who have wanted easier ways to share files back and forth between phone and computer like someone might do using AirDrop with an Apple setup.
Used to share files between Android phones and (now) a computer, Nearby Share was previously only able to do this same task between Android devices (and maybe Chrome OS). With this release, Google has opened up simple drag-and-drop sharing on such a bigger scale with Windows included. Your own work-flow can now easily include Nearby Share from phone or computer to get files quickly to where they need to be.
For now, Google is only making this available as a beta for Windows in the US (and rolling out slowly to select other regions), so expect bugs and for MacOS users to complain frequently. I'll put my name on the list of MacOS complainers, as I'd use this dozens of times per day if available.
Since I happen to also have a Windows PC in the office, I fired it up to take Nearby Share for a spin. It works quite well and let me toss around a couple of images and files, as well as a video, in a matter of seconds, making them all available without fuss to the device I sent them to. Because I have Nearby Share on my Galaxy S23, my Windows PC found it and sent those files on over without any real setup. I then returned the favor from S23 back to PC just as easily.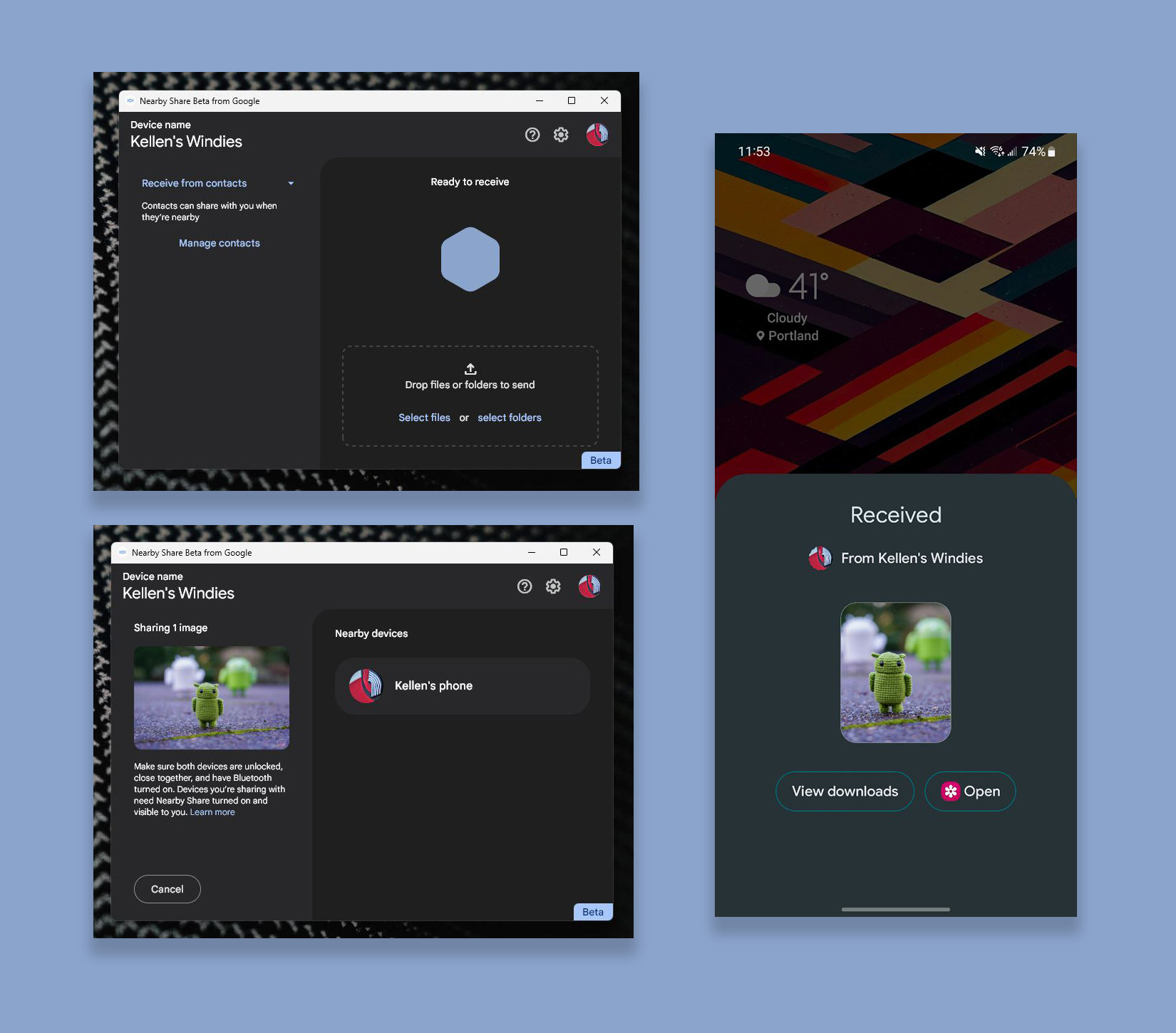 Google says that you can set Nearby Share to run in the background on your Windows PC to make it always available. You can also control some sharing settings to make your PC open to receive from everyone, contacts, or your own devices, or you can make it hidden. You can select individual files or folders, change the name of your device (Kellen's Windies), change the file location to receive to, and that's about it. It's not an advanced setup, but it does just work.
If you missed the news over the weekend or were wondering what the deal is with Nearby Share on Windows, I can tell you that in my short time with it that I've found it very useful and easy to use. I cannot wait to see Google expand it or improve it, that sort of thing.
To download Nearby Share for Windows, head over to this page. There's also FAQ there should you have more specific questions.