When the Pixel 6 launched in 2021, Google introduced a headline Photos feature alongside it called Magic Eraser. The tool was pretty wild to use in some scenarios, as it allowed you to magically erase objects in photos that you would rather not be there. With the launch of the Pixel 7 (and 6a), Magic Eraser expanded some, but the rest of the Pixel line, as well as other Android phones and iPhones, were out of luck.
Today, that changes! Magic Eraser is expanding to Google One subscribers on both Android and iOS, and to all Pixel users. It's time to erase some sh*t, friends.
More specifically here, Magic Eraser is available to anyone who subscribes to Google One (both Android and iPhones). For Pixel 5a and earlier, you'll simply get it, no Google One subscription required.
Use Magic Eraser on Android and iOS
If you are interested in accessing the Magic Eraser tool, you can find it by opening up Google Photos and then finding a photo you want to edit. Tap into that photo and look for the Tools option. In Tools, if Magic Eraser is available to you, you'll be able to get busy.
Once you have Magic Eraser and go to use it, Google Photos will analyze your photo to look for objects you might want to remove. If there are suggestions, you can "erase all" or perform your own manual erase. There's a Camouflage mode in there as well that tries to reduce the presence of obnoxious objects or colors if you'd rather not remove them.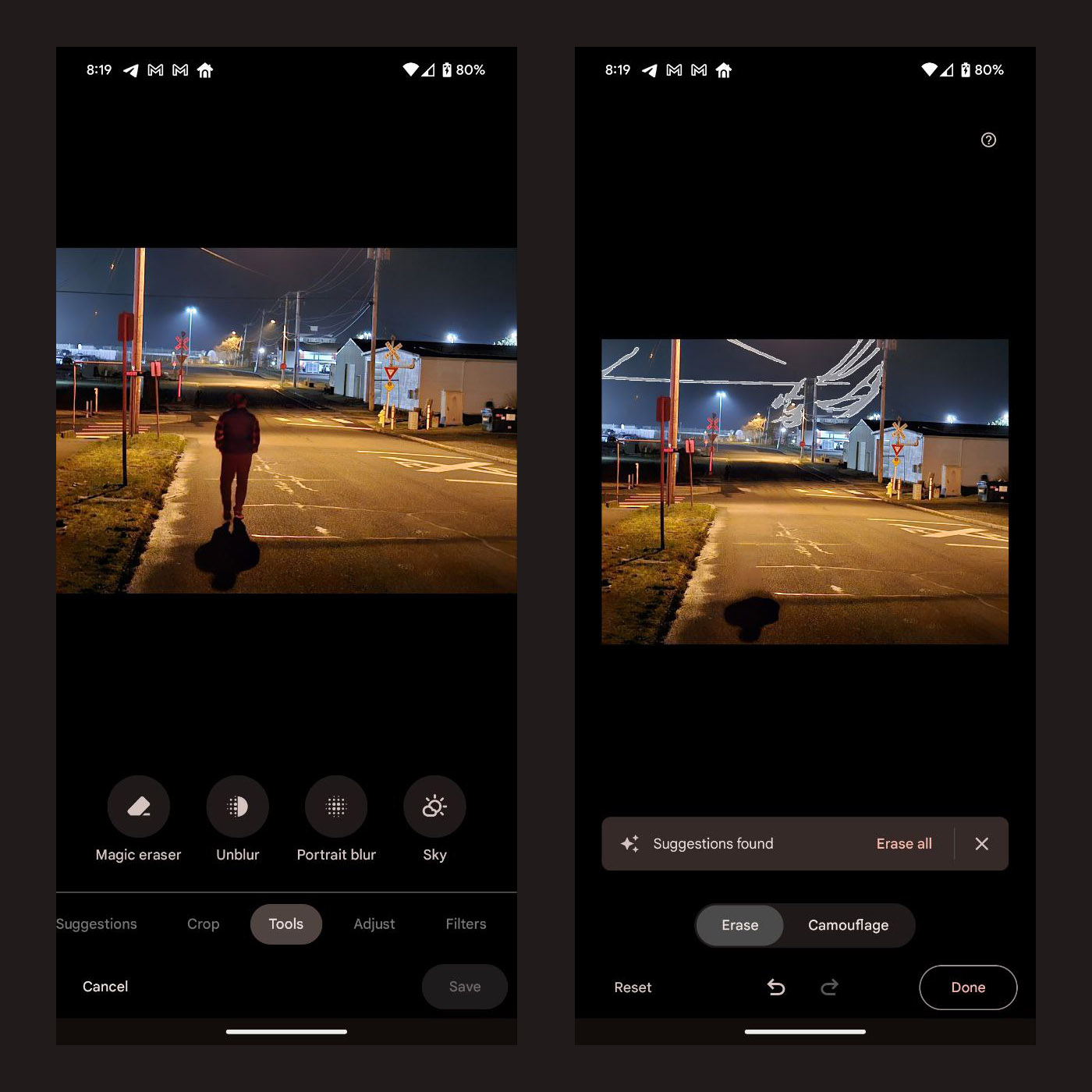 Above is a terrible example, as I missed the shadow of the person I removed, but you can see the potential here. In some situations or photos, Magic Eraser is quite magical.
Google says that Magic Eraser starts rolling out today (2/23) and will continue "gradually" over the coming weeks.
More Photos stuff too!
Magic Eraser expanding isn't all that Photos is introducing today. Here are a few other items to look forward to:
HDR effect for video: Also rolling out today, an HDR effect in videos will attempt to balance darkness and light in foregrounds and backgrounds, just like you might see from HDR in a photo. This is available to Google One users and also to Pixel owners.
New Collage editor designs: Remember the collage editor that adds styles to photo collages? Google is making this styling available to single photos and also rolling out another range of styles to choose from.
Free shipping on print orders: Google One members now get free shipping on print store orders in the US, Canada, the European Union, and the UK.
Name a Google service/app from the past 10 years as good as Photos.
// Google