Samsung made its new line of foldable devices official this morning, the Galaxy Z Fold 3 and Galaxy Z Flip 3. Available beginning later this month, Samsung has made a point to pack plenty of improvements into both of these devices, while somehow bringing the prices down pretty significantly. In the case of the Galaxy Z Flip 3, we're talking a price reduction of nearly $400. Needless to say, we're mighty impressed.
As for what's changed, let's start with the big stuff: Water resistance. Both the Z Fold 3 and Z Flip 3 feature IPX8 ratings, which is insane coming from no rating whatsoever on past models. With this rating, we're looking at protection from full submersion at up to a certain depth and for a certain amount of time. Additionally, the Z Fold 3 now supports the S Pen, which is a welcomed improvement over past models.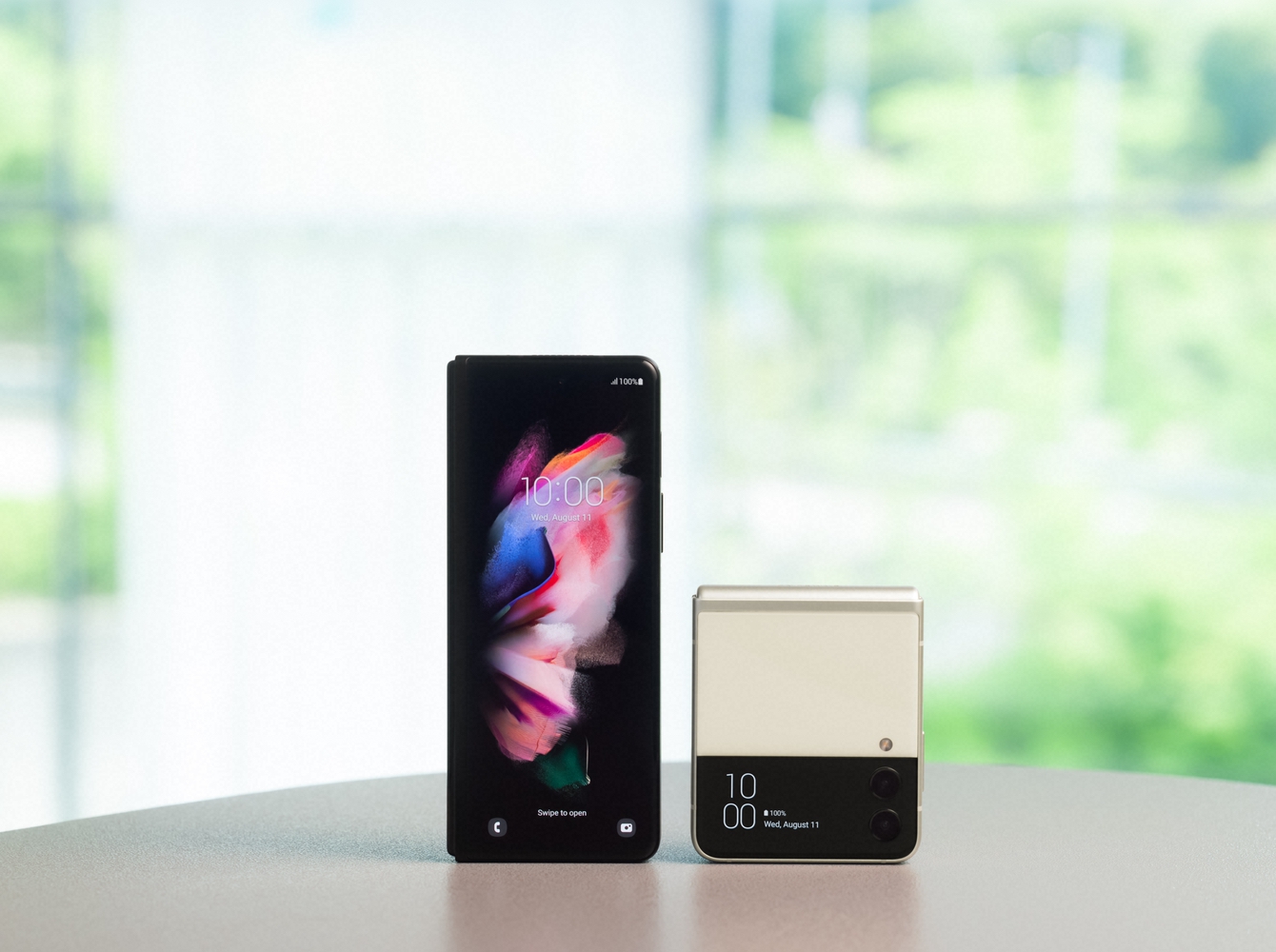 Thanks to a new UDC (under display camera), the Z Fold 3's main display is quite immersive, measuring in at 7.6-inch, complete with 120Hz refresh rate. Oh, and the cover display also supports 120Hz refresh rate now, too. For cameras, the Z Fold 3 features a trip 12-megapixel camera setup on back, packed with OIS, Dual Pixel AF, PDAF (phase detection), and Gorilla Glass with DX. The Z Flip 3 features a 6.7-inch FHD+ AMOLED display (120Hz), dual 12MP rear cameras, plus an improved and enlarged cover display measuring in at 1.9-inches.
Samsung also highlights big software changes, with the main focus being on app support for the foldable experience. According to Samsung, "Productivity seekers will enjoy Z Fold 3's enhanced Flex mode features, which let you do more at once, such as joining a video call on the device's top screen while checking meeting notes on the bottom. With Z Fold 3's updated Multi-Active Window, it's even easier to make dinner plans over text while checking your
calendar, all on the device's large screen. And now on Z Fold3, users can create a shortcut and reopen apps in the same way later thanks to enhanced App Pair. Plus, they can use Z Fold3's new Taskbar14 to quickly switch between apps without returning to the Home screen."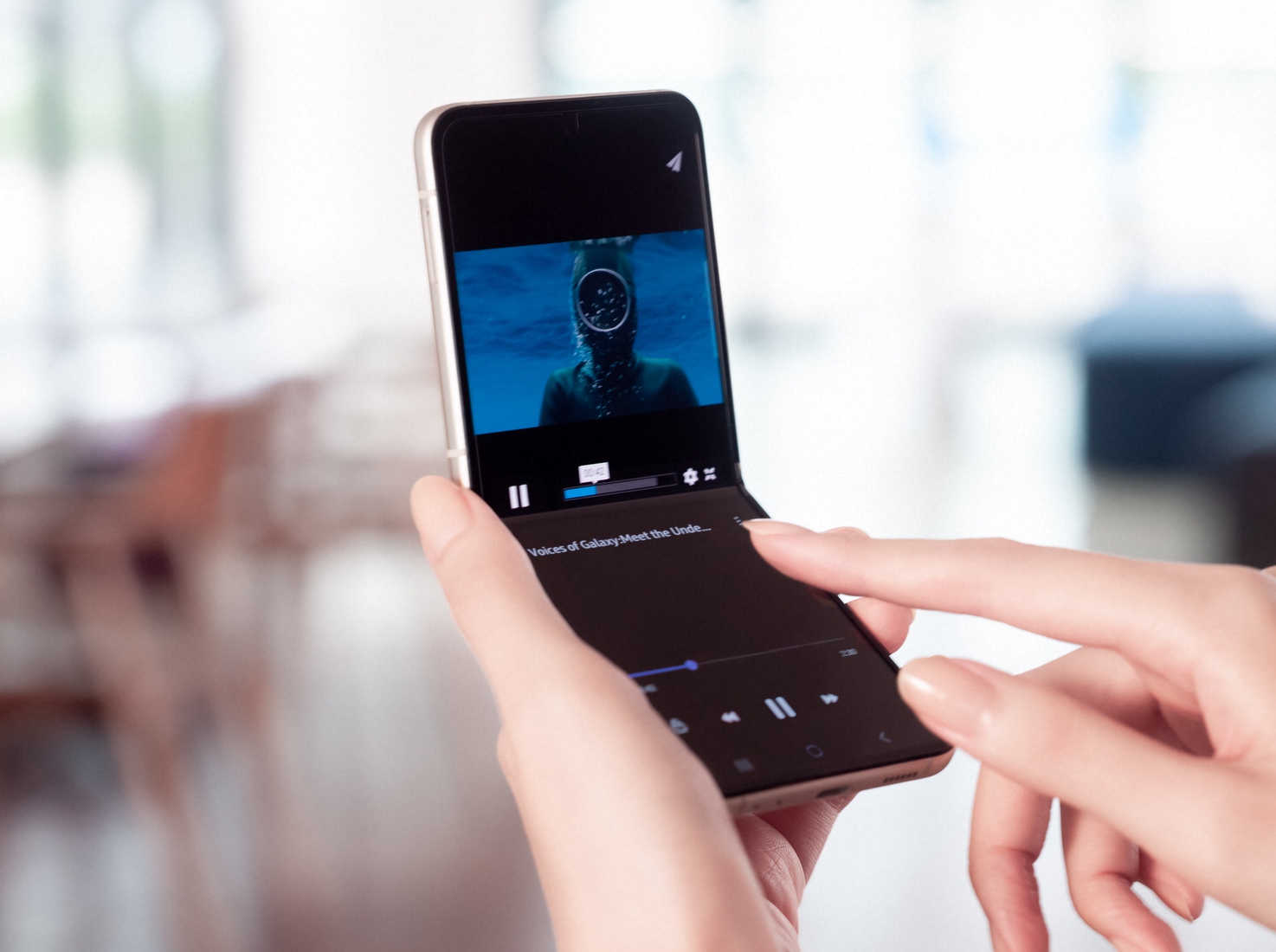 Both devices feature improved hardware, with the hinge system catching a gorgeous redesign. You'll notice slimmer, lighter feeling designs with both of these devices should you be coming from previous models.
For pricing, the Z Flip 3 starts at $999, while the Z Fold 3 starts at $1799. You'll find the devices on all of the US carriers, with availability beginning August 27. Pre-orders are now up, with plenty of perks to be had from Samsung. Should you pre-order from Samsung, you'll get $200 of credit towards other stuff when you purchase the Z Fold 3, while you get $150 credit when you get the Z Flip 3. Samsung is also giving buyers access to a free year of Care+ for their device, should they opt into a 3-year commitment.
Check out all of the specs below.
---
Galaxy Z Fold 3, Z Flip 3 Specs
Galaxy Z Fold 3
Galaxy Z Flip 3
Software
Android 11
Android 11
Display (Main)
7.6-inch QXGA+ Dynamic AMOLED 2X Display (22.5:18) Infinity Flex Display (2208 x
1768), 374ppi, 120Hz adaptive refresh rate
6.7-inch FHD+ Dynamic AMOLED 2X Display(22:9) Infinity Flex Display, 2640 x 1080, 425ppi, 120Hz adaptive refresh rate
Display (Cover)
6.2-inch HD+ Dynamic AMOLED 2X Display (24.5:9), 2268 x 832, 387ppi, 120Hz
adaptive refresh rate
1.9-inch Super AMOLED Display (260 x 512), 302ppi
Processor
5nm 64-bit Octa-Core Processor
5nm 64-bit Octa-Core Processor
Memory
12GB RAM with 512GB internal storage (UFS3.1)
12GB RAM with 256GB internal storage (UFS3.1)
8GB RAM with 256GB internal storage (UFS 3.1)
8GB RAM with 128GB internal storage (UFS 3.1)
Camera (Rear)
12MP Ultra Wide Camera: F2.2
12MP Wide-angle Camera: Dual Pixel AF, OIS, F1.8
12MP Telephoto Camera: PDAF, F2.4, OIS

Additional: Super clear glass with Corning Gorilla Glass with DX
Dual OIS, 0.5x out and 2x in optical zoom, Up to 10x digital zoom, HDR10+
recording, Tracking AF
12MP Ultra Wide Camera: F2.2
12MP Wide-angle Camera: Dual Pixel AF, OIS, F1.8

Additional: Super clear glass with Corning Gorilla Glass with DX
Up to 10x digital zoom, HDR10+ recording, Tracking AF
Camera (Front)
Cover: 10MP, F2.2

UDC: 4MP Under display camera, F1.8
10MP Selfie Camera, F2.4
Battery
4,400mAh

Fast Charging 25W
Fast wireless charging 10W
Reverse wireless charging 4.5W
3,300mAh

Fast charging 15W
Fast wireless charging 10W
Reverse wireless charging 4.5W
Connectivity
[Wi-Fi 6E] 802.11 a/b/g/n/ac/ax HE160 MIMO, 1024QAM

[Bluetooth] Bluetooth v 5.2 (LE up to 2Mbps), USB Type-C, NFC, Location (GPS,
Galileo, Glonass, BeiDou)

[Ultra Wide Band]
[Wi-Fi] 802.11 a/b/g/n/ac/ax HE80 MIMO, 1024QAM

[Bluetooth] Bluetooth v 5.2 (LE up to 2Mbps), USB Type-C, NFC, Location (GPS,
Galileo, Glonass, BeiDou)
Other
IPX8, S Pen Support, 1 eSIM, 2 Nano SIM, Samsung Pay, Stereo Speakers, Fingerprint Sensor
IPX8, 1 eSIM, 1 Nano SIM, Samsung Pay, Fingerprint Sensor, Stereo Speakers
Size
Folded: 67.1 x 158.2 x 16.0mm(Hinge) ~ 14.4mm(Sagging)

Unfolded: 128.1 x 158.2 x 6.4mm

Weight: 271g
Folded: 72.2 x 86.4 x 17.1mm (Hinge) - 15.9mm (Sagging)

Unfolded: 72.2 x 166.0 x 6.9mm

Weight: 183g
Colors
Phantom Black, Phantom Green, Phantom Silver
Cream, Green, Lavender, Phantom Black

Samsung Web Store Exclusive Colors: Gray, White, Pink