Qualcomm unwrapped the full details for the Snapdragon 865 this morning after a waste of a day on stage during yesterday's opening keynote of the Snapdragon Tech Summit, where they had ample time get this out of the way. The story surrounding the 865 is one of 5G, improved GPU performance, 8K and Dolby Vision capture, and well, more 5G.
As someone who is not at all a "processor guy," here are my takeaways:
7.5Gbps peak download speeds: In combination with Qualcomm's X55 5G modem, the 865 can hit theoretical 5G speeds of 7.5Gbps, which is kind of nuts.
All the 5G networks: As the flagship chip of 2020, Qualcomm wants to own 5G, so this chip supports "all key regions and frequency bands" including mmWave, sub-6, TDD, FDD, and Dynamic Spectrum Sharing (DSS). If you buy a Snapdragon 865 phone, it's likely going to have a 5G modem and you shouldn't have any trouble connecting to available 5G networks.
Display refresh rate up to 144Hz: The 865 supports 4K displays at 60Hz or QHD+ up to 144Hz. We're going to get some awesome displays this year.
8K video and 200MP photos: The 865 supports 8K video at 30fps and 200MP photos, plus it operates at 2 gigapixels per second.
First Dolby Vision capture: Yeah, the 865 can capture Dolby Vision, a first for a mobile phone.
GPU is 25% better: The Adreno 650 GPU delivers up to 25% performance boost over the 855.
Special gaming features: On a related note to the new Adreno 650, Qualcomm has a new suite of gaming features called Snapdragon Elite Gaming. They'll include Desktop Forward Rendering (better lighting and effects), a Game Smoother, and something called Game Color Plus v2.0 (boosted color saturation and enriched image quality). Gaming on an 865 phone will also bring 10-bit HDR and GPU drivers that can be updated through an app store (that should mean through Google Play).
WiFi 6 too: Yep, WiFi 6 is here, so if you own a WiFi 6 router (1.8Gbps), your phone will have those extra fast WiFi 6 connections when at home.
Bluetooth 5.1: It has it. Neat, right?
Part number: The part number to start searching the internet for when seeing if new phones are running the Snapdragon 865 is SM8250.
For the full specs, tap on the image below.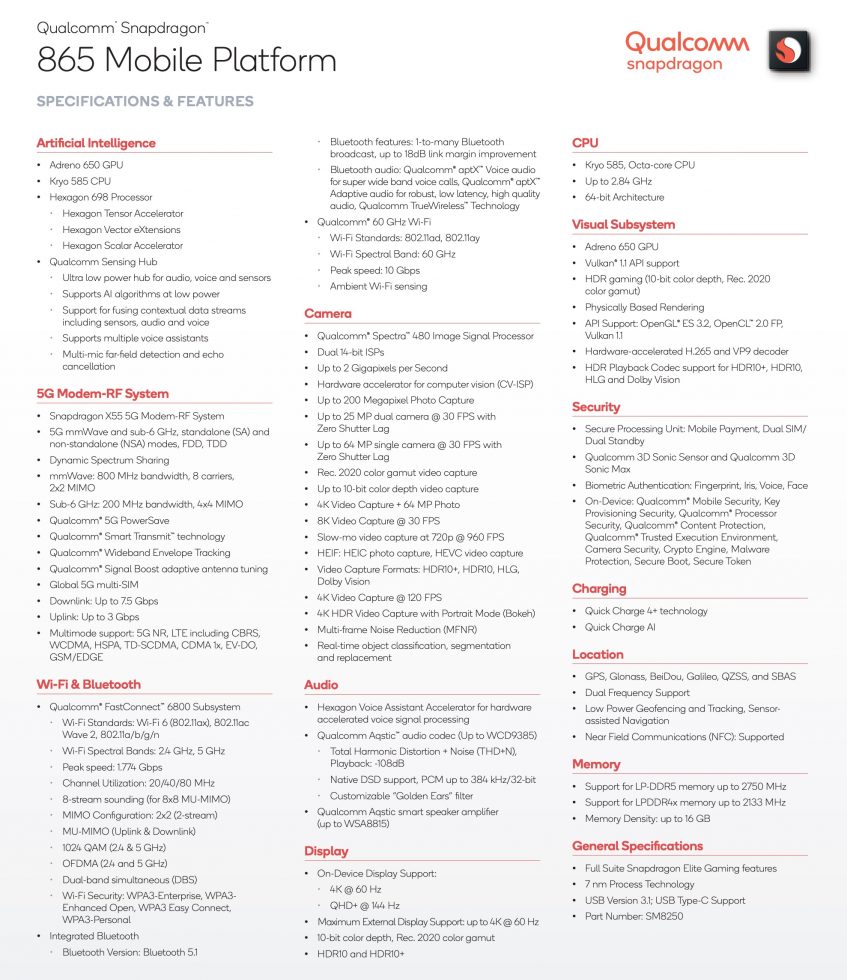 The first Snapdragon 865 phones will be available in Q1 of 2020. That means the Samsung Galaxy S11 line and probably a phone from Xiaomi.
// Qualcomm
RELATED