The unboxing is done. First 10 things to do? Done. Super long and wordy review? Also done. I suppose the last thing we need to do for the Galaxy Note 10+ is provide you with a quick overview of 5 reasons this phone is worth your money. For a phone of this caliber, it's pretty easy to do.
However, spending $1099 on a smartphone is no decision to take lightly. If you need a few easy-to-understand reasons to get you off the fence, this list is for you.
Here are 5 reasons the Galaxy Note 10+ is worth buying!
---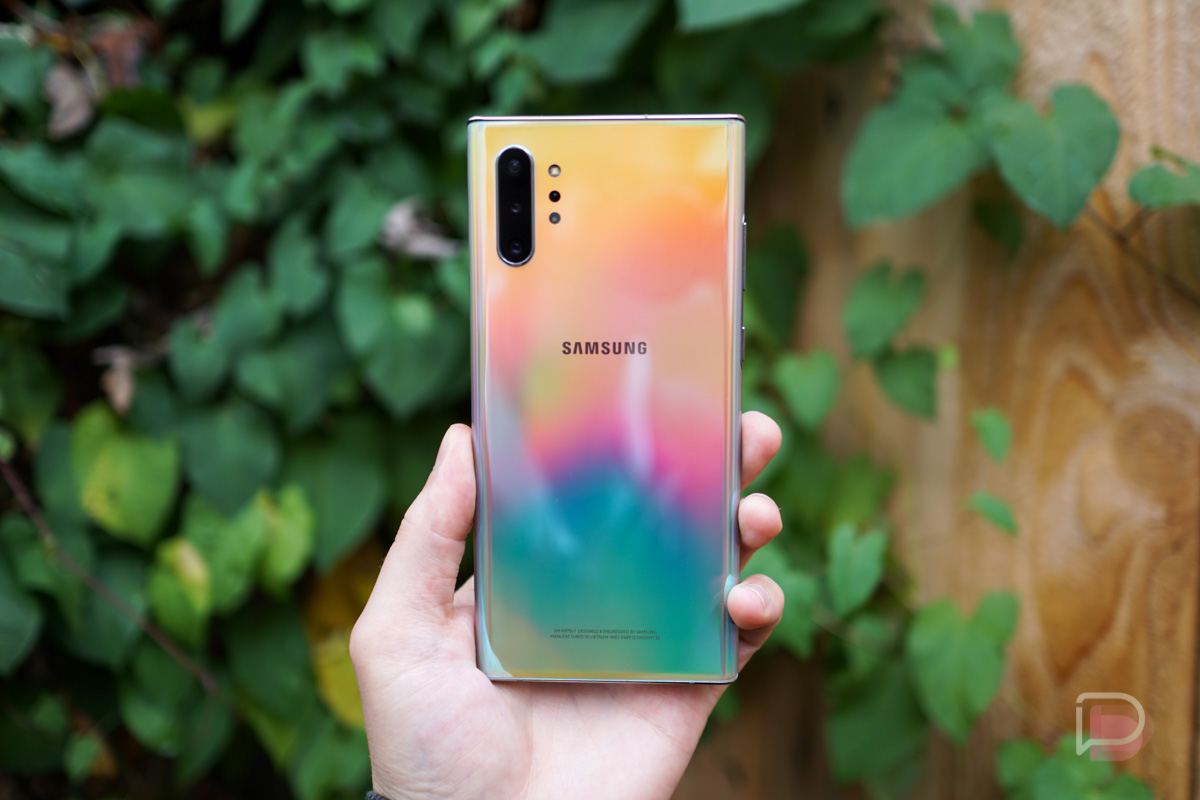 1. Note 10+ is the True Note Experience
Now, no knock on anyone who likes smaller phones, but the way Samsung made one Note device smaller and also included less features on it, sorta grinds my gears. Since the beginning of the Note series, these devices stood for being the biggest Samsung phones in terms of size and also including all of the specs you might ever need. This year, Samsung changed that, with the Note 10+ featuring additional things over the smaller Note 10.
The Note 10+ includes a QHD display over the Note 10's FHD display. It comes with a larger battery as well. Other notable differences include the expandable storage, which is something I know a lot of Note device fans need. The smaller Note 10 also includes just 8GB RAM, versus the Note 10+'s 12GB RAM.
As a consumer, you can value those things however you see fit, but the way Samsung has it valued, the Note 10 still costs $949. That's just $150 cheaper than the Note 10+ that has all the specs and the larger display. Again, no knock whatsoever on the small phone lovers out there, but if you're spending this kinda money, you gotta go with the best value, right?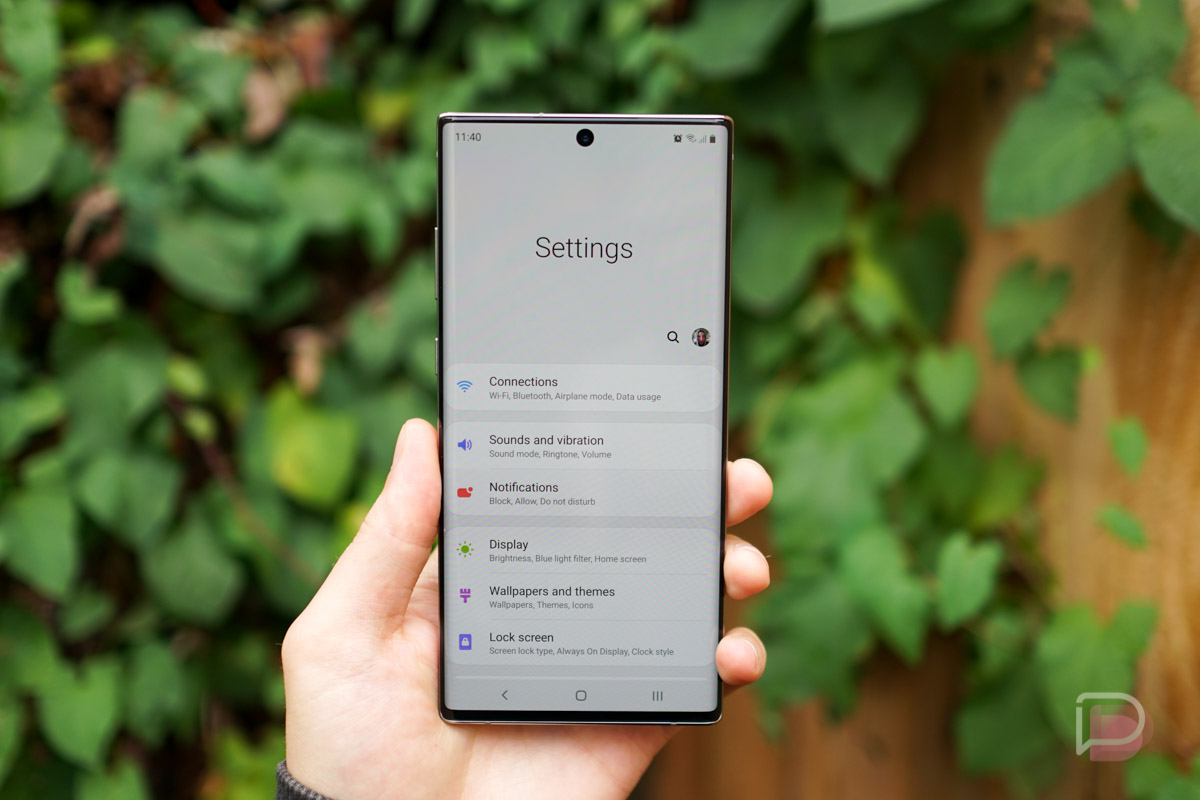 2. One UI is Damn Good
If you haven't yet gotten your hands on One UI, I recommend you do. If you know me, you'll know that I love my Pixel phones and OnePlus phones, mostly because of the software experience, but Samsung's One UI has definitely grown on me.
When it was announced, they specifically mentioned that ease of use with one hand was kept in mind during its development. Coming from other interfaces, this is made quite obvious, especially when cruising through the phone's Settings menu. To sum it up, whenever you go into a section, the options within that section start at halfway up the display, meaning you don't have to stretch your hand all the way across the screen in order to get to a certain setting. It's little things like this that improve quality of life with an OS.
Also, Samsung used to bake in a metric f*ckton of what we'd label as bloatware, but with One UI, your phone doesn't feel overly cramped with it. Yes, things like Bixby Home, Edge Panel stuff, and Google's own Digital Wellbeing exist on this phone, but disabling these things and cleaning everything up the way you want it to be has never been easier. When first booting up one of these devices, I recommend diving straight into the Advanced Features section of the Settings menu and just get familiar with what you do and do not want on your phone. It'll take you 5 minutes and you'll come away knowing a lot more about what your phone is capable of doing.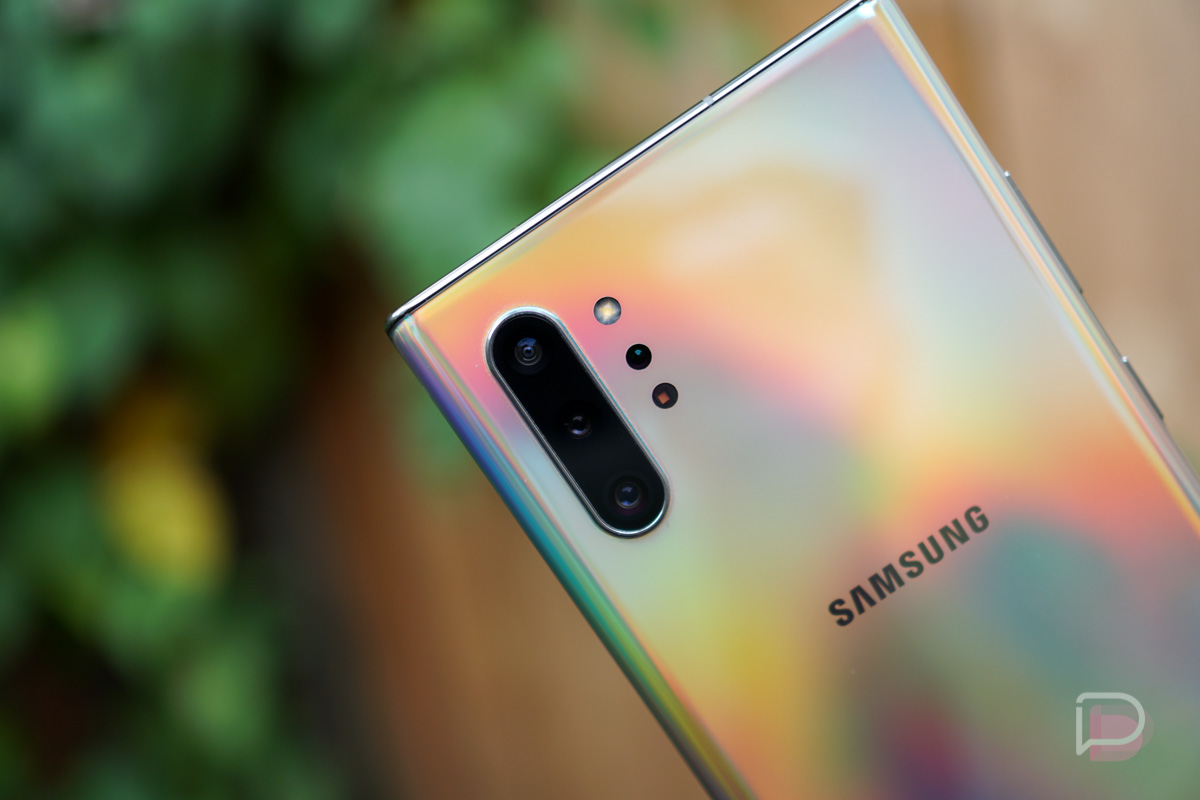 3. Samsung's Best Hardware Yet?
I'd never tell you to buy a phone simply based on its color, but good lord, Aura Glow is sooo sweet. Besides the color, though, the Note 10+ has excellent hardware, very much aligned with Samsung's four year-long philosophy of glass and metal. Also, the shape and in-hand feel differs quite a bit from other Galaxy phones.
The way the Note 10+ is rounded on its sides makes it exceptionally comfortable to hold and one-handed usability isn't even all too bad for a phone with a 6.8″ display. I know we like to complain about curved displays around these parts, but I can't even imagine using this phone if the display wasn't curved. It'd probably be a nightmare, simply because of its size.
I'd also like to point out that the hole punch in the display for the front-facing camera is much better than what we see on the Galaxy S10 and Galaxy S10+. As a fan of symmetry, it was always a bit bothersome to have my battery level and other system icons pushed to the left toward the center of the display. Now that the hole punch is centered, I really hardly ever notice that it's there, unless I'm using a wallpaper that showcases it.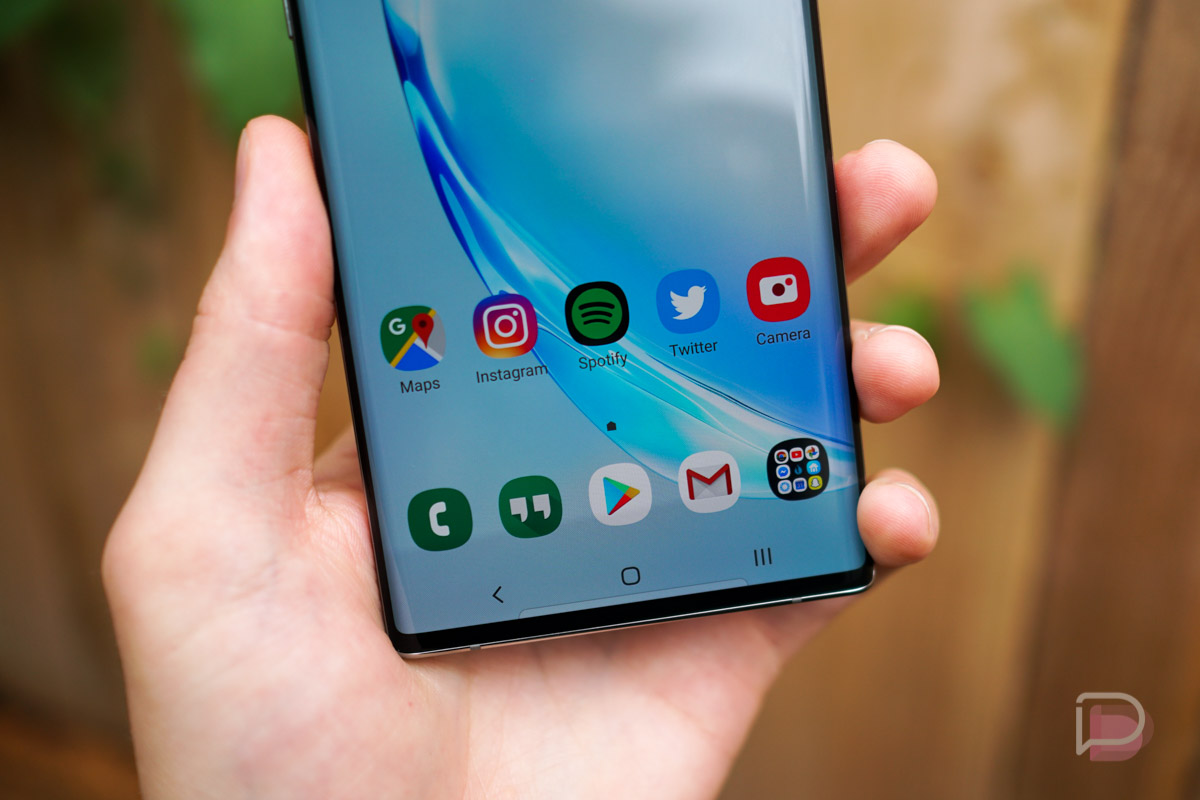 4. Media Consumption God Phone
My love for larger phones dates back to the Galaxy Note 2. Nothing really beats playing mobile games and watching videos on a large display, and thanks to the data and analysis from DisplayMate, plus my own eyes, I can tell you that the Note 10+ has one of the best mobile displays on the market.
Couple the great display with all of the storage and RAM this device has — the Note 10+ features 12GB RAM — this phone absolutely flies in and out of apps and games. The games I've been playing recently include Dead Zed, Tiny Room and Pokemon Masters, with performance and graphics running smooth.
Another thing that helps separate this device as a "media consumption god phone" is the battery life I've experienced. My typical day is about 7:30AM to 11PM. I'm getting through that with zero problems, and thanks to the phone's fast charging (wired and wireless), I know that if I run into a low battery situation, it'll only be a few minutes of charging and I'm back in action.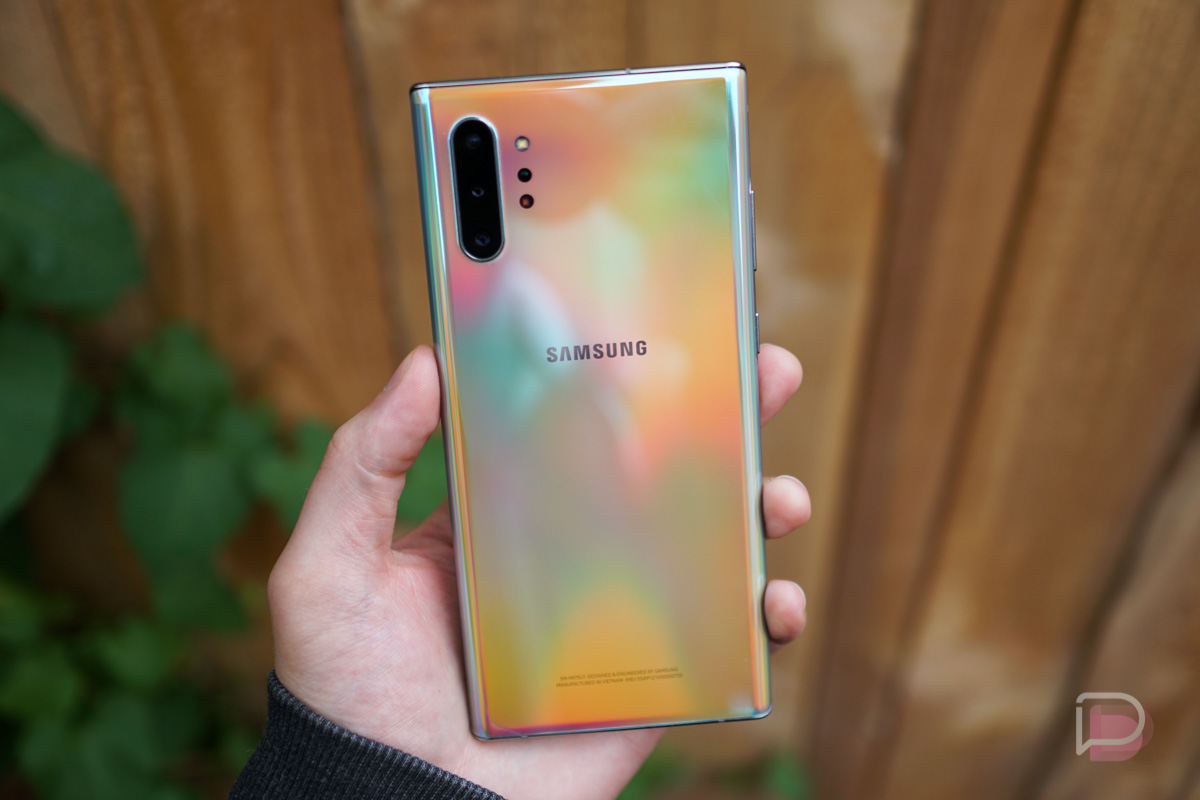 5. Samsung is Getting Better at Updates
Believe it or not, Samsung wasn't always great at updates. [1] [2] [3] However, times are changing! As we've seen recently, it's not taking forever for Samsung to send out Android updates. Sure, they're nowhere near the speed of Google, Essential, and OnePlus, but considering we're talking about updating millions of phones across different continents and carriers, this is a good sign.
We've already reported that Samsung's Android 10 build is in testing with T-Mobile, and come the Samsung Developer Conference in October, we're pretty confident that we might see a new One UI 2.0 beta build. If that's accurate, we could see Android 10 with One UI 2.0 rolling out either before the end of 2019 or shortly after 2020 starts. That would be a big plus.
My point here is, if updates are what might be keeping you away from Samsung phones, it's time to realize that the company is doing a much better job than it did in the past and that's something to celebrate as an Android enthusiast. After all, we all want to run the latest and great software, regardless of who made our phone.
---