Remember the Galaxy View? It was a massive tablet with a 18.4″ display and built-in stand mechanism. I had one in my home for a little bit, but accidentally dropped it and busted the display. Whoops. Thanks to SamMobile, it appears that we're getting our first good look at an upcoming sequel from Samsung, fittingly called the Galaxy View 2.
Reportedly headed to AT&T, just like the original, the Galaxy View 2 is said to feature a somewhat smaller display, albeit still large at 17.5″. Most notably is the overall design. The View 2 looks much more compact than the original, with a new hinged kickstand that sits at 30° when it's stowed and upright when opened.
It looks kinda dope.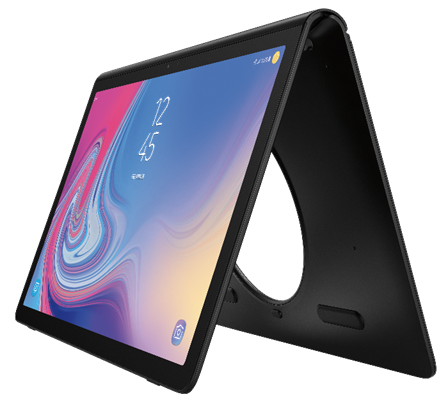 We don't have pricing or a launch date yet, but considering these renders are now making the rounds, it seems like a safe bet that release is coming soon. As a note, the original Galaxy View cost $499 with a 2-year agreement. Considering how much the original tied in with AT&T's offering of DirecTV, I wouldn't be surprised if we see a similar promotion happen.
Interested?
// SamMobile