Mobvoi has made a name for itself in the Wear OS space over the past couple of years, thanks to solid smartwatch releases. I never used an original TicWatch, but from what I've read about them, they seem to be very popular. Now, Mobvoi is back with the second rendition of the TicWatch E and TicWatch S, known as the TicWatch E2 and TicWatch S2. Very fitting.
Mobvoi sent over a TicWatch S2 for me to use, so over the past week, I've been attempting to get back in the hang of using Wear OS as a daily timepiece. The following is a rundown of my experience.
This is our TicWatch S2 review.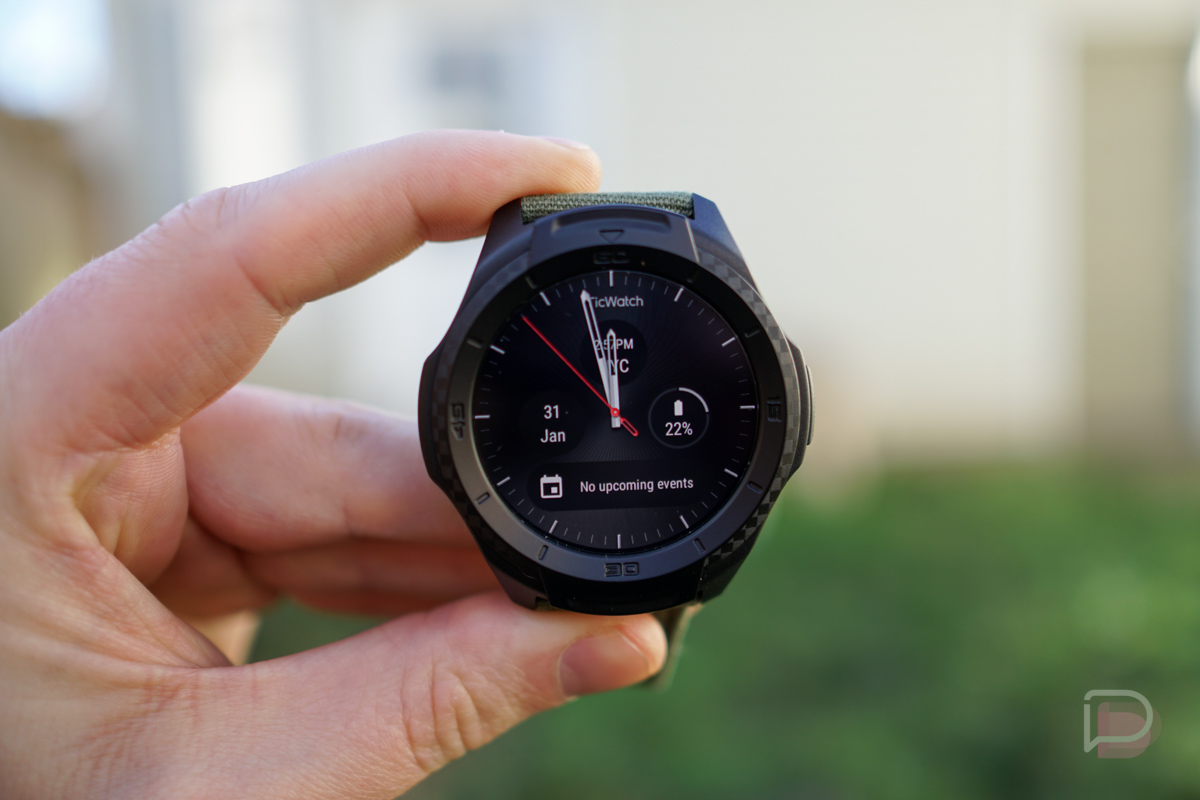 ---
Specs: TicWatch S2 features a 1.39″ AMOLED display (400 x 400), Snapdragon Wear 2100 processor, 415mAh battery, Bluetooth 4.1, rear-facing heart rate monitor, built-in GPS, 5 ATM water resistance, 22mm width between lugs, and Wear OS. From side to side, the watch measures in at nearly 50mm and for thickness it's half an inch (12.9mm), so it's quite large. The only two things this device is missing that folks may care about is NFC for mobile payments and the latest Snapdragon Wear 3100 processor, but at this price ($179.99), you're doing okay.
Hardware: TicWatch S2's body is all plastic, feeling extremely light on the wrist. For a device that's made to be attached when you're running or even swimming, the light weight design makes sense. Unfortunately, while it's light, it's also huge. When sitting next to a traditional watch I have, TicWatch S2 is easily twice as thick, which does take a bit of getting used to. The body is somewhat busy looking, reminding me a little bit of the G-Shock watches you see around town. The bezel features four minute markers, when dashes representing the rest of the hours. Outside of those markers is an etched design which is similar to carbon fiber, but again, this thing is all plastic.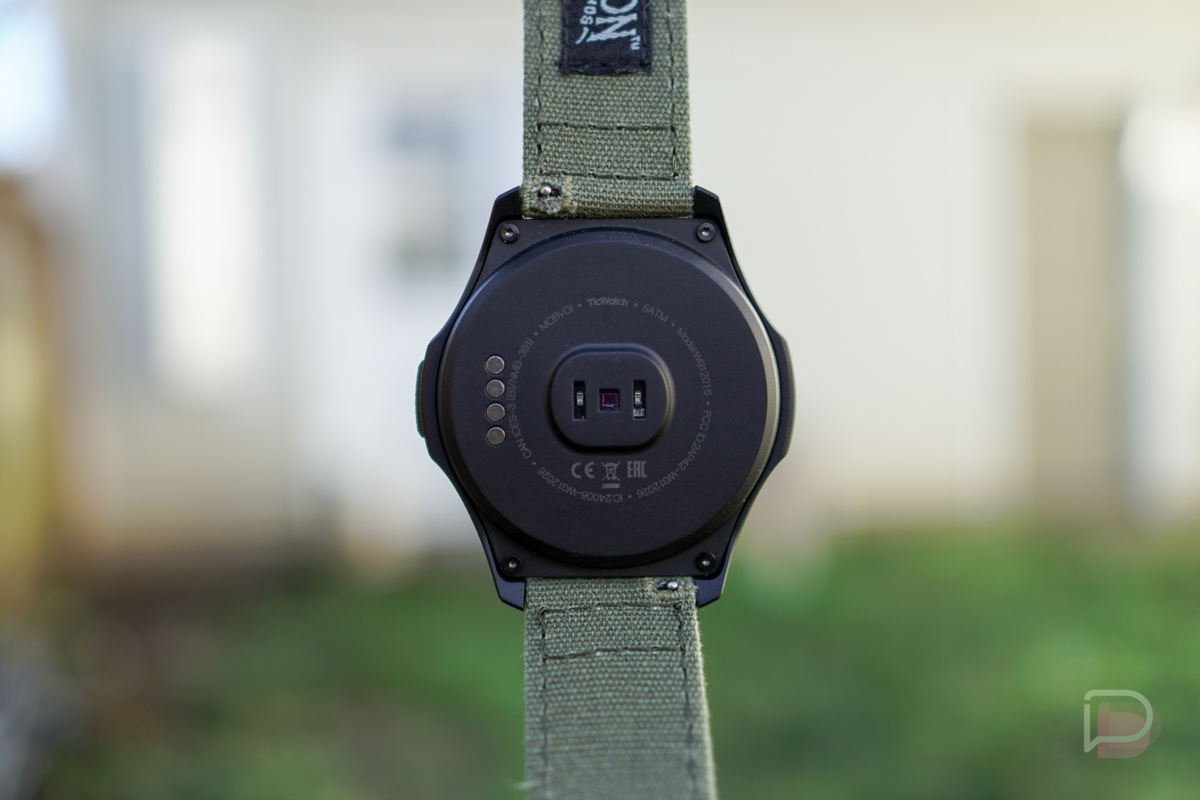 The watch bands are interchangeable, which I'm grateful for. The included black rubber strap is as boring as you'd expect a plain black rubber strap to be. I threw on a Barton canvas strap (22m is the watch's band size), which really helped make the overall appearance of the device more attractive.
For buttons, there is only one at the 3 o'clock position that lets you access your installed applications. There is no rotating bezel or other buttons, but we wouldn't necessarily expect anything too fancy on a $179 smartwatch.
Battery Life: Mobvoi advertises up to 2 days of battery life on the TicWatch S2. From what I experienced, that seems about right, but only if you're not using the device a lot. If you plan on using this device for workouts, runs, or longer events, there is no doubt you won't see that kind of juice. For me, who just sits at home and takes his dogs on the occasional walks and goes out to dinner at night, I was getting about a day and a half of battery life. I'd wake up and throw it on at about 7:45-8AM, then have to charge it the following day around noon. This is the typical Wear OS experience in my book.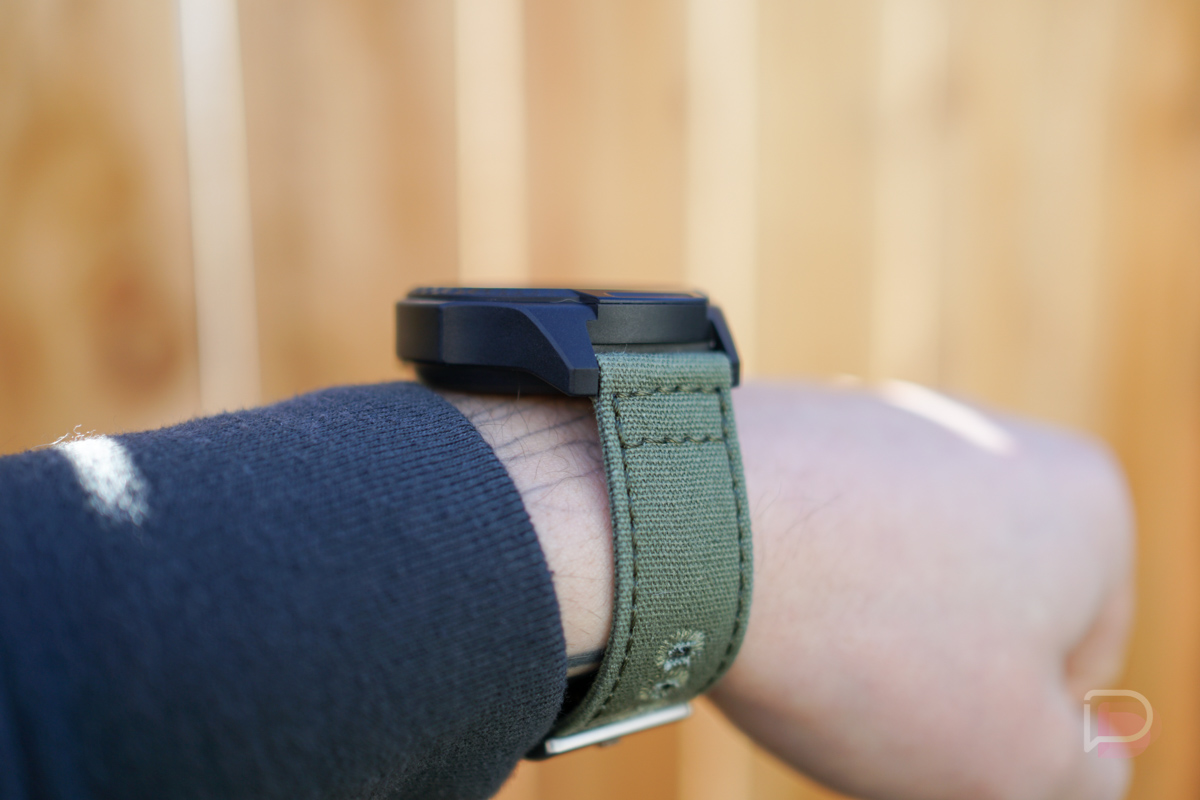 Wear OS: Wear OS is still a very boring platform, especially when one of the key features (NFC for mobile payments) is stripped out. Because I'm not an overly active person these days (winters suck), I don't really see a benefit of wearing a smartwatch with regard to the fitness aspect (more on this below). Wear OS is useful in reading out notifications when my phone is tucked away, but really, I'm sort of over the constantly connected aspect of smart things. I don't mind taking a break from the news and social media, so having a link to the internet on my wrist isn't what I need right now.
I will say that Wear OS has improved greatly from what it was. For example, the quick swipes into Google Assistant is nice, as well as Mobvoi's quick swipe into fitness data. Inside of the Settings menu, you'll find options for gesture controls, plus the options for watch faces has gotten fantastic over the years.
Fitness Software: While Wear OS bores me to tears with its lack of apps and general usefulness, the fitness software that comes on the TicWatch S2 should have buyers pumped up. Fitness is the main reason people buy this stuff after all, right? The device comes preloaded with Google Fit and Fit Workout, but Mobvoi also installed its own custom software. In the apps section of the watch, you'll see TicExcercise, TicRanking, Pool Swim, and more. All of these apps benefit greatly if you have the Mobvoi app installed on your phone, but basically, these will be your go-to apps for tracking your fitness goals when using the TicWatch S2. Thanks to built-in GPS and heart rate monitor, you can just take the watch out on a run and you'll have all of that great data on the device when you want to look it over.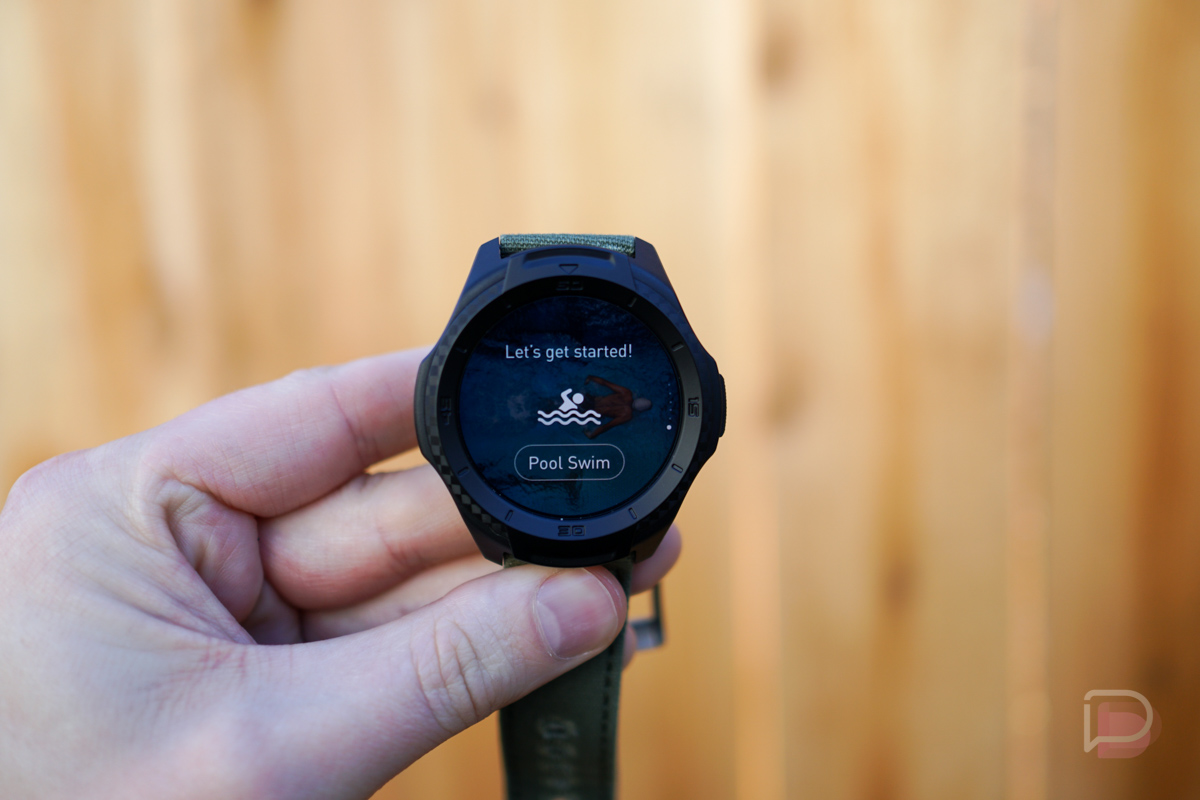 Pricing:
TicWatch S2 is available directly from Mobvoi and Amazon. The price is set at $179 and comes in this Black color. If you're looking for something similar, but even cheaper, there's the TicWatch E2 for $159.
Buy TicWatch S2
Gallery
---
Should you buy it?
---
When you think of a sub-$200 Wear OS device, the TicWatch S2 looks to be one of the best options available. It has nearly everything you might want or need, but it does lack the NFC and there's no new Snapdragon Wear 3100 processor. Really though, at $179, this is probably one of the best options available. It also wouldn't hurt to check out the Fossil Sport or TicWatch C2, though. The Fossil Sport has the latest processor, GPS, and NFC, but costs a bit more at $255. The TicWatch C2 runs $20 more, features a metal case and NFC.
The Wear OS ecosystem seems full of compromise to me, but should you be in the market, there's no reason to overpay. Mobvoi is continuing to offer good hardware and software experiences at a completely reasonable price. I applaud that.