Too early for Pixel 4 hype?
Rumors surrounding upcoming Google Pixel devices, outside of those confusing mid-range Pixel 3 Lite phones, have been scarce. In years past, we've known codenames for in-the-works Pixel phones as much as a year in advance. Whatever the reason for the slow leak of this info this year, we may now have some to focus on.
Codenames of "salmon" and "medaka" surfaced yesterday, thanks to the developer behind the popular Lawnchair Launcher app. In a Tweet that revealed the names, we also got some speculation as to what the devices may be.
Here are the upcoming Google device codenames #leaked:#salmon and #medaka.
None of the devices has a notch and medaka is most probably the rumored Pixel Watch. More info should surface soon.

— Tillie 'ACAB' Kottmann #BLM (@deletescape) January 25, 2019
To recap that, we have codenames of "salmon" and "medaka," with behind-the-scenes info suggesting that neither will have a notch. There isn't confirmation that either is a phone, but the speculation here is that "medaka" might be a watch, possibly the long-awaited Pixel Watch. We aren't sure what "salmon" is, although it could be the next Pixel phone.
While the names are certainly new to us, we do have a first appearance by both at AOSP just yesterday. We've captured a screenshot below, as they are accompanied by the name "walleye," which is the Pixel 2.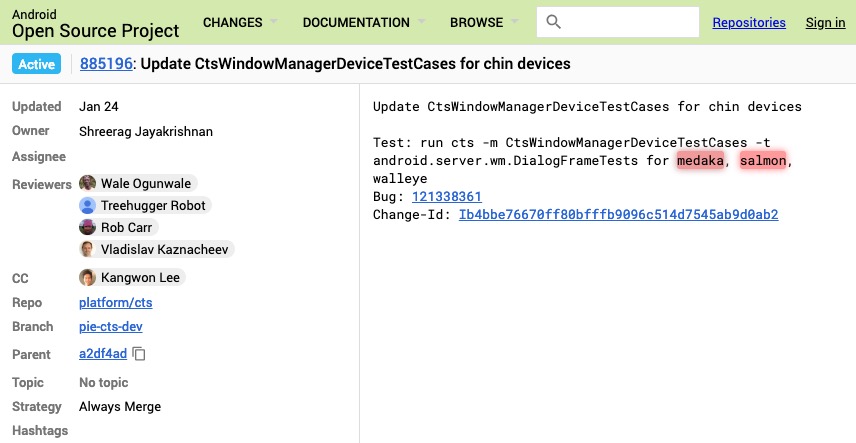 The names are very aquatic as well. That's important, since Google names almost every single Pixel or Nexus device after something fishy. We've had walleye, shamu, blueline, crosshatch, hammerhead, etc. These two names align nicely with that history.
As for the suggestion that "medaka" could be a watch, well, the medaka fish is a tiny Japanese fish, so sure, that makes sense. After all, the Nexus 6, which was a whale of a phone, was codenamed "shamu."
We'll be digging for more.