We believe that at least one of the 2018 Google Pixel codenames is currently "crosshatch," according to a trusted source of ours, but that Google may also be working on devices codenamed "albacore" and "blueline." Yes, I'm talking about next year's Pixel devices, not the Pixel 2 and Pixel 2 XL that we just got done reviewing and were only unveiled officially a few weeks back in San Francisco.
Our source, who has handed us very early and correct info on multiple occasions, including the first mention of "taimen" as a potential third Google phone earlier this year. As you all know now, "taimen" turned out to be the LG-made Pixel 2 XL.
This source adds that Google may end up simply referencing the trio of phones as A, B, and C to hide their identity some. We were also told that two of these devices will be considered "premium," while the third will fit into the "high" end tier. What the difference is there is a mystery to us. Our source referred to them as "Pixel" devices, though.
We've been sitting on the info for some time as we worked to find an additional confirmation or a reference to any of the devices by Google. Today, that happened for "crosshatch" through a comment to an AOSP listing in reference to Pixel devices. The mention popped up here and can be seen below.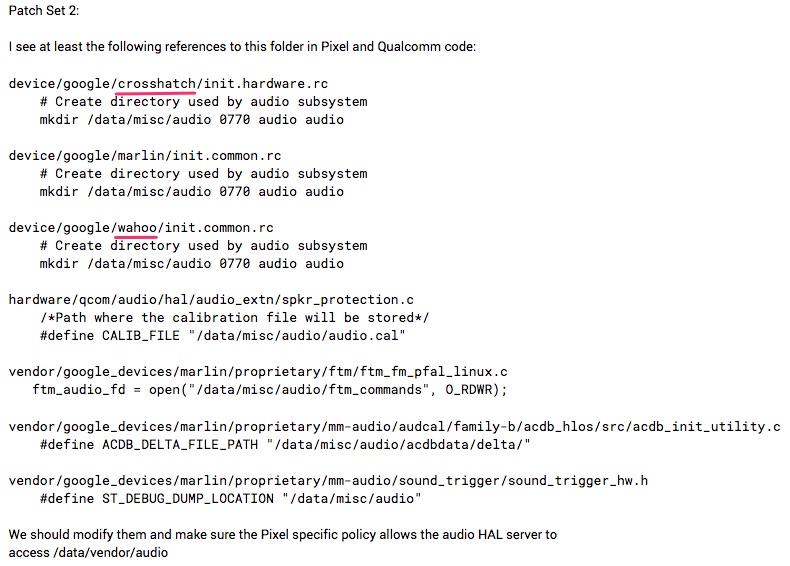 The reference to "crosshatch" is in the same breath as if it were a part of Google's device line-up (or future line-up), specifically the Pixel line-up. The page discusses both "sailfish" and "marlin" on numerous occasions (those are the original Pixel and Pixel XL), plus the comment we care so much about says that "crosshatch" and the audio files under discussion were a part of "Pixel and Qualcomm code." That's certainly not definitive proof that "crosshatch" is a new Pixel phone, but it matches up to info provided to us.
On a related note, while "albacore" and "blueline" have avoided us thus far, you'll notice that we underlined another mystery device above, "wahoo." I have no idea what "wahoo" is, other than it's another fish and we know that Google likes to look for obscure sea creatures when naming its hardware products. I also know that it's being coupled in with other Pixel devices here, including "crosshatch." We were told that "wahoo" may have been some sort of leftover from 2017 Google devices and is not necessarily in the 2018 group.
Also this went live for "wahoo" today, as well as "wahoo-kernel":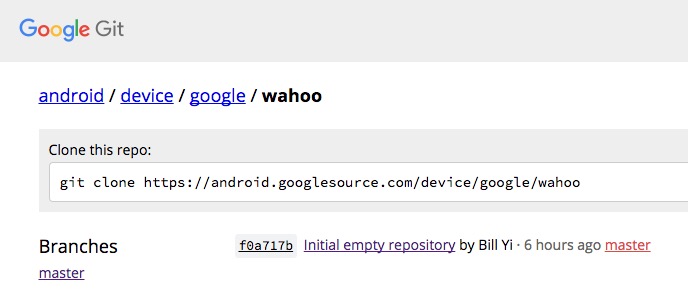 Those repositories are empty, but they are public. Are they supposed to be public? If so, what device is it? There is only a single mention of it in AOSP that I can find – the one we included in the screenshot above.
We should point out that for 2017 we saw "muskie," "walleye," and "taimen" all exist at the same time, but that "muskie" was eventually given the boot. Since we're reporting these names this early, don't be surprised if things change as we get into 2018.
Either way, you now have some names to start hunting down or at least keep an eye on.