I recall not long ago when Kellen and I would discuss the potential for hybrid Wear OS smartwatches. You see, both of us prefer traditional timepieces over smartwatches in terms of everyday wear, but we'd still love a watch that is able to deliver notifications or maybe make a mobile payment or two on top of looking great. In our minds, it'd probably have mechanical hands on top of a partially digital display, somewhat similar to what LG has produced with the Watch W7.
When first announced alongside the V40 ThinQ, I thought this device was the answer to our smartwatch prayers.
I suppose we didn't think long enough about this, because after using LG's Wear OS mechanical hybrid smartwatch for a week, I'm ready for this concept to go away.
This is our LG Watch W7 review.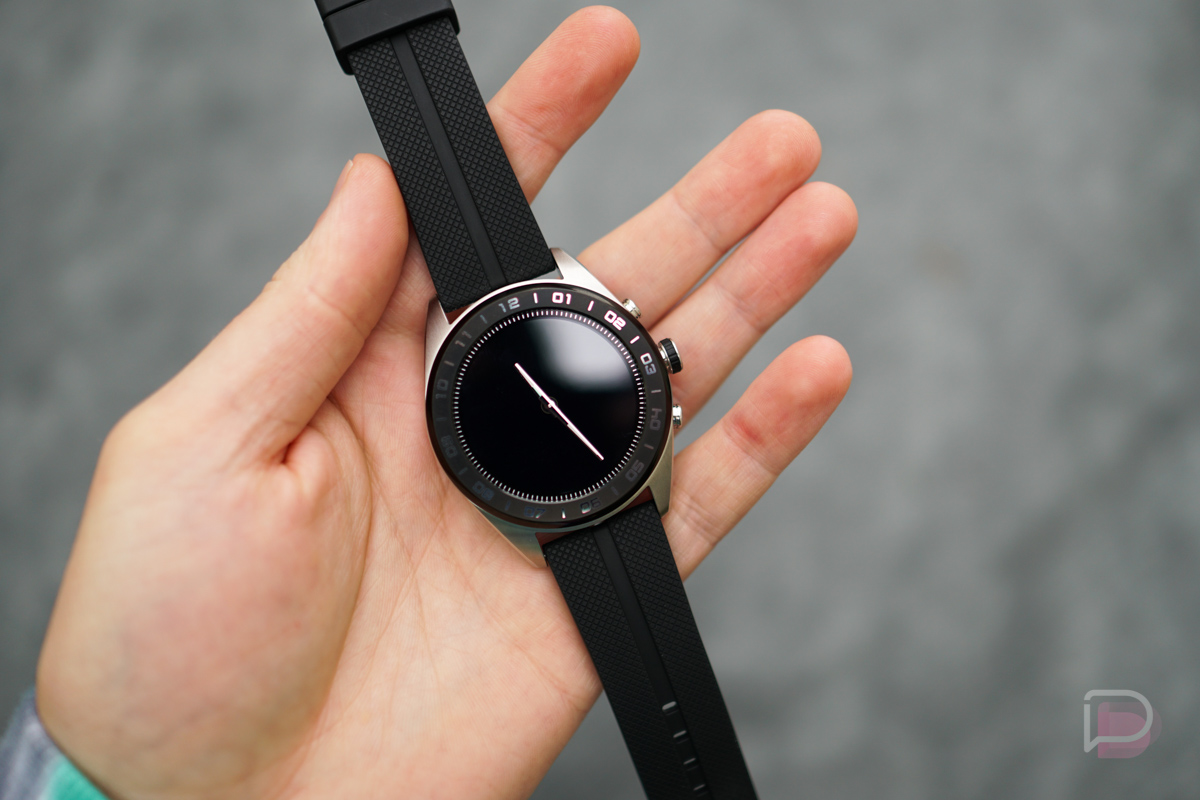 ---
What's good, what's bad about the Watch W7?
Specs: Watch W7 features a 1.2″ full circle LCD display (360 x 360, 300ppi), Snapdragon Wear 2100 processor, 4GB storage, 768MB RAM, WiFi and Bluetooth connectivity, IP68 rating, 240mAh battery, and various sensors for added functionalities. LG lists that it has an accelerometer, magnetic sensor, gyroscope, and barometer.
Sadly, what the watch is missing is more than what it has. Watch W7 has no heart rate monitor, no external speaker, no NFC, and no standalone GPS capability. Some may also be concerned that it has no Snapdragon Wear 3100, though, LG says this watch has no real use for Qualcomm's latest wearable chipset. And to be honest, that's probably true. Snapdragon Wear 3100's main draw is the low power co-processor. Because Watch W7 features mechanical hands and LG's own Just Watch mode (turns the display and all smarts off and just uses the hands to tell time), the watch can last around 100 days without the need for a special co-processor. Additionally, support for Wear OS's sports mode isn't required since this watch has no heart rate monitor.
If I was designing a hybrid smartwatch, I'd probably try to incorporate a heart rate monitor and GPS at least, but LG apparently spent three years creating this device and since it couldn't make that happen, it must not be possible at this time. My hope is that future renditions, if they are any, will attempt to bring more smartwatch functionalities to the classic timepiece look.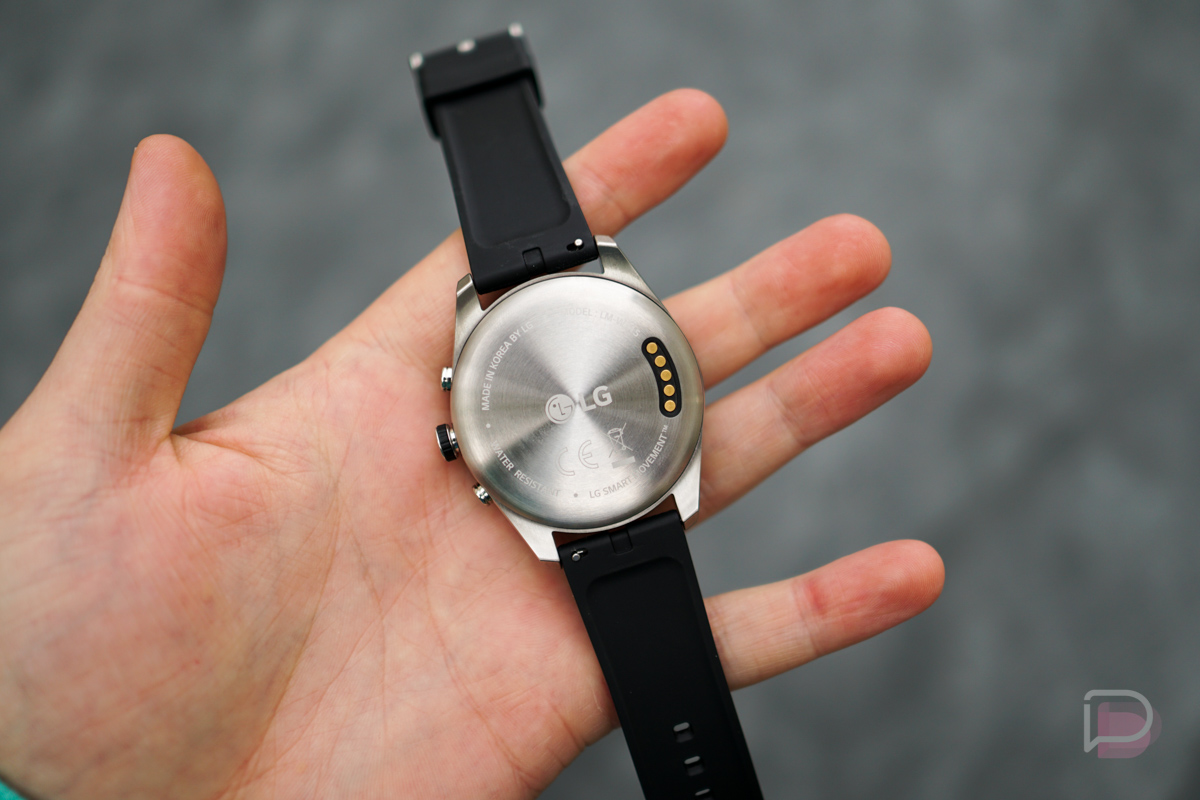 Software: Watch W7 runs Wear OS, which has become a very usable and feature rich wearable operating system over the years. I haven't actually used Wear OS in some time, only because no hardware has come along to get me excited about it, and sadly, this watch is more of the same in that regard. As I've already mentioned, this watch features no NFC, so that means no mobile payments, and there's no standalone GPS or heart rate monitor, which means this watch won't be great for tracking your marathons or jogs around the block. Because of this, Watch W7 doesn't really offer all that much in terms of being a smartwatch or fitness tracker with loads of useful software.
Basically, it can handle incoming notifications or you can access Google Assistant should you need it. Over my course of using it, though, I honestly never came across a time in my mind where I tried to complete a task on my watch instead of my phone. I did download and use the Nest app a couple of times, but I only did that to make sure I was getting some usage out of the thing.
To me, this is not what a hybrid wearable should be. A hybrid needs to bring the best of traditional and smart watches together, not be a device full of compromises. For example, when the display is off and you're relying purely on the mechanical hands to tell the time, we need something better than just a black background. When the smartwatch is out of battery, the Watch W7 is incredibly boring to look at, but there it is, attached to your wrist. And when it is fully juiced, this watch really doesn't do all that much. It's lacking any kind of mobile payments and even a heart rate monitor, something I believe every smartwatch should have. You can find a wearable on Amazon for $20 that has a heart rate monitor, so the idea of this being a hybrid device that looks good and has a bunch of smarts is pure fantasy. Watch W7 is a notification machine, and thanks to the mechanical hands, it doesn't even do that well.
For many, the idea of having the mechanical hands hide what's on your display is probably pretty annoying. It's not as bad in person as it looks in photos, but I'm not saying it's great either. The hands are actually in the way of what you're trying to see. LG's usage of a hardware button to hide the hands is okay, but in addition to moving the hands out of the way, the entire UI is lifted up, making a portion of the display completely unusable. It's a very odd thing and I'm still trying to wrap my head around it.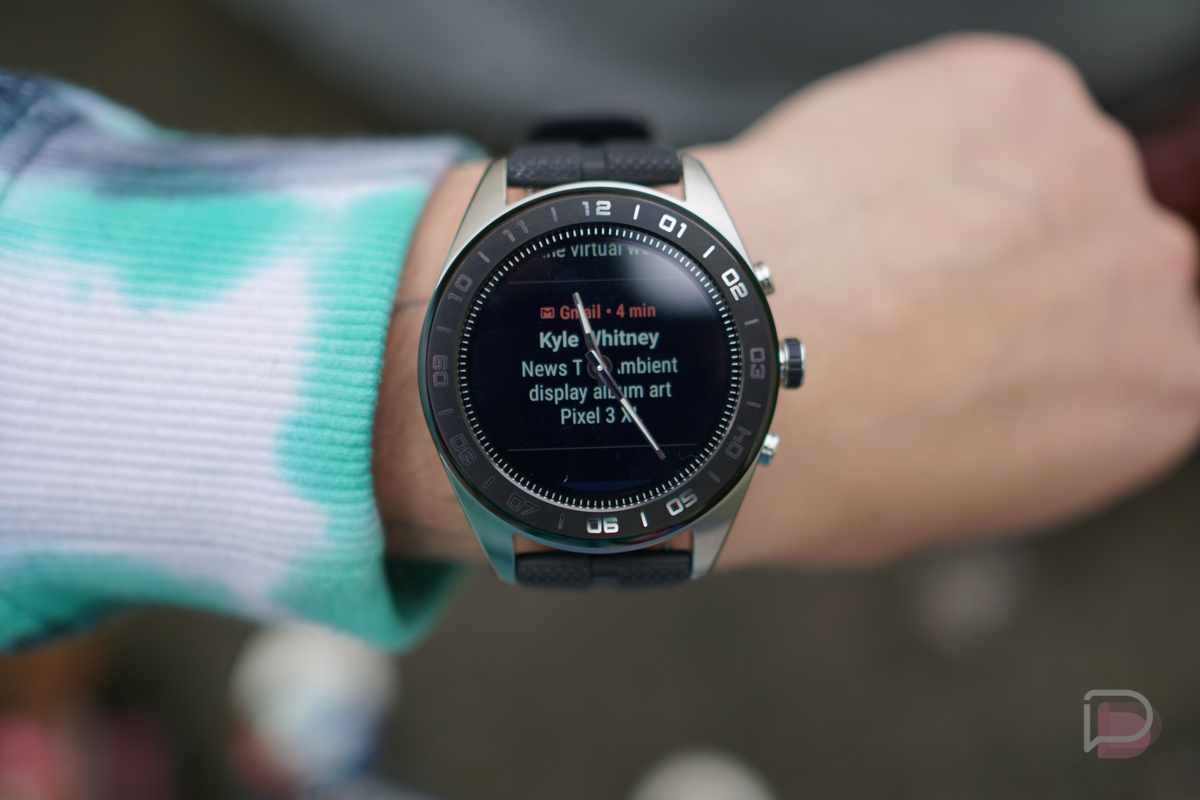 Hardware: LG markets Watch W7 as more of a traditional watch, so that's basically how I used it. The overall design of the watch is fine, with a somewhat large non-rotating bezel and casing surrounding the digital display and its mechanical hands. There are two hardware buttons (at the 2 o'clock and 4 o'clock positions) plus the serrated crown that allows for scrolling through the Wear OS interface. On the back are the pogo pins for charging and that's it. The watch's straps are rubber, though, they are easily changed should you want to achieve a different look and feel. On wrist, the watch is rather comfortable, but still a bit on the large side. It's not as uncomfortable as the LG Watch Sport and I think the bands are to thank for that. Out of the box, they are very flexible, so you don't have to worry about wearing them in like you do with some bands.
As I've said many times already, the hands are mechanical, with a full gearbox placed underneath the display. It's likely due to that gearbox that this watch doesn't come with other things you may find on a regular smartwatch. We suppose there just isn't enough room for NFC or a heart rate monitor when you have a gearbox getting in the way. This explains why LG markets the watch as it does, more of a traditional piece than a smartwatch, but there are little things LG missed in an attempt to create a traditional watch. For example, the hands have no illumination when it's dark, so you can't tell what time it is when in a dark place and the watch face is off. One of the big selling points of this device is its long battery life when in Just Watch mode, but if you can't tell what time it is in certain circumstances, that's not a great experience. Oddly, the hands are made to look like they have lume abilities, but it's just paint and they do not glow in the dark.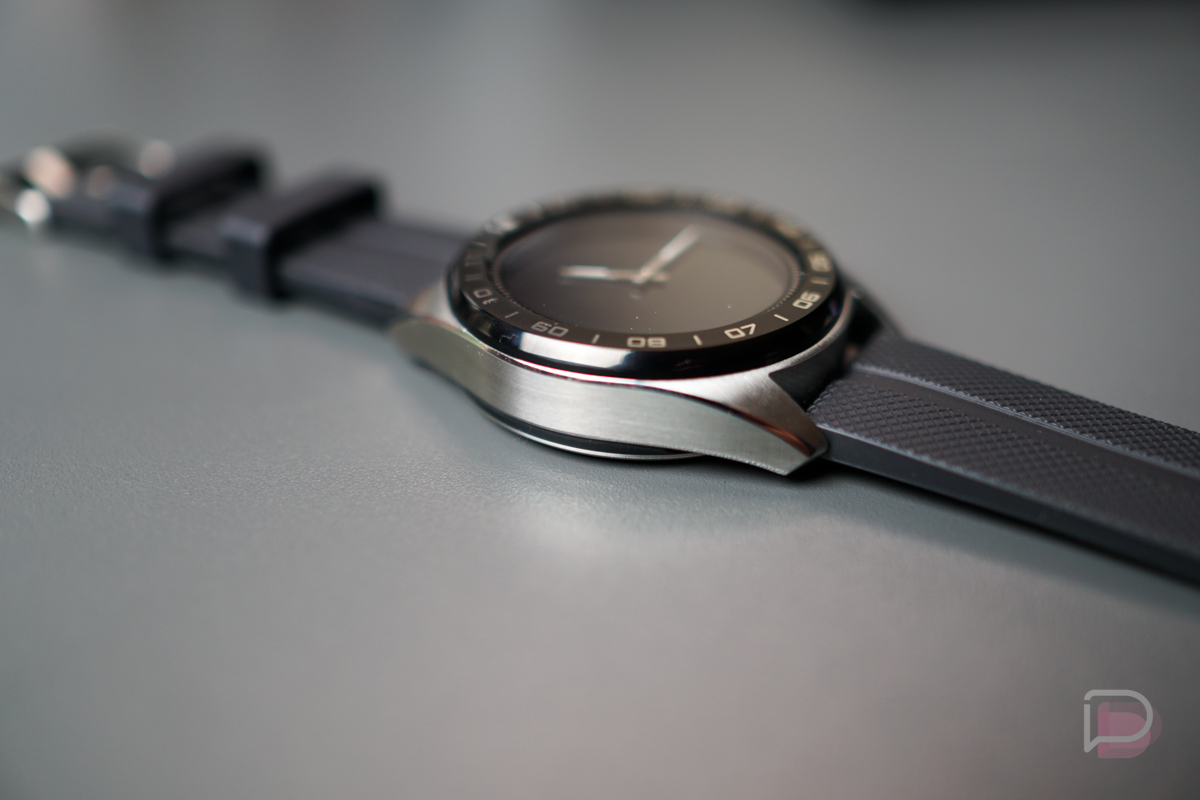 Battery Life: Having only a 240mAh battery, this watch provides exactly what I expected — a single day of battery life, depending on your usage. For me, I'd toss the watch on around 9AM and take it off at night, then throw it on the charger because I knew there was no way I'd see another day of usage out of the battery. One thing I do appreciate, though, are the watch's mechanical hands continue to tell the time, even after the display and smart functionalities have all died off. I'm not exactly sure how long after the watch dies the watch hands will continue to operate, but they definitely kept working for at least 24 hours on one occasion.
According to LG, when the Watch W7 is in its Just Watch mode, users should expect to see around 100 days of battery life. Of course, you can switch back and forth between modes depending on what you need from the device.
Performance: For having a processor that launched in 2016, performance of Watch W7 is fine. The interface is rather snappy when navigating it and actions are very responsive. For example, when you hit the hardware button to hide the hands when a notification comes in, there is no stutter. Also, when you open up the app section, there is no lag or wait time. When swiping through pages and scrolling menus, everything feels very fluid. The watch seems well tuned, so I'm thankful for that.
Price: Watch W7 quietly launched with a price of $450, but it's seen a couple of sales that bring it down to $250. Currently, there is no way I can recommend this device at $450. I probably wouldn't recommend it for $250 either. I dare not say how much I think the device is worth, but considering what it's capable of, and not capable of, somewhere around $99 seems fair. I understand that a lot of work probably went into its creation, but with hardly any smartwatch functionalities and a battery-operated hand movement, I'd feel better getting a less expensive automatic timepiece instead of this. If you want a few options, there's always the Seiko 007 or Hamilton Khaki Field. There are literally thousands of great options when it comes to watches, but Watch W7 is not one of them as it currently stands.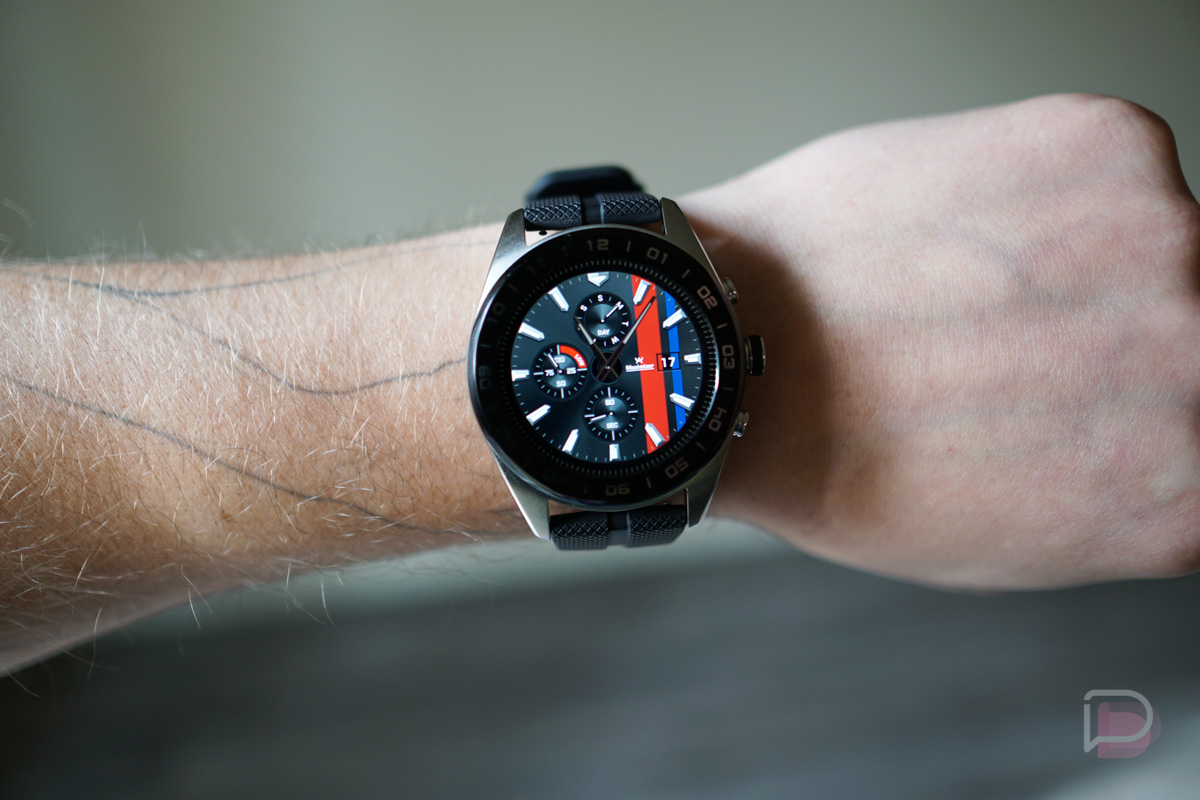 Other Notes:
Watch Bands: The size of the bands is 22mm, meaning if you don't care for the rubber straps that it comes with, you can easily swap them out for something else. If you need new watch straps, try Wrist Candy Watch Club or Clockwork Synergy.
First Look and Tour
Should you buy the Watch W7?
Because this device is marketed as a traditional timepiece, with no heart rate monitor or GPS, it's automatically out of the picture for fitness enthusiasts. Because of its price and with so many other options to them, I think genuine watch enthusiasts would also not care for it. I know that an automatic watch I get for $400 will last for years to come, while the Watch W7 will likely degrade to the point of someone not wanting to wear it anymore. For that reason, I wouldn't recommend it to real watch folks either. So here we are, a watch seemingly made for no one. I know that sounds harsh, but if anything, LG can take all the criticism it has received on this device and head back to the drawing board for a possible version 2.0. I wouldn't mind seeing a second rendition, but much more emphasis needs to be put into the smartwatch department.
As of right now, this is a hybrid device that isn't good at being a regular watch or a smartwatch. Not even close.