Considering all of the hype surrounding Hydrogen One from RED, we've never actually seen a complete spec breakdown for the $1200+ device. Looking back at the coverage we've done, we know it has a 5.7″  "Holographic" LCD display (resolution 2560 x 1440) and 4,500mAh battery. Really, that's it. For those who shelled out over a grand for this phone, props to you.
Thanks to a graphic that has been posted online, we now know essentially all of the specs. The only spec not listed is the processor, though, it was announced to be a Snapdragon 835 from last year, not 845.
According to the graphic, Hydrogen One features 6GB RAM, 128GB built-in storage, dual 12MP rear-facing cameras, USB-C, headphone jack, SD slot, dual SIM support, Gorilla Glass, spatial surround sound, dual front cameras, and front-facing stereo speakers. Couple all of this with its unique hardware design and that's Hydrogen One from RED.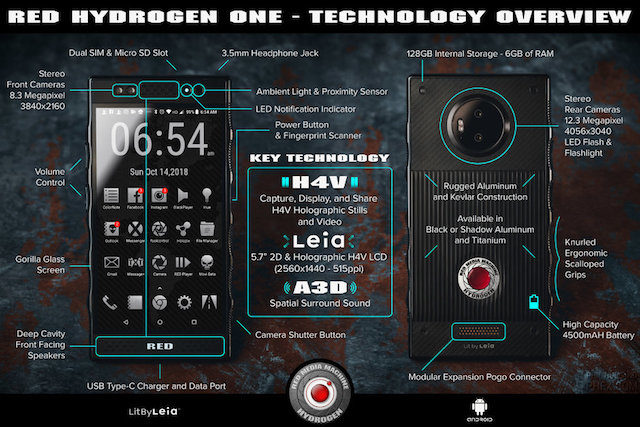 Right now, Hydrogen One is still on track for its carrier launch of November 2. For those who pre-ordered, you should be getting your phones soon.
Excited?
// UberGizmo