T-Mobile's EIP (Equipment Installment Plan) allows buyers to afford high-end smartphones by breaking up the total amount of the device over a 24-month period. Let's say your phone costs $850, but not everyone has $850 laying around. With an EIP, your monthly payment would only be $35/month for 24 months, which is much more doable than a one-time payment of $850. This also lets T-Mobile keep you as a customer for that contracted amount of time, which is a good thing for their books.
Spotted by a reader of TmoNews who was doing some shopping, T-Mobile is offering a new 36-month EIP option, making even more expensive devices affordable. When we went to see if we could find this new 36-month option, it is there, but only for Samsung's Galaxy Note 9. Additionally, no 24-month EIP option appears to be available anymore, only the new 36-month option.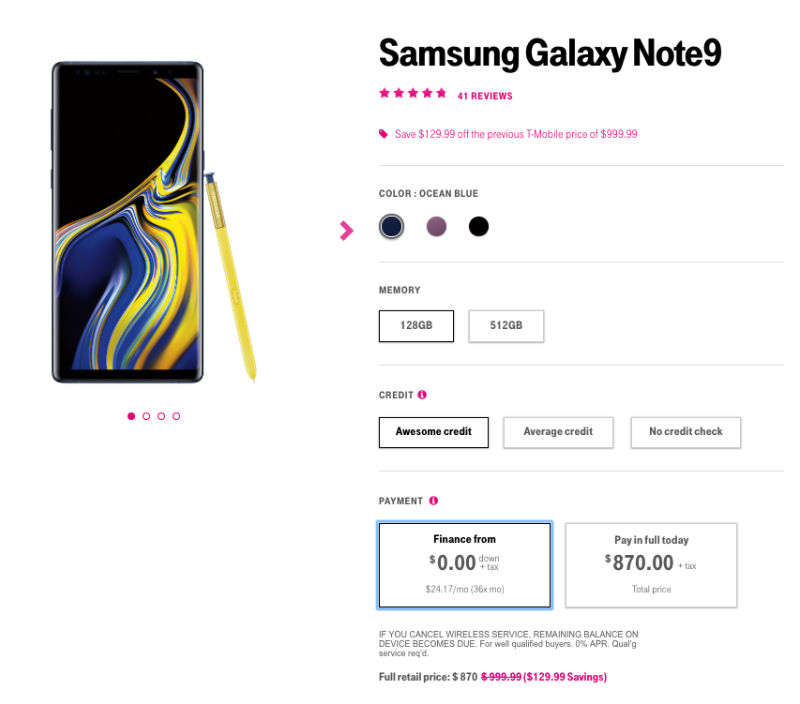 Let's take the Galaxy Note 9 as an example, since it appears to be the only phone available through the new 36-month option. With the detailed EIP change, there would be zero money down with 36 months of $24.17 payments. That reflects a $870 full retail price, thanks to a deal T-Mobile is currently hosting. Before this change went live, the buyer would pay nearly $300 down, followed by 24 months of $30+ payments. So, in the long run, this is a better deal, but you're paying T-Mobile a whole extra year of payments. Whether that's something you want to do is entirely up to you.
To check this change out yourself, look at T-Mobile's Galaxy Note 9 listing.
// TmoNews