Palm has made its way back into the phone space today by way of a companion-like phone that runs Android and will be sold by Verizon. I said "companion" because this isn't supposed to be your main phone, but rather a secondary phone. Confused? Let me try to explain it.
The Palm, which is its name, is a mini-phone with a 3.3″ HD display that's about the size of a credit card, so it should fit nicely in your palm. It could be put on a chain or tossed in a small pocket or tucked just about anywhere, thanks to that small size. It's still a mostly fully-featured smartphone, though, with cameras and access to Android apps and your Verizon phone number and texts.
The idea here is that you have a normal phone with powerful processor and big screen that you use most of the time. But when you want to disconnect some, while not being fully disconnected, you could grab Palm instead of your other phone. It uses Verizon's NumberSync to bring your existing phone number with you, just like you would if you had an LTE smartwatch or other LTE equipped device.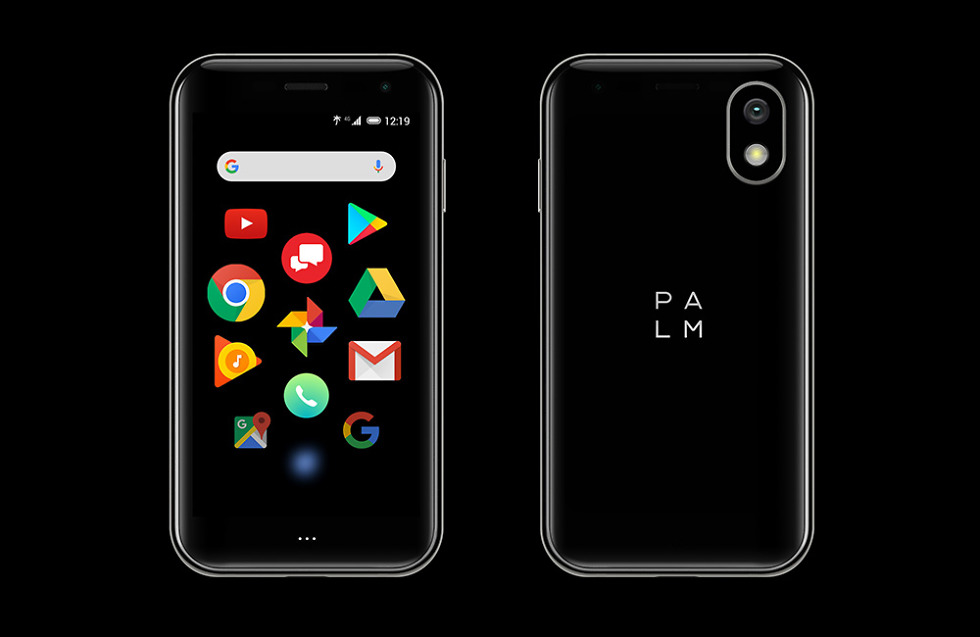 It runs Android 8.1, has access to Google Play and the Google suite of apps, you can make and receive calls, snap photos with the 12MP rear and 8MP front cameras, unlock with face recognition, and access Google Assistant. It's all powered by a Snapdragon 435 processor, 3GB RAM, 32GB storage, and 800mAh battery. It is IP68 water and dust resistant, has GPS, and comes in either black-titanium or black-gold.
See, this isn't a phone that you would want to use all of the time. It's tiny and lacks proper specs for a phone you'd want to get serious with. However, this isn't the worst idea I've ever heard. It does cost $350, which is a lot for a faux phone, but imagine you go for a run or to the gym or on a date or to the beach and don't want to bring your big ass Note 9 with you – this would be perfect. It's weather resistant, tiny, and can still take pictures or make calls. That's kind of neat.
The Palm arrives at Verizon in November.
Find out more at Palm's site and this Verizon page.