Leaks aside, we still can't buy a Google Pixel 3 or Pixel 3 XL until both phones stop off at the FCC for testing. Well, that just happened. Both of Google's new phones are there and we're diving in!
It's worth noting that each was filed through the FCC under Google's FCC ID for the first time, not another company's. With previous Pixel releases, where Google contracted others to build the phones, we saw HTC and LG drop off FCC docs. With the Pixel 3, it's all Google.
So far, we've identified the Pixel 3 and Pixel 3 XL as model numbers G013A and G013C. My guess is that the A model is the Pixel 3 and the C model is the 3 XL, but I'll look deeper into the docs further to confirm that. And I say that because the Pixel 2 was G011A and the Pixel 2 XL was G011C.
UPDATES: Let's start the updates!
1. Below are the supported wireless bands, which show that Google's phones are once again ready for all major US carriers (Verizon, AT&T, T-Mobile, and Sprint). The phones also have NFC, 802.11/ac WiFi, and Bluetooth LE.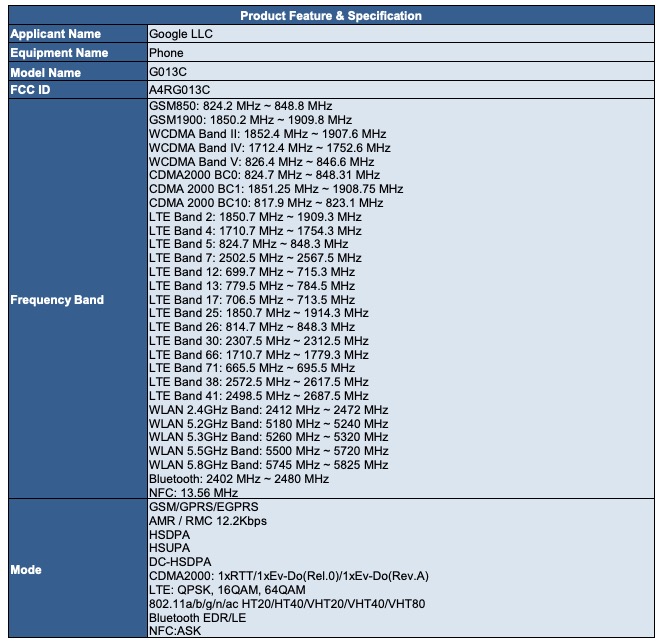 2. There are mentions of testing "WPC Charging Mode," which could certainly be in reference to wireless charging. With a glass back and related leak, we assumed wireless charging would be on board, but this could be another sign pointing to that.
Alright, that's about all these docs have revealed. Google and friends did a good job at not revealing anything noteworthy.
Stay tuned, I'll update this if I find anything fun!