Earlier this year, Epic Games announced it was bringing Fortnite to mobile devices. It was launched for iOS some time ago, but is now out for select Samsung Galaxy devices for Android players. Thankfully, I have a Galaxy S9+ sitting on my desk, so I downloaded the game straight from Epic (it's not available via Google Play and probably never will be), then jumped onto the Battle Bus and into a friendly match.
To let you know about my Fortnite credentials, I've been playing the game daily since it was launched for Xbox. I've reached Tier 100 in all Seasons and according to Fortnite Master's stats, my Duos partner and I, as well as my full 4-player squad are in the top 1% of players based on wins and kills alone. To sum it up, we crush and we enjoy crushing very much.
What follows is a breakdown of my experience after a few Fortnite for Android matches.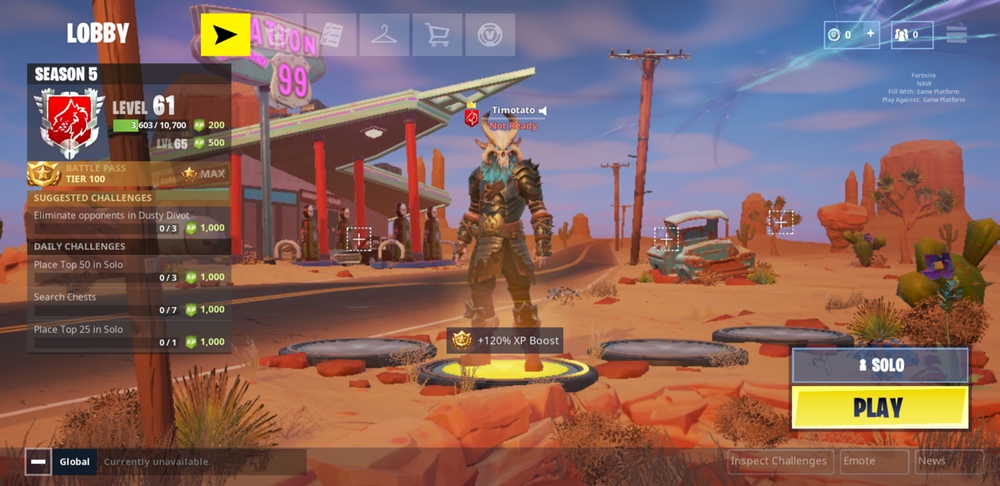 After loading into the home screen, I was very pleased at the menu system and overall UI. It looks extremely similar to how it does on console and PC, so if you've ever played the game, you'll be familiar with it and can navigate it easily. As far as the in-game UI, it looks like any other mobile shooter, complete with buttons for all of the different actions in the game. Of note, Fortnite offers mobile players 3 different configurations for shooting weapons — Auto Fire, Tap Anywhere, and Dedicated Button. The game recommends Auto Fire, but I found that the game wasn't firing when I needed it to, so I opted for the Dedicated Button option.
Also, and very importantly, each aspect of the HUD can be customized inside of the Settings menu. For example, you can place the buttons wherever you want on the display, as well as change the size of the buttons. This is a nice touch from Epic Games and not something you often see in other mobile shooter games.
However, even with all of the control over how you interact with the game, the process of shooting a player to building cover left me feeling very irritated. On console and PC, everything is very fluid with regard to shooting an enemy and then building yourself a little 1×1 for protection or even rushing the enemy and building cover on the way. On mobile, I was standing out in the open, fidgeting with building and paid the price a couple of times. When building, you tap on a dedicated build button, then you have to select what piece of structure you want to place. Once selected, you have to tap on the build button. Of course, this is the same protocol on console and PC, so it seems entirely possible that this game doesn't translate well to touch controls. I applaud Epic Games for making the effort, but the pace of my play style has been hampered too much while learning the controls.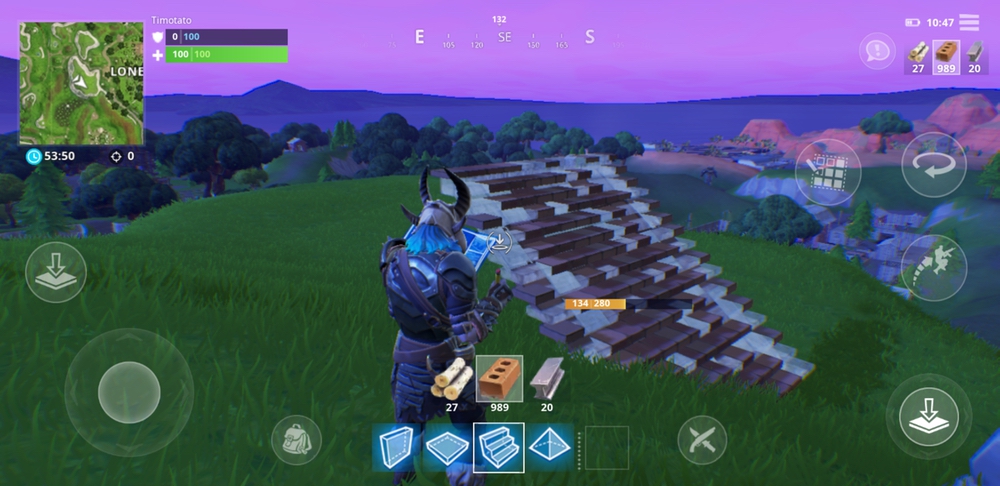 While building is difficult and basically changes how Fortnite is played when on mobile, I wasn't doing so hot in combat either. Again, this is me trying to get used to touch controls, but whenever I would go to ADS (aim down sight), I'd then have issues swiping on the screen to aim and hit the dedicated fire button at the same time. This is likely why Fortnite suggests Auto Fire, but again, that control wasn't firing every time I wanted it to, so to me, it's a give and take with whatever setting you choose.
Let's say you do eliminate an enemy and want to run over their loot. The game has a setting for automatically picking up materials and guns, and when doing so, you can then swipe on guns and utility items in your inventory to organize them. If you want to change out an item, select that item in your inventory, then tap on whatever you want to change it with from the environment around you. Remember, Green items are Good, but Gold items are God. If instead you want to tap on each item individually, you can do that, too.
I have a feeling that if I plug away at Fortnite for mobile as much as I do on console, I'll have no problem getting the hang of it and have lots of fun, but it's a real steep learning curve. The way I see it right now, everything from building to gun fights just take a very long time to do as you're hitting buttons on your display. Hopefully, everyone in the lobby should be just as bad as me, so we can all suck together. I don't mind that.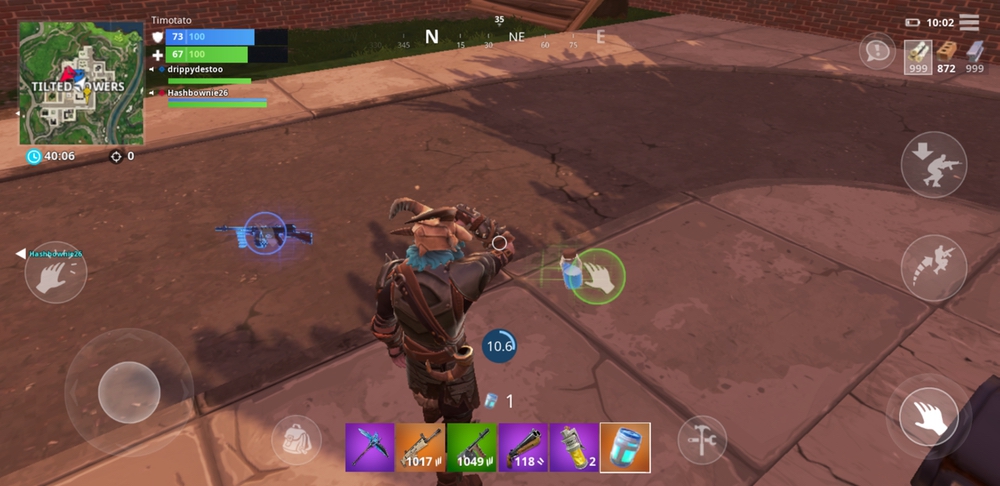 As for how the game looks and feels, it's perfectly acceptable, considering what Epic had to do to get its massive map and all of its content onto your smartphone. There was no lag or jank, which is insanely impressive. There are also little UI indicators if you're having troubles finding that hidden loot chest. Whenever you're near a chest, a little gold icon pops up on your screen and points you in the direction of where the chest is. This is not available on console or PC, at least that I'm aware of. On mobile, it's very helpful because if you aren't playing with a headset, it's hard to determine where sounds are coming from on external speakers, even if they're stereo.
So, will I actually keep playing this game on mobile? I could see myself trying to get in a game or two if I was waiting at the doctor's office, airport, or something along those lines. It's as fun of a game as it is on console or PC, it's just a real pain getting used to the controls. However, when/if controller support is built in, you might catch me on there often.
---
If you want to try out Fortnite on your support Samsung Galaxy device, head into the Galaxy Apps store on your phone and download the Installer app. From there, install the game and log in with your existing Epic Games account or create a new account to start playing.