We've been tracking the sh*t out of Samsung's upcoming Galaxy Watch in recent weeks. We found the first, smaller version at the FCC in both WiFi and LTE models before also spotting the larger version with LTE at the end of last week. Today, thanks to a slip-up from Samsung, we are getting to see the smaller Galaxy Watch for the first time.
The device (pictured above) is the Galaxy Watch (42mm) in Rose Gold. It was first spotted by a reader of CNET, and we've now confirmed it on Samsung's site as well. In fact, if you head to this Galaxy S2 listing, you may be able to see it in the "Related Products" section.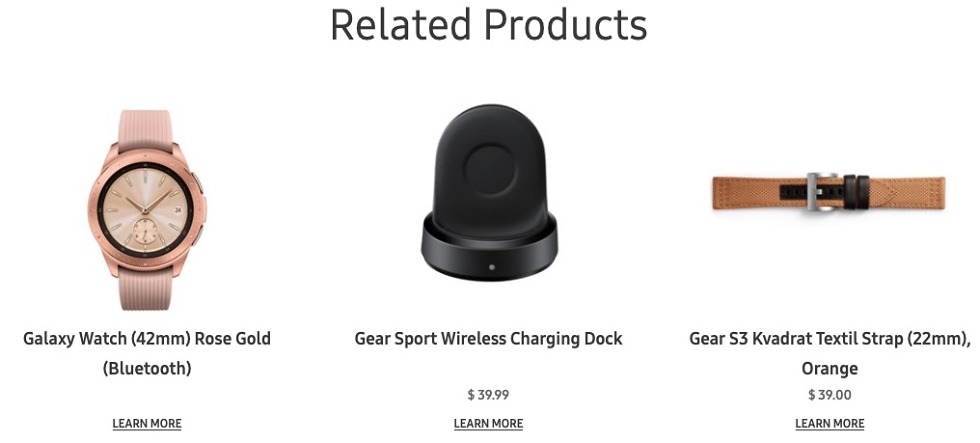 You can find the image for it here and the "Learn More" link in that section points to this URL, which is dead or broken.
This 42mm Galaxy Watch is listed as model number SM-R810NZDAXAR, which matches up perfectly to the WiFi-only version we spotted at the FCC. Other Galaxy Watch models in this 42mm range will arrive as SM-R815, while the bigger version will be SM-R805, and more than likely, SM-R800.
Since we can't view the actual listing for the device, we can only look at the image to figure out what's new. For the most part, the shape is new (less masculine), but the button setup is just like the Gear S3 Frontier. It's looking like Samsung's rotating bezel is back too.
We'll update this post if we run into anything new, including the larger version.