This morning, a report suggested that Samsung's next watch was indeed called Galaxy Watch, but that it would run Tizen 4.0 instead of fulfilling the rumor of Samsung's switch back to Wear OS. Tonight, we can 100% confirm the name of Samsung Galaxy Watch, thanks to FCC documents that just went live.
As you can see from the images we included here that were snapped from FCC pages, the device says "SAMSUNG GALAXY WATCH" across its back case. That sort of takes any mystery out of it.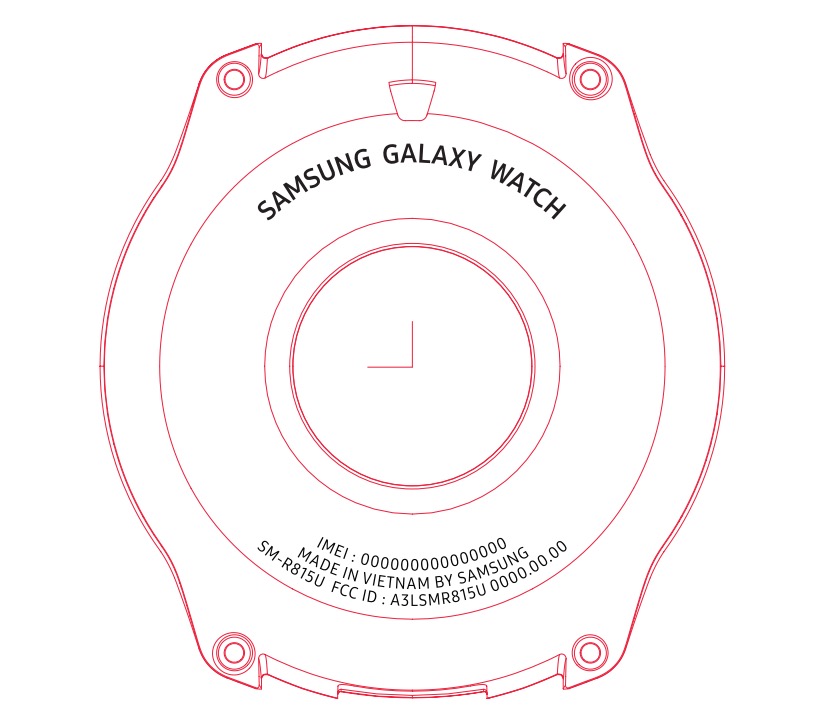 In addition to the name, we can gather that the Galaxy Watch model numbers will be SM-R815U and SM-R815W. The R815U model should be for the US, while the R815W is for Canada.
The case measures in at 51.2mm x 43.4mm, so it's on the bigger side for a watch, yet smaller for a smartwatch. The display measures diagonally at 30.2mm which converts to about 1.2-inches.
Here are the supported LTE/WiFi/Bluetooth bands tested:
Looking at those, we have LTE support on AT&T, Verizon, T-Mobile, and Sprint. It sure looks like Samsung plans to either sell this at all carriers or as some sort of unlocked watch that can be activated on each.
There wasn't a mention of the software that it runs, so we aren't able to confirm Tizen over Wear OS. My money is on Tizen, though.
---
UPDATE: Shortly after posting about the LTE-equipped Galaxy Watch, the WiFi-only model hit the FCC too. The WiFi model will be SM-R810.
UPDATE 7/24: We've now got a third Galaxy Watch model number, again thanks to the FCC, this time as SM-R815F. This is an LTE variant, with the F likely indicating its international pedigree. Like the Galaxy S line, we often see "F" on the ends of model numbers meaning non-North American. What's interesting is that the FCC didn't test LTE for this model like they did with SM-R815U and 815W.
The documents reveal that the watch was codenamed "Galileo" and that it does have a 1.2″ display, just like we figured above.