After a small tease a few weeks back, Mobvoi has gone ahead and announced the TicWatch Pro, their latest smartwatch with Google's Wear OS. As a follow-up to the popular TicWatch S & E line, the TicWatch Pro has one special trick up its sleeve – really long battery life.
With a dual display setup that includes an OLED underneath a FSTN display (film-compensated super twisted nematic), Mobvoi claims the TicWatch Pro can last anywhere from 5 to 30 days on a single charge. It's achieving that by using the FSTN display as a battery saver, since it looks like a black and white display that shows you a minimal amount of info when not in use. As you go to use the watch, the OLED appears through the FSTN display to give you a typical Wear OS experience. The FSTN display is also great for outdoor use.
To get to the 30 days of battery life, Mobvoi has included an "Essential Mode" on the watch that basically deactivates the OLED panel. So you only get to see the FSTN display then, but it'll still show you time, date, step counting, and heart rate monitoring. They plan to issue an update that will add more features to this mode. If you want some of the smarter Wear OS features, there is a toggle to make it auto-switch to "Essential Mode" when the battery gets low that will get you closer to that 5 day mark.
When in "Smart Mode," you get full Wear OS functionality and a battery life that can last up to two full days. That's pretty good for any smartwatch powered by Wear OS. As you use the watch in this mode, you'll notice the display switching back and forth seamlessly.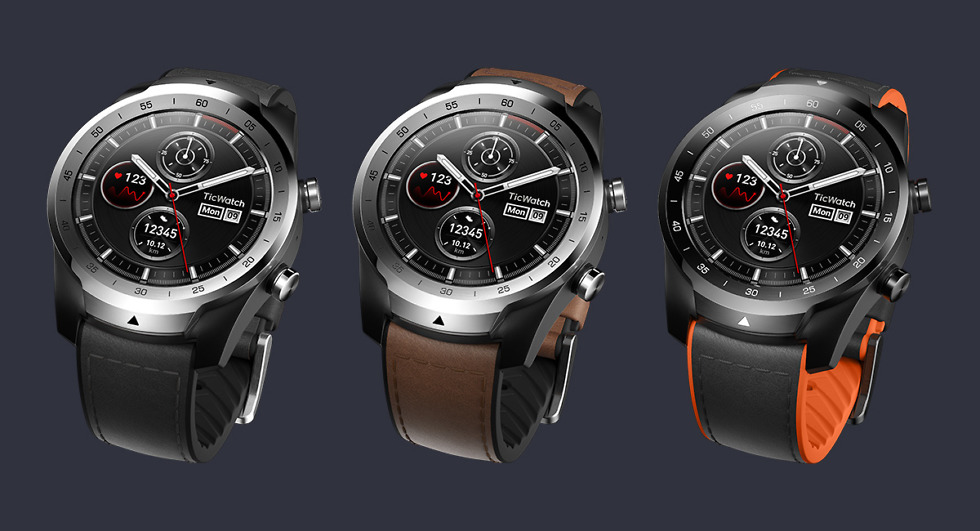 As for the rest of the story, the TicWatch Pro has all of the specs you could ask for in a Wear OS device at this time. The display is a 1.39-inch OLED, plus you get 512MB RAM, 4GB storage, GPS, NFC for Google Pay, Bluetooth and WiFi, 415mAh battery, IP68 water and dust resistance, heart rate monitor, stainless steel bezel, and a Qualcomm Snapdragon Wear 2100 chip. No, that's not the new chip that Qualcomm will announce later this year. So yeah, that's one issue.
Its case is on the bigger side at 45mm wide and 12.6mm thick, but after wearing one for a few days, I'd compare it to the Huawei Watch 2 Classic or my Garmin Fenix 5. It is certainly not small, yet it isn't offensively large either, like a Nixon watch or something similar. The band that comes with it is a combo of rubber and leather, so you should be able to workout in it or dress it up some.
The TicWatch Pro is up for order at Amazon in either black or silver at $249.99.
Interested?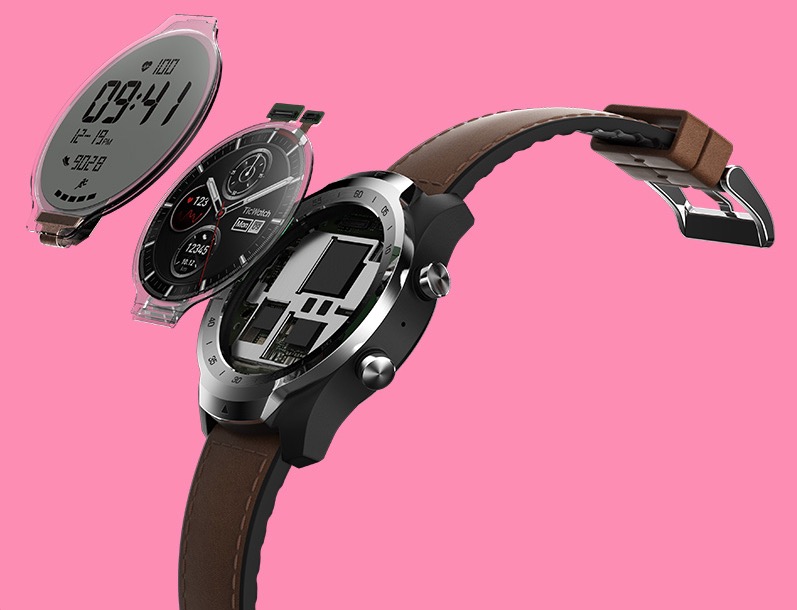 ---
Ticwatch Pro
Device OS
Wear OS by Google
Dimension
45mm x 12.6mm
Display
1.39" OLED 400 x 400 + FSTN display
Chipset
Qualcomm Snapdragon Wear 2100
Memory
RAM: 512MB
Storage: 4GB
NFC Payments
Google Pay
Connectivity
Bluetooth: 4.2
Wi-Fi: 802.11bgn
GPS
Sensors
Accelerometer, Gyro, Magnetic Sensor, PPG Heart Rate sensor, Ambient Light Sensor, Low Latency Off-Body Sensor
Battery
415mAh
Battery Life
Smart Mode (Wear OS): 2 days
Essential Mode: 30 days
Water Resistance
IP68 (up to 1.5 meters for up to 30 mins; swimming not recommended