Facebook is hosting their F8 conference this week, so that means they have tons of announcements for all of their products. Instagram, in case you forgot, is one of those and Facebook said that a bunch of big features are on the way, like sharing from 3rd party apps to Stories, letting 3rd parties make face filters, and a full-blown video chatting experience.
To start, Instagram has worked with Spotify and GoPro to allow you to share directly from those apps into Instagram Stories (this will work in Facebook too). Why would you do that? Well, you may want to share the song you are playing in Spotify to Instagram or a picture from your GoPro. More apps will be added "soon."
As for face filters, Instagram is opening up this feature to 3rd parties, like those that you follow. Instagram has already worked with Ariana Grande, Vogue, and Buzzfeed, to provide new creative effects that you can use in your own experiences.
And finally, Instagram really is going to add a video chat feature to the app. They are still testing it, so it could be at least a handful of weeks before anyone gets it. However, it'll work like other video chat apps in that you'll tap a video chat icon to join in small group conversations. Instagram will also allow you to minimize conversations to continue doing other things on Instagram without closing out the chat.
Oh, I forgot to mention this, but the Explore page is getting an overhaul too. It'll still be personalized, but you'll find better organization of topic channels. It will look like this: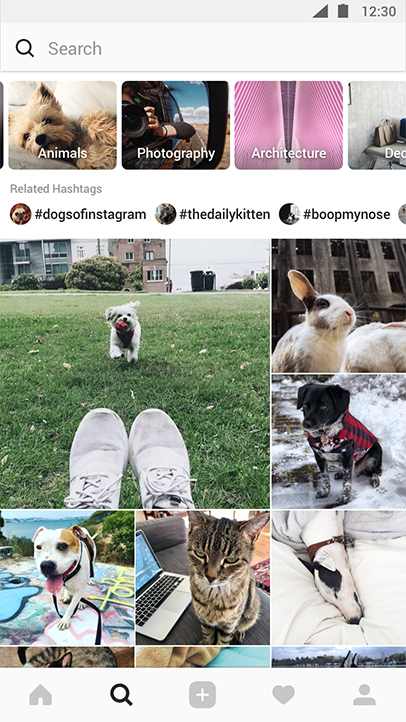 // Instagram