The next time you see an update to your Android Pay app, it will no longer be called Android Pay. Instead, Google will flip the switch over to the Google Pay branding it told us to expect back in January.
The change happened on Google Play over night and not only shows a change in name, but a refreshed UI as well. While I have yet to receive the update that changes the name, the new listing shows the branding and screenshots of what we can expect. Take a look.
This new, heavily white UI, is no longer filled from edge to edge with a stack of your cards. Instead, Google has made everything smaller, added more info to the front page (like recent activity), and tossed in a slideout menu to house settings. It's clean!
UPDATE: Google has now announced that today is the day for Google Pay to arrive.
In this new UI, the home tab not only shows your current active card an recent purchases, it'll be there to help you find nearby stores, access rewards, and even offer up tips. A new cards tab has arrived too, as well as a new fast way to pay for transit in select cities (Kiev, London, and Portland), where "all you need at the turnstile is the device that's already in your hand."
Finally, Google says to expect the ability to send and request money within the next few months in the US and UK.
Here's another look at the new UI: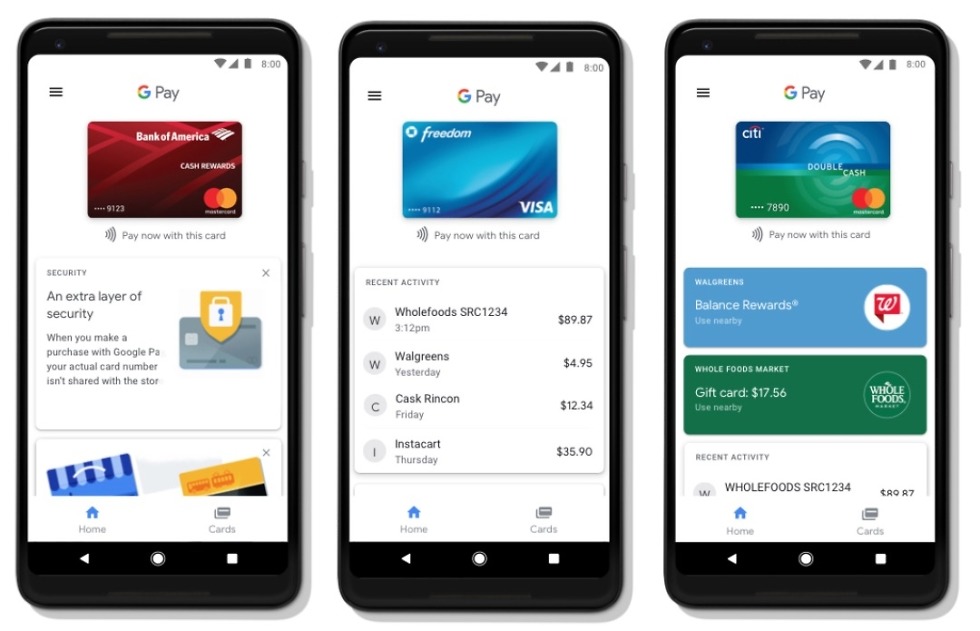 Be on the lookout for it!