Huawei announced its new flagship phones this morning, the Huawei Mate 10 (pictured below) and Mate 10 Pro (pictured above). These phones have been reported about, thanks to leaks, for weeks and weeks now, but we've been handed the official details to share. So here's the story.
Like with most Huawei phones in recent years, even if they look incredibly impressive (which these do), we have no idea when we'll ever see them in the US. Huawei did tell us that "US pricing and availability will be announced at a later date," so that's at least promising in terms of them showing up here one day. In fact, that leads us to believe that the Mate 10 and Mate 10 Pro are indeed coming, we just hope it isn't 6 months down the road. Then again, if we assume these are a part of the big Huawei-AT&T mash-up we keep hearing about, I guess we do have some time still.
But enough of that, what if you aren't in the US or simply want to import the next big thing from Huawei? These are the details to know.
We've got the Huawei Mate 10 and the Huawei Mate 10 Pro. As the names suggest, the Pro version should be the better version. With that said, it sounds like the Mate 10 Pro lacks the SD card and headphone jack of the regular Mate 10, plus its display drops to 1080p from QHD, which would be downgrades for the most part. It does have IP68 water resistance, though, so there's something.
As for other details, they both run Huawei's Kirin 970 octa-core processor, have dual Leica-branded camera setups (20MP Mono + 12MP RGB, both f/1.6, OIS), 8MP front cameras, 4000mAh batteries, and Android 8.0 Oreo under EMUI 8.0. The Mate 10 sports a 5.9-inch QHD LCD display (16:9) with front-chin-situated fingerprint reader, 4GB RAM, and 64GB storage. The Mate 10 Pro moves the fingerprint reader to the back to make way for a 6-inch 1080p OLED (18:9) that cuts out most bezel, along with 6GB RAM and 128GB storage.
The phones are also very glass-like and are quite pretty. I know that the design with that band across the back has offered up plenty of fun in the comments, but I tend to like both the color schemes and that design detail/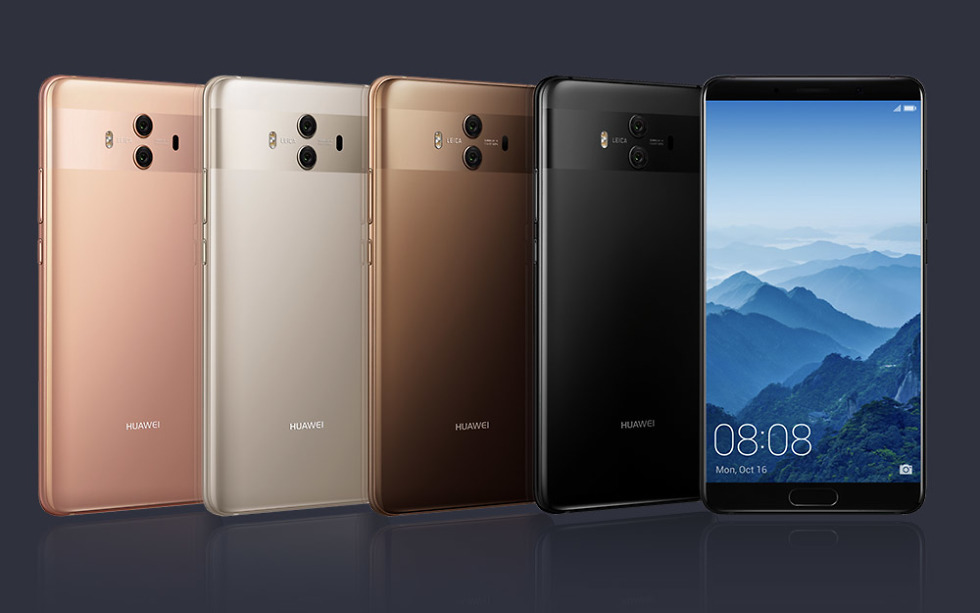 The Huawei Mate 10 will arrive in late October for €699. The Mate 10 Pro will arrive in mid-November for €799.
Huawei Mate 10 / Mate 10 Pro Specs
Mate 10
Mate 10 Pro
OS
EMUI 8.0
Android 8.0
EMUI 8.0
Android 8.0
Display
5.9" HUAWEI FullView Display
16:9 LCD Display
2560 x 1440 pixels, 499ppi
6.0" HUAWEI FullView Display
18:9 OLED Display
2160 x 1080 pixels, 402ppi
Processor
HUAWEI Kirin 970
Octa-core CPU
Mali-G72 MP12 GPU
Neural Network Processing Unit
HUAWEI Kirin 970
Octa-core CPU
Mali-G72 MP12 GPU
Neural Network Processing Unit
Memory
64GB storage (microSD slot)
4GB RAM
128GB storage
6GB RAM
Connectivity
Wi-Fi 2.4G, 802.11a/b/g/n/ac
Bluetooth 4.2
NFC
Wi-Fi 2.4G, 802.11a/b/g/n/ac
Bluetooth 4.2
NFC
Cameras
Rear: 20MP Monochrome+12MP RGB, f/1.6 + f/1.6, OIS
Front: 8MP, f/2.0
Rear: 20MP Monochrome+12MP RGB, f/1.6 + f/1.6, OIS
Front: 8MP, f/2.0
Battery
4000mAh
4000mAh
Water resistance
---
IP68
Ports
USB Type-C
3.5mm headphone
USB Type-C
Size
150.5mm x 77.8mm x 8.2mm
186g
154.2mm x 74.5mm x 7.9mm
178g
Colors
Mocha Brown / Black / Champagne Gold / Pink Gold
Midnight Blue / Titanium Gray / Mocha Brown / Pink Gold
// Huawei