So you've already read our Galaxy Note 8 written review and watched our video review, but are still on the fence about picking up a Galaxy Note 8? Well, maybe these 5 reasons will help sway you, because there's a whole lot to like about the Galaxy Note 8.
In this post, we'll talk about what makes the Galaxy Note 8 stand out in an increasingly crowded premium Android smartphone market, such as its dual camera system, insanely gorgeous hardware design, specs that are out of this world, and how the Grace UX isn't nearly as bad as Samsung haters say it is.
Here are five reasons we think the Galaxy Note 8 is a good buy.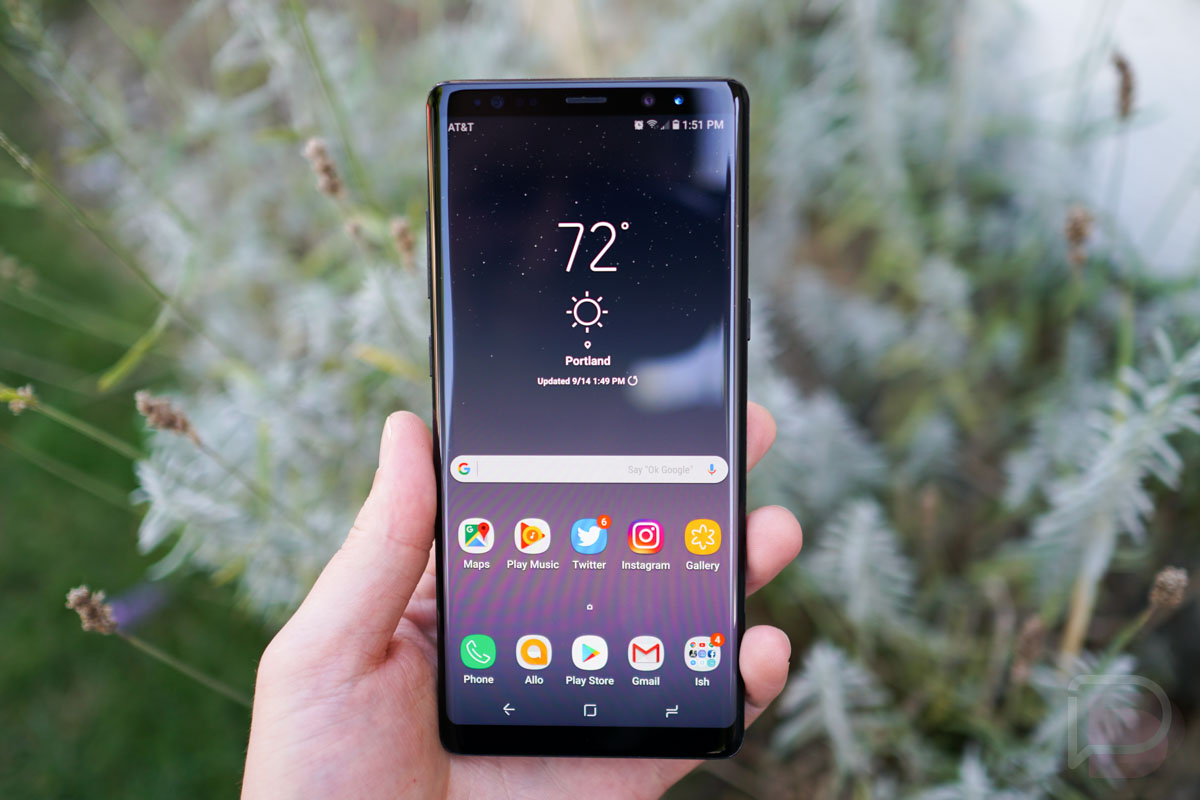 1. It Has Everything
If you judge smartphones by the specs they have, then the Galaxy Note 8 should already be at the top of your list. Here, I'll name a few, just to get the ball rolling. The Note 8 has a 6.3″ Infinity QHD+ Super AMOLED display, wireless charging, NFC/MST, fingerprint reader, facial recognition, iris scanner, expandable storage, Snapdragon 835 processor, 6GB RAM, dual rear-facing cameras with OIS, Bluetooth 5.0, S Pen, IP68 water and dust resistance, and the list goes on.
Seriously, if you were designing your own dream phone with realistic expectations for under $1,000, you'd probably create the Galaxy Note 8. Take all of these specs and toss them into a gorgeous, all glass and metal body and you have a legit flagship smartphone that can go up against anything else on the market.
Considering the Galaxy Note 7 was taken off the market prematurely due to the recall, I don't think ex-owners and Samsung fans in general could've hoped for anything better this time around. In my review, I called this the best Note device Samsung has produced to date, and I still stand by those words 100%.
2. Dual Camera System + OIS is Beast
Smartphone cameras are all pretty stellar these days, but Samsung upped the bar this year, providing dual rear shooters, both with optical image stabilization (OIS). For Android, this was a first, and from my findings with this device during my review period, it killed.
This phone is exceptional in low lighting, when other phones would blow an image's lighting to poo due to sensitive sensors. Like past years, the cameras handle assorted colors well, too, such as reds, purples, and greens. This is handy when you're shooting landscapes or getting in close for a macro of a flower. With the secondary sensor, which is telephoto, you can zoom in on objects without losing a ton of detail, which can be helpful for wildlife shots, such as that cute squirrel that keeps terrorizing your dogs in the backyard.
I've gone over the camera and its capabilities in my full review, so if you haven't already, check that out and see a few of the sample shots I posted.
Sample Shots
3. Grace UX, Give It a Try
Over the years of blogging about Android, I've heard countless people say, "TouchWiz sucks" or something along those lines. My friends, believe me when I tell you, Samsung's custom skin that runs atop Android is not like it was back then. It's been tweaked and refined heavily, almost to the point where I don't have any real issues with it. Do I prefer stock Android still? Yes, but that's because I'm a very minimal kinda guy and don't need half of the features Samsung offers inside this skin, but others may benefit greatly from their inclusion.
My point is, don't let this phone's skin be the thing that is deterring you. It shouldn't be. While at first you may feel overwhelmed by all of the different settings you can play with and enable, just know that after a few days, you'll know everything that's in there and be a real Note master. And luckily for you, we make videos specifically to help you discover all of the good stuff.
4. Hardware Design
If you checked out Kellen's video review, I don't share his exact sentiments regarding the size and feel of this phone. Yes, if you're coming from something smaller, the Note 8's size can take a bit of getting used to, but once you are used to it, it's kinda hard to go back to anything smaller. You have this massive display and rounded edges for easy holding/gripping, with a body covered in soft glass. I think it's a real delight to hold, use, and look at throughout the day.
Is this phone an accident prone-person's worst nightmare? You better believe it, but what glass-encased phone isn't going to shatter upon dropping it? It's just the way things are, and you know, they do make cases to help protect your device. At the end of the day, I'll gladly use a fragile phone that looks amazing over an ugly device any day of the week, because considering how often I'm looking at it and holding it, I want it to look good. I want others to ask me what it is and get a little jelly that all they have is an old busted iPhone. That's fun for me and it's the feeling I get when I pull out the Note 8 in my group of iPhone-loving friends.
Even if you don't want something this big, you can get basically the same thing in a smaller Galaxy S8 package, which is also a great phone that we've covered countless times.
5. Future-Proof
Remember some of those specs I talked about earlier? Like facial recognition, iris scanning, NFC/MST, and Bluetooth 5.0? Well, because this phone comes equipped with all of that, you can rest assured that your phone will go on supporting the latest trends in mobile technology for a solid period of time. Because Apple just made facial recognition "cool" with the iPhone X, you can sleep comfortably knowing that your phone is capable of the exact same thing, but even goes a step further — iris scanning. Once you see your favorite banking apps support iris scanners, you'll know that the Galaxy Note 8 was a solid investment.
Another great piece of tech in this device that gets overlooked often is the inclusion of MST (magnetic secure transmission). Mobile payments are all the rage right now, but every phone that isn't a Samsung flagship lacks MST and access to Samsung Pay. With this on your phone, not only can you utilize an NFC reader, but virtually all credit/debit card readers in America with this touch-less technology. It makes your payment possibilities much more consistent and adds yet another reason to leave your plastic at home when you hit the town.
---
---
Buy the Galaxy Note 8
Considering another phone? Feel free to take a look back at 5 reasons to buy other phones, like the LG G6, Pixel, or Galaxy S8 in previous installments of this ongoing series.