Verizon's own Android Wear-powered smartwatch, the Wear24, has seemingly, already been discontinued after just 3 months and change of being available. The Wear24 is "no longer available" from Big Red. I can't think of many devices in history with such a short life, even if this watch went through delays and wasn't exactly the most hyped.
As many of you know, this watch was announced in February, at the same time as LG's two new watches, the Watch Sport and Watch Style. At the time, we suggested the Wear24 might be the best of the three, thanks to a decent price tag, slimmer body and design over the Watch Sport, and NFC on board for Android Pay usage. But after a couple of delays, followed by a launch in May that was accompanied by bad news surrounding a worthless NFC chip that did not allow for Android Pay payments, the watch hasn't been talked about much.
Why has the watch already been killed by Verizon? That's tough to say, but the reviews for it certainly might give us some insight there. The Wear24 has 37 reviews and a 2.4 (out of 5) customer rating. That's pretty horrendous, with most suggesting that the speaker volume is so low and awful that the watch's main selling point (it's supposed ability to make calls over LTE) isn't even worth using. A lot of reviewers also noted the buggy software, poor connectivity, and the numerous exchanges they had to go through before jumping to another smartwatch.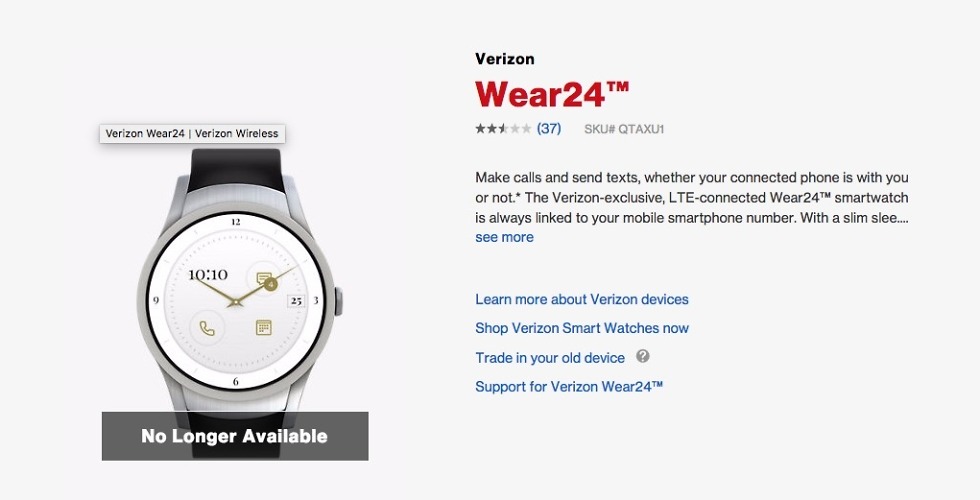 Keep in mind that Verizon didn't actually make this watch. Instead, they contracted it out to Quanta, an ODM (original device manufacturer), and then branded it as an exclusive device of their own.
The fact that the Wear24 is no longer for sale at Verizon isn't a good sign for Android Wear and LTE. Remember, the LG Watch Sport was cancelled at Verizon days after the Wear24 launched, leaving LTE-hungry Android customers with few options unless they were ready to go with a Samsung watch or the not-exactly-new or worry-free LG Watch Urbane 2nd Edition LTE.
We've reached out to Verizon for comment on the situation and will update this should we hear back.
UPDATE: Yep, the Wear24 has been discontinued, Verizon confirms to us.
Cheers Michael!