The iPhone X ("TEN") event just wrapped up, and as I mentioned during our live chat, I'm working my way up Mount Take at the moment because, ooh boy, this was fun and there are takes to be had. But before I summit this beast, I needed to stop and throw a few ideas in Google's face. You see, Apple announced a lot, but I'm not sure any of it is as important to Android users who love movies as the stuff Apple announced with the new Apple TV 4K.
Apple TV 4K and Free 4K HDR Upgrades
For one, the new Apple TV 4K does 4K (obviously) and HDR. That's cool, so does the NVIDIA SHIELD TV. But where Apple just killed today's announcement is in the content side of 4K and HDR, not the capabilities. Apple announced that all of the 4K titles they'll sell through iTunes will be the same price as those in HD. Additionally, if you already own a bunch of HD titles and the 4K versions get released, Apple will upgrade them to 4K for you for free. FREE. ALSO, SAME PRICE AS HD. That's nuts!
You want to know what Google currently charges you for 4K movies? Well, Wonder Woman just came out and the 4K version is a $10 up-charge over the arguably already-expensive HD version that costs $19.99. But beyond that, Google certainly isn't doing any sort of matching of current content to 4K. Hell, you can't even upgrade with a partial fee to a 4K movie you've already purchased through Google Play Movies & TV. That's kind of ridiculous. Google is essentially saying, "Sorry, bro, you just need to re-buy all of your content again." Apple is about to do it for you, for free.
New Dedicated Sports Section
But that's not all that was exciting about Apple TV 4K content. Apple also introduced a new Sports section that'll connect to your favorite sports apps to show you what's playing now, who your favorite team is up against, scores, time remaining, and more. You'll get notifications when your team is playing, a shortcut in the "Up next" list to their next game, or if there is a close game you might find fun. They even put together a Sports tab that adjusts to the season to always show you the current sports line-up.
They also announced a similar News section as well with relevant live breaking news broadcasts.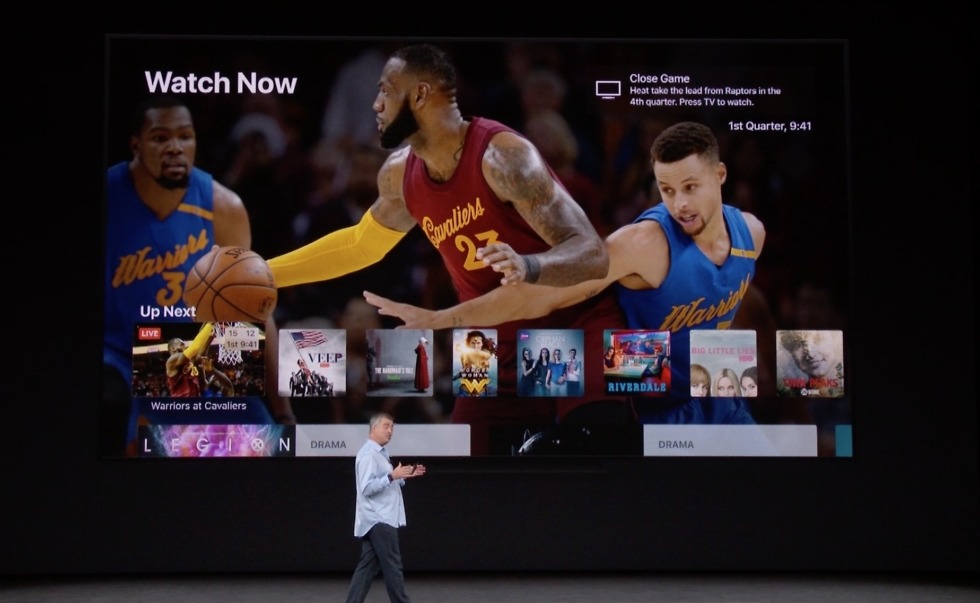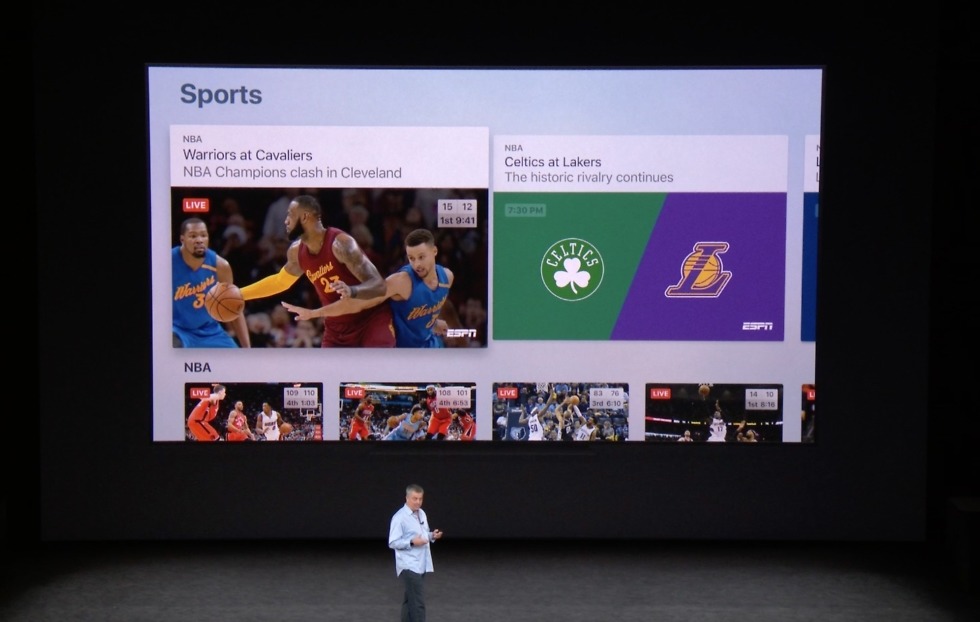 Not that I'm all about going full Apple TV 4K fanboy, but these are a couple of major improvements over Google's Android TV and Google Play Movies & TV experiences. For one, Apple is handing people upgraded content at no charge, something Google has shown no interest in doing so far. We're talking about saving users mounds of cash in movie upgrades. Not only that, they are taking two major content types (Sports and News) and putting them front and center in a user experience that isn't just an app shortcut, but a combination of a bunch of apps and their content to make it less difficult for you to find.
I don't say this often, but Google, you've got some catching up to do in the TV department.