What happens when Google ditches its beloved Nexus program to take smartphones seriously? You get Pixel and Pixel XL, two phones with high-end specs that are "Made by Google" (in Taiwan by HTC), price tiers that typically only Samsung and Apple can compete in, and a massive marketing campaign. Another way to put that is – Google is finally ready to be your next smartphone maker, and not in a back-alley tinkerer, "You can only come to my website to buy the discounted goods," hacky and cheap kind of way. The Pixel phones are supposed to be as good as any phones and Google is telling you about them. Our Google Pixel review should help decide if they are right.
Google is using its premium Pixel line to now not only highlight their vision for Android, but also to present an exclusive set of features that they hope will allow these phones to stand out. I'm talking Google Assistant, for the most part. However, Google has a special launcher for Pixel, is super hyped on the cameras they used, and will more than likely continue to add on new features as these phones receive updates.
Did Google succeed this time around? They sure did build a couple of really nice phones, I can tell you that much. I've spent the better part of the past two weeks switching between the regular Pixel and the Pixel XL. It's now time to talk about the experience.
This is our Google Pixel review. 
Google Pixel Review
[responsive_vid vid_url="wHqX4Nvmllo"]
The Good
---
Camera
If you had a chance to check out our Google Pixel camera review, then you know how this section is going to go. In short – the Pixel camera is one of our favorites of not only the year, but of all time. Google has focused on making a camera that launches quickly and easily, focuses even faster, and snaps a photo or five or fifteen without hesitation. The combination of those three things is really what I look for in a camera, because speed is the ultimate deciding factor in a time where almost everyone's smartphone camera can capture a decent picture.
In the software department, we have a Google Camera app that has improved substantially over the years. It's basic without being bare-bones, meaning it has the options you need without overdoing it. You can adjust the obvious settings, like flash, HDR, grid lines, a timer, and lighting conditions. If you want more, well, then you can switch into modes for Slow Motion, Panorama, Photo Sphere, and Lens Blur. You can also adjust resolution, ratio, up the video to 4K, and toggle video stabilization on or off (tip: you'll want it on). I really like what Google has done with this app through recent updates.
Of course, what good is a fast camera if it can't produce results, right? As I mentioned above, this camera is without a doubt a winner. I would put it up there with Samsung's Galaxy S7 cameras, which have been my favorite all year long. The pictures come out quickly, for sure, but Google seems to have taken a more natural approach to processing. You won't find wild HDR tuning or over-done contrast and punchy colors. Google has tuned this Pixel camera to take photos quickly and without a lot of doctoring behind the scenes.
Below, you'll find our video review, along with another set of samples taken from a regular Pixel because the initial review shots were all taken with a Pixel XL. Not that there should be a difference, since they are using the same 12.3MP Sony sensor, but we thought some of you might be curious.
[responsive_vid vid_url="4ferxiZlirg"]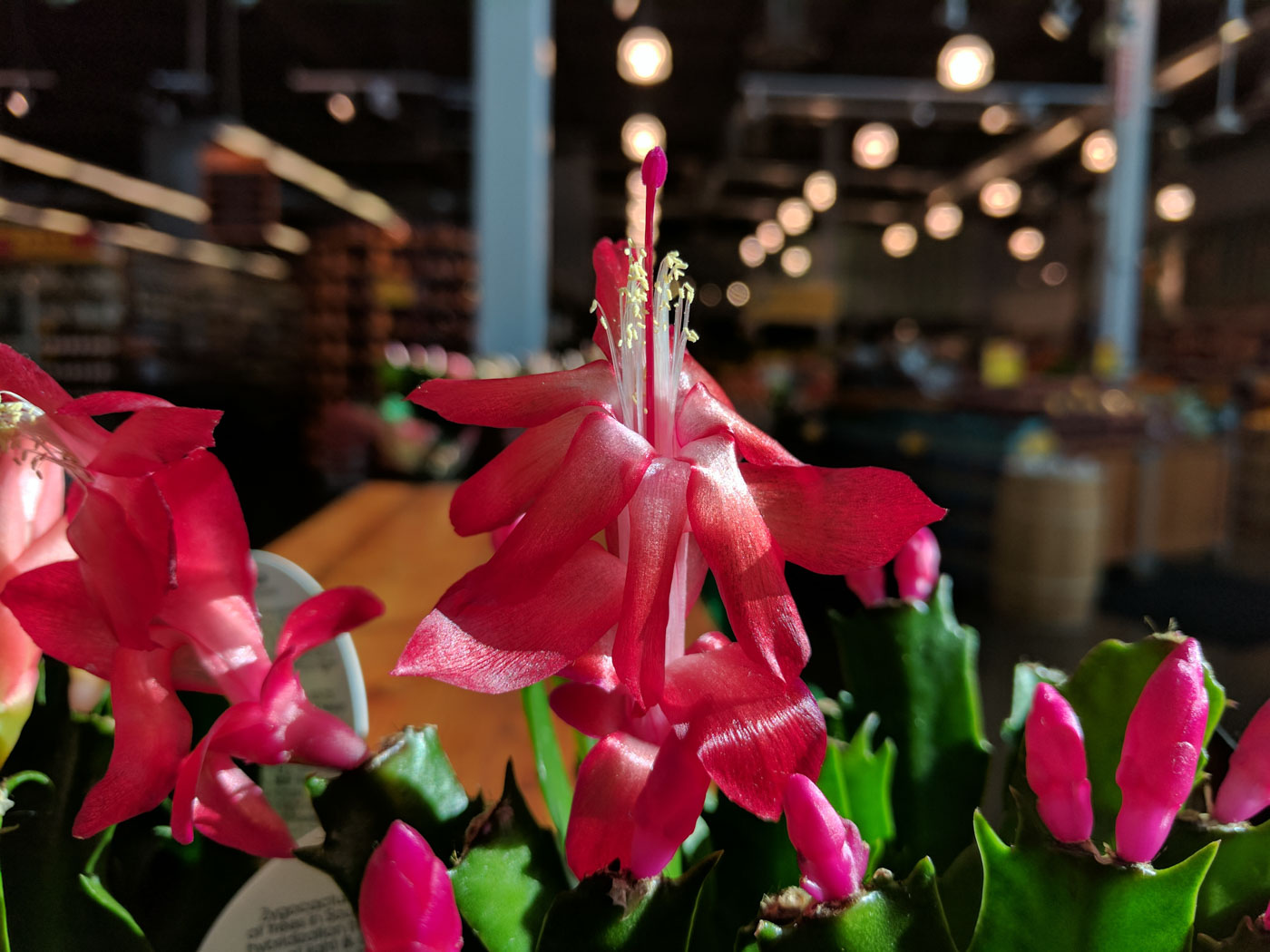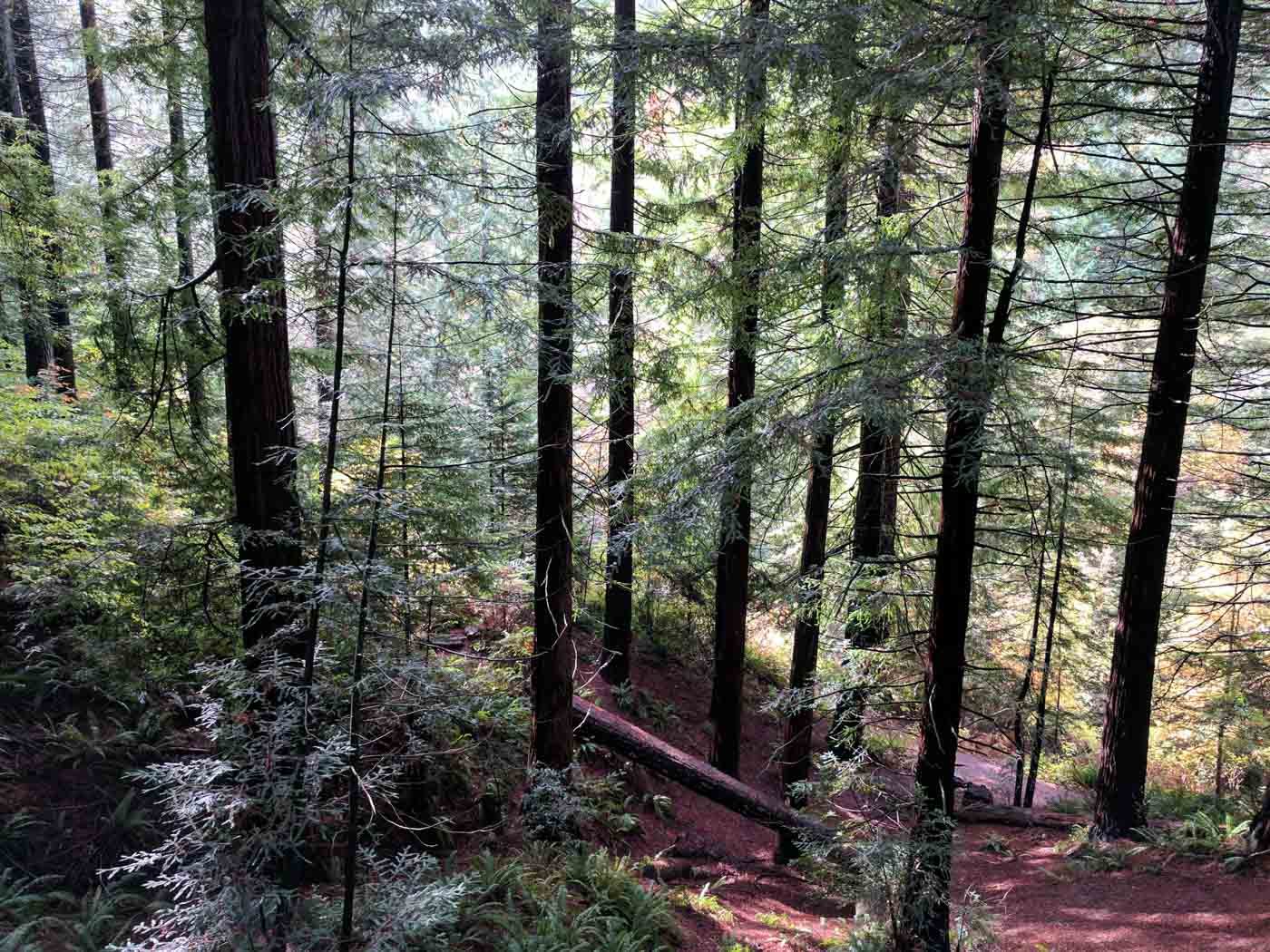 Again, if you want to take a look at even more samples, be sure to hit up our Pixel camera  review.
Software
I know that this review isn't over with, but in case you were wondering, this will be my full-time phone going forward (likely the regular Pixel). Why? The camera being really great is one of the major reasons. However, the other, as is always the case with Googles phones, is the software. Google's vision for Android has almost always been the vision I enjoy the most. It's never filled with unnecessary bloat, it isn't dressed with terrible color schemes, it's insanely fast, the settings I know and use aren't buried or in odd places, and it'll get updates before anyone else.
With the Pixel and Pixel XL, Google is taking us on a bit of new journey, though. You could essentially call this the "Google Skin." Using the word "skin" with a Google phone is probably a bit shocking, but hear me out. Google, for the first time, is pushing an experience that only the Pixel gets. That means even Nexus phones are left out of this exclusive fun. The Pixel phones have access to Google Assistant and no one else does. They get the Pixel Launcher. They get unlimited full-resolution photo backups through Google Photos for life. They even have a special color accent in the UI, a Night Light mode, gestures through the fingerprint reader (swipe down on it to expand notifications), and custom navigation buttons that animate. This is a custom experience made for Pixel and Pixel XL. As you probably guessed, it's a good one at that.
I don't know what it is or why exactly, but I'm already using Google Assistant almost daily. Even if it's just for setting timers, checking the weather, adding things to my grocery list, getting directions from place to place, etc., I haven't used this much voice command action on a phone ever. Sure, Assistant needs to get more powerful, but Google is off to a good start here. And look, phones have had access to voice actions for a long time now, I just never found myself fully diving in until now. Maybe that's because Google has sold me on Assistant getting better the more I use it, or maybe the dedicated UI is exactly what I was looking for. If you want to see more on Assistant, hit up the walk-through video in the Videos section below.
As for the rest of the UI, it's very classic Google. The overall design is still just like the stock Android you find on Nexus phones, so it won't look unfamiliar to most. With that said, the launcher has been adjusted to work with a swipe or two, app shortcuts get you into areas of apps quicker than before, the new mini quick settings tiles in Nougat are improved and super useful, using Nougat's new notifications system is a treat (because you can respond within the notification area), I love the extra information provided in the settings menu, Night Light is saving my eyes one night at a time, the dialer's visual voicemail is fantastic, the new folder icons are fun, the weather shortcut on the main home screen gets all sorts of use, and 24-7 chat or phone support is there should I ever need it.
I don't know that there is anything I would change about this software experience (Well, tap-to-wake would be nice.). With Samsung and LG phones, you always want to ditch their skins or color schemes or re-arrange settings. For years, they struggled to present simple functionality, like lock screen notifications or the way an app drawer scrolls or sorts. With Google's phones, the Pixel being one, you know what you are getting because it has been a slow evolution of Android to this Pixel and Nougat experience. It's not new, but then it still is with the added stuff.
With Google's vision for Android on Pixel, I get the version of Android that I have always wanted.
Software updates
Of course, software updates are more important for smartphones than ever and the Pixel and Pixel XL will always be the first to get them from Google. Not only will the unlocked models sold through the Google Store get monthly security patches and quarterly system updates, the Verizon versions will as well, right when Google has them ready. That's a first for an Android phone sold by Verizon, at least the guarantee of the timing by Big Red.
I'm also starting to wonder if the Pixel line of phones aren't the best to get as this smartphone ecosystem continues to mature mostly because of software updates. What I mean there is that companies can't really differentiate as easily through hardware anymore as they can through software. Google, for the first time in its history, has decided that it wants to take additional software features extra serious to help the Pixel line standout. We are seeing that with the availability of Assistant, Pixel Launcher, Night Light mode, and Motion gestures. Google is now not only pushing security and incremental updates to Android, they also have the opportunity to toss out brand new features as their phones age. Because the Pixel and Pixel XL will always get updates the quickest, you may just be on the cutting edge of the latest in software if you own one.
Display
The 5-inch (1080p) and 5.5-inch (1440p) AMOLED panels that Google used in the Pixel and Pixel XL are quite good. As you'll see in the image comparisons below of each phone to the Galaxy S7 and Nexus 6P, they hold their own in the brightness arena with the S7 and also in color.
The Galaxy S7 does look slightly richer, especially if you look at the blue image showing on each phone. On the S7, you get a deep and vibrant blue, while the Pixel phones show blue only with a hint of brown throughout as well. Thankfully, the greys, which typically show how cool or warm a display as been tuned, look spot on for the most part. The XL's display is a bit more accurate to my eye, while the Pixel does have a slight blueish hue.
The image on the right is an attempt to show you the viewing angles for each. Both phones have great viewing angles, in case you couldn't tell. It takes a pretty steep angle for the display to start breaking down with distorted colors and a dimming.
Obviously, the one major difference between the two is the screen resolution. After switching between each, the 1080p display on the Pixel didn't bother me at all. It's still plenty sharp for what I need. But yeah, if you plan to get in on some VR action when Google's Daydream View arrives, the Pixel XL and its QHD panel will probably be a better choice.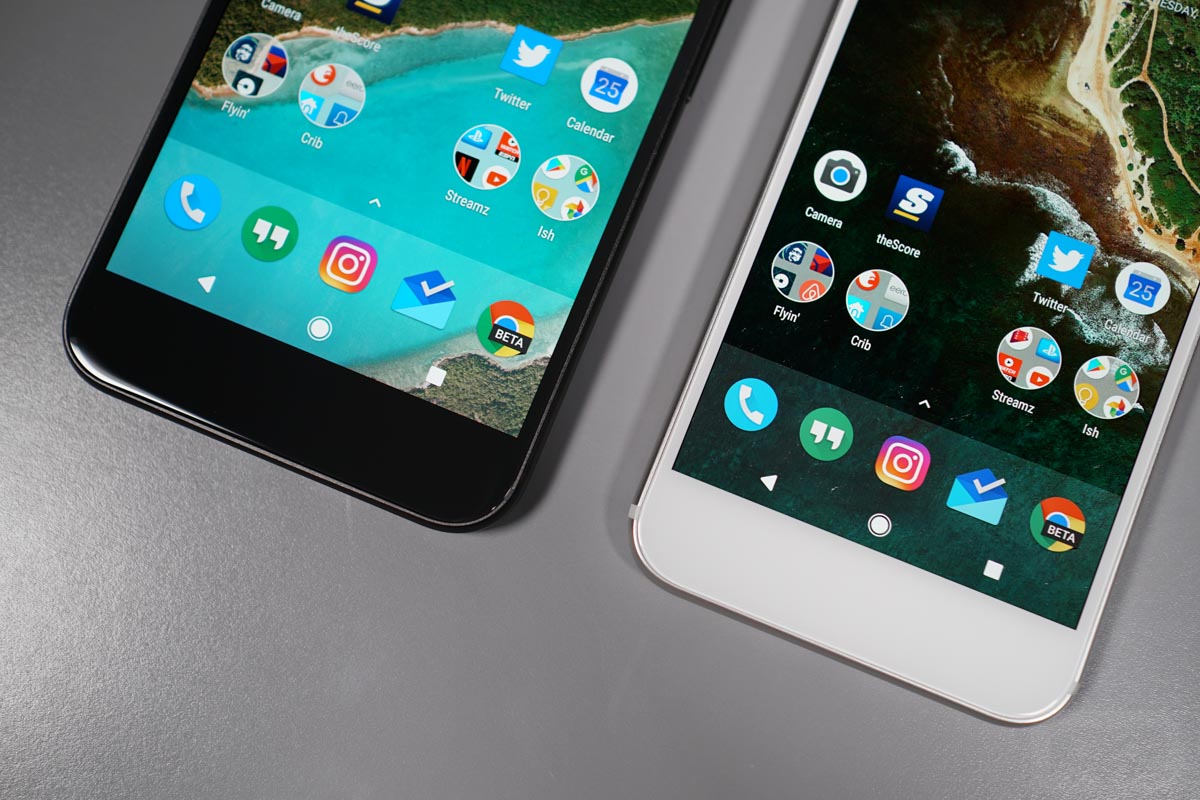 Performance
As new smartphones arrive, the Apple bloggers all pull out their benchmarks to see if anything can beat their precious iPhones. In most cases, Android phones don't and they celebrate as if anyone over here cares. What I can tell is that benchmarks don't mean sh*t in reality. Using a phone, as in, actually touching it, opening apps, and carrying out the toughest of tasks without a hiccup is what truly defines performance to me. With the Pixel and Pixel XL, you get a finely tuned beast from Google.
As you swipe into the app drawer on the Pixel Launcher the subtle fading animation never skips a frame and Google Now's left-side swipe is even pretty damn smooth. Folders and apps and menus and swipes all reveal smooth animations that give off this sense of reality as you navigate the UI. The camera loads in a split second. Even the touch latency has supposedly been greatly improved.
Few phones ever run Android as good as Google's own phones and the Pixels are no exception.
Size
Google has given us two sizes to choose from with Pixel: 5-inch and 5.5-inch. As the guy who hated seeing all phones explode to 5.5-inches and beyond for a couple of years, having the choice of a 5-inch model that doesn't lack the specs of its bigger brother has me giddy. I think it's important that companies give us choices, which is why I also love the Galaxy S and Edge line. Because Google is giving us all a choice here, the crowd that wants the mega-media machine can have it, while the rest of us can settle into a phone that can be controlled with a single hand.
Keep in mind that the Pixel's display tops out at 1080p, while the Pixel XL jumps all the way up to QHD and 1440p. The batteries are different as well, with the Pixel sporting a 2770mAh battery and the XL with a 3450mAh juice box. Those are really the only differences outside of size. They use the same Snapdragon 821 processor, 4GB RAM, storage options, Type-C ports, and fantastic 12.3MP camera.
There aren't many other companies that do the high-end phone in multiple sizes thing. In case you couldn't tell, Google really is taking this launch seriously.
Unlocked
Like in previous Google phone years, the Pixel and Pixel XL are fully unlocked and work on all major US carriers. That means access to 4G LTE on Verizon, AT&T, T-Mobile, Sprint, and US Cellular. Even WiFi Calling works on Verizon and T-Mobile with these phones. You don't have to do anything special to get them to work – you just insert an active SIM and be on your way.
The version you can buy through the Google Store is the most "open" if you want to call it that. That means unlocked for use everywhere, but also with an unlockable bootloader in case you want to tinker. The Verizon version is fully unlocked as well, so it'll work on all carriers too, but it does lack the tinkerer aspect with a supposedly locked bootloader.
Somewhere-in-the-Middle
---
Design
Other than the glass panel on the backside of the Pixel and Pixel XL, I don't think anyone is going to try and convince you that Google is doing something original in the hardware design department. That's not to say that these phones are ugly, but uninspired might be a good descriptor. I think we all know that they look very much like HTC's One A9 and the iPhone 6. The regular silver Pixel, in particular, is basically an iPhone 6 or iPod Touch clone. Harsh? Sorry, just speaking some truth.
Now, I can live with this design, for sure. The Pixel and Pixel XL are clean and outfitted with premium metals and fun backsides. Their buttons are properly placed on the right side of the phone, fingerprint readers in the preferred rear location, Type-C port on the bottom is centered, there is no camera hump, and both sizes feel really good in-hand for the most part. The smaller Pixel does get a bit slippery at times with its narrow body, while the bigger Pixel XL is a good handful that doesn't feel obnoxious.
Seriously, though, look at these phones. Yeah, they aren't offensive, but this is a design we've seen for 2-3 years now.
Battery life
Battery life for me over the past couple of weeks with both a Pixel (2770mAh) and Pixel XL (3450mAh) has been pretty average. We're talking a good 14 hours of use with 3-4 hours of screen on time before I'm starting to look for a charger. When I say "starting to look for a charger," that's when the 20% mark hits and I'm wondering if I have anything going on that will require another 3 or 4 or 5 hours of use. I have yet to unplug either phone in the morning and go to bed without needing to top it off for a bit.
Pixel
Pixel XL
Many of you will call this terrible battery life because you all have 8 hours in a day to stare at your phones, but might I remind you that this is pretty typical for me from all flagships. I saw similar 14-16 battery life on the Note 7, HTC 10, and LG G5. This is what I almost always see while testing a phone's battery life in my Black Hole of Signal Death. In case you were wondering, I tested these phones on Verizon and T-Mobile and still saw similar results.
Should you be worried about battery life? I'll tell you this – go back and look at our reviews of past phones, see how your battery life on those phones stacked up to mine, and then go from there. I seem to be an outlier in your eyes, but the results are consistent.
Availability and Price
The availability of the Pixel and Pixel XL is pretty bad. At launch, the phones were available directly from Google, but many of the options sold out within a week or so. They were/are also sold as Verizon models through Best Buy and Verizon stores, though they aren't quite as hacker-friendly for those of you into bootloaders and that mysterious forum world. The Verizon units are still fully SIM unlocked and aren't filled with bloatware by any means, but not everyone is a Verizon customer. As of publish time, you can't buy either phone at AT&T, T-Mobile, or Sprint.
Google is talking about this minimal carrier approach like it has had to start from scratch to build relationships with carriers and that it's going to take time to get their phones everywhere. But man, this just seems like such a missed opportunity, especially since the stock on the Google Store sold out so quickly that people have had to wait for weeks to get a hold of one. Google is obviously ready to really sell all the phones they can, but that's just not going to be easy without being in every carrier store.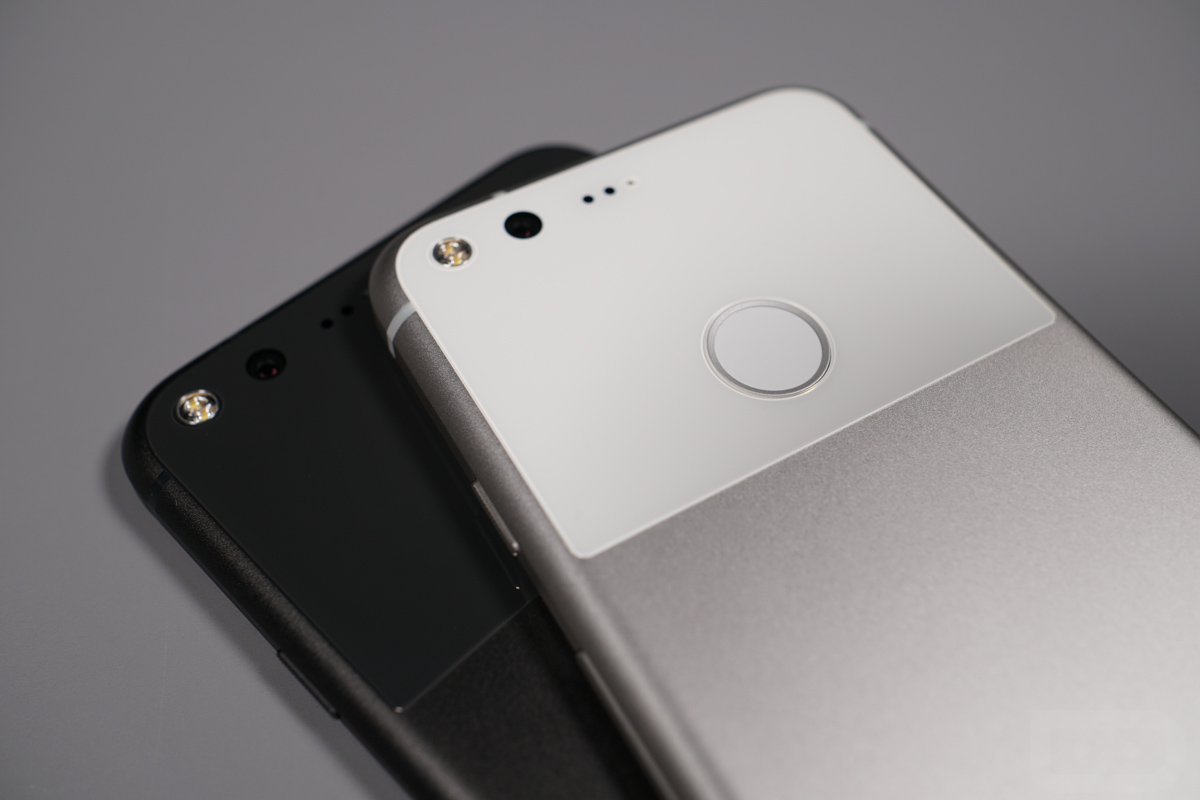 As for the price, you already know that the Pixel and Pixel XL aren't cheap. The Pixel starts at $649 and the XL starts at $769. Those are for the 32GB models, but if you want to jump that up to 128GB, you will need to add another $100 onto each price. These prices have been somewhat shocking to long-time Nexus owners who grew accustomed to cheaper phones from Google.
Are these phones overpriced? I don't necessarily think so. Do I wish they were cheaper? Of course. In the end, this is Google wanting to take a big-boy step into phone sales. In order to do that and potentially make a lot of coin, you have to play in the top tier. In order to play in the top tier, especially with carrier involvement, you have to be priced with Samsung and Apple.
Storage
As I just mentioned, the Pixel and Pixel XL come with either 32GB or 128GB of storage. Choice is good, so good job, Google! For those of you needing that extra microSD card space, though, you won't find that here. As has been the case with Google phones for years, there isn't a microSD slot, so the storage amount you choose on day one is the storage amount you are stuck with. Is 32GB enough? It might be. Will it be two years in? That's part of the risk here.
Now, you have to remember that the jump from 32GB to 128GB will cost you an extra $100. In my opinion, it's probably worth doing if you plan to keep the Pixel or XL for a couple of years, just to be safe. Just keep in mind that the 128GB Pixel is $749 and the 128GB XL is a whopping $869.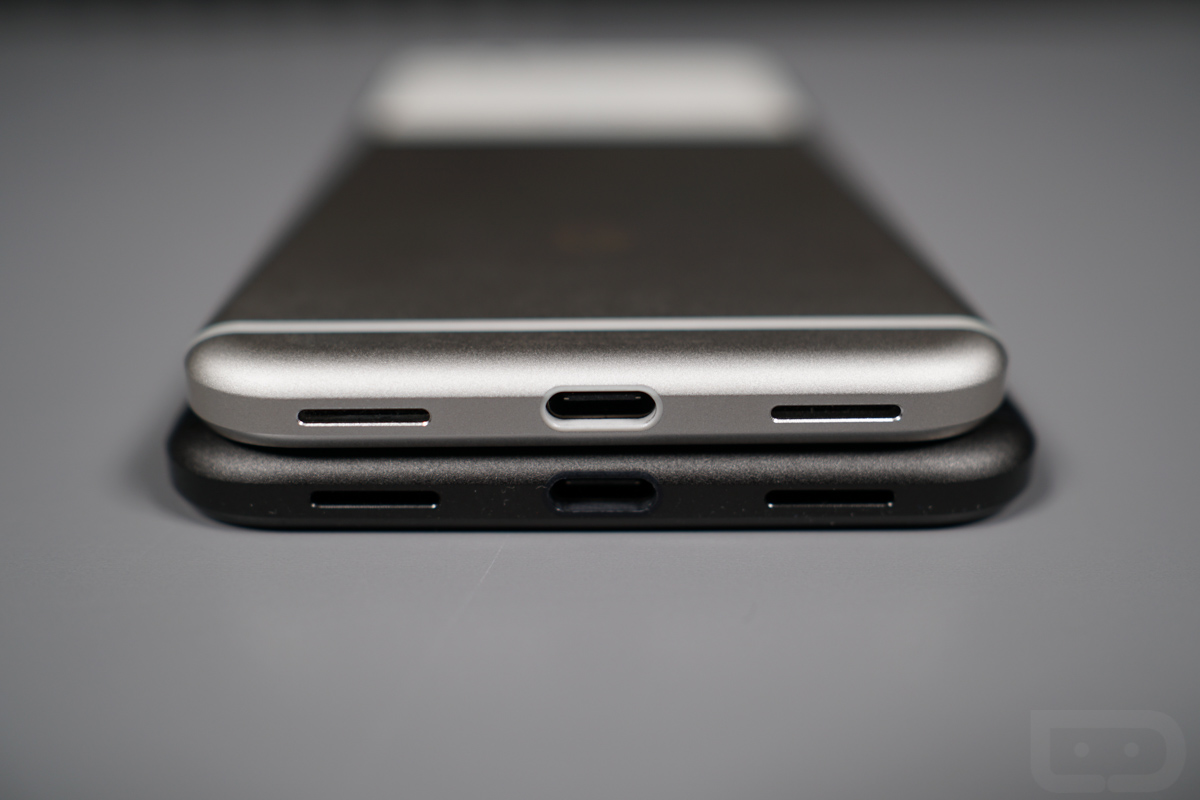 Specs
For the most part, Google lined up the specs you want to see in a top tier smartphone. They went with the premium metal build to start and then added a 2.15GHz Snapdragon 821 processor (quad-core, 64-bit), 4GB RAM, 5-inch (Pixel, FHD) and 5.5-inch (Pixel XL, QHD) AMOLED displays, 32GB or 128GB storage (UFS 2.0), 12.3MP rear camera (f/2.0, 1.55um), 8MP front camera, 2770mAh (Pixel) and 3450mAh (Pixel XL) batteries, USB Type-C port with fast charging, fingerprint reader, 3.5mm headphone jack, and Bluetooth 4.2.
Unfortunately, even as good as that list of specs is, it's not quite matching up to what Samsung and Apple pushed this year. You don't have true water resistance (Samsung has IP68 and Apple has IP67) nor do you have wireless charging or microSD card slots. Oh, Google skipped the stereo speakers this year too. Are those missing features deal-breakers? To some, they may be, yeah. I've already told you that the Pixel is probably the phone for me, but that doesn't mean I won't complain every time I step into the kitchen and have to set my phone far away from any liquids, or when all of the wireless chargers around my house are sent packing.
The Not-so-Good
---
Water resistance
The Pixel and Pixel XL are rated IP53 for water and dust. That's…not great. The 5 in that rating means the phones are "dust protected" and should be able to withstand dust and dirt entering their metal bodies. The 3 is the water resistance rating and can be described as "Water falling as a spray at any angle up to 60° from the vertical shall have no harmful effect." So no dunking. No swimming with. No toilet drops. And no washing off under the faucet when your child gets their sticky hands all over it.
Sure, you can take to YouTube and find a bunch of amateur water resistance testers sticking phones in buckets and sinks for 30 or 60 minutes to try and tell you that you might be OK if your phone gets wet. And you might be OK. Just understand that the official rating is IP53 and you should be careful around water. Should your phone get wet and stop working, don't say we didn't warn you to ignore the YouTubers.
Google reportedly told WIRED that they didn't include water resistance because they ran out of time. I guess next year is the year? Ugh.
Other Notes
---
Fingerprint reader: The fingerprint reader on the regular Pixel I've been testing (silver model) has been mostly speedy and unlocks the phone without much effort. On the black Pixel XL, it felt somewhat sticky and also seemed like it needed a bit of extra pressure in order to unlock. Tough to tell if that's a color issue or phone model issue. Either way, I don't think I would call the fingerprint reader on either phone one of the quickest in the business, but they aren't slow enough to make your life hell.
WiFi Calling: This works on both Verizon and T-Mobile.
Speaker: There is a single, bottom-firing speaker on the Pixel and XL. I, personally, don't use my phone for much external audio, so living without stereo speakers in a phone is easy for me. If you need a phone that can take over a room and act as a mini-speaker, this probably isn't the one for you.
Video
---
Unboxing
[responsive_vid vid_url="wd1d8ns-BJE"]
First 10 things to do
[responsive_vid vid_url="9wDBHVbh5lo"]
Using Google Assistant
[responsive_vid vid_url="YhRoFErVvzM"]
Gallery
---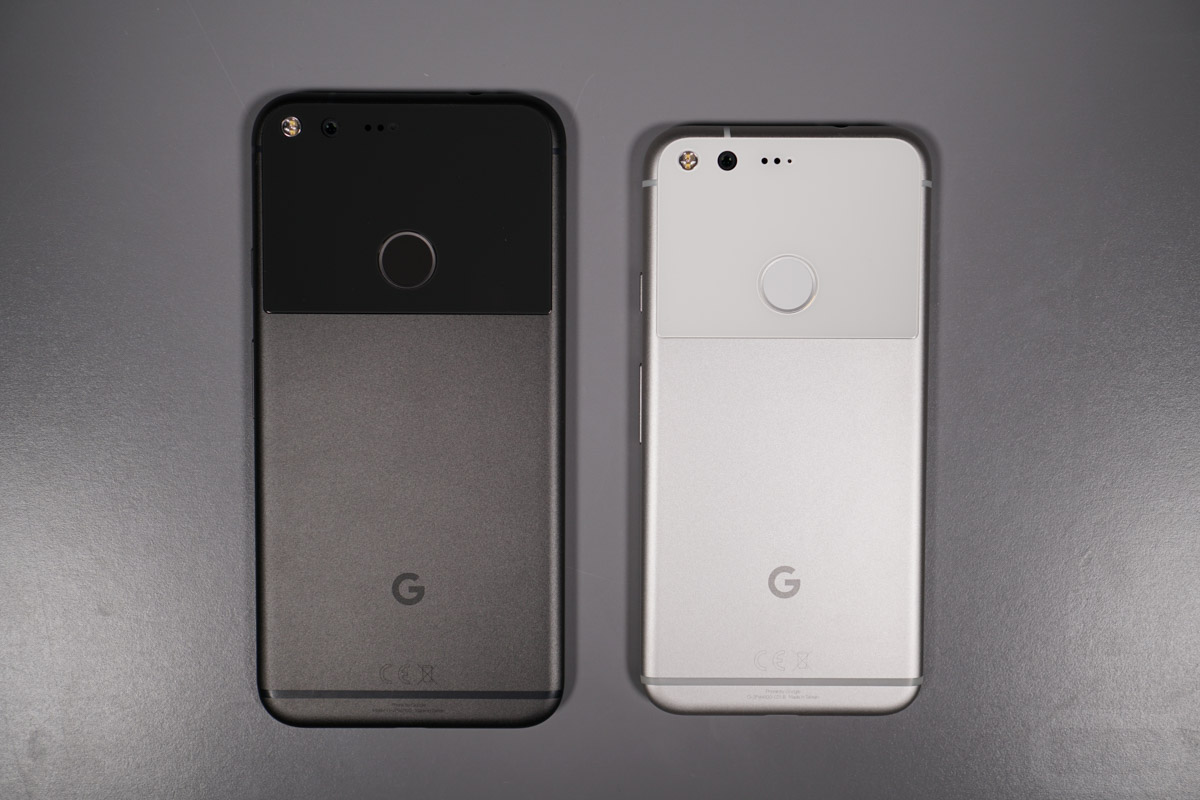 The Verdict
---
These phones, or at least this review, is funny in a way because as you read through it, by no means are all of the boxes checked. Still, though, it would be hard for me to not recommend you buy the Pixel or Pixel XL as your next phone. Even without the real water resistance, SD card slot, or an inspired design, you just can't beat the experience.
The Pixel and Pixel XL are so good in the software and camera departments, that it's not even hard to overlook some of the problem areas. This is what Android is supposed to look and feel like, according to Google. And they have nailed it.
---