Casting through Chrome on your desktop is now a built-in feature that no longer requires you to install a third party extension or perform much setup. Google announced the news today through the Chrome blog, noting that Google Cast is "now built fully into Chrome." 
With Google Cast now built-in, all you need in order to Cast a tab to a TV with a Chromecast attached, is the latest version of Chrome installed. You'll see a Cast icon up where your extension shortcuts are, plus a menu item for it has been added to Chrome's overflow menu list. By clicking on the button or the "Cast…" option, a pop-up over your current tab will show which devices are available for Casting to. You can also decide via pulldown from within that pop-up if you want to Cast only a specific tab or your entire desktop.
Finally, with this built-in Casting, Google has enabled Google Apps (business accounts) users the option for Casting tabs or desktops to Hangouts conversations. If you are signed-in to Chrome with your Google Apps account, choosing the "Cast…" feature will prompt you with a request for Hangouts access as well (see below).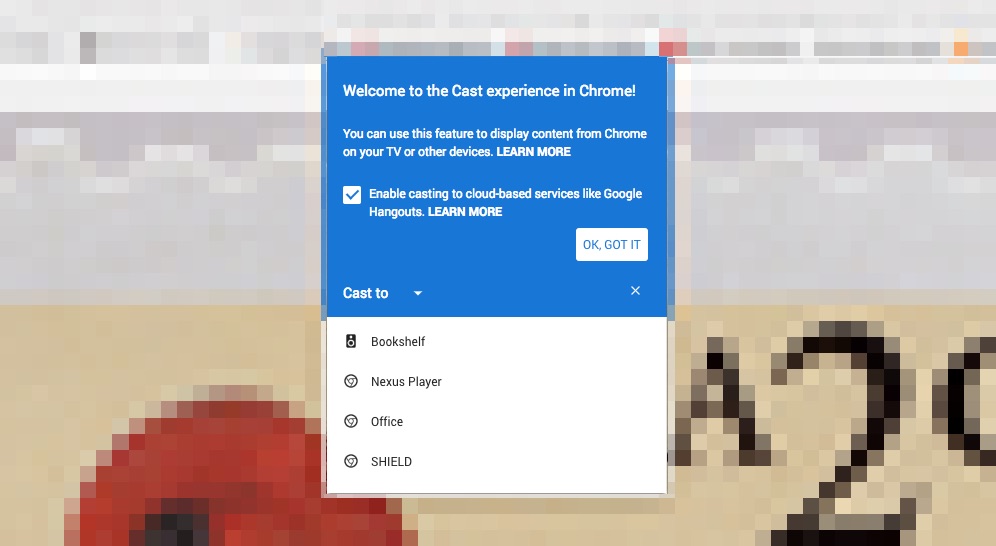 Again, the feature arrives today if you have Chrome installed. Enjoy.