Verizon and LG are pushing out updates to two phones today, the G5 and V10. Each updates is fairly minor, but G5 owners who have been waiting for LG to give them an app drawer have finally received their wish. As for the V10, it's just looking like an update that tweaks the USB connection prompt and improves WiFi Calling.
For the LG G5, users will see an update to software version VS98713A. The update does indeed include the "Home with app drawer" option from within the "Select Home" screen. I point this out because there was a mini-controversy over LG's choice to not include a launcher with an app drawer at launch, even though they quickly realized that was a mistake over the screaming of a loud Android minority. I don't want to dive (again) into why this was mostly a non-story, but the basics are that you can just download a really good 3rd party launcher from Google Play for free if it bothers you so much. In fact, LG's launcher is pretty terrible for the most part, so you would be better off with a 3rd party anyways. 
Either way, the update introduces a home screen setup with an app drawer instead of having Apple's app jukebox approach as the only pre-loaded option. You'll find it by going into Settings and then choosing "Home screen." From there, look for "Home with app drawer" and be on your way.
Outside of the new launcher option, G5 owners will see an updated USB connection screen that looks like this: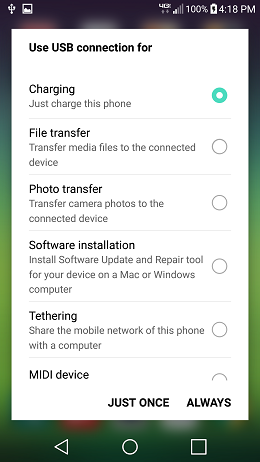 Finally, this latest update also improves the LG Health app by adding customizable exercise modes and a change to the dashboard.
The LG V10 update is arriving as software version VS99023A and simply includes WiFi Calling improvements and a change to the USB connection screen to what the G5 screen has become (above).