After what I can only describe as a confusing 2015 for OnePlus, the upstart Chinese manufacturer is back for 2016 with another flagship phone. This time, though, the hypetrain has departed, there are no gimmicky feature trollouts per week, promises of it destroying 2017 phones are no where to be found, and that f*cking invite system that stayed around for far too long, might be gone for good. Oh, and that phone is the OnePlus 3, a phone that on paper, stacks up with the best without any major sacrifices and even has NFC. Yes, NFC is here.
I've spent the better part of the past three weeks with the OnePlus 3 in hand and can't help but nod in appreciation or congratulation to OnePlus. There just aren't any glaring issues with this phone, nor is OnePlus doing and saying a bunch of annoying things to turn us off. They, for lack of a better descriptor, seem to have done a great job. Let's talk about it all in greater detail.
This is our OnePlus 3 review.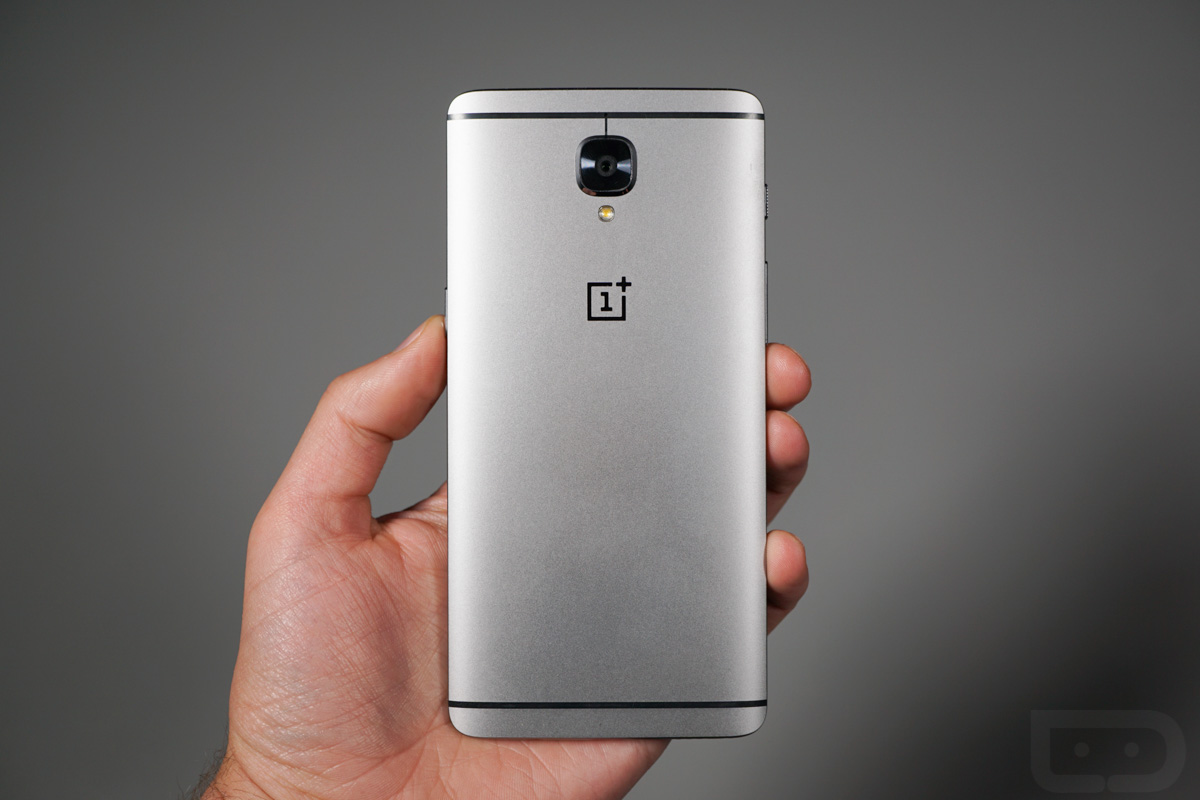 The Good
---
Price and Availability
At $399, I can't think of many better values than the OnePlus 3. At that price, you get a phone with top tier specs, including a Snapdragon 820 processor, 64GB storage, and 6GB RAM, plus a software experience that is clean enough to make both nerds and casual tech users happy. OnePlus didn't cut any major corners to get to that price either, so you can go into the buying process knowing that you are getting the goods (the current best set of specs available, unless the 1080p display offends you).
But not only is the price right, OnePlus has ditched their invite system going forward. That means – and this was true from day 1 – that you can buy the OnePlus 3 without acting-a-fool on social media, begging friends, or adding your name to a list that you may never see the top of for months. OnePlus announced the OnePlus 3 and then proceeded to make it available for purchase immediately.
I wrote an entire opinion piece on this subject, but OnePlus is one of the only companies in recent memory to absolutely nail the launch of a phone. They didn't announce the phone, but then say you couldn't buy it for weeks or months. They also didn't announce the phone and then also announce an exclusive partnership to limit reach. They simply said, "Here is our phone, go buy it now if you want." From what I can tell, quite a few of you did. We certainly did. Tim ordered one through the VR store and I ordered one through their website. Neither of us ran into a broken ordering system, bugs or timeouts, or a lack of stock.
If you want a OnePlus 3, you can buy one today and enjoy it within a couple of days. As odd as this sounds, that can't be said for many other smartphones.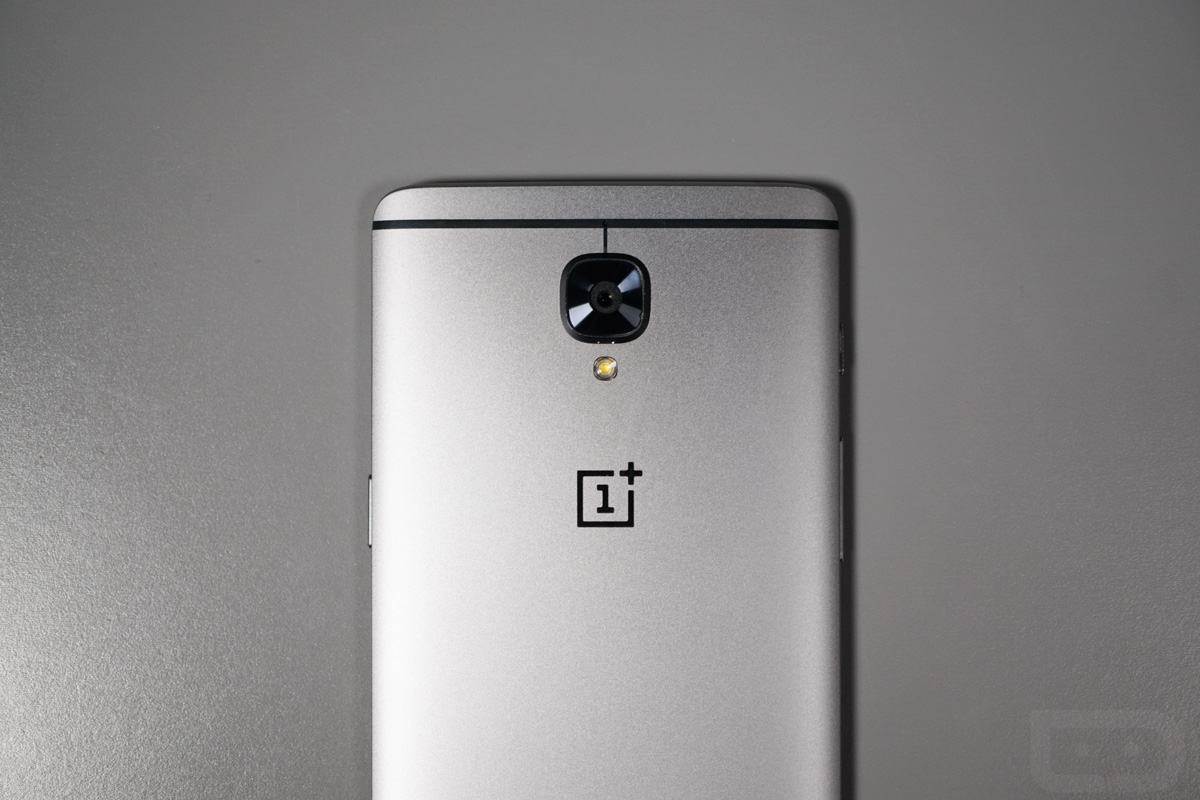 Specs
As I mentioned above, the OnePlus 3 ticks just about every single box. You get a 5.5-inch FHD AMOLED display (1080p), Snapdragon 820 processor, 6GB RAM, 64GB UFS 2.0 storage, 3000mAh battery, NFC, 16MP rear camera with optical image stabilization (OIS), 8MP front camera, alert slider, USB Type-C port with fast charging, and a full-metal body. Full specs can be found here.
Some will point to the fact that other flagships have QHD resolution displays, bigger batteries, wireless charging, expandable storage, and waterproofing and suggest that the OnePlus 3 isn't quite good enough. Honestly, though, I wouldn't necessarily consider any of those dealbreakers. Sure, I would love to have all of that stuff in this phone, but really, the only manufacturer currently including all of that, is Samsung. Everyone else is leaving some or all of those items out, yet also are charging quite a bit more (HTC 10, LG G5, etc.) than OnePlus is.
Remember, the OnePlus 3 costs just $399.
Software
The software experience on the OnePlus 3 is one of the best in all of Android. It's very much a "pure" or stock experience, but with added features here or there that improve upon the foundation Google has laid. And really, that's what nerds like us who buy this phone want. It's also a version of Android that won't get in the way of casual users and will get the job done in a straight-forward way.
In a way, you could think of this like the experience Motorola introduced some three years ago, only it's much, much better. Beyond the stock appearance, OnePlus has added in gestures to the lock screen (like draw an "O" to open the camera or double-tap-to-wake), the ability to apply icon packs for a more customized look, choices of on-screen or capacitive buttons, and subtle swipe gestures on the home screen to quickly access notifications or Google Now.
OnePlus even uses Google's Ambient Display, which shows notifications in a black-white format as they roll in on the lockscreen, but one-upped Google by also tossing in a Proximity Mode, where you can wave over the top of the phone while it rests on a desk to wake Ambient Display and check the time or notifications.
OnePlus lets you really customize the way you navigate the phone via buttons as well. Tim and I almost always go with on-screen buttons, but if you want, the capacitive buttons are there for the taking. You can customize the capacitive buttons to perform extra tasks through double taps or long presses and even choose to keep the home button active with on-screen keys. There are options for customizing the Google Search bar, grid layout in the app drawer, and icon size, if you use OnePlus' launcher.
You also get to choose a night mode when you reach evening, which is OnePlus tuning the display to a warmer, amber-ish tone to ease the strain on your eyes. You can invert colors to a dark theme if you choose, adjust the system accent color to really add some style, choose the icons that appear in the status bar, tweak the tone of the display, turn the power button into a camera shortcut, and customize the colors that shine through the notification LED. There are so many useful tweaks here, that I don't have time to name them all.
There are two negatives worth noting, though, one being the fact that, at least as of today, there seems to be quite a few bugs. I'll address some of them in the bottom "Other Notes" section because I do think most can be addressed via software update. You just get the feeling while using this phone that it is really close to being polished, but that OnePlus is also a young company who is still learning how to iron out all of the little issues.
The other would have to do with the RAM management of the phone. You see, OnePlus tried to wow the crowd by introducing a phone with 6GB RAM. That's cool and all, but they have limited the phone to not being able to utilize much of that RAM and are limiting the number of apps it holds in memory to only a few. Why? They did so on purpose because they believe the current setup offers the best battery life. Of course, that then makes the inclusion of 6GB RAM all but pointless and nothing but a spec sheet move. They are tweaking RAM management in an upcoming update and there are other ways to tweak it yourself, but it's all a bit of a head-scratcher or a finger-wager.
NOTE: Speaking of updates, OnePlus has readied an update that includes an sRGB mode, better RAM management, and a host of bug fixes. We tried to wait for it to arrive before publishing this review, but we really can't wait any longer (we've been waiting a full week at this point). The update was supposedly going out to review units, yet ours never saw it. Then it went live for the public for a couple of hours as build 3.2.0 before being pulled due to issues. It has now re-emerged as 3.2.1, but we still don't have it and simply cannot wait. I don't believe the update will change our opinion of the phone. However, should we see something that does change our opinion, we will be sure to update this review.
Battery Life
Thanks to that 1080p display and 3000mAh battery, the OnePlus 3 battery has been really good on most days for me. I seem to have upped my phone usage within the last year and am typically seeing 3 hours of screen on time with this device each day. As you can see from the screenshots below, that translated to an unplug of the phone at around 7AM and it surviving through day and night until the next morning. I guess you could call that 24 hour battery life, but it's more like 14-16 hour battery with heavy use before I would either pass out for the night or consider plugging it in.
There were times – and I believe these have been heavily documented in OnePlus' forums – where the phone seemed to wake while in a pocket and generate quite a bit of heat that resulted in substantial battery loss. I think if you turn off ambient display and proximity display, that may go away. Or, as long as you don't carry your phone in your pocket all day, you should be fine. This is an obvious bug, one that we hope to see OnePlus fix.
If you use the phone more heavily than I do, know that you have the option to fast charge with OnePlus' Dash Charge technology that I'm about to touch on. Assuming you go through your daily routine with a wall outlet nearby, I can't imagine you ever having battery issues with this phone and a Dash Charger on hand.
Fast (Dash) Charging
In last year's OnePlus 2, OnePlus included a USB Type-C port yet failed to include any sort of fast charging. The lack of fast charging was one of many corners that seemed to have been cut last year, so we were curious to see how OnePlus would address one of our favorite technologies for 2016. They did so by introducing Dash Charge.
With Dash Charge, OnePlus says they have the best fast charging solution on the planet, even better than Samsung's Fast Charging and Google's rapid charging. Dash Charge in the OnePlus 3 can technically grab a 63% charge in just 30 minutes time.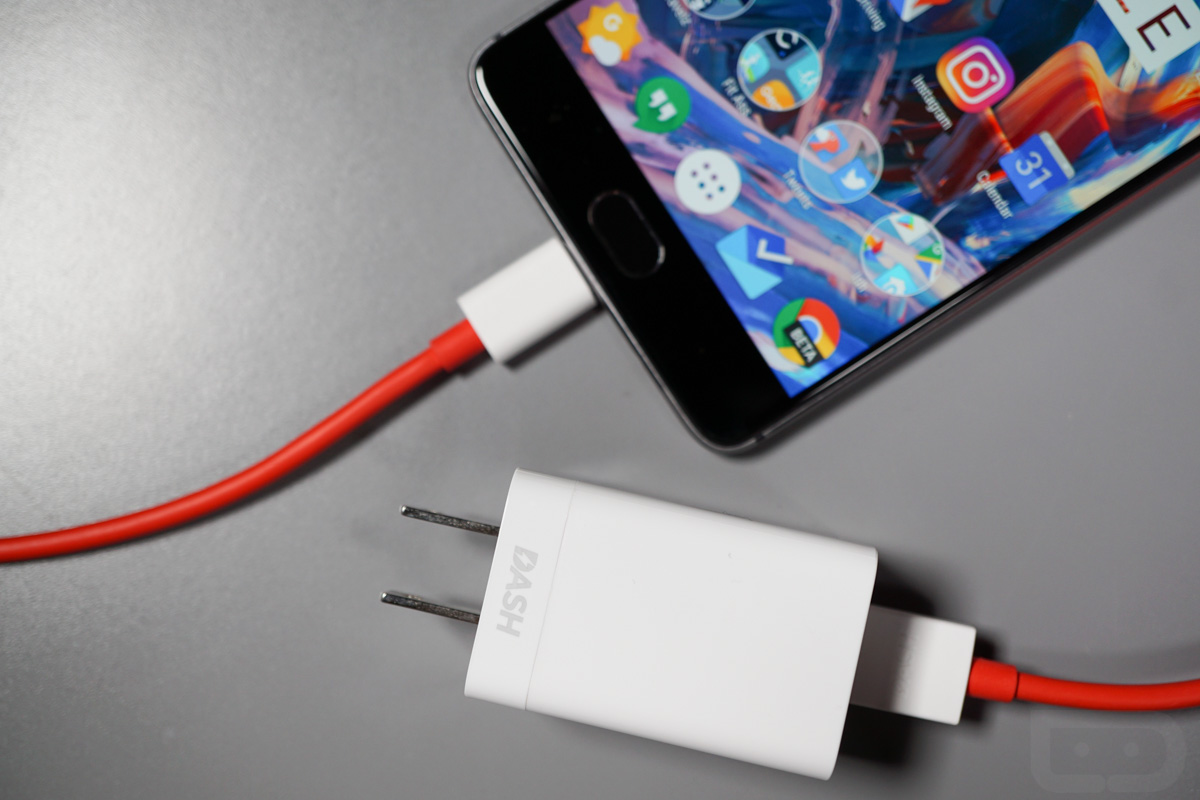 OnePlus has tweaked the way the phone charges by putting the power management and heat dispersion in the actual charging adapter that plugs into the wall, so that way you don't get the heat into the phone that is typically associated with fast charging. OnePlus says that this allows them to not only charge faster, but charge faster while you use your phone as well. That means you can game, record 4K video, or browse the web while charging without sacrificing the quick juicing times.
I haven't had a chance to do any sort of scientific comparison of Dash Charge to other charging solutions, but I will say this – it's super fast. I've actually been very impressed at the charge times, one of which jumped from 2% to 75% in just 42 minutes.
It's not all good news, though. Dash Charge is a new proprietary charging system that is exclusive to the OnePlus 3, which means you also need one of their chargers in order to take advantage. You can more than likely still charge semi-quickly with other fast chargers on the market, but you just won't see these kinds of results. That's a pain in the ass, because there is a good chance you already own a whole bunch of other chargers. OnePlus does include a Dash Charger with the OnePlus 3 and will sell you additional chargers for around $34.
Fingerprint Reader
I think I still prefer a rear-mounted fingerprint reader, but the front-mounted fingerprint reader on the OnePlus 3 is a good one that happens to have some tricks up its sleeves. Not only is it quick to read your fingers, it's also a capacitive style pad that can be used as a home button and to unlock the phone without ever actually pressing in a button. It's very much like the HTC 10 setup, only this fingerprint reader seems to read faster.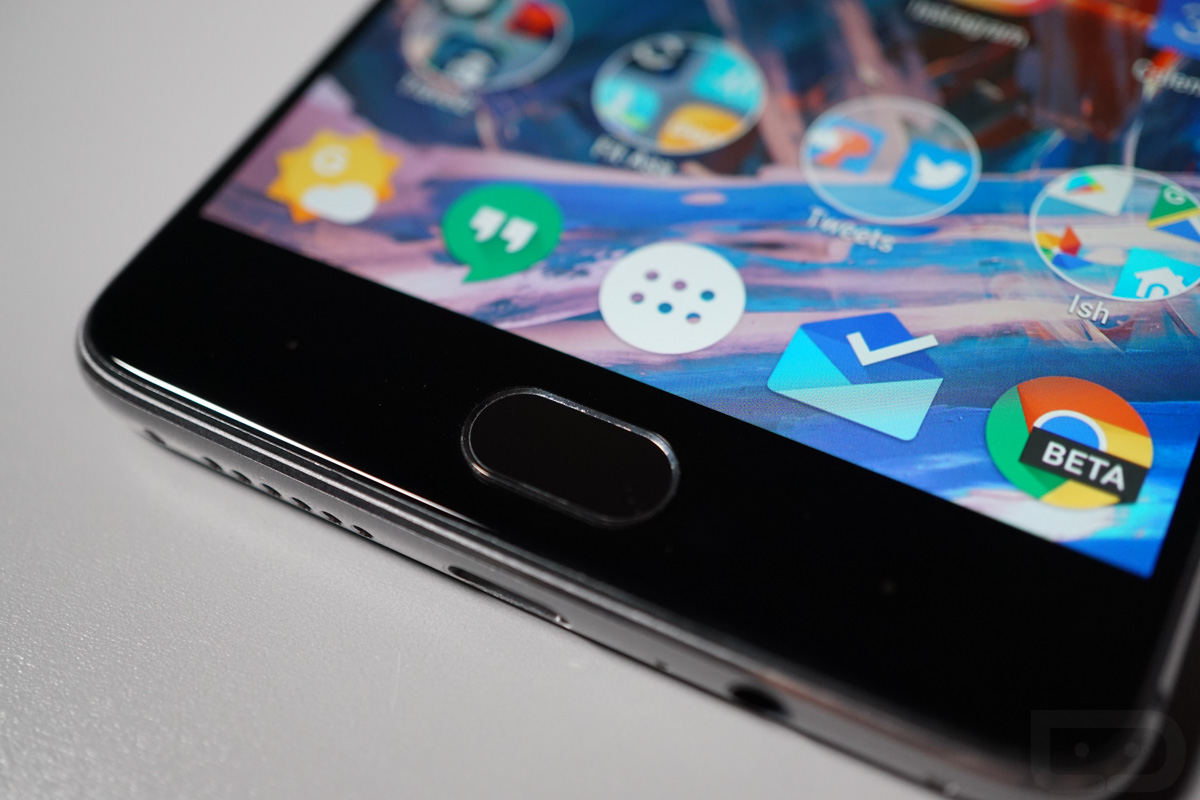 What makes it extra good, though, is the fact that it can be programmed to launch apps or actions with a double tap or long-press. I have mine setup to launch the camera with a double-tap (like Samsung's phones) and Google Now on Tap with a long-press. But you can tell it to do other things too, like turn the screen off, open your last used app, and more.
Those features may not necessarily be a part of the fingerprint reading process, but you have to admit that it's pretty cool that a capacitive pad that reads fingers, can also do that stuff too.
Somewhere-in-the-Middle
---
Design
The OnePlus 3 is certainly an attractive phone, it's just not the most originally designed phone to date. If you put this phone up next to last year's HTC One M9, I'm not sure you would be able to tell them apart. Or, you could put it next to the Honor 5X, an iPhone, the HTC 10, and countless other all-metal phones and see similarities. While I fully understand that there is only so much you can do with a smartphone design, this phone really feels like something we have seen before.
Still, it is well built, is again, attractive, feels great in hand, has buttons in all of the right places, and should please anyone who holds it, assuming they don't mind larger phones. It has that metal rear, all-glass black front with a very edge-to-edge display, and ports that line up perfectly on its bottom. There are no squishy or flexible parts to the phone either.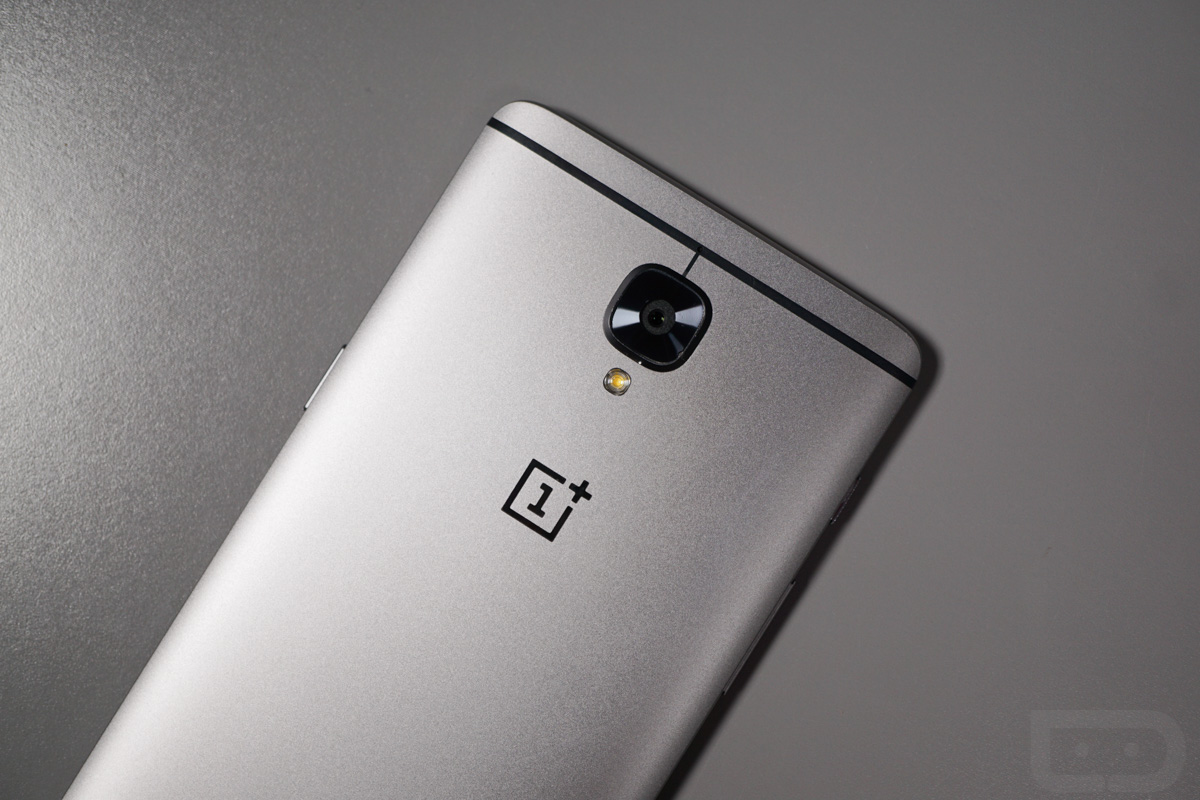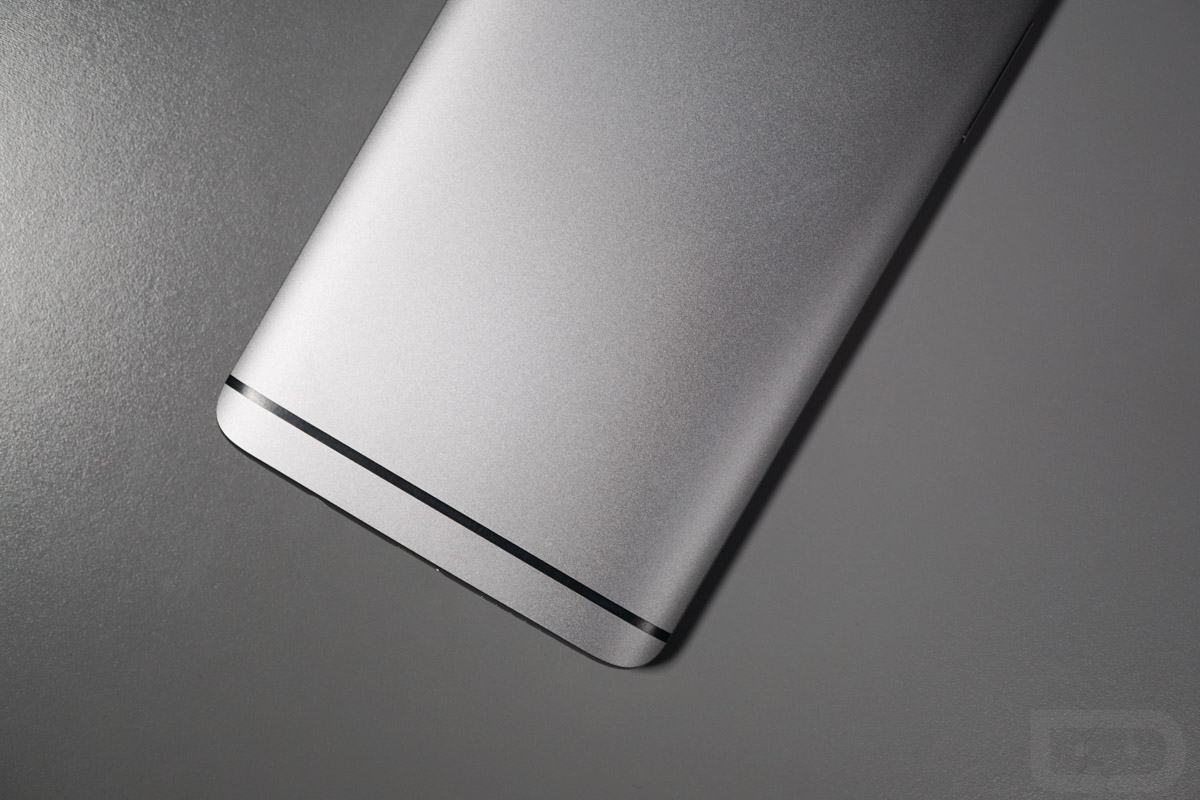 If you need something to complain about, outside of the generic appearance, you could look to the camera hump on the back. Had OnePlus opted to put in a slightly bigger battery instead of going for a phone this thin, they could have done away with that and taken away some of the stress you'll have when setting this phone down. Because the last thing you want to do to your new phone is scratch the camera lens.
I don't love the design here, because it's not exactly new, but it is a tried and true take on a smartphone. It works, gives you a sense of validity for spending money on it because of the premium materials used, and most definitely won't be the laughing stock at the dinner table when everyone drops their phones into a pile.
In reality, it's hard to complain about the way this phone looks or was designed. It does look good. I just think I find it a bit boring because we are seeing Samsung continue to do what they do with their Galaxy line, have seen Motorola take some really interesting chances with the Moto Z, and even expect Google to mix it up with new Nexus phones.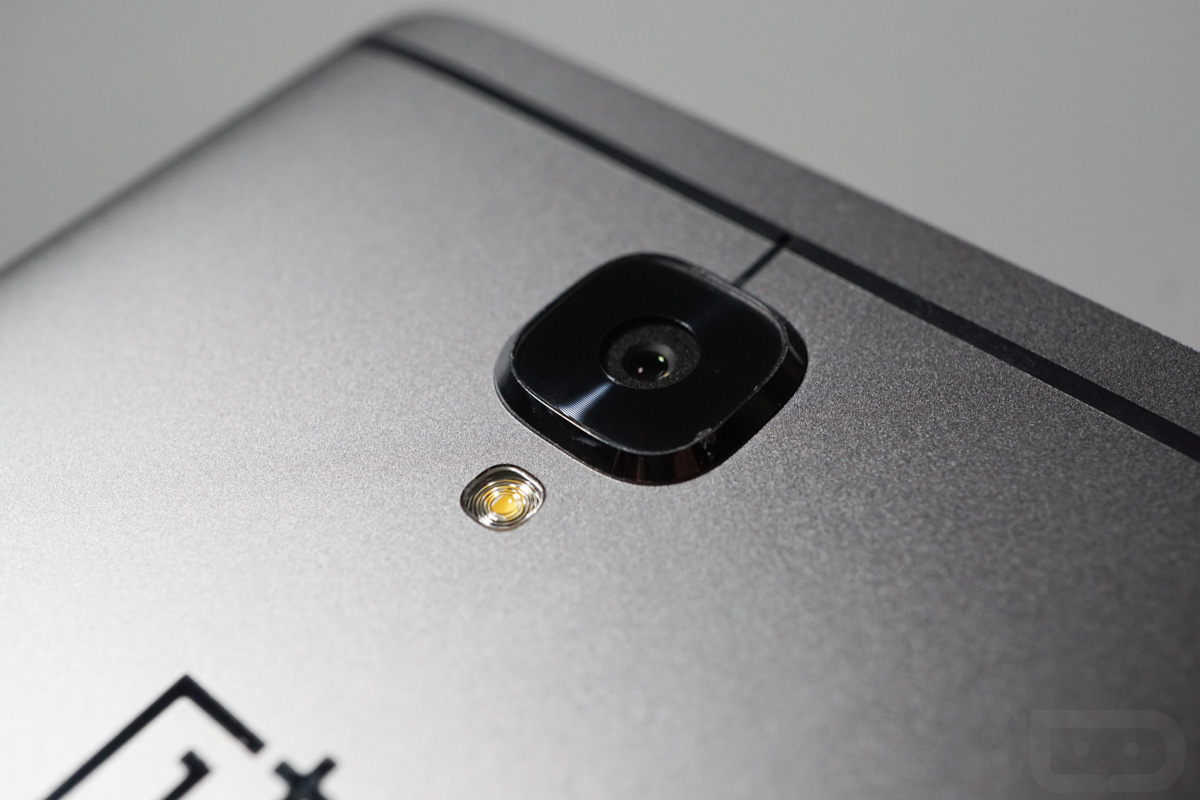 Camera
Because Tim has already done a fairly thorough camera review of the OnePlus 3, I won't spend a ton of time here and will instead point you to his write-up. He talks about the straightforward camera software (pictured below) with auto or full manual controls, noting that the manual controls are quite easy to manage. I would tend to agree with him on the software, in that it gets the job done without getting in your way. You can easily change modes, the settings options are all there if need them and out of the way if you don't want them, and you aren't lacking anything a modern smartphone camera should have, like slow motion capture, panorama mode, and 4K video.
I also really like the fact that OnePlus allows you to access the camera in a variety of ways. We talk often about the need for quick access to cameras and praise Samsung for giving us the double-tap on the home button and Google for doing so on the power button. But OnePlus has basically incorporated all of the quick launch options to make sure you never miss a shot. You can draw an "O" on the lock screen to launch the camera, double tap the power button at any time, or even setup a capacitive button (like the home button) to launch camera with a double tap or long press. With the OnePlus 3, you shouldn't have any issues getting into your camera, which is quite fast to load once you do attempt to launch it.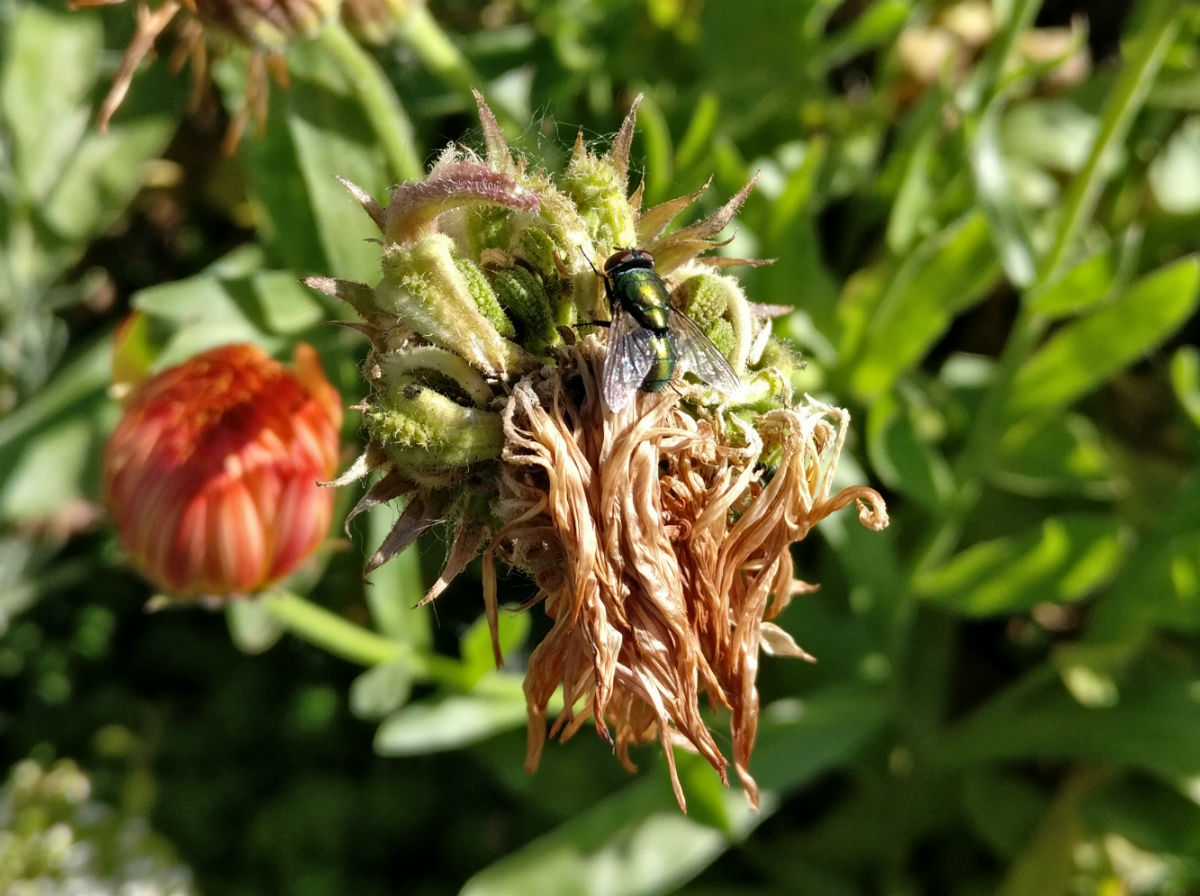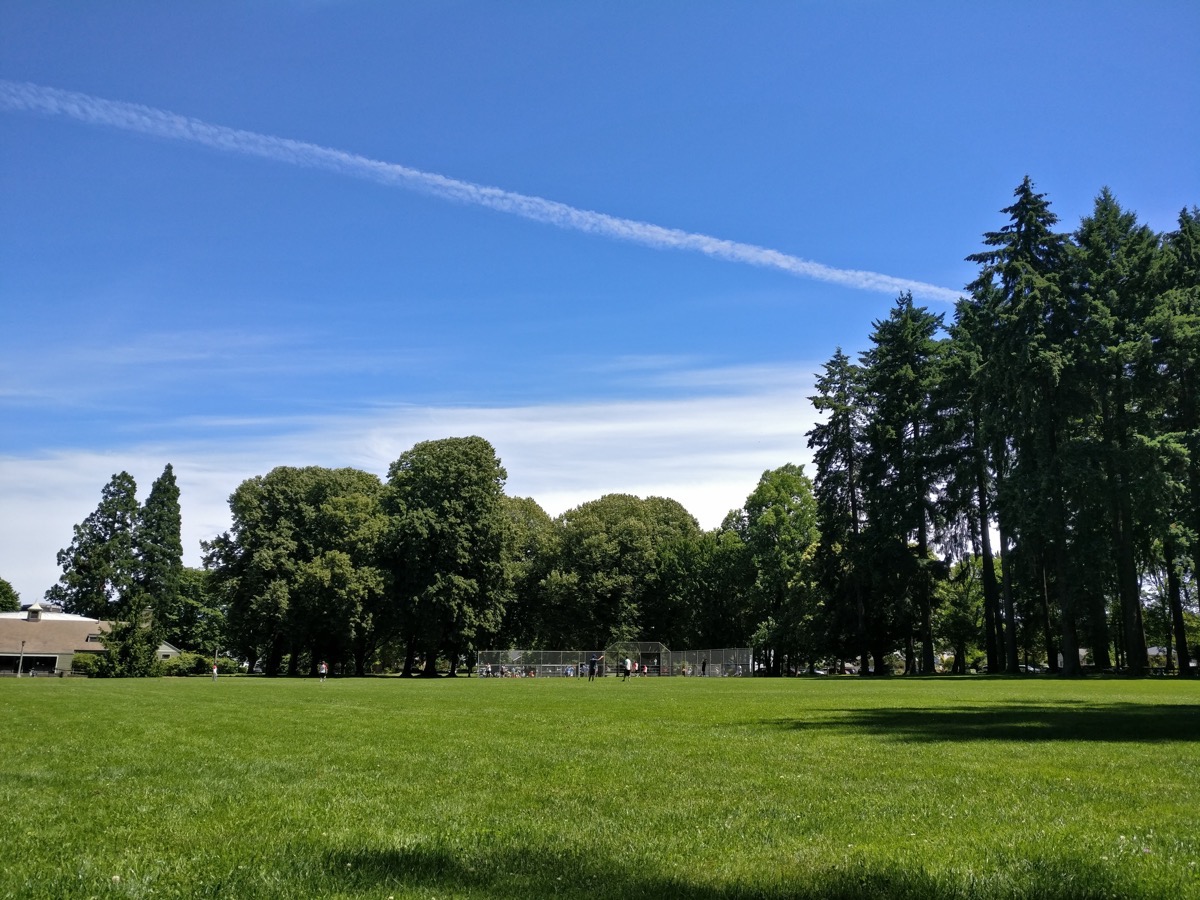 As for the camera's capabilities, I have to admit that I have mixed feelings here. On one hand, the OnePlus 3 and its 16MP camera with OIS is capable of taking solid photos in a hurry (did I mention how quick the camera is?). In good light and with non-moving objects, it's pretty great. However, in low light or indoors or with anything on the move, I haven't found that it excels there. In our samples above, you are seeing still shots. But my photo timeline from the OnePlus 3 is filled with murky photos of my son or cats or activities because the camera wasn't good enough in all situations. The camera snaps photos quickly once it focuses, I just haven't found that it's reliable enough to point and shoot, point and shoot, and come out with a winner almost all of the time, like you get with the Galaxy S7.
Above, we have a series of low-light photos that I took with the OnePlus 3 to show how it handles lighting situations as they get gradually darker. The phone goes from taking a clean shot to turning everything blue, to showing how bad it is in extreme low light. And in case you were wondering, the last two photos are a comparison of photos taken with the OnePlus 3 (left) and Galaxy S7 (right) in the same lighting. Trust me, it was as dark as the OnePlus 3 leads you to believe, yet the Galaxy S7 was still able to inject some light to make the photo visible.
Overall, the OnePlus 3 camera gets a "decent" mark from me. Like many smartphone cameras, it's good when you expect it to be (in good lighting) and average at best when you really need it to be good (in tougher conditions).
Display
Shortly after the OnePlus 3 arrived in the hands of more technical reviewers, a mini controversy brewed over the fact that OnePlus failed to include an sRGB display mode and that they hadn't tuned the display to an sRGB standard. OnePlus admitted that they ignored both of those ideas and instead tuned the 5.5-inch 1080p display one the OnePlus 3 to their own liking. As someone who just looks at a display with the naked eye and compares it to other flagships to decide whether or not it's good enough, I can't say that the way it has been tuned offends me at all.
With that said, OnePlus heard the cries and is issuing an update with an sRGB mode. We have yet to receive that update, so we are reviewing the display based on the factory settings out of the box that OnePlus has delivered. Even if we had received that update, we would more than likely be reviewing with sRGB mode off, since that is a "developer" option that we probably wouldn't use anyway.
OK, so is this 1080p display good enough?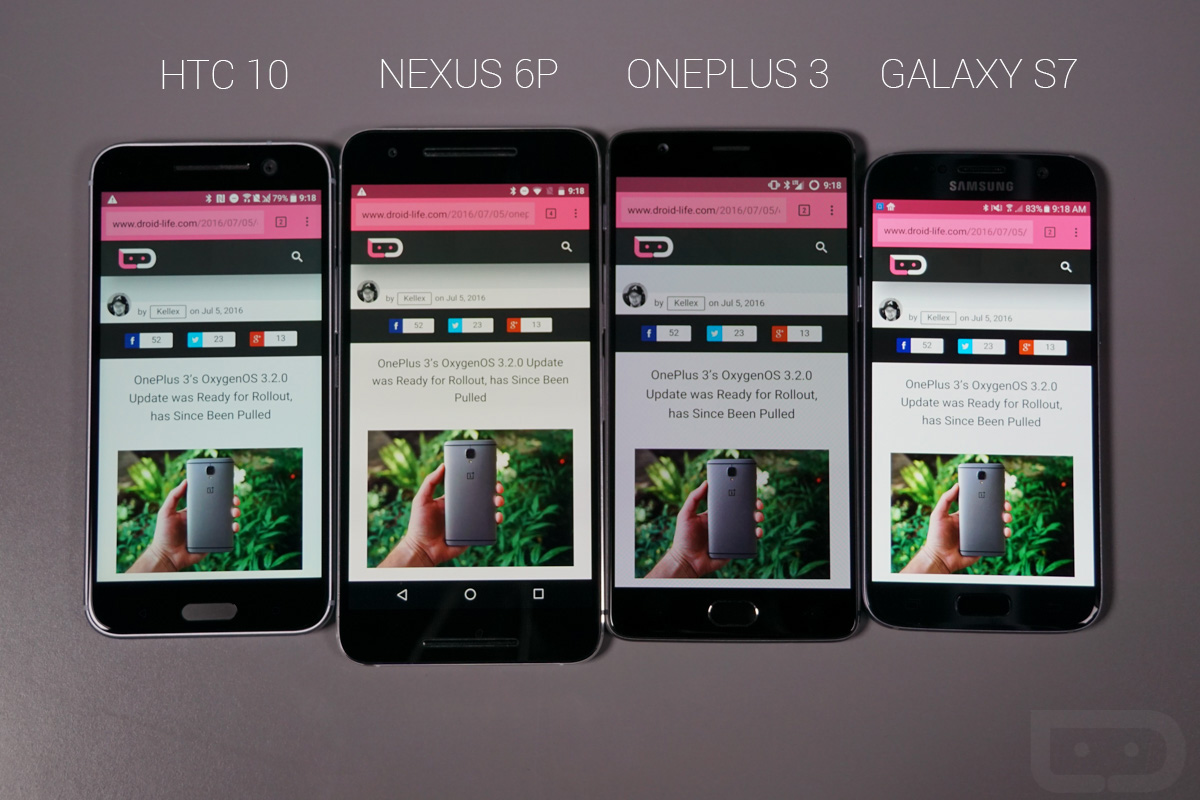 As you can see in those comparison photos, it's no where near the best in the business. If you care about resolution, then you'll be offended at the fact that OnePlus went 1080p here instead of QHD like all of the other flagships of the moment. Honestly, 1080p vs. QHD doesn't matter to me as long as the display looks good as I use it throughout a day and potentially saves on battery life. In this case, I actually think the OnePlus 3 display comes out as a winner for the most part.
Out of the box, the color temperature of the display is quite blue-ish or "cool," but OnePlus does include a color balance option in display settings that lets you tweak that some on the fly. I have indeed tweaked mine toward a warmer spectrum as I did notice the blue tint initially. So there's that. The phone does show cool, but you can tweak it to your eye's desire without an sRGB mode handy.
Still, as you can tell from the photos above, brightness levels here aren't good. The OnePlus 3 is the dimmest of the four phones with brightness maxed out and that's not shocking to anyone who has used it. The phone isn't great in sunlight because of those low levels, but it also is incredibly slow to adjust to lighting conditions as you move from dark to light areas. In fact, I'd call it painfully slow and I often found that I needed to manually adjust the brightness because the display failed to automatically adjust quick enough. It's viewing angles are decent, not great, as well.
I will say that this display does appear to be almost painted on to the top glass, so you really get that immersive feel when touching or browsing around. It's also good enough to look at for most uses. Outside of analyzing the display a bit for this review, I can't say that this display is bad. Is it slow and lacking high enough brightness levels? Yes. Does it reproduce colors so poorly that your eyes will bleed? I don't think so.
Connectivity
The OnePlus 3 gets plenty of positive points for being priced at just $399 and available now. It also gets points for being an unlocked phone that works on GSM carriers like T-Mobile and AT&T without issue. It does lose a point or two for being locked to just GSM networks, though. In 2016, we really like to see phones that are universally supported across all major US wireless networks. When you see ultra-budget phones like the Moto G4 capable of doing so, you hope that flagship-level unlocked phones like the OnePlus 3 can too.
I get that getting certified for use on Verizon's network probably isn't cheap and that OnePlus' margins are already thin. However, when you sell an unlocked phone in the US, you can reach a whole heck of a lot more customers if you give them more connectivity. Go look through our OnePlus 3 posts over the past month and you'll see how many of our readers alone can't even consider this phone because of its lack of Verizon connectivity.
The Not-so-Good
---
OnePlus' Track Record With Updates
OnePlus doesn't have a lengthy history, so take that into consideration on what I'm about to say as they could quickly turn this around. But with the OnePlus One and OnePlus 2, I think it's safe to say that both received updates much slower than their owners had hoped for, by a long shot. If we take a look at Marshmallow, since that is the most recent major update of Android, we didn't see Android 6.0.1 on the OnePlus 2 until the end of March and not until April for the One.
Keep in mind that Samsung is equally as slow at updating their phones, but here's the thing – not only does OnePlus push a relatively clean version of Android that you would think wouldn't take as much time to get ready, they also only have a couple of phones to work on. I'm no software developer, so someone can fill me in if I'm wrong. But when Motorola and HTC stripped down their Android skins to be more stock-like or pure in recent years, they did so in part because they could update them quicker. Why it seems to take OnePlus so long is beyond me.
With that said, shortly after the OnePlus 3 was released and word spread about a couple of issues (like missing sRGB mode and poor RAM management), OnePlus was very quick in pushing out an update to address them. I get the feeling that they could be faster than they have been and so like I just mentioned, understand that with a short history, it won't take much for OnePlus to turn this reputation of being slow at updates, around.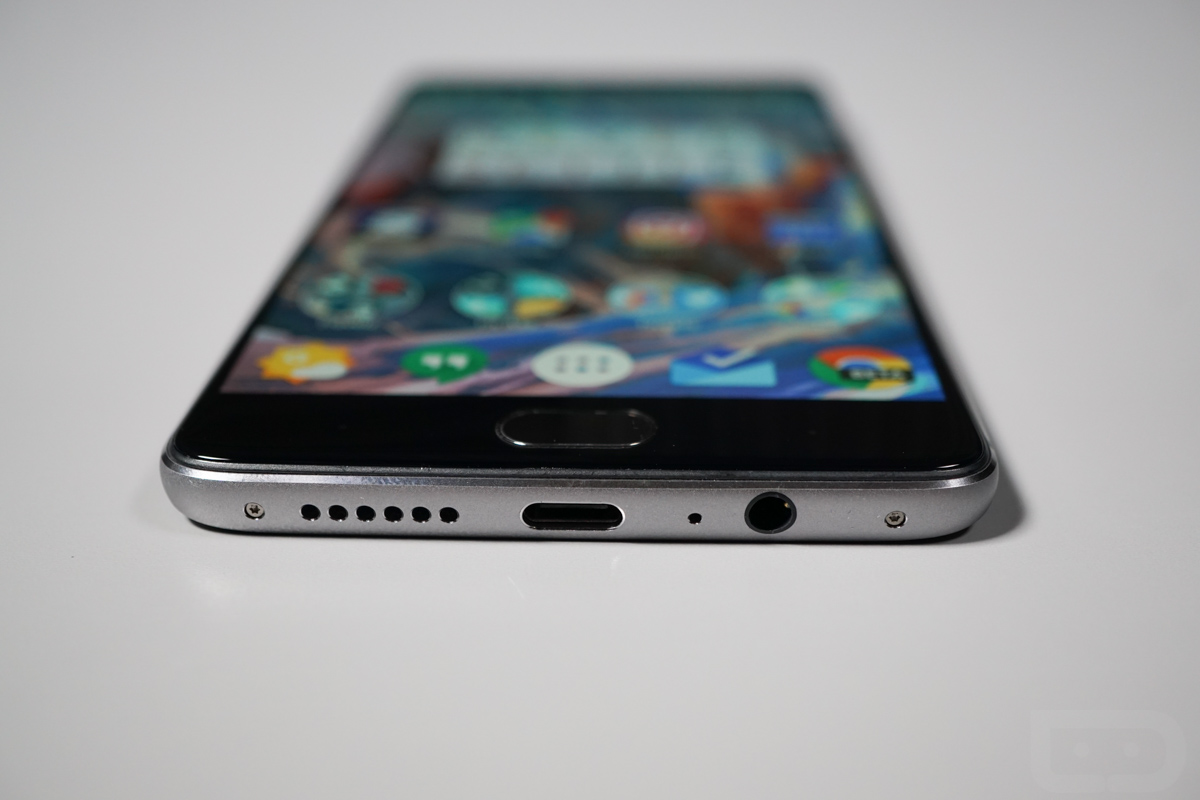 No SD Card Slot, No Water Resistance
Everyone else is including a microSD slot this year and here we have OnePlus leaving it out. Well, Google probably won't do it with the new Nexus phones, but everyone else is back on the expandable bandwagon. We like that bandwagon because we all take more pictures than ever, play bigger games, and potentially even load up our big-screened phones with HD movies. 64GB of storage is quite a bit, but it may not be enough for two years worth of use. Would have liked to have seen an SD slot, OnePlus, sorry.
Speaking of missing features, we can't let OnePlus off the hook for including zero water resistance. We dinged HTC and LG for it and so OnePlus gets knocked for it as well. I don't know why Samsung and Sony (Motorola too to some extent) seem to be the only two who realize how important it is for your phone to be resistant to water and spills, but that's the situation. And we're dinging companies for leaving it out because they need to figure out how to do it – they need to understand that people care about having a phone that can withstand some simple abuse.
Other Notes
---
WiFi issues: My house is outfitted withe Eero's WiFi system, so that means I have hubs throughout to give me a strong wireless signal at all times. For some reason, the OnePlus 3 seems to hate Eero. As I jump from upstairs to downstairs, which more than likely means the phone switching from hub to hub, I simply lose a WiFi data connection and have to toggle it off and back on to regain connectivity. You could call that an Eero problem, except I don't have the problem with my Galaxy S7 phones (both Snapdragon and Exynos models) and I haven't noticed it with any others either, outside of the HTC 10. This seems like an issue that could be addressed with a software update, but I just don't know exactly the root cause. Also, this has happened with two different OnePlus 3 units (both review and retail), so it's not exactly an isolated issue.
Bluetooth issues: I drive a 2015 model year vehicle and have never had a single issue connecting a phone to it via Bluetooth. Well, until now with the OnePlus 3. On two separate OnePlus 3 phones (review and retail), I am unable to get the phone to properly pair and carryover music controls and artist/song info, so that I can control my music in-car with the in-car controls. As you know, I use a lot of different phones and this is the first to not work properly. I don't know the reason, but it's a problem for someone like me who relies on Bluetooth when in car for music.
On-screen button issues: This is a bug that I think will be addressed, but both Tim and I have had the issue on all OnePlus 3 phones in our possession. The issue is a non-reliable back button when you are using on-screen navigation. That means it often requires multiple taps on the on-screen back button to get it to go backwards. The issue doesn't exist when you switch to the capacitive buttons. Here's to hoping OnePlus can sort this out in a hurry.
Video
---
Unboxing
[responsive_vid vid_url="LGnNUjrHvcw"]
First 10 things to do
[responsive_vid vid_url="m7RhDFn3BfE"]
Software tour
[responsive_vid vid_url="LiUTUgeN1S0″]
Gallery
---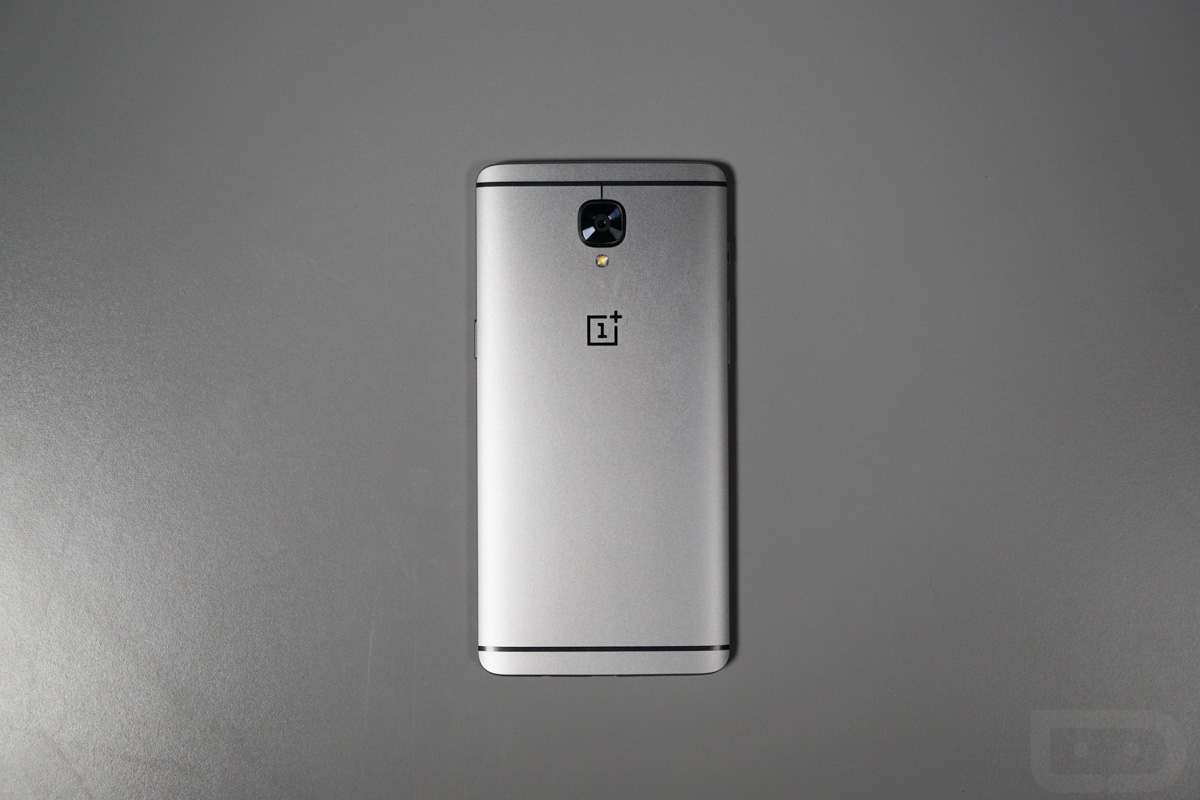 The Verdict
---
At $399, the OnePlus 3 is a really great bargain and value. It's also a really nice phone just in general. OnePlus hasn't cut any major corners here and has delivered a phone that almost everyone will really enjoy. It has a premium build, a best in class software experience, and doesn't arrive with an invite system holding it back or a terrible marketing campaign that over-promises.
If you need a phone to compare it to, there aren't many because of that price. It offers a similar set of specs to other flagships, like the HTC 10, yet comes in at almost half the cost. I would tend to lean towards recommending it over the HTC 10 or LG G5 at this point, because I think the build quality is the same, if not better, and the software experience beats both. It may not have a better camera than those two phones, but the camera could be good enough for many of you.
I was a huge OnePlus One fan and so last year's disappointing OnePlus 2 (and X) was frustrating to deal with. However, the OnePlus 3 has wiped away last year's missteps and has me back as a firm believer in OnePlus' ability to make great phones.