As the first wave of rumors arrived for Samsung's Gear Fit 2, I've got to be honest in admitting that I was not at all excited. In fact, I probably winced, shook my head a couple of times, and contemplated schemes that would force Tim to review it. I say that because I had the displeasure of reviewing the first version of the Gear Fit, a fitness wearable that was a terrible fitness tracker with a cool display. But then we had a chance to spend some time with the Gear Fit 2 during a media briefing and I was immediately sold on this latest version for a number of reasons.
Let's talk about what you get with the Gear Fit 2 and if that initial hype stuck with me through to this review. This is our Gear Fit 2 review.
It looks fantastic and fits even better.
Yep, the design here is greatly improved over the original. I would even argue that the Gear Fit 2 is the best looking wrist wearable I've put on in some time, if not ever. Those are big words, I know, but look at this thing.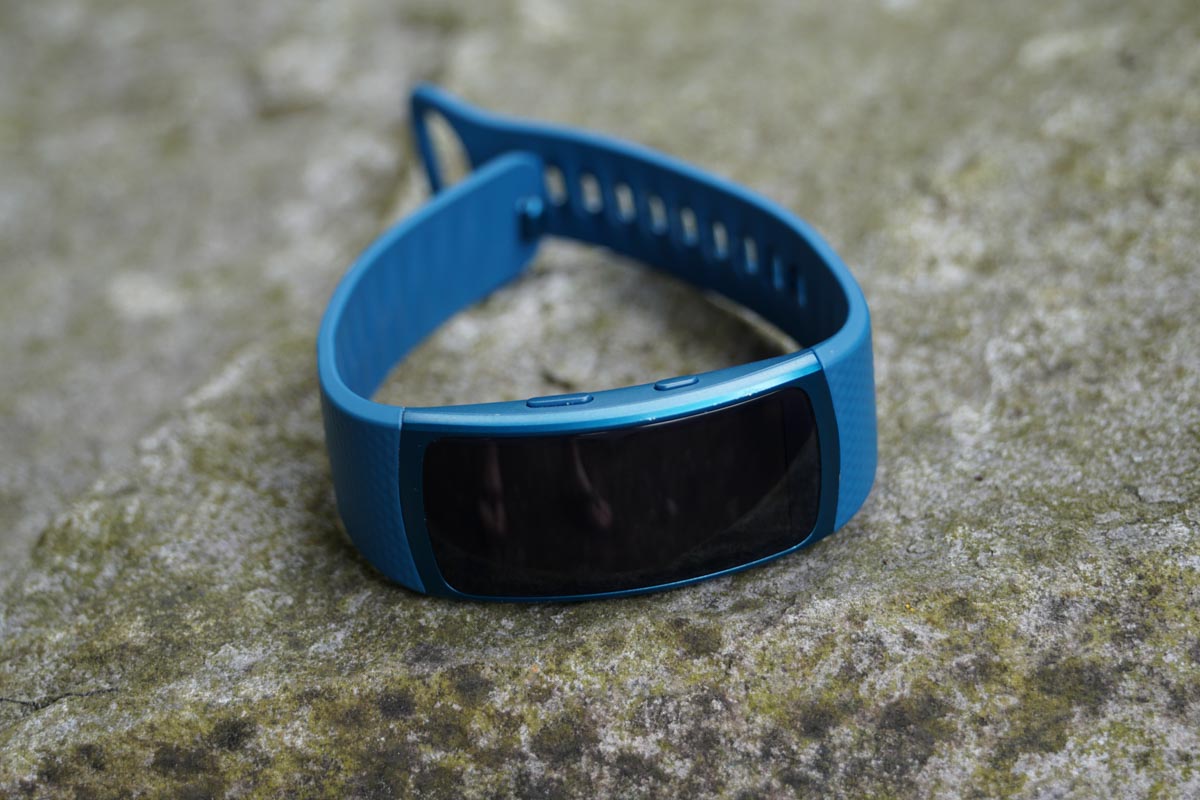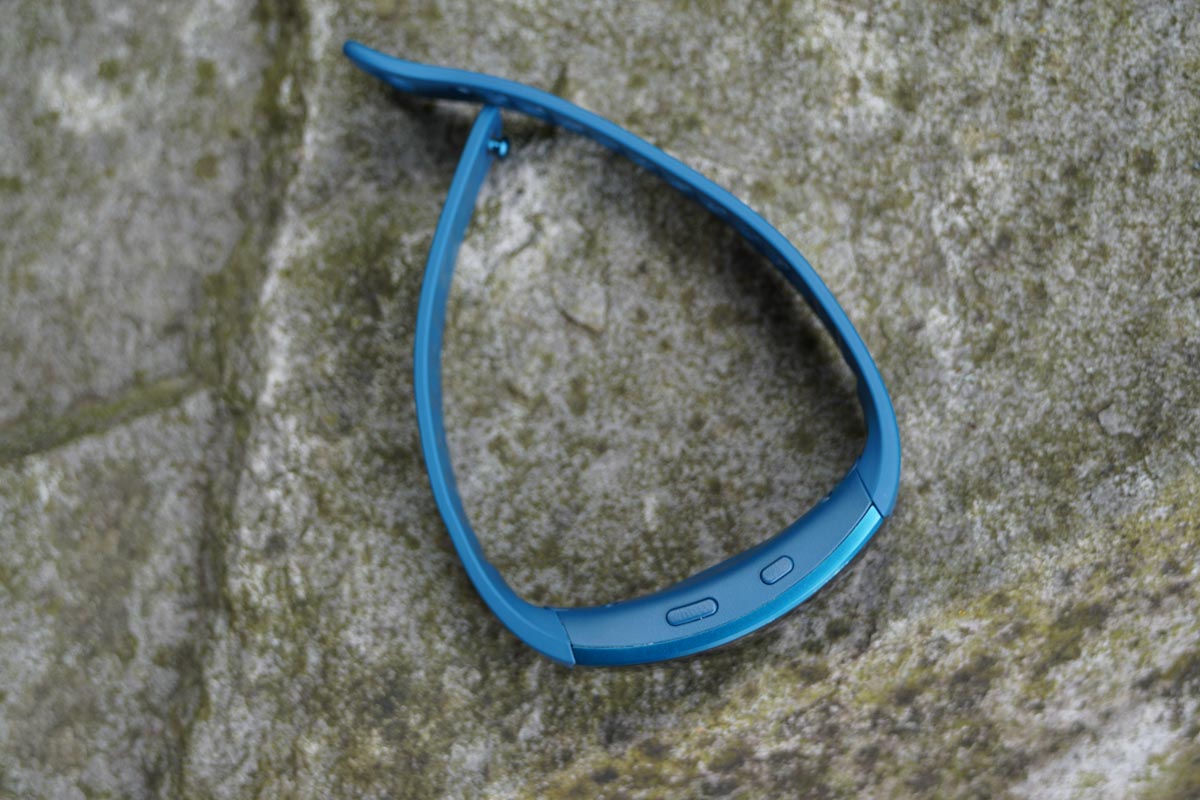 I've been testing the blue model, which adds a subtle hint of metallic coolness to my wrist. However, there is a black model as well, for those who want something a bit more low-key. Or, you could go pink!
As for the design, Samsung managed to pack a decently sized 1.5-inch curved Super AMOLED touch display in this thing, along with a dual-core processor, 512MB RAM, 4GB storage, 200mAh battery, and a GPS, while keeping it quite thin and light. Sure, it's a wide device when you compare it to a simpler Fitbit or Misfit tracker, but that's part of the deal when you have a big beautiful display. It also wears low on the wrist and doesn't stand too proud. In other words, I didn't find that I was constantly banging it on doorways or people or snagging it on everything any more than I would a normal watch since it sits fairly flush to my smallish wrist.
The band Samsung has used here is soft-coated silicon that isn't a hair magnet (Lookin' at you, Moto 360 Sport!). It's also incredibly easy to adjust and put on. All you have to do is slide one end of the band through a loop on the other, move it into position so that it's tight enough on your wrist, and then snap it into place. It actually holds pretty well too. I did knock the band loose 3-4 times in the past couple of weeks, but thankfully, the loop interaction helped keep it on and I never really felt like I was on the verge of losing it.
Finally, the Gear Fit 2 has two simple buttons, one that acts as a "back" button and the other as a power or action button. You don't have spinning dials or six buttons or a bunch of excess – you get a simple 2-button setup, along with the touch display. And that's exactly what you need in a fitness tracker.
Overall, this is a really well-designed product. It's made with higher-end rubbers in the band that will withstand all of the sweat you pour onto it, it sports a beautiful curved display that wraps perfectly around my wrist, and has been a joy use on the daily .
It's pretty good as a fitness tracker!
I'm a pretty active dude, for the most part. I try to run 3-5 times per week while getting other hikes or activities in here and there as I have time, so a fitness tracker or wearable is something that has been a part of my daily life for years. I don't necessarily use a fitness tracker to motivate me to get fit, because I feel like I know what needs to be done to get there. Instead, I use a fitness tracker because I want the data, so that 10 or 15 years from now, it might be useful in some way. The Gear Fit 2 is one that I would consider switching to on a permanent basis.
As a fitness tracker, the Gear Fit 2 pretty much does it all. You get step tracking, calorie burn counts, floor climbs, and heart rate monitoring, automatically. It also tracks your sleep automatically, even though I still have to find a setting anywhere on the device to control this. But where the Fit 2 shines is in the fact that it now has a built-in GPS. With a GPS inside, the Fit 2 becomes more than just a basic step and sleep tracker and can be used as a semi-serious workout tool to track everything, or at the very least, will allow you to go workout without your phone.
I took the Gear Fit 2 on a number of runs with GPS enabled and it seemed to track somewhat closely with my Garmin Forerunner 230, a dedicated GPS-enabled running watch that I trust and is one of the best in the business. At times, the Fit seemed to lag in distance, while others, it thought I had run further than I actually had. Most days, it was within 0.10 miles, often closer than that. I did have one outlier yesterday, where I went on a quick 3.10 mile jog (5K) and the Fit 2 thought I ran 3.30 miles. To a non-runner, that may not seem like a huge difference, but to me, that's a massive difference. If you were doing any sort of serious run training for a race or event where your time and distance matter, that .20 mile error is unacceptable.
| | DATE | DISTANCE | TIME | PACE |
| --- | --- | --- | --- | --- |
| GEAR FIT 2 | June 20 | 3.29 mi | 24:41 | 7:27 |
| GARMIN FORERUNNER 230 | June 20 | 3.10 mi | 24:40 | 7:57 |
| GEAR FIT 2 | June 18 | 6.22 mi | 59:00 | 9:28 |
| GARMIN FORERUNNER 230 | June 18 | 6.19 mi | 58:46 | 9:30 |
| GEAR FIT 2 | June 15 | 4.26 mi | 36:59 | 8:39 |
| GARMIN FORERUNNER 230 | June 15 | 4.34 mi | 36:54 | 8:30 |
| GEAR FIT 2 | June 8 | 4.66 mi | 40:56 | 8:46 |
| GARMIN FORERUNNER 230 | June 8 | 4.63 mi | 40:24 | 8:44 |
For the most part, though, the Fit 2 could work as your only GPS-enabled tracker. I don't know that I would fully trust its accuracy at this point for the running I do on a regular basis, but if .10 or .05 miles here and there don't matter to you and you really just care about getting out and running and seeing a mostly-correct activity that can be tracked without your phone nearby, it would be fine.
If you aren't a runner, the Fit 2 also does automatic tracking of a variety of activities. That means the Fit 2 tries to figure out what you are doing as it recognizes you are in motion and will then provide a summary of it after the fact. Samsung says the Fit 2 can distinguish between running, cycling, and a number of other physical activities. (I don't own a bike, soooooooo, sorry! No biking review here.)
And isn't that what most people want in an activity or fitness tracker? They want an all-in-one device that can do the basics, like steps, sleep, and calories, but also one that can do some heavy lifting for runs or bike rides or other activities.
You should use S Health with it.
With all of that in mind, just know that you should probably use your Gear Fit 2 with Samsung's S Health app. Like it or not, it gives you the bigger picture of your health and a UI that displays what the Gear Fit 2 is keeping track of. While there are ways to view most of your fitness information right on the Fit 2, it's not exactly a pleasurable experience on its small display.
By installing S Health and syncing it to your Gear Fit 2, you get to customize the information that you see, from daily step, sleep, and activity tracking, to the amount of water and coffee you consumer each day. You also get to see charts and trends for activities, including your heart rate, stress levels, etc. This is going to be the best place to view your sleep information as well, with details for when you were sleeping your best and worst.
The S Health app isn't the greatest in terms of UI, but it is a pretty full-fledged health app at this point. You have access to programs (like couch to 5K), syncing to partner apps (like Nike+ Running), and calorie and weight tracking.
Technically, you can use a Gear Fit 2 without ever using S Health, I just wouldn't recommend it if you want to see the bigger picture on a big screen, instead of the little guy on the Fit itself.
This is not a smartwatch.
The Gear Fit 2 is not a smartwatch, but yes, it does have some smartwatch-like features to it. For one, you can receive all or some of the notifications from your phone and even respond to many of them with pre-canned answers. The watch doesn't have a keyboard (thank God), though, so it is quite limited. You can't place calls or take pictures or draw cute hearts or voice-dictate to it. It's a fitness tracker, folks.
I ended up just turning off all notifications from my phone, because there is nothing more annoying to me than my wrist buzzing during workouts, glancing at notifications, and then thinking I need to act on them mid-workout but can only do so by pulling my phone out. Again, the functionality is so basic that I wouldn't necessarily hype up the smartwatch functions here. The Gear Fit 2 is a good fitness tracker, just don't go into hoping for it to also be a smartwatch.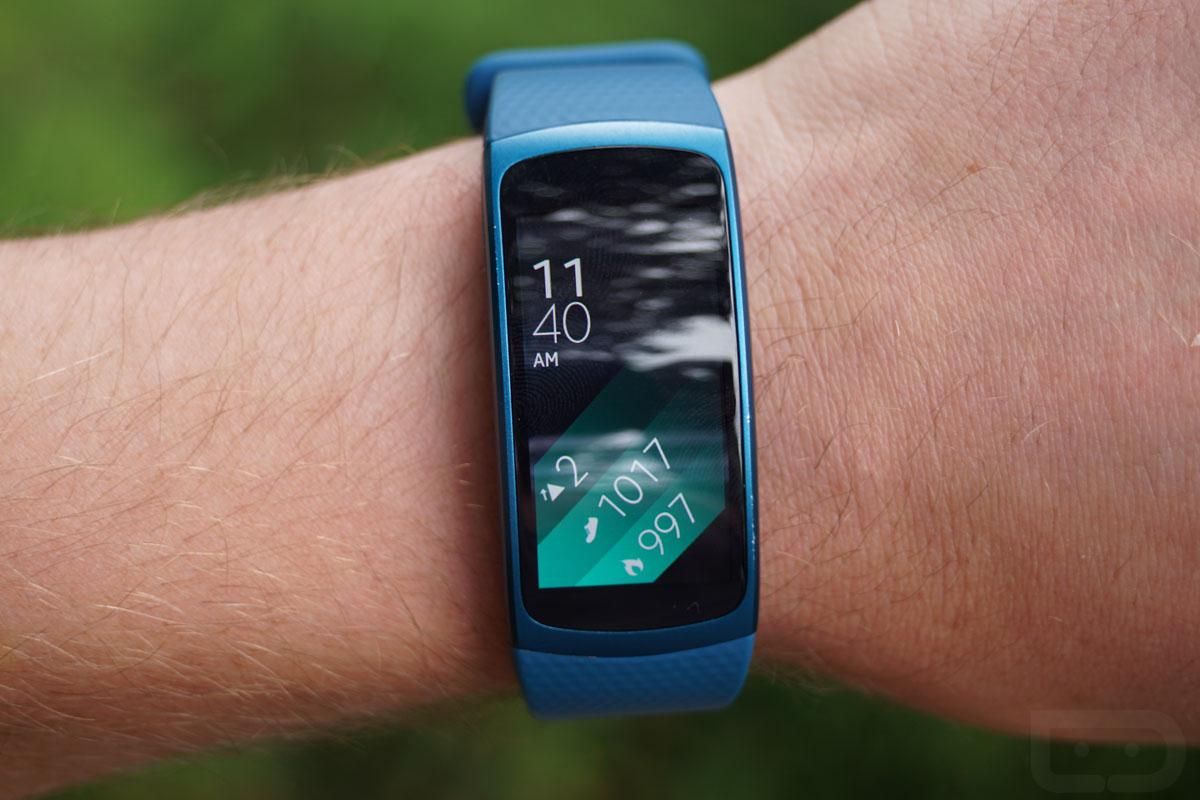 Other notes:
Display brightness:  Since this is a fitness tracker and you'll probably spend quite a bit of time outside with it, you probably want to know how it does in bright sunlight. From my experience, it does OK. It has an outdoor brightness mode (you actually do crank it to 11) that shines through well, you just have to remember to set it that way during outdoor workouts. My first couple of workouts left me annoyed at how bad I thought the display was in sunlight, but then I figured out how to crank it all the way up and thought it did the job. Maybe I'm expecting to much, but I wish it would change automatically to "11" brightness when you go for a GPS-enabled workout.
Battery life:  I'm getting 2 days of battery life with the Fit 2 – no less, no more. Samsung says that it can go up to 4 days, but I just don't see that happening if you use the GPS for tracking a workout even once for 30 minutes. If you aren't using the GPS, you could potentially get 3 days in and maybe more if you turn off all notifications and utilize the Fit's battery saving option. Otherwise, expect to charge this little guy often. On the plus side, it does have a handy little charging dock with magnets that charges the device no matter which way you drop it on. The dock could also act as a bedside clock if you wanted it to.
Compatibility:  Samsung has opened up their wearables to now work with all Android phones, so if you were interested in previous Gear devices, yet passed because of the Samsung exclusivity, you may want to re-consider. The Gear Fit 2 will work with them all now. I have tested this tracker on both a Galaxy S7 and OnePlus 3 and saw pretty similar experiences.
Music storage and Spotify: The device has built-in storage for your workout music and also can connect to Spotify. I don't use Spotify, so I had no use for that feature. The built-in storage could come in handy, though, if you really want to leave your phone at home as you go out for exercise. All you would need is a pair of Bluetooth headphones to pair to the Fit 2 and you could get into your favorite playlists pretty easily.
Man, that price is hard to beat.
At $179, there is a heck of a lot to like here. You have a beautiful curved AMOLED touch display, 2-day battery life, built-in GPS, all the fitness tracking you could ask for (sleep, heartrate, steps, floors, calories, water, coffee, running, cycling, etc.), and a well-put-together design that (thanks to two sizes) should fit any wrist.
I'm actually not sure if there is even a competitor here that can come close to what Samsung has done. The Fitbit Surge is probably the first that comes to mind, yet it costs at least $220. Garmin has the Vivosmart HR+, but it's also $220. Honestly, I don't know why (other than those two being households names in the fitness arena) you would choose anything over the Fit 2 if you are looking for the most value.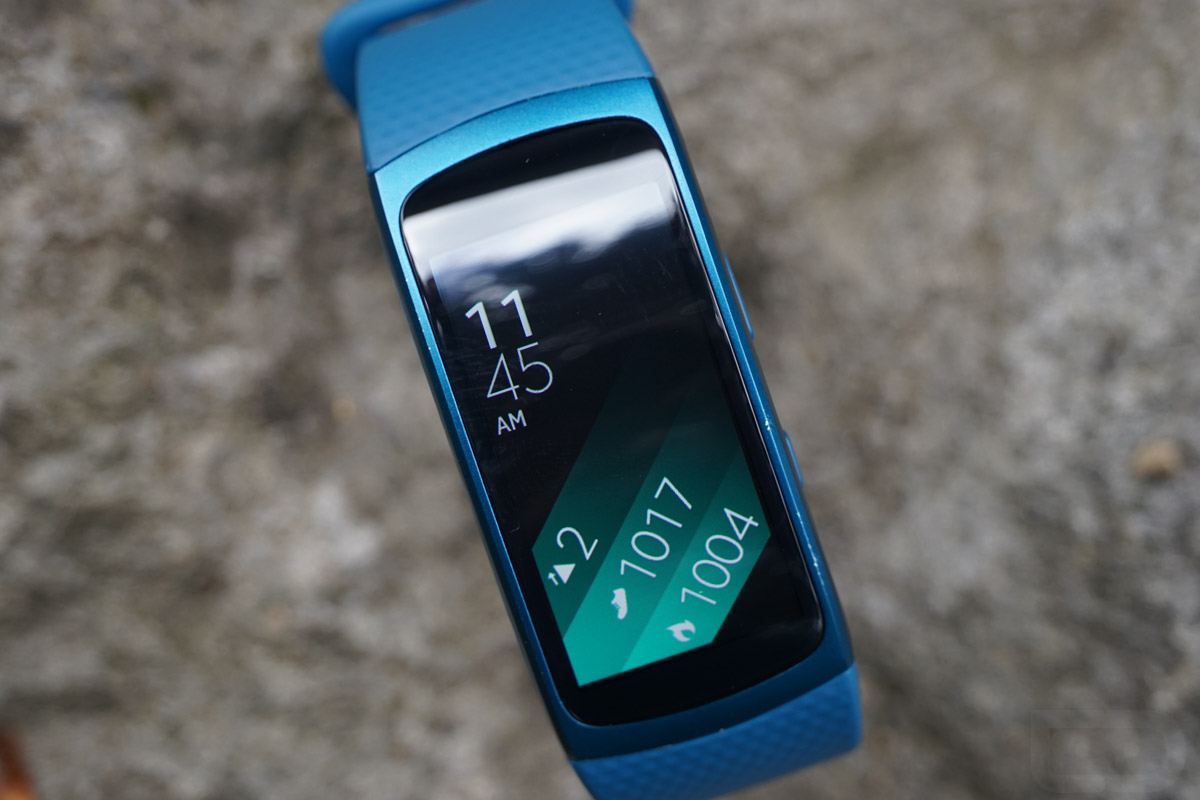 The Verdict
I didn't think I would ever end up saying this about a Samsung Gear Fit device, but the Gear Fit 2 seems like a no-brainer recommendation for anyone looking for their first fitness tracker or as an upgrade over an older Fitbit or Jawbone or Misfit. It pretty much does it all as a fitness tracker, plus it has GPS, a bit of smarts for notifications, looks great, and costs just $179.