With the HTC 10, I get the feeling that HTC is looking for a fresh start. They are coming off of years in a row of bad smartphones, but seem to have a renewed vision or outlook now that they are a VR company. That's only part-joke there, by the way, because I really do get the feeling that this has become a VR company who also makes phones. Just look at the lack of a big splashy press event, commercials, or other promotion for the phone outside of handing it off to a bunch of tech blogs and tweeting about their findings. And that's not a bad thing, because HTC probably needed their focus adjusted into something other than the tough-to-compete-in smartphone market, in order to get back to making good phones again. The HTC 10, without spoiling too much, is without a doubt a really good phone.
We'll dive into all of the details below, but HTC, with the 10, has done almost all of the things we look for in a smartphone, right. They trimmed up the software experience, will probably deliver updates to it faster than anyone else, built a phone that looks and feels equally as good, included almost all of the top tier specs, and even managed to deliver a very solid camera experience.
Let's get into it. This is our HTC 10 review.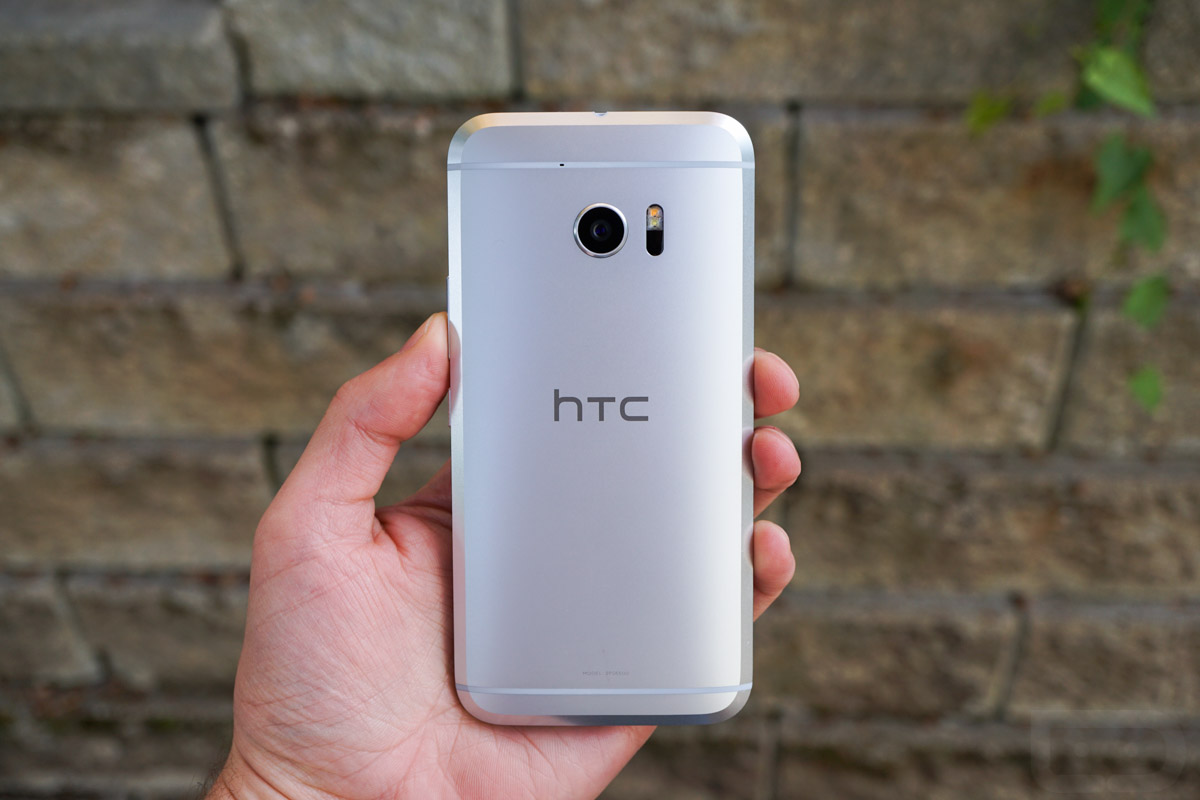 The Good
---
Design
The design of the HTC 10 isn't new at all, but that doesn't mean it isn't very good. If you have followed the tale of HTC since the beginning of their switch to metal phones, then you should be able to see a lot of the One M7 in this phone. In fact, from the back, they look almost identical outside of the giant chamfer running around the 10's outer edge.
Fans of all-metal phones will more than likely love what HTC has done here. In hand, you feel like you spent money on something substantial, something potentially worth hundreds of dollars, almost like you made an investment. It's solid. There aren't squishy or moving parts. There aren't sharp edges. There aren't sticky, cheap-feeling textures or primer applied to the back. What you have is a blasted, soft-touch metal with a finely machined chamfer, that not only looks premium, but aids in grip and is a constant reminder to you of the quality and time that HTC has introduced here. The glass on the front blends into the unibody metal. You get that modern, yet industrial feel, especially with the shine off of that chamfer that glistens with every slight angle. By all accounts, this is a very pretty phone.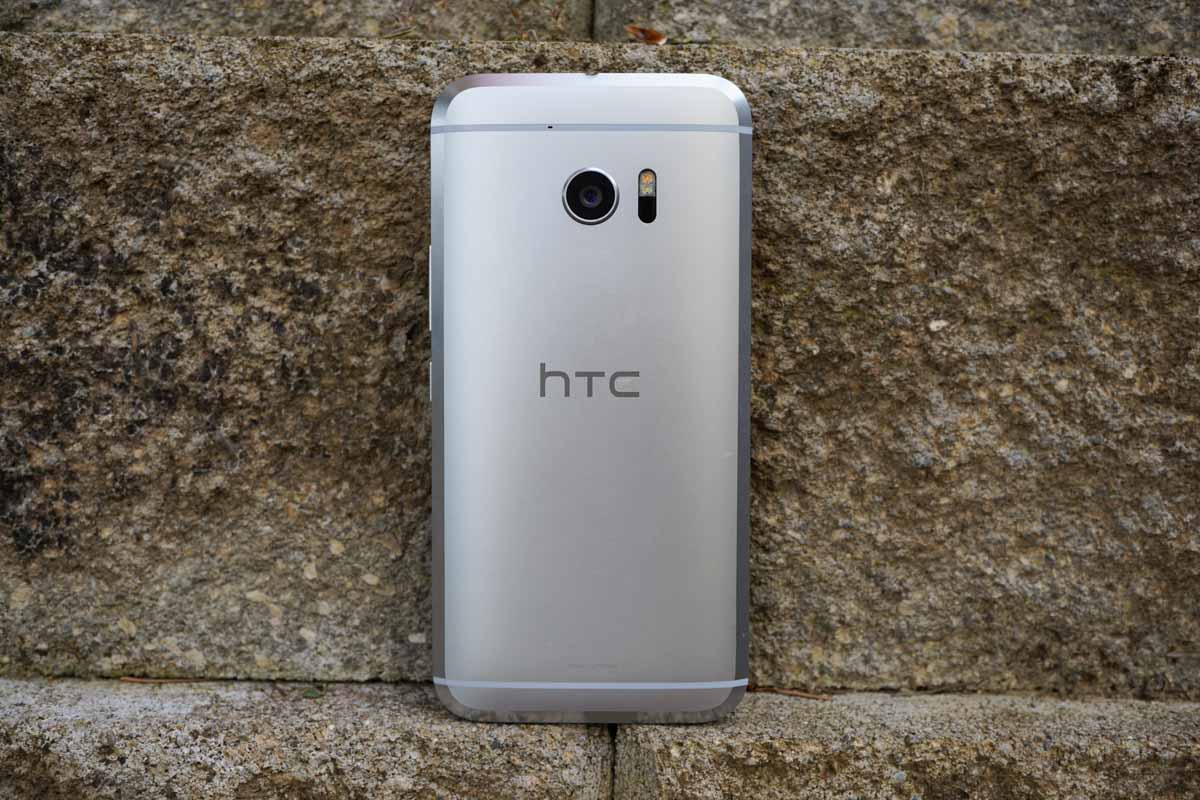 HTC even improved the button experience on the side of the phone for adjusting volume and locking or waking. Unlike last year's One M9, you can actually tell which button you are pressing each time. While I wish the power button was above the volume, the texture added by HTC to it at least lets you quickly find the proper button when needed.
I'm not a huge fan of the button arrangement on the bottom chin, where HTC used a capacitive fingerprint reader that doubles as a home button, sandwiched between capacitive back and app switcher buttons. HTC did get the order of the buttons correct, but they are all so close to the bottom of the device that I often found I was tapping multiple times above the back button before adjusting my grip to get it to work. With that giant black area at the bottom of the phone, I would have liked to have seen HTC center all of the buttons vertically to make the ergonomics work better. This is a minor complaint, though, and probably something I could get used to over time.
Overall, the design of the HTC 10 is quite good, even if it doesn't feel new. This is an evolutionary change from the original One M device, one that we wish would have come two years ago. Still, you can't deny the craftsmanship here, which shows that HTC still can design a phone with the best of them. I would even go as far as to say that when it comes to an all-metal phone, HTC does 'em best.
Software
I'm starting to feel like HTC is our new Motorola from a few years back – Google's Motorola. Remember when Motorola ditched their Android skin and started giving us a "pure" Android experience with subtle enhancements on top, while updating devices faster than anyone else? That's what HTC is doing these days. Man, is it refreshing and soooooo welcomed. After spending the past couple of months with the Galaxy S7 and G5, two phones that are filled to the brim with skins, bloatware, and other nonsensical garbage, this phone almost feels like it's a bit boring or bare bones, only in a really, really good way.
HTC is still giving us their Sense skin on top of Android, but you can't really tell for the most part unless you look at the lock screen, app drawer, and home screen settings. Sense is there, don't get me wrong, but it's not everywhere. The notification and quick tiles pull-down just looks like stock Android. The settings area, also pretty much just looks like stock Android, if not in a different order.
Then you have HTC's apps for making calls or sending text messages nestled into an app drawer that doesn't have many other HTC apps. With this phone, HTC decided to lean things up by not including their own calendar and mail apps, because they know you can (and will) just use Google's, which need to be pre-loaded on the phone anyway, thanks to Google's Android agreement. So when you set up your phone, you don't have to choose a calendar app or mail app – you just get to use the calendar and mail apps that are there.
HTC also built in a theme store and engine, so you can really customize the look like you can on most phones these days. HTC's theme app is a bit better than others, though, because they let you choose a wallpaper to base your theme on, which then brings up icons or colors or system colors that match up nicely, giving you the ultimate custom skin. There are pre-loaded icon packs and wallpapers and themes as well, but creating something unique depending on a wallpaper is a nice touch.
Then you have the add-ons I mentioned above that make Sense still a worthwhile skin to not hate. I'm talking about the motion launch gestures from the lock screen, that let you get into the phone or camera, or just wake the phone, without having to touch a button. Even Blinkfeed could be a decent, dead-simple news reader or social media aggregator for some. And of course, we appreciate the power saver settings, some of the camera tricks like Zoe, ability to tweak display color profiles, and take advantage of Marshmallow's adoptable storage, a setting that both LG and Samsung decided against.
If you have been on the hunt for a manufacturer who can take the place of Motorola and the "pure" Android experience, now that Lenovo has helped turn them into the manufacturer most likely to be avoided, HTC is a solid choice. Sense is lighter than ever, plus the slimdown of apps and unnecessary software add-ons has HTC in position to really win back the Android enthusiast crowd.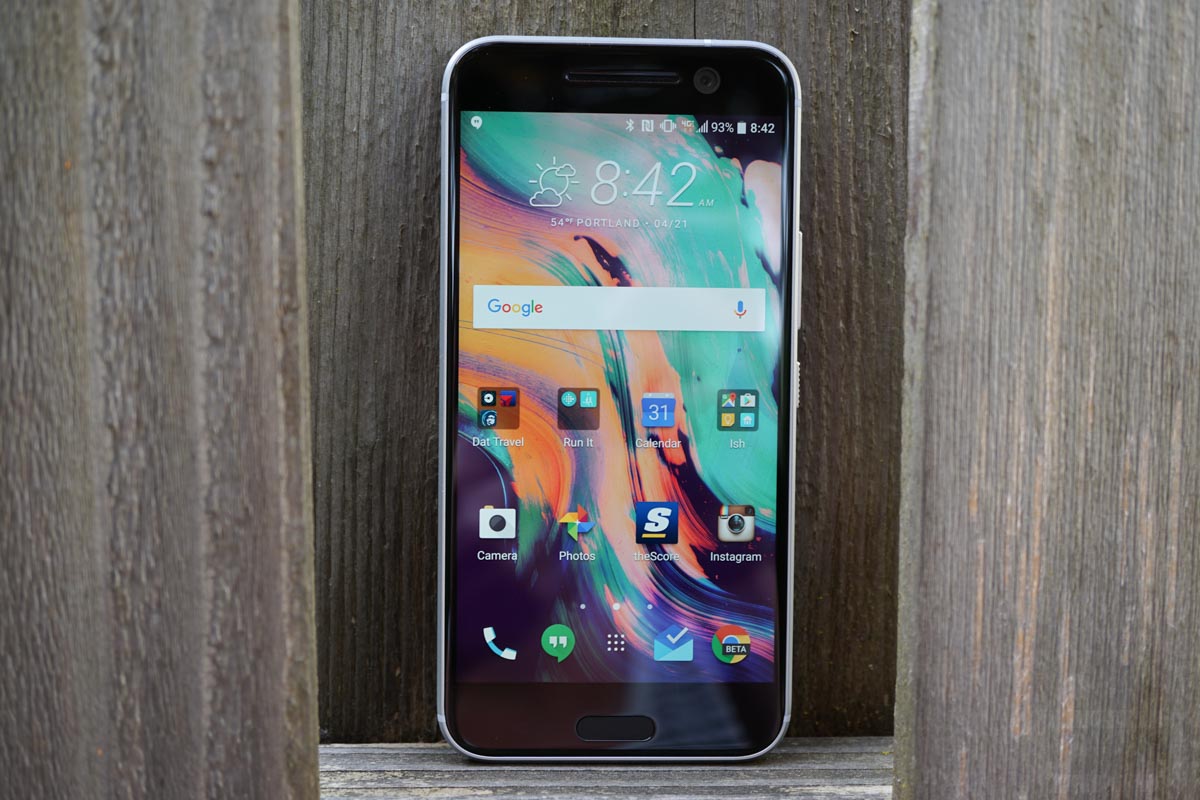 HTC's Update Track Record
With all of that software praise in mind, don't rest yet, because we have even more coming. You know how important Android updates are, right? From the latest monthly security patches to the big releases, like Android Marshmallow and soon-to-be-released Android N, they all have their own levels of importance. Yet here we are a good 7 or 8 years into this whole Android thing and manufacturers are still terrible at updating phones in a timely manner. Well, outside of HTC. HTC has (if you can believe it) become somewhat of a bright spot in this never-ending saga to get updates to you in a hurry.
HTC was one of the quickest to get Marshmallow out to its newest devices, including those tied to carriers. With their last release, the One A9, they guaranteed updates within 15 days of Google releasing them to Nexus phones and have mostly kept up. They may not have made such a promise with the HTC 10, but the chances of them updating it quicker than most manufacturers is pretty high. In fact, I wouldn't be shocked if the 10 is the first non-Nexus to get Android N when it goes stable later this year.
How is it that HTC can do all of this? For a couple of reasons. They have fewer phones than someone like Samsung, so they have less work to do to get updates out. They also seem to work closely with Google and more than likely have built Sense to be easily updatable at this point. And finally, if you buy "unlocked" phones from them, there isn't carrier interference to deal with, so HTC can essentially update their devices whenever they want. Sure, they still sell carrier-tied phones and those won't get updates as quickly, but HTC has also shown that it has improved on that process in recent years as well.
Want quick Android updates? Buy a Nexus or….I can't believe I'm saying this…an HTC flagship.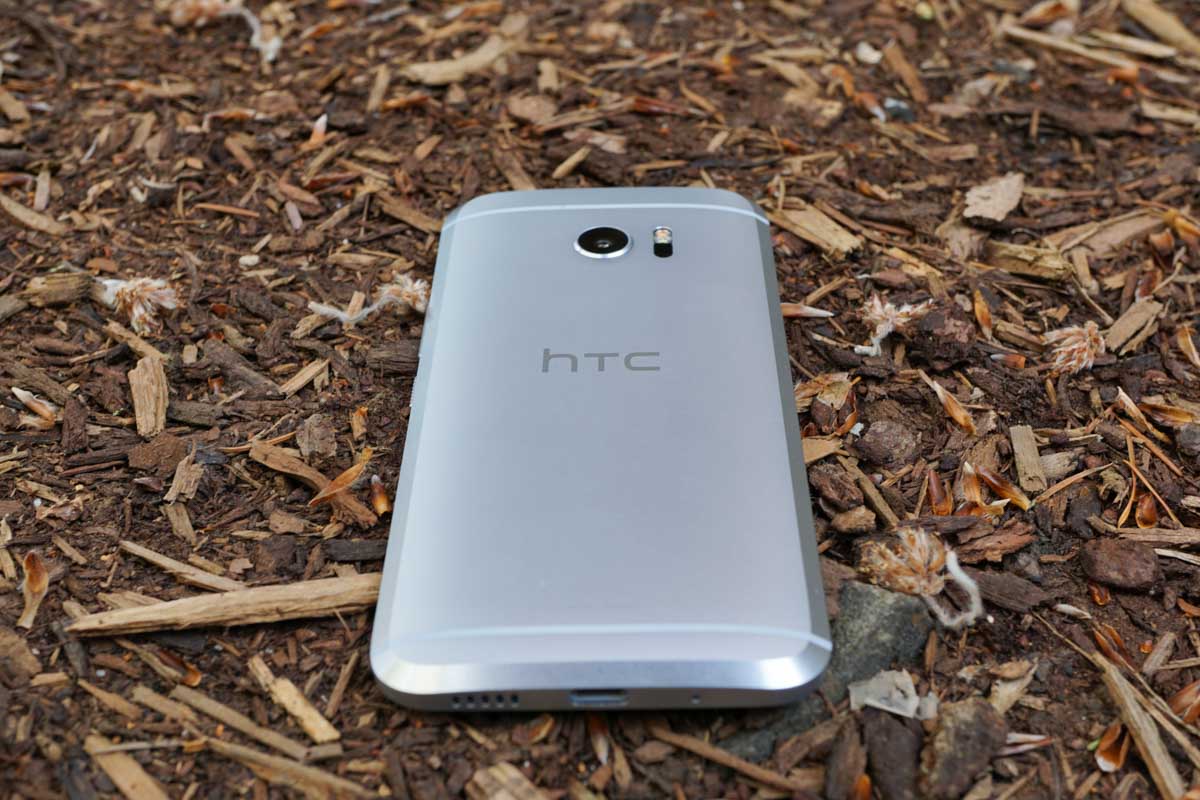 Performance
Thanks to the leaner Sense skin I just waxed poetic about, and its Snapdragon 820 with 4GB RAM, the HTC 10 is a smooth performer. Not that we weren't expecting a 2016 flagship phone to be smooth and fast, but HTC has clearly done some work here to get the 10 as buttery as can be.
HTC is claiming to have improved the touch latency over the One M9 by 50% and app launch time by double. Those are two pretty important areas, since you want your smartphone to track your finger as quickly and accurately as possible, but you also want your apps to load in a hurry. I can't say that I have necessarily noticed a difference in these areas over the Galaxy S7 or G5. However, the fact that HTC is still focusing on responsiveness and app loading shows you that they care about the little things in a smartphone experience that you may not notice until you go elsewhere.
Speakers and Audio
The HTC 10 has been "engineered for audiophiles," according to their marketing materials. I, unfortunately for those who came here looking for a complete audio review of the 10, am not an audiophile. Here's what I know. The HTC 10 is "certified" by Japan Audio Society for Hi-Res audio, includes a 24-bit DAC, and a high performance headset amplifier. I also know that with a pair of quality headphones plugged in, the sound produced here is pretty awesome. I'm not about to talk highs and lows and mids and soundstages and whatever else you audiophiles talk about, but I appreciate the ability to setup custom sound profiles and the really clean audio that pulsates my ears with a good pair of over-ears on. Listening to music on the 10 with headphones on is addicting – you'll want more. Yeah, the headphone experience here is quite impressive, even to me, a guy who has yet to nerd-out on audio. Even I can give HTC a thumbs up here.
As for the external speaker situation, I feel torn. I loved the dual front-facing stereo speaker systems that HTC used in the past and do not love the separated tweeter and woofer system they have here on the 10. That's not me saying I don't love having two speakers in a phone, it's just that I don't get the immersive experience when playing games or watching video like I do with a stereo setup. HTC's speakers here are still better than what other 2016 flagships have put out, but that's not saying much, since most gave us single bottom-firing tinny tin tins.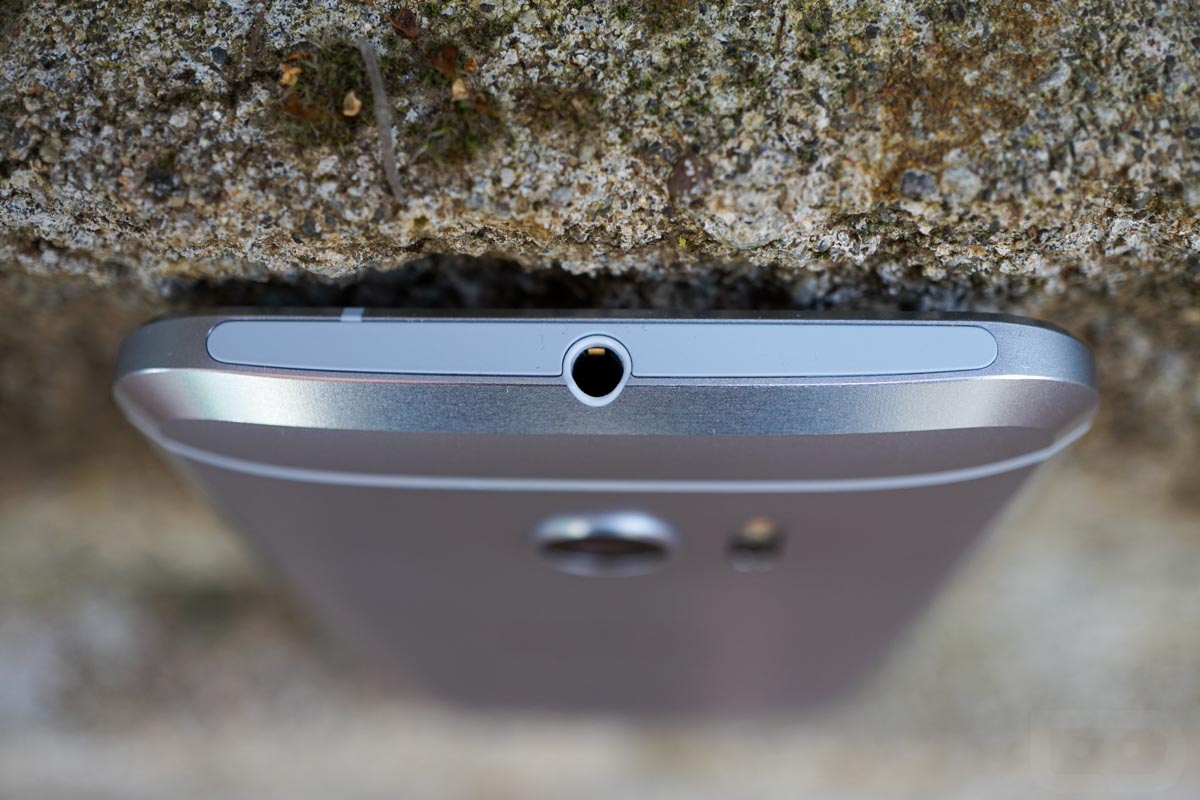 SD Card Slot
Yep, there is a microSD card slot in the HTC 10, like there was in the HTC One M9 and there is in the Galaxy S7, LG G5, and Moto X Pure Edition. At this point, only Google is avoiding expandable storage. With the HTC 10, you get 32GB of internal space to use, so tossing in a microSD card is something you will want to do from day one. The phone technically supports up to 2TB cards, which don't exist. Just go out a buy a 128GB card or 200GB card and call it a day. Make the investment today and take the card with you from phone to phone, since it'll be tough to fill up that much storage. You can find 128GB cards for as little as $30 these days.
As an added bonus, HTC is allowing users to take advantage of Android Marshmallow's adoptable storage feature. That means you can turn your SD card into an encrypted system-style bundle of storage to give you one one big block of storage to use, instead of the separated internal and external partitions you are used to. This has both benefits and drawbacks, so we aren't going to recommend you do it unless you know exactly what you are getting yourself into. Still, HTC is allowing this to happen, while Samsung and LG killed it, probably because they think they need to save you from yourself.
Uh Oh Protection
HTC's Uh Oh Protection is one of those benefits you probably won't appreciate until you need to use it, which is why it's such a big deal. Protections, which are more than just warranties, are the types of features that you often don't know you need until it's too late. Thankfully, HTC includes Uh Oh Protection and all of its benefits for free when you purchase a phone through HTC.com. That's right, from what we can tell, you only get Uh Oh Protection when you buy the HTC 10 through HTC's site. It is what it is, I guess.
What is Uh Oh Protection? Within the first 12 months of owning the HTC 10, you can replace the phone for a broken screen or because of water damage for free, one time. HTC will send you a phone the next day if you are willing to place a $599 hold on your credit card, or you can send the damaged phone back without the hold and get your replacement within two days. They used to let you switch between carriers one time, as well, without cost, but that piece of Uh Oh Protection seems to have been killed off, unfortunately.
But look, the screen replacement and water damage protections are a big deal. I know that not everyone drops their phones and cracks screens or dunks them in oceans, but people do and it's almost always at a time when we are lacking cash flow. With this protection, HTC is taking care of their customers in a way that almost no one else does.
Somewhere-in-the-Middle
---
Camera
The HTC 10 has the best camera we have seen in an HTC phone in years, if not ever. Normally, that would be something a company can brag about, but HTC has put so many terrible cameras in its phones for so many years in a row that it's not exactly something to run around rah-rahing over. The 12MP "UltraPixel 2" camera with 1.55 micron pixels being used here is the same one that Google put in the Nexus 6P. That means this is a proven winner, since the 6P has one of our favorite cameras of all time. HTC's implementation of it is also a step above, thanks to included optical image stabilization (OIS), which Google told us they didn't need and were wrong about.
HTC gets a number of things right here, largely in part to their nicely designed camera software. You have your standard shutter and video capture buttons on the right side with shortcuts to gallery and selfie mode. On the left side, you have shortcuts to flash and HDR controls sandwiching a slideout menu that gets you into Pro, Zoe, and Panorama modes. You'll find controls for Hyperlapse and Slow motion video modes too, along with settings that include grid application, switching storage to SD card, etc. The camera app is super clean and easily one of my favorites.
As for the results, I'd have to say that the camera here is solid and can take a decent picture. The photos I took all seem to be muted in terms of color reproduction, which some would refer to as being more "natural." I don't know that I would lean that way, because I like the vibrant photos that come out of the Galaxy S7 and G5 over these often dull pictures from the 10. With that said, that's a personal preference and I fully understand that your eye may prefer what the 10 can produce.
Outside of the dullness, the laser autofocus system here is hit or miss (and shows this obnoxious message all of the time). Sometimes it's fast and other times it is far too slow. Sometimes the touch-to-focus makes sense and works on the first try, but then others it never seems to get out of being locked, causing you to miss your shot. The camera loading time isn't great either, especially when you compare it to those other two phones I just mentioned. HTC included a double-swipe-down gesture on the lock screen that launches the camera, but it's just not quick enough. In low-light, the camera is capable of capturing tons of light and a nice photo, assuming that object isn't moving at all.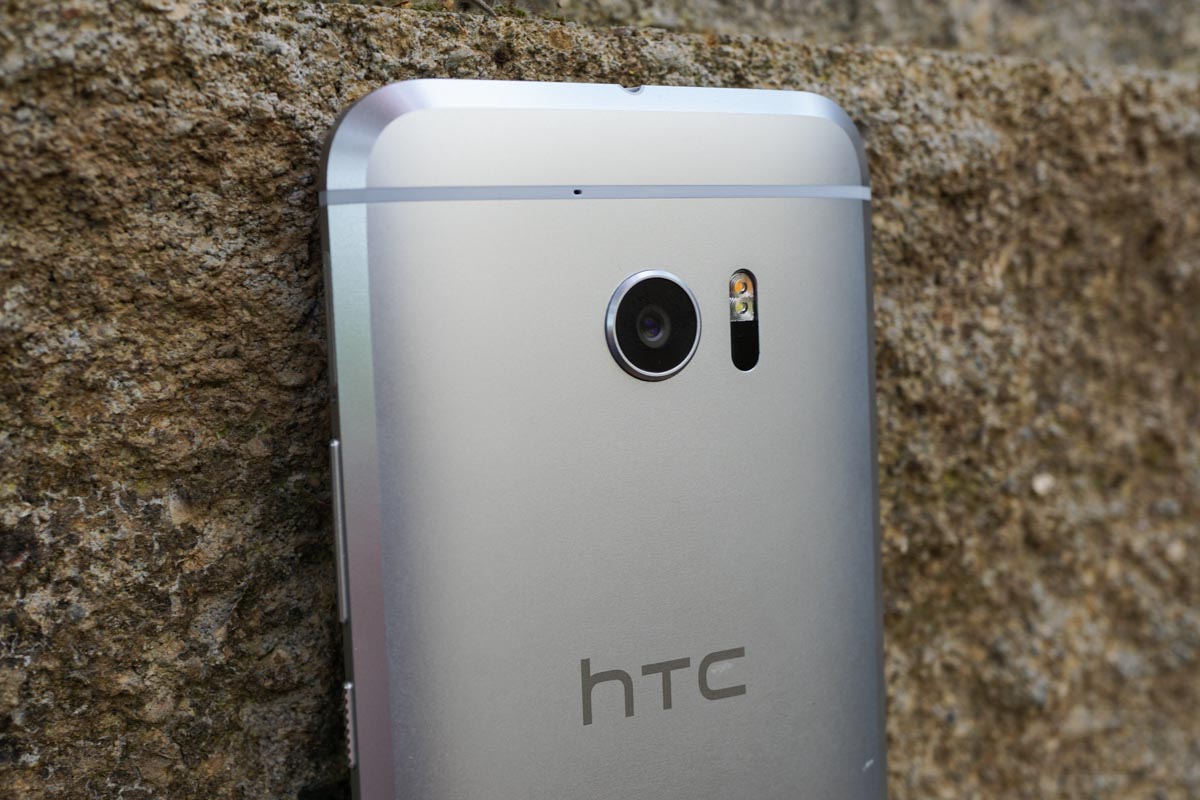 Oh, I didn't mention the front-facing camera and that's because I never do in reviews. But, HTC put optical image stabilization (OIS) in it, which is supposedly a first for smartphones. Honestly, I don't care. If you are a selfie machine, aka part of the downfall of society and Instagram, then maybe you do. The OIS should help your selfies be the bestest selfies ever, OK. Moving on.
Overall, the camera on the HTC 10 is solid, like I said above. It's not my favorite camera in the current crop of flagships, but it's not one that will cause you to question your purchase, should you decide to buy the 10. I think you will get plenty of good photos in many situations, plus HTC should be able to continually improve some of the areas I just complained about.
Below, you will find a handful of photos taken with the HTC 10. Many of these were featured in this post from a week ago. You will find full resolution files at that post as well.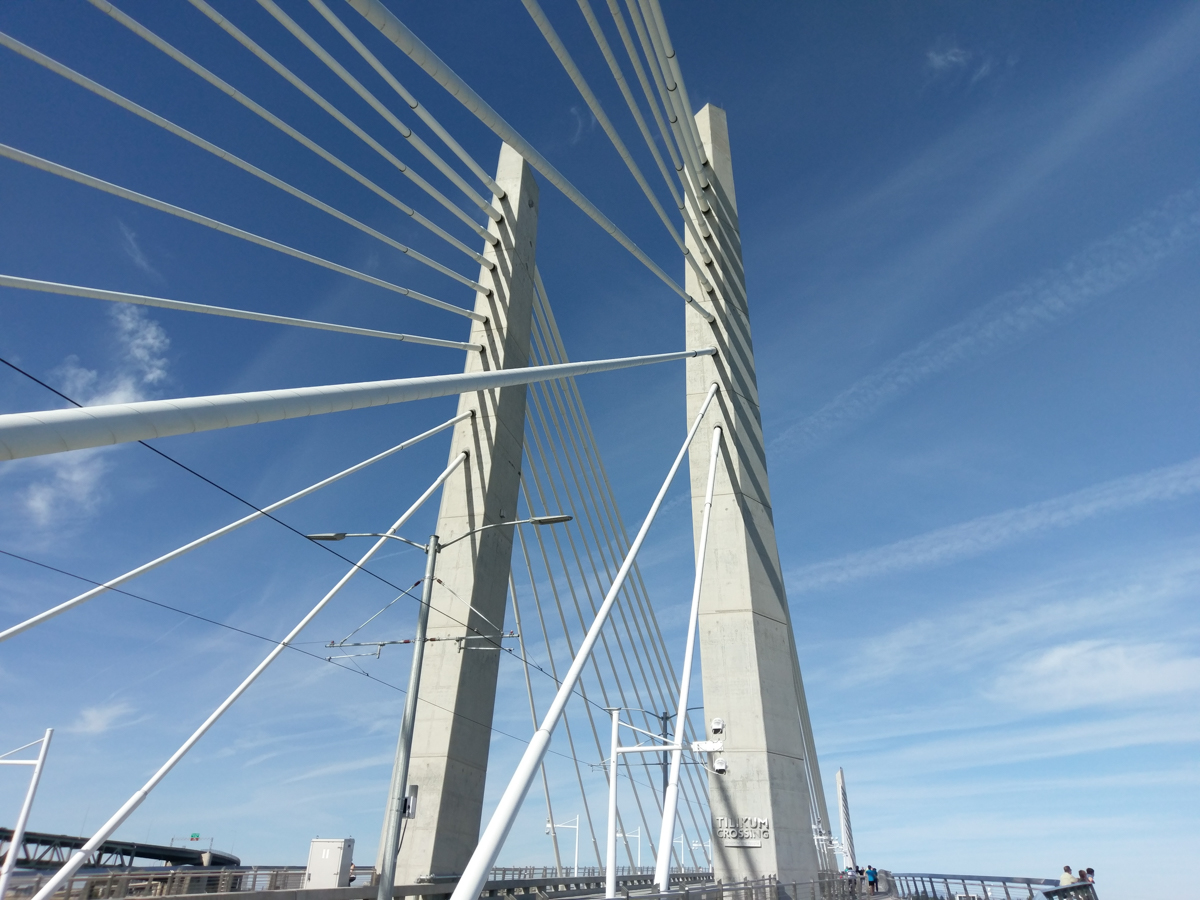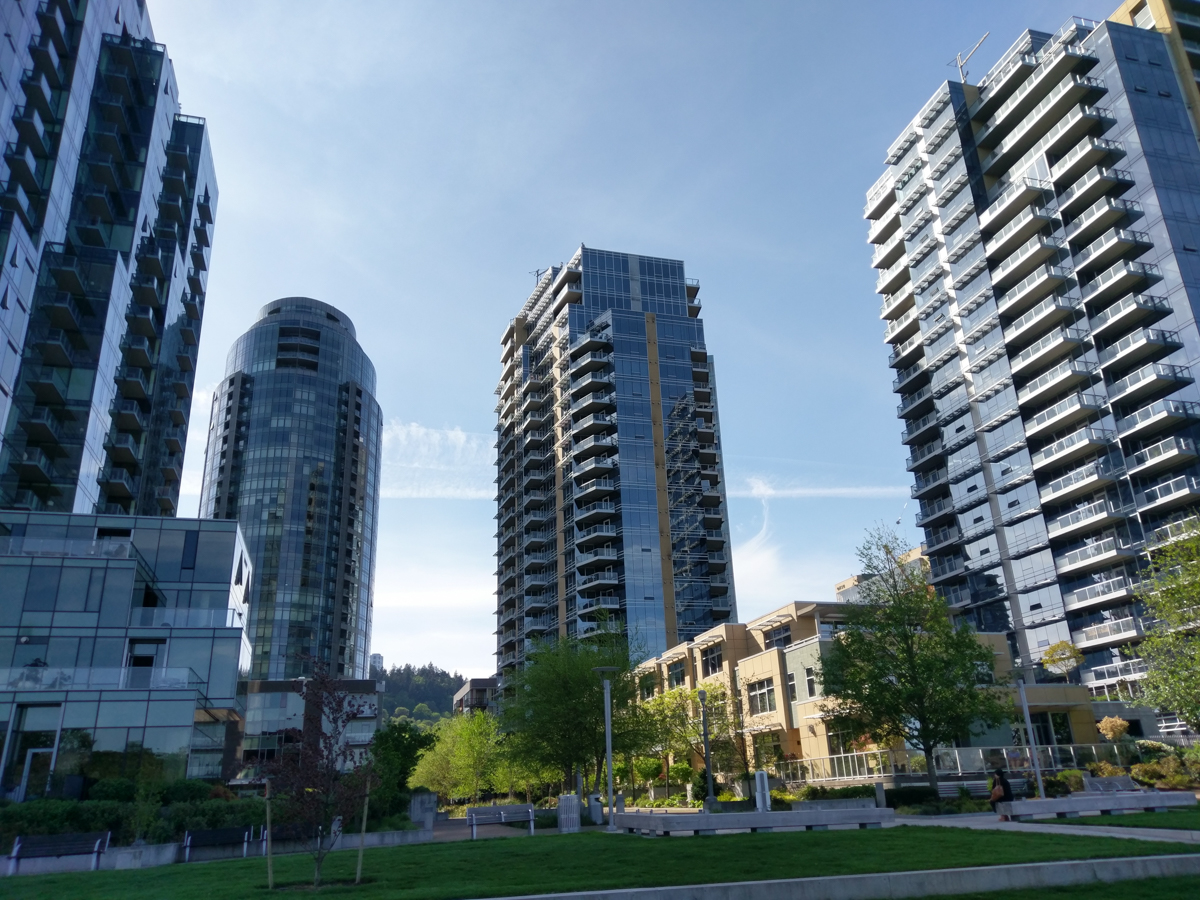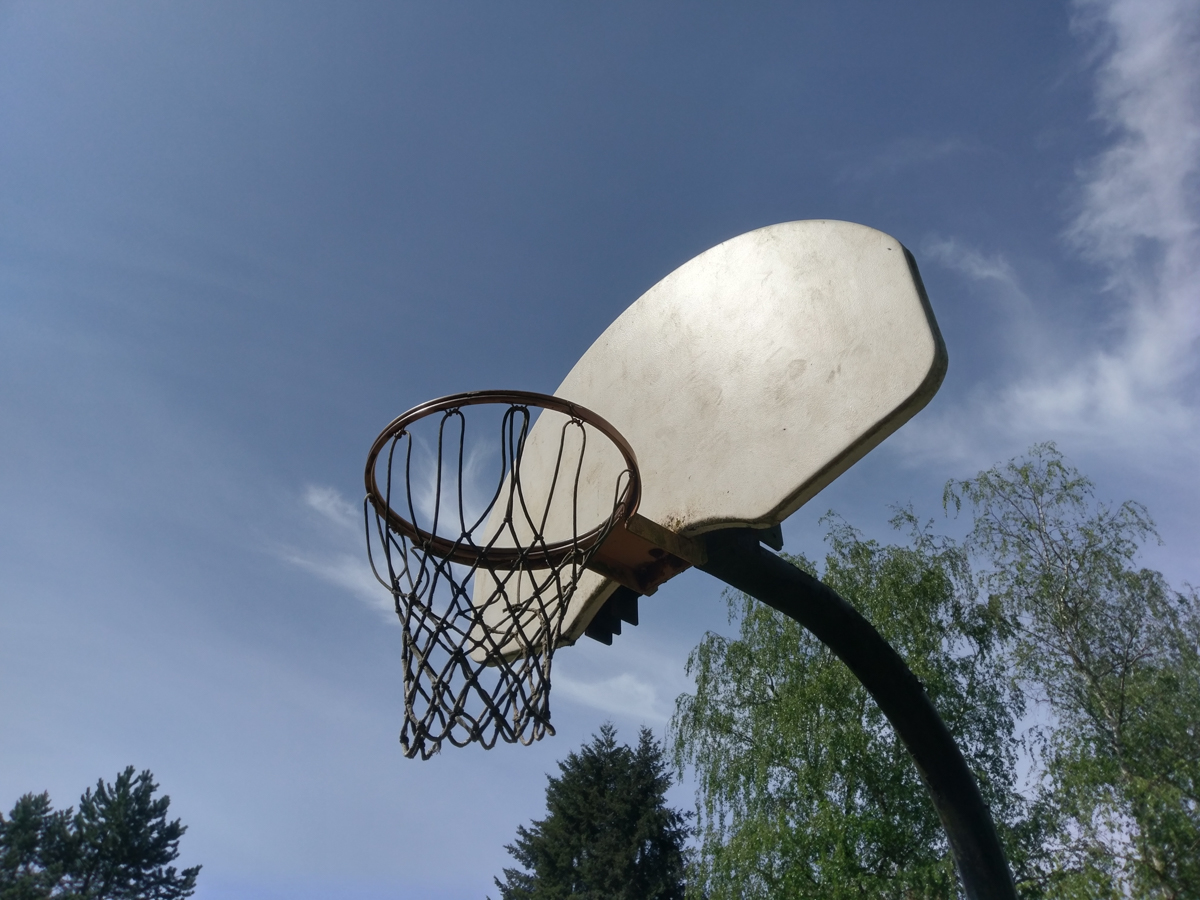 Battery Life
HTC is telling the world to expect 2-day battery life with the HTC 10. Haha..ha. No. That's not happening today or tomorrow or two years from now when unicorn dust is found in the Lochness Monster's vacation home in the Bermuda Triangle and scientists tie it to battery optimization. Does the HTC 10 have decent battery life? Yeah, it does. But come on, HTC, 2-day battery life?
So here are my numbers. I'm averaging right around 14-16 hours on a single charge with around 3 hours of screen on time. That's not bad at all! In fact, that's better than both the Snapdragon 820-powered LG G5 and Galaxy S7. I've taken the HTC 10 on runs with GPS enabled, listened to music, let my son dominate some LEGO Duplo games, and even done my fair share of YouTube binging over the past couple of weeks and never have I really been worried about battery life. This phone is borderline being really good in battery life, but again, you can't brag about 2-day battery life and not even get to the 36 hour mark.
As an added bonus, the HTC 10 has a USB Type-C port and supports Qualcomm's Quick Charge 3.0. Should you run into a situation during a day where you need to charge up in a hurry and get back to staring at your phone for 6 hours, you can do so in a short few minutes.
Specs
HTC has always been good about loading up their flagship phones with the newest specs available. With the HTC 10, they once again came through on most fronts by including a Snapdragon 820 processor, 12MP (1.55μm pixels) camera with OIS, 5MP front camera with OIS, 32GB storage with microSD support, 4GB RAM, 3000mAh battery, 5.2-inch Quad HD Super LCD 5 display, BoomSound speakers, USB Type-C port with Quick Charge 3.0, and Android 6.0 under their Sense skin.
The 10 isn't ticking every box, though, because it's missing any sort of water resistance. Well, it has an IP53 rating, which is basically nothing more than a warning to keep all water droplets away. It also doesn't have wireless charging, if that's something you care about, or one of the best displays in a flagship phone.
Like the G5, HTC is close here to putting it all in a phone, but it fails in some of the areas that Samsung still managed to cover and top the charts with. Some of these aren't deal-breaker type of omissions and normally we wouldn't even ding HTC for leaving them out, that is unless you start looking at the 10's $700 price and realize that Samsung did it all and then some for cheaper.
Display
On the HTC 10, HTC used a 5.2-inch Quad HD Super LCD 5 display. The display is quite a bit better than what LG used in the G5, but overall, not as good as what Samsung put in the Galaxy S7. I'm starting to think that AMOLED panels are lapping LCD panels at this point. I know there are arguments for using one over the other, but outside of saving a few bucks, I don't know that you will ever convince me that LCD displays are a better choice than AMOLEDs these days.
With the HTC 10's display, you will find pretty accurate colors out of the box, along with options for tweaking the display to better appeal to your particular eye. They include both Vivid and sRGB modes, plus sliders inside of each mode to make the display "warmer" or "colder." I really appreciate settings like these, because I often don't like the way displays are tuned by manufacturers and like to get them setup for me.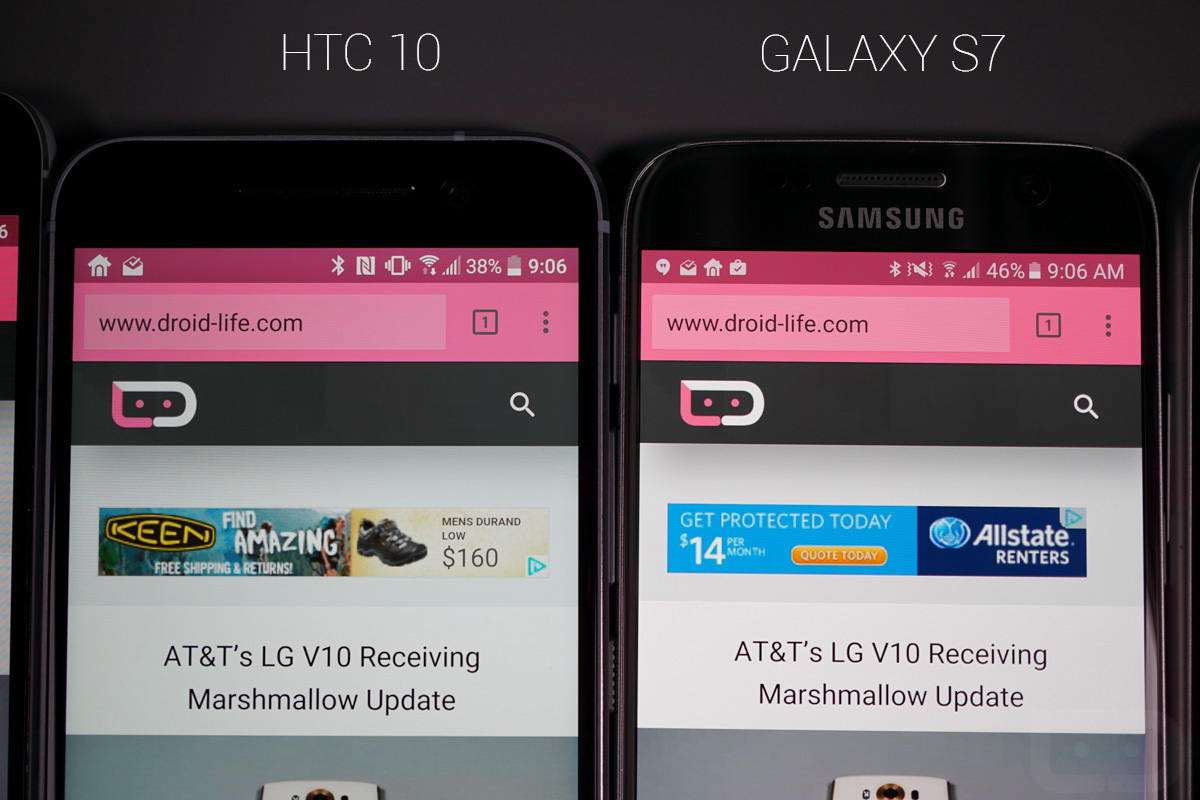 Where the HTC 10 display loses points is in brightness, viewing angles, and outdoor viewing with sunlight present. The brightness and viewing angle issues (if you can call them that) can be seen above. The panel here just doesn't get quite bright enough when compared to Samsung's display and starts turning a brownish color when you get away from looking at it straight on. But really, the biggest issue here are the HTC 10's struggles in sunlight. Like the G5, this LCD panel is not good at all in outdoor settings where the sun is involved. I once again took the HTC 10 out for a photoshoot with the S7 in-hand and found that I was squinting and tilting to see the 10, yet the S7 was as clear as ever.
HTC wins points for color accuracy and customizability with the 10's LCD panel, but loses some for those issues I just mentioned. It's a decent Quad display.
The Not-so-Good
---
No Water Resistance
The day before I picked up my HTC 10 review unit, I was enjoying a beer in a New York City bar while watching NBA basketball and just so happened to spill said beer across the counter. My Galaxy S7 was sitting next to it and got soaked in hop heaven. Just after the waitress handed me some paper towels to help clean up my mess, she grabbed my phone and started trying to dry it off first, probably because she thought it needed saving. I told her to stop, because the phone was water resistant and that also meant "beer resistant." Fast forward 24 hours to when the HTC 10 replaced my S7 and that same beer being spilled would have been a disaster.
It wasn't until I picked up this year's Samsung flagship that I realized I don't want to live without IP67 or IP68 resistance in a phone ever again. Since dropping it for G5 and HTC 10 review periods, it's now an area I worry about and don't want to. I now have to think about keeping phones like the HTC 10 away from dinner prep in the kitchen, the baths my son takes, ultra wet days here in the northwest, and beer.
I know that HTC isn't the only one to have left out water resistance and they have their Uh Oh Protection, but they should be dinged for passing on it, just like LG was.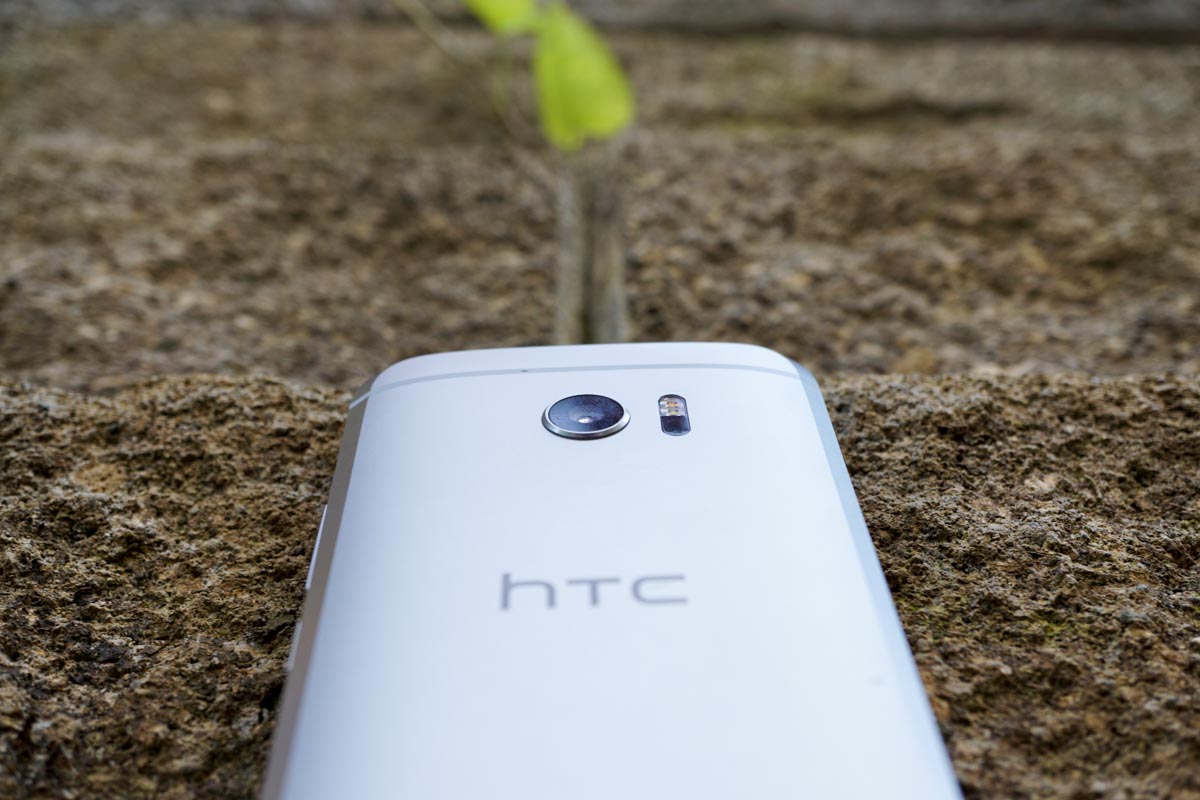 Pricing
I know that HTC isn't a company who can charge $350 for its flagship phone and survive by squeezing out pennies in profit off of each device. They aren't Xiaomi or OnePlus. But at $700, I honestly think they have priced themselves out of consideration for most people. As I mentioned above in the "Specs" section, this phone costs more than both the LG G5 and Samsung Galaxy S7, two phones that arguably offer much more stuff. Sure, HTC was/is handing out a $100 discount to $599, but they should have started pricing there from the beginning, instead of trying to trick customers into thinking they were now getting a special deal.
There is a pretty good chance that their few carrier partners – like Verizon – will offer the phone at less than $700 and introduce monthly payment options to help make the cost more reasonable. But again, the Galaxy S7 is sitting at around the same price with more features and has a greater brand recognition over HTC. It just feels like HTC missed an opportunity once again to show that their phone is great and affordable.
Availability
Speaking of carriers, HTC is going to have a tough time selling many of these phones without the help of AT&T. As of today, the only carrier partners in the US for the HTC 10 are Sprint, T-Mobile, and Verizon. That means the #2 wireless carrier in this country, a country that HTC desperately needs to do well in, passed on the 10. We don't know why, but unless something changes between now and the early May launch, your only option for using the 10 on AT&T is by purchasing the $700 unlocked version through HTC's website.
Outside of the lack of carrier support, we should also point out that the launch of the 10 seems a bit slow and confusing, similarly to LG's launch of the G5. HTC announced the 10 on April 12 and said it would be out at some point in May. They won't tell us a specific date, but now Verizon is announcing to the world that its customers will be the first to get it. So not only are we missing AT&T in this equation, Verizon seems to have worked out some sort of exclusive over T-Mobile and Sprint to deliver the phone first. Does that mean weeks before those other two or days? We don't know. What we do know is that the 10 isn't off to a great start in terms of pricing and availability.
Other Notes
---
Call quality: Like with the G5 and S7, I've placed and received a handful of calls on the 10 and had no issues. 2016 phones make and take calls. They also sound just fine. Shocker.
No wireless charging: HTC probably could have worked out some trickery with Qualcomm to include wireless charging in the HTC 10, but didn't and that's no surprise. Their all-metal flagships never include wireless charging and so none of us should have expected it here. HTC seems to be on the same page as Google over wireless charging these days, which means they aren't including it because they think fast wired charging is a better option.
Fast charging: Like the G5, the HTC 10 has fast charging and fully supports Qualcomm's new Quick Charge 3.0 tech through its USB Type-C port. Fast charging is awesome, but you knew that already.
Fingerprint sensor: If I were to rank fingerprint sensors from this year's flagships, HTC would probably tie LG for 2nd best, behind only Samsung and the Galaxy S7. The fingerprint sensor is of the capacitive type, so you only need to rest your finger on it in order for the phone to read and then unlock. It's fast, but not mind-blowingly fast. It rarely errors and almost always reads, it's just not ultra quick to do so.
Video
---
First look and tour
[responsive_vid vid_url="QkxaeLYB1OM"]
Tips and tricks
[responsive_vid vid_url="IU46lQVju3k"]
vs. Galaxy S7 and G5
[responsive_vid vid_url="tyfoaZTBnqs"]
First 10 things to do
[responsive_vid vid_url="3mvNkrZ6fFI"]
Pictures
---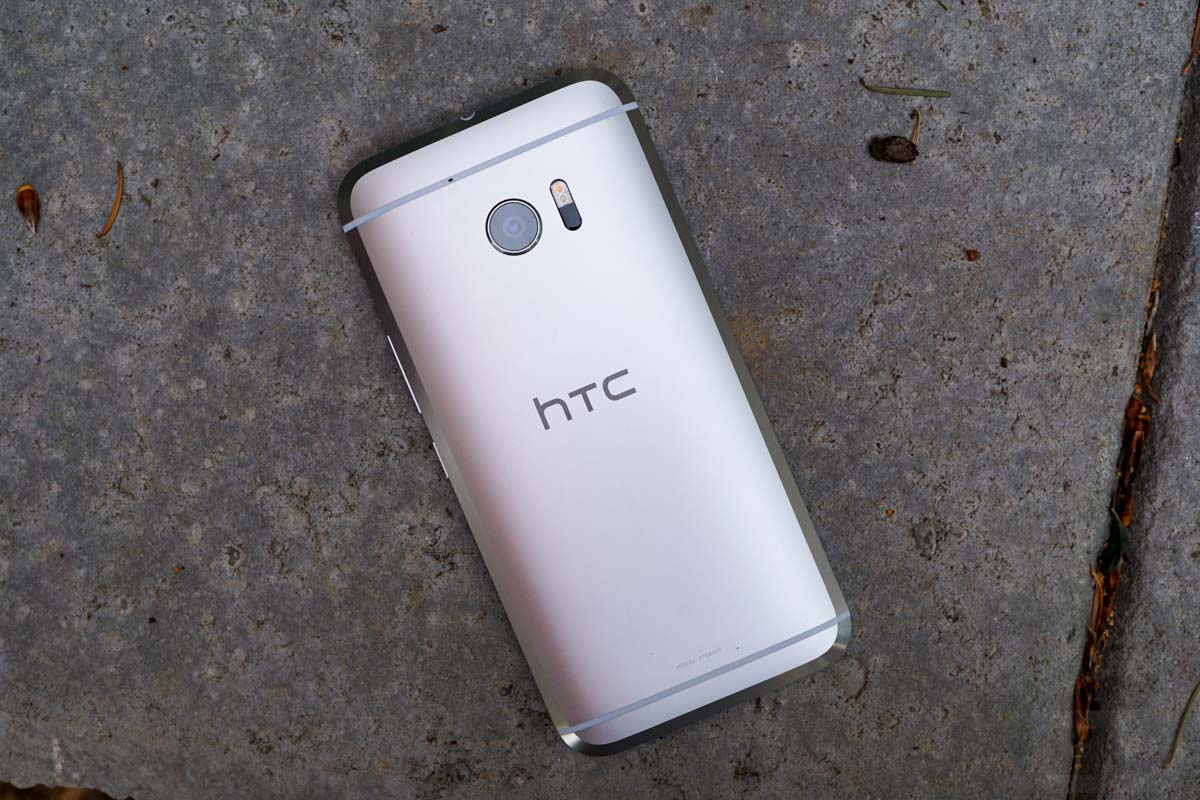 The Verdict
---
HTC has created a really, really nice smartphone in the HTC 10. It's well designed, certainly well made, features a trimmed down software experience that we should all appreciate and beg other manufacturers to emulate, has solid battery life, and even takes pictures in most situations that you'll be satisfied with. Outside of not having water resistance and an affordable price, this is one of those phones you should consider buying if you are in the market right now.
Is the HTC 10 the best phone you can buy today? In my opinion, it falls just short of what Samsung has created with the Galaxy S7, but is a leap above the LG G5. If you buy an HTC 10, I think you will love it. I think you will love the software approach and I know you will love it when Android N and other major software updates arrive on your phone before your friends' Galaxy phones.
Good job, HTC.