I reviewed the Galaxy S6 Edge last year, coming away impressed overall with Samsung's design, camera, and display technology. There were a few shortcomings, such as battery life and the usefulness of the Edge Panel, but as Samsung announced when they introduced both the Galaxy S7 and the Galaxy S7 Edge, most of the problems I had with last year's device have been addressed. There's a bigger battery, they completely reworked Edge Panel, and even threw in water resistance and expandable storage as a bonus. On paper, this should be the ultimate phone.
I will say, the Galaxy S7 Edge is much like the Galaxy S7, so instead of diving deep into features that have already been touched on in Kellen's review, I will attempt to primarily speak about features specific to the Galaxy S7 Edge. Don't worry, there's still plenty to talk about.
Here is our Galaxy S7 Edge review.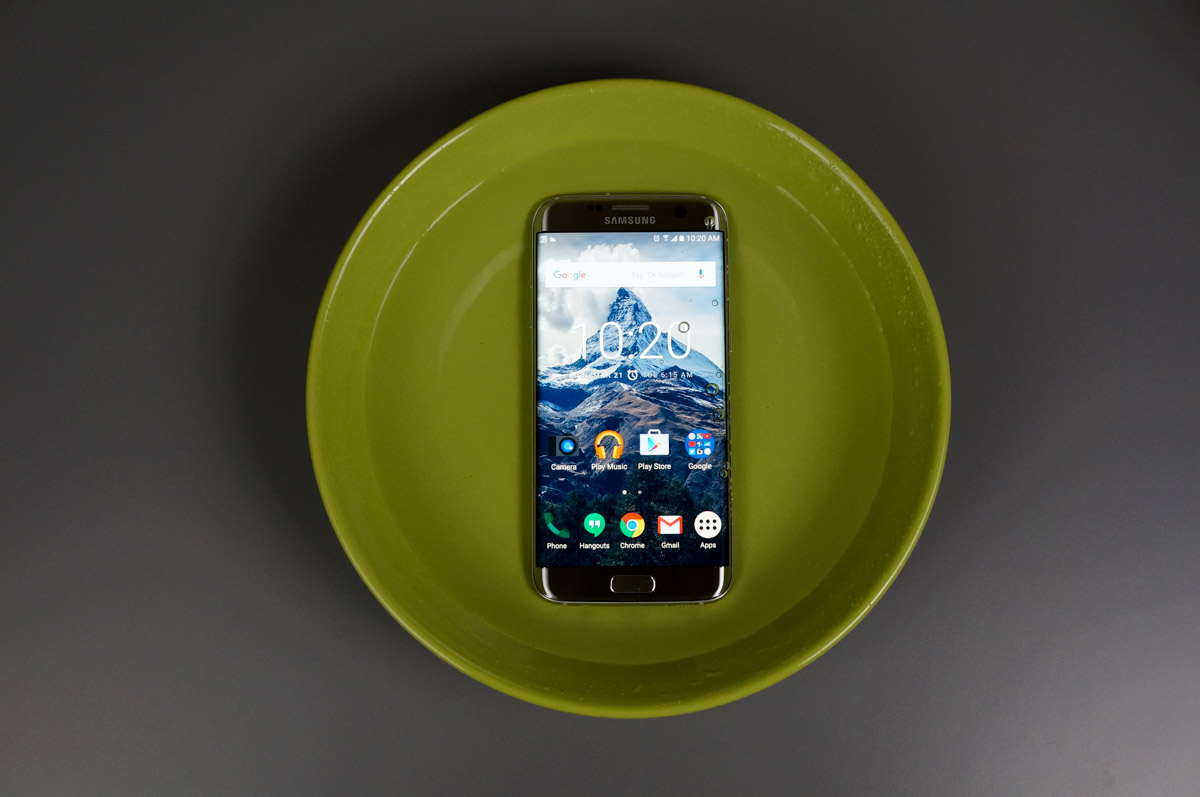 The Good
---
Specs
The Galaxy S7 Edge features a 5.5″ Super AMOLED QHD display, Snapdragon 820 processor, 4GB of RAM, 12MP Dual Pixel rear-facing camera with OIS, 5MP front-facing shooter with OIS, IP68 water and dust resistance, microUSB charging and data port, 32GB of onboard storage, expandable storage slot for an extra 200GB of storage, fingerprint reader, 3,600mAh battery, wireless charging, NFC, and TouchWiz running atop Android 6.0 "Marshmallow."
While we will likely see plenty of other devices rocking similar specs this year, the IP68 water resistance helps separate Samsung's latest offerings from the rest of the field. Needless to say, all of these specs in a single smartphone package is what dream phones are made of.
Display
Compared to last year's Galaxy S6 Edge 5.1″ display, the S7 Edge features a slightly larger screen, with Samsung bringing the panel up to 5.5-inches. It's still the same resolution, Quad HD (2560 x 1440). It's still Super AMOLED. Beyond the size, not much is different. According to the pros who test all things smartphone displays, the Galaxy S7 and Galaxy S7 Edge are some of the best on the market, meaning Samsung is still cranking out good quality panels.
To my eyes, I prefer Super AMOLED panels over the other types you would find from HTC or LG, as the colors are usually more saturated than you'd find elsewhere. Some folks don't care for high saturation, but with a few tweaks in the settings, you can actually change the amount of saturation you will see. Out of the box, the Screen Mode is set to Adaptive, which attempts to give the best experience based on what it is you are doing on your phone. If you want the colors toned down a bit, switch the Screen Mode to either Basic or AMOLED Photo.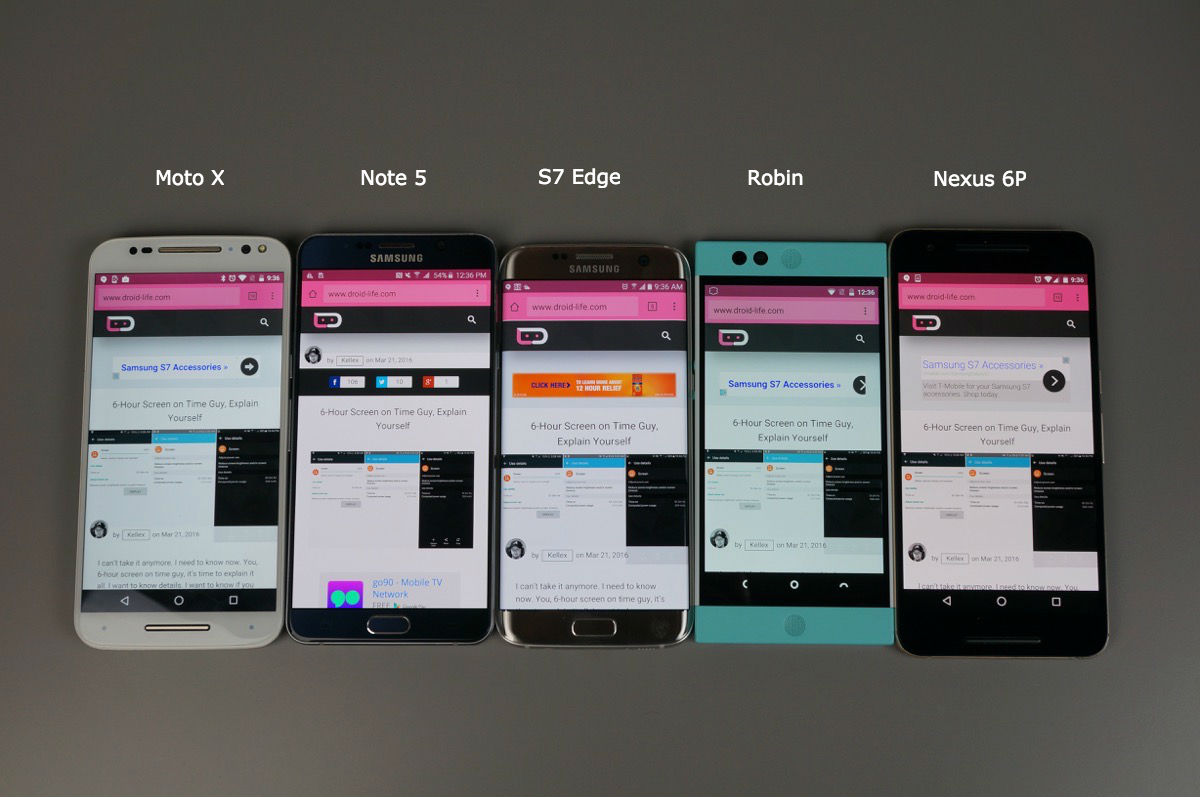 Design
If you took the Galaxy S6 Edge and merged it with the Galaxy Note 5, you would have the Galaxy S7 Edge. Thanks to the curved backside, like we see on the Galaxy Note 5, the device is much more comfortable to hold than the Galaxy S6 Edge. Last year, the S6 Edge was quite rigid, almost sharp on its siding. This year, it's very smooth and feels fantastic in-hand. As for the curved sides, they look great, and definitely draws the attention of anyone around you who is unfamiliar with Samsung's latest designs.
What draws me to the Galaxy S7 Edge in 2016 is that Samsung stayed true to the idea of the Galaxy S6 Edge, with the curve, but made rather minimal changes to make it easier to handle. This shows me that Samsung's design team were listening closely to those who purchased the phone, then made the changes to reflect what they heard. Really, you can't change anything else to make it a better feeling phone. The gentle slope on the back and curves on the front all feel great. Besides the Galaxy S7 and Galaxy Note 5, I can't think of a more comfortable phone to hold.
With all of the praise out of the way, I will say that it took me a few solid days to get used to handling the device properly. By this, I mean you have to adjust where your fingers rest when the device is in landscape mode, or you might accidentally hit the screen, causing unwanted actions. For example, if I'm watching YouTube and don't have my fingers just right, I might hit a playback option and the video will skip forward or even pause it depending on where I tapped it. So, yes, the S7 Edge takes a bit of practice, but once you master where your fingers should rest whenever you are holding the phone, it's fine.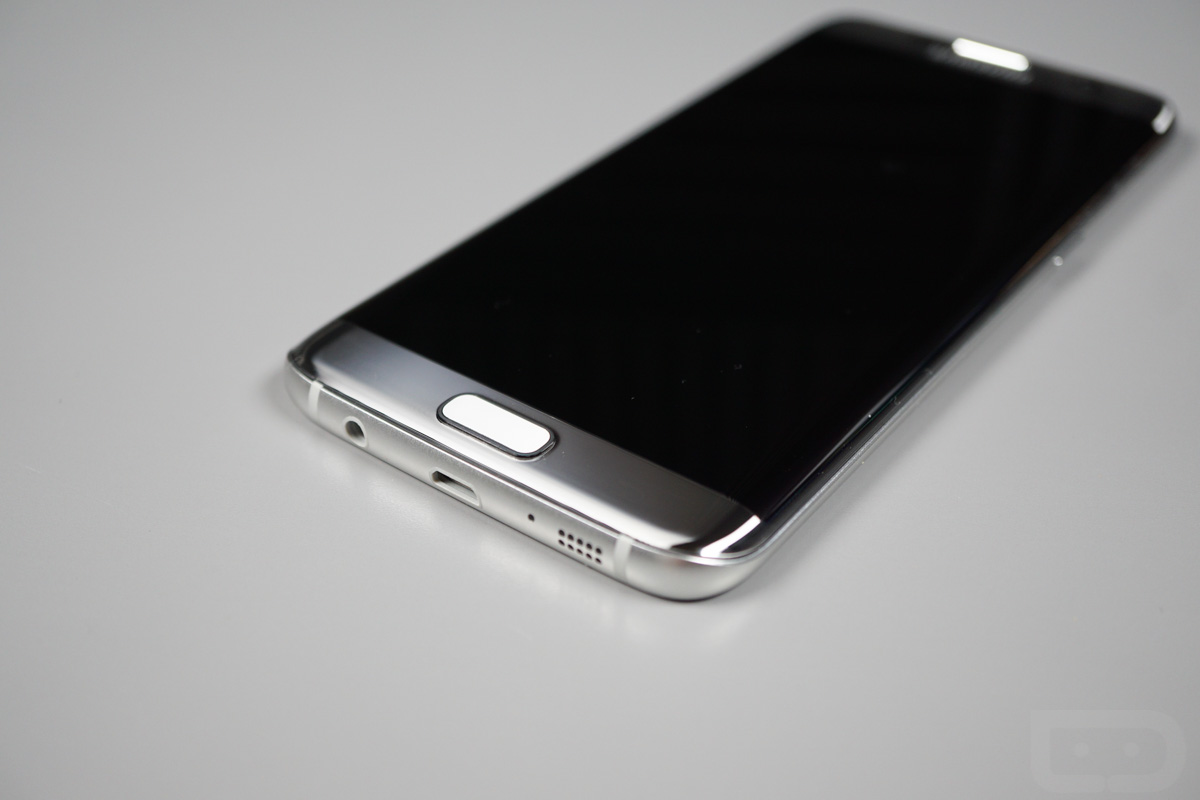 Camera
You will find the exact same shooter in the Galaxy S7 Edge as you would the Galaxy S7, a 12MP Dual Pixel sensor featuring optical image stabilization (OIS) and an aperture of f/1.7. Samsung actually toned down the resolution of the camera sensor from last year's 16MP sensors (Galaxy S6), which broke the trend of the ever-increasing resolution size year-over-year. Even with the lower megapixel count, the shots capable of being taken on this phone are mind boggling at times. When going in for those macros, or zooming in on a landscape, the clarity and details that remain after you have clicked the shutter is downright impressive.
Let's talk about the experience of taking photos on this phone. As soon as you open up the camera app, you will notice that the camera is quickly focusing on whatever is in front of it. If shooting something as quickly as possible is required, the Galaxy S7 can be very clutch. After you have focused on your target, switching to Pro mode can get you adjusting the ISO, white balance, shutter speed, and exposure levels. You can even select between a multi-point auto focus or centered auto focus, giving you better command over your shots.
Overall, the camera on this phone might be my favorite aspect, with its super fast focus times, and the overall detail you can capture when shooting. In Kellen's Galaxy S7 review, he shares a few fantastic shots, so if you have yet to see those samples, give them a look as well.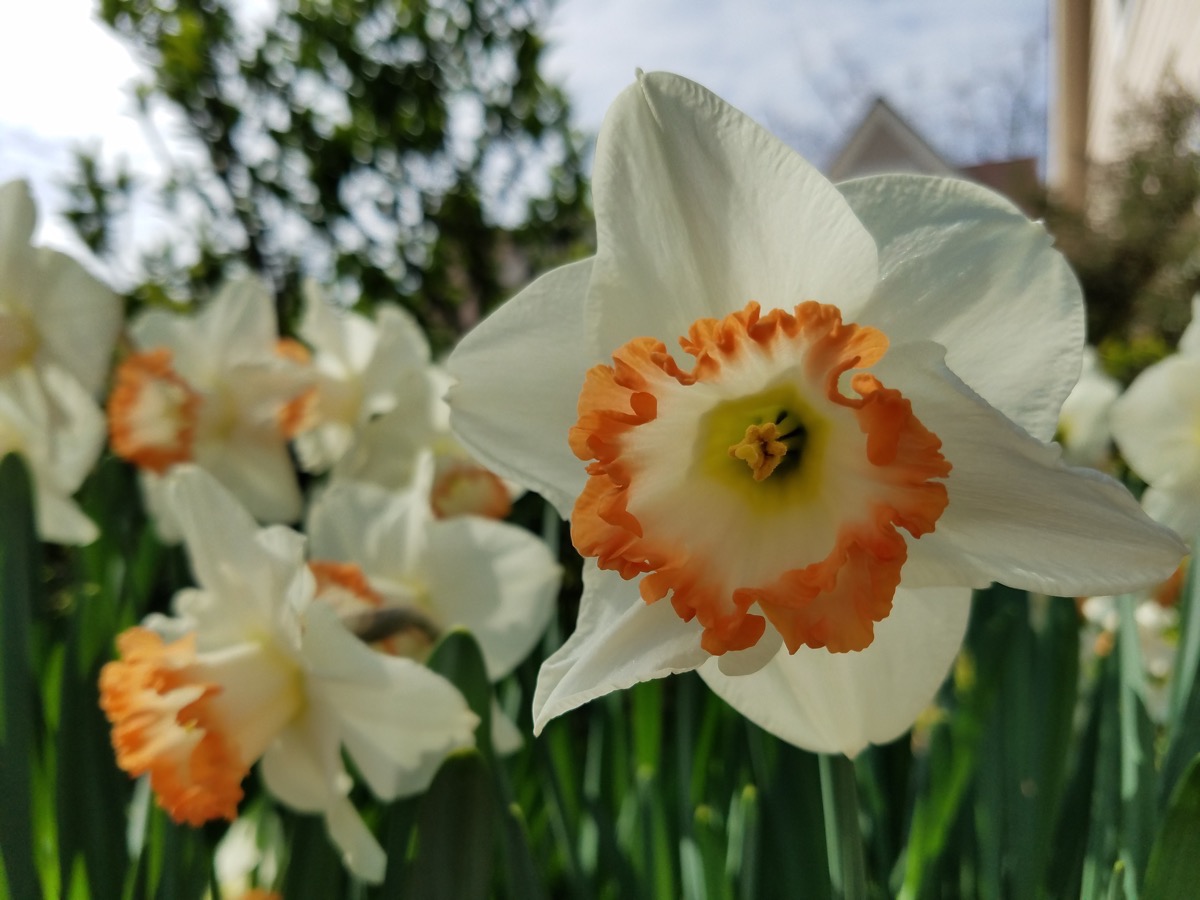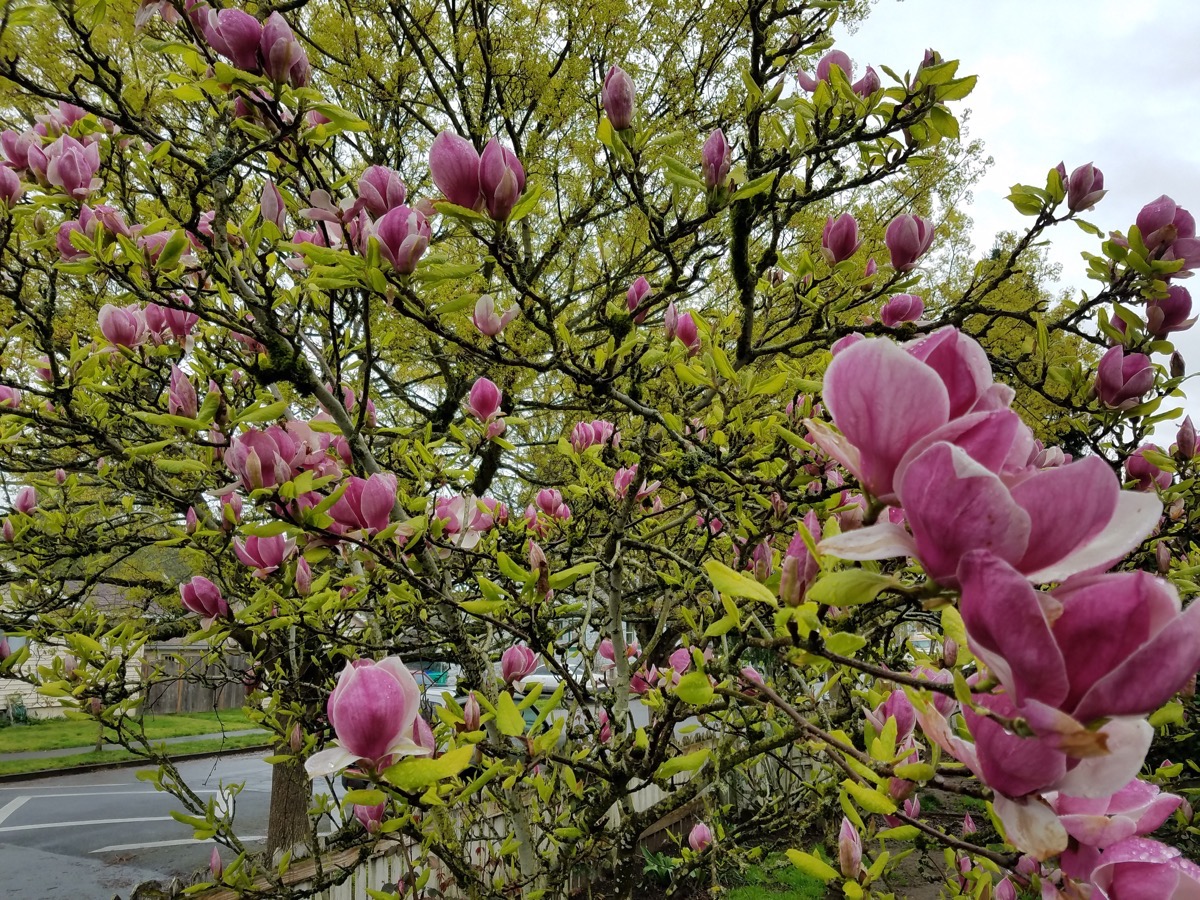 Availability and Pricing
Like any other major Samsung release, this phone is available anywhere and everywhere. Brick and mortar stores, carrier stores, online – really, everywhere. While this seems like the norm, it's still a major plus for everyone. If you are on Sprint and want this phone, you can get it. If you're on Verizon, you can get it.
As for pricing, most carriers will want to push you into a installment plan and get you on a two-year contract, and for many, that's probably fine. If buying the phone for the full retail price is more your style (you baller, you), the phone averages around $750. There are also many BOGO deals taking place currently that you can take advantage of, allowing you to get two Galaxy S7 Edge (or Galaxy S7) phones for the price of one.
Somewhere-in-the-Middle
---
Battery
Featuring a 3,600mAh battery, much larger than what was in last year's Galaxy S6 Edge, I had high expectations from the Galaxy S7 Edge. Unfortunately, at least from my experience, I was nowhere near blown away by battery performance. My typical day was wake up at 7am, go to bed by 11pm, with about 15% battery left at 1-2 hours of screen on time (SOT). That's purely with T-Mobile 4G LTE connectivity and no WiFi.
According to the GSam Battery Monitor app I have installed, on average per charge, I'm getting a max of 23 hours of battery life, with 3 hours and 10 minutes of SOT. I would say that's about right. If you think about this, that seems pretty bad. With the power sipping Snapdragon 820 processor and large capacity battery, I was really expecting quite a bit more. However, even though I was nowhere near a day and a half or two days of battery life, a solid day of smartphone life is absolutely fine with me. I usually tend to charge my devices every night anyway, so continuing this is fine with me.
TouchWiz and Edge Features
TouchWiz is getting better, no doubt, but it's still nowhere near as smooth as stock Android. With these fancy processors and large amounts of RAM, OEMs such as Samsung are essentially using brute force to get their skins to perform well, and even when doing that, performance is not all that great. After a couple of days without a reboot, you can feel the phone becoming sluggish. At times, I feel like I did way back in the day when task managers were a thing. I'll open up my recent apps, "close all," then get that placebo effect where I think my phone is running smoother. In 2016, this isn't exactly what I was expecting for the future of smartphones, but it's manageable.
In terms of the improved Edge Panel features, Samsung really went back to the drawing board and fixed my main beef with last year's S6 Edge. That phone had no real useful features on the Edge Panel, but the S7 Edge most certainly does. I can swipe out and get the latest sports scores, top CNN headlines, quickly get into snapping selfies with the camera, and much more. Last year's People Edge is also included, but is replaceable by more useful features. You can watch our complete Edge Panel overview video below to get a better sense of how Samsung has improved this unique feature.
At the end of the day, TouchWiz has become so much better than it used to be. It's entirely usable, and really, with the help of custom launchers, themes, and even cranking up the speed of animations, a phone running TouchWiz can look a lot like a phone not running TouchWiz. If you plan on picking this device up, I suggest investing in Nova Launcher, Chrooma Keyboard, and some fancy themes from the theme store.
The Not-so-Good
---
External Speaker
The one true downside I have with this phone is the external speaker loudness and quality. No, my mobile phone should not be a boombox, but still, it shouldn't sound like a tinny piece of poo. And while I wouldn't exactly label the speaker on this phone that poorly, it's not very good. The sound is pretty weak, and it doesn't get loud at all. There are apps in Google Play that can make your speaker louder, but of course, you don't want to accidentally damage your phone.
The placement is also not that exciting. If this phone featured dual front-facing speakers, that would have been the ultimate. Instead, we have one bottom-facing speaker, which usually finds itself getting covered up whenever I have the phone in landscape mode. I have to hold it just right, in usually an uncomfortable position to listen and watch without sound getting blocked. This is annoying.

Other Notes
---
Fingerprint Magnet:  I've got the same issue with fingerprints as Kellen. Yes, it blows! But hey, you could have much worse problems with a phone. Fingerprints are not a deal breaker for me.
Girlfriend Test:  "Easy to hold, not slippery, umm, it feels like a premium product, it doesn't feel cheap. And a good-sized display. You can reach all necessary sections of the screen with just one hand."
Fingerprint Reader:  Speaking from my own personal experience, I did not have many issues with last year's fingerprint reader on the Galaxy S6 or Galaxy S6 Edge. This year, it's the same for me. Detection seems very quick, and I hardly ever get misreads or errors. On the Galaxy S7 Edge, the fingerprint reader performs exactly how I would expect from a premium smartphone.
Samsung Pay:  If I had a bank that supported Samsung Pay, I could rave on and on about how cool it is. To this day, I've never used it, but I know it's awesome. If you have a bank that supports Samsung Pay, you are gonna have a blast.
Water Resistance:  The IP68 rating is something you won't know you'll love until your phone has it. At dinner, I can scare my friends by accidentally spilling water on my phone, which I always get a kick out of. Usually, I'm pretty careful with my phone, but with IP68, I really don't have to worry about anything.
Expandable Storage:   Samsung heard your cries, adding in a microSD slot for expandable storage. Now, they did technically remove Marshmallow's Adoptable Storage, but the fact is, you can store data, photos, and apps onto your SD card. For those of you who are ambitious, you can plug in a few adb commands to have your SD card recognized as internal storage, but it is possible Samsung can enable Adoptable Storage with a future update. If we pressure them enough, it can happen. In the meantime, credit where credit is due.
Fast Wireless Charging:  Fast wireless charging is available on both the Galaxy S7 and Galaxy S7 Edge, and for those using Samsung's standard fast wireless chargers (not one from Ikea, for example), you should see similar speeds for charging as you would a standard wall charger. Thanks to wireless fast charging, your phone can go from 0-100% in roughly an hour, give or take, which can be incredibly clutch when traveling or juicing up before a night on the town.
Video
---
Unboxing
[responsive_vid vid_url="c_PEcB1ilU0″]
Edge Panel
[responsive_vid]
Always On Display
[responsive_vid vid_url="aBMdzhrwW40″]
Gallery
---
The Verdict
---
For me, the Galaxy S7 Edge sits right next to the Galaxy Note 5 on my list of top favorite Samsung smartphones. The design is perfect, the in-hand feel is fantastic, and Samsung is finally getting realistic about how much crap it can bake into TouchWiz. For anyone looking to upgrade from a Galaxy S5, HTC One M9, LG G3, or something along those lines, the Galaxy S7 Edge is a great choice. You will notice the improved display, insane camera, and will likely appreciate the revamped version of TouchWiz.
However, if you are already on a Galaxy S6 Edge, there does not seem to be too many reasons to upgrade, with exception to water resistance and expandable storage. While those two things can be very handy to have, you may not exactly see them as necessary. You will have pretty similar camera experiences, the same display resolution, and from my experience, pretty much the same battery life.
---
Galaxy S7 Links: