Verizon and Motorola partnered together yet again this year, giving us two devices in the DROID lineup for the holiday shopping season. We have the DROID Turbo 2 and DROID Maxx 2. The DROID Turbo 2 has a lot to highlight, including its Shatterproof display, as well as the ability to customize it through Moto Maker. The DROID Maxx 2, on the other hand, really does not have as many marquee features, with the exception of its large battery.
When compared to the DROID Turbo 2, no doubt, the DROID Maxx 2 is its little brother. It features a few mid range to high-end specs, coupled with a somewhat reasonable price when compared to current flagship models on the market. So, is the DROID Maxx 2 worth the nearly $400 price at full retail? Let's go ahead and find out.
This is our DROID Maxx 2 review.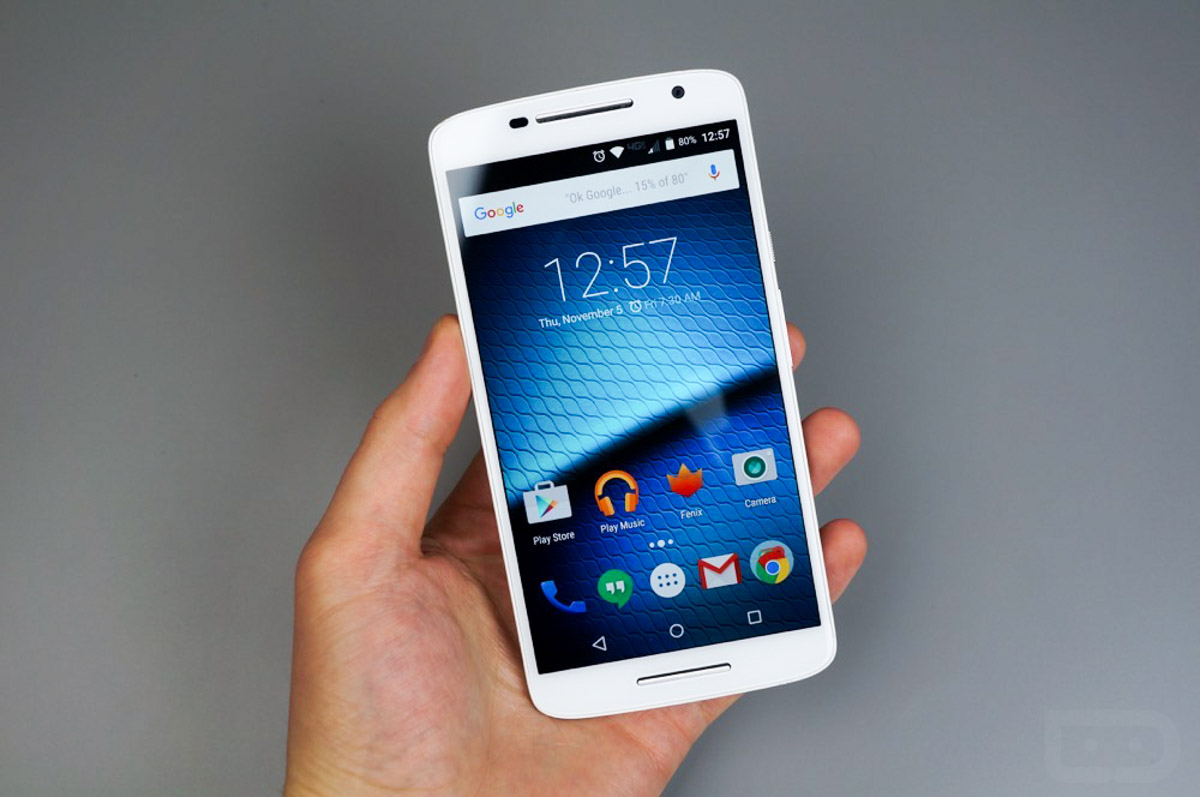 The Good
---
Battery
Inside the DROID Maxx 2 is a 3,630mAh battery, which is quite large for a device you can easily use with one hand. While having a large battery is great, getting me through a full day without breaking too much of a sweat, I almost want to say it's too large. Yes, I know, that makes no sense, but just hear me out. My typical day is about 7:30 am to 10-11 pm, with the Maxx 2 leaving me about 40% battery left. If I leave the phone off its charger, I will undoubtedly need to find an outlet at some point in the early afternoon of the following day, which for me, might be an irritation. I would rather just charge my device each night, have it last all day, then plug it back into the charger. If you use your device more heavily than me, you will likely have to do this anyway. I know Motorola and Verizon market the phone to last anywhere around 48 hours, but I never saw battery life that good. For me, I was seeing a solid day and a half on average. And compared to other devices I have reviewed this year, that's fantastic. Naturally, I was averaging my typical 3-4 hours of SoT, sometimes seeing over 4 hours on a single charge. Again, for me, this is great. Your experience will always differ. As time went on, I found myself just plugging in each night, getting through the day with plenty of juice left, then just plugging it back in at night. It's my routine and I am sticking to it.
Design
Unlike the DROID Turbo 2, Verizon decided not to butcher the Maxx 2's design on the frontside, instead, only placing a single Verizon logo on the backside of the phone. Thank goodness. The overall design of the device is typical Motorola, with the roll-type feeling you get on the backside, which is more like a lump for them to shove in the massive battery. Even with its somewhat fat appearance, the device is small enough for one-handed operation, which is a nice change of pace when coming from the Nexus 6P and Galaxy Note 5. The front is not decked out in a ton of sensors, giving off a cleaner look. The front also features two speaker grillers, but only one works when you play music or videos. The one on top is saved just for phone calls.
The backside is a soft touch, somewhat like you would find on other Motorola devices. The device is not offered through Moto Maker like it is with the DROID Turbo 2, so that's a downer.
To keep it short and sweet, at first glance, you can easily tell it is a Motorola device, but you can't exactly tell right off of the bat that it is a DROID device. For me, personally, I like that. I don't need my friends yelling, "DROID!" at me every time I whip out my phone.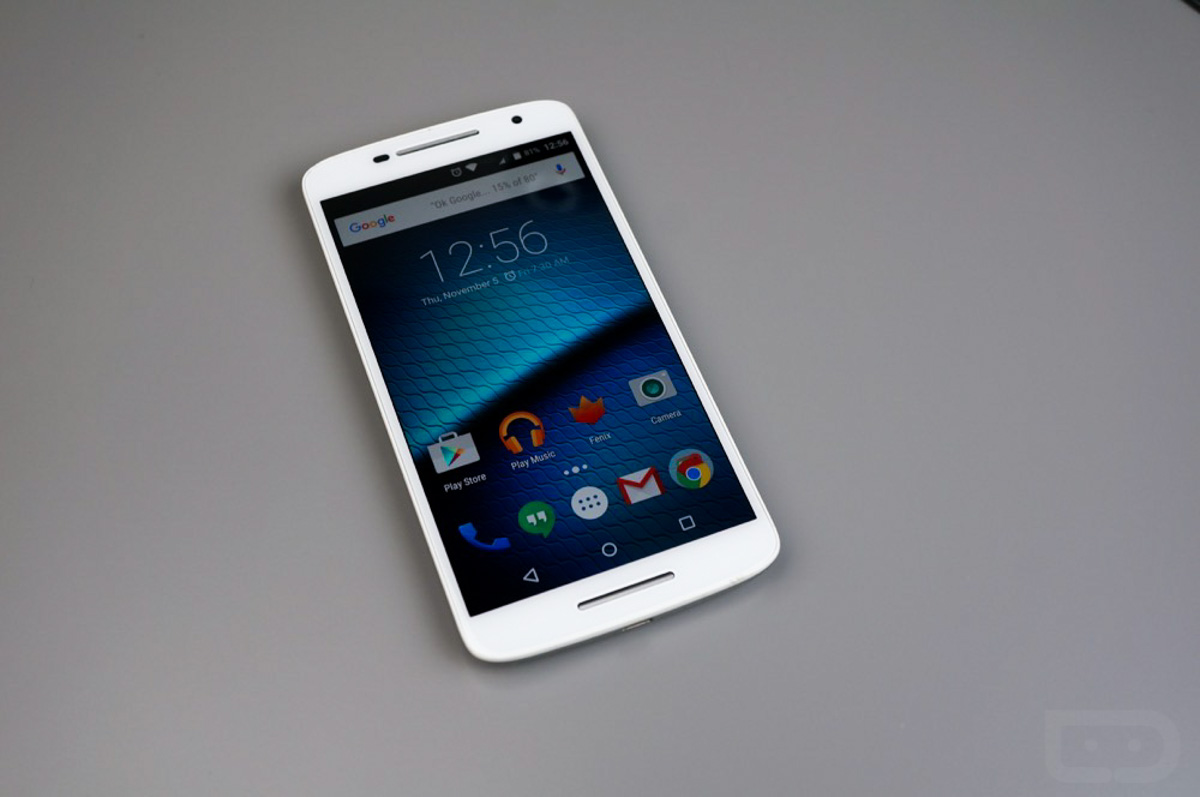 Software
The software found on the Maxx 2 is basically stock Android, with a few of Motorola's apps thrown in to complete the package. For example, Motorola brings in the Moto Camera app, Launcher3 launcher app, Gallery app, some funky Calendar app, Email app, and of course, the Moto app that helps with hands-free operation and other various device settings. All of these apps replace the Google-made applications found on Google Play, which I switched out immediately. Sorry, but I need my app updates. As Kellen mentions in his Turbo 2 review, these DROID phones are filled with Verizon crapware. It's greasy, for a lack of better terms. Since I wish not to use the bloatware, or even see it in my app drawer, all Verizon apps and 3rd-party apps get disabled at time of first boot.
Other than that, it is a pretty clean build of Android 5.1.1 "Lollipop," which is good. No, it's not Marshmallow good, but it still gets the job done just fine. All of Motorola's apps, besides the Calendar app which I don't care for, work just fine with Lollipop. Yes, the camera UI could use some serious tweaking, but it works, and we will get into the camera aspect a little later. All-in-all, stock Android users will be happy with the software that comes on both the DROID Turbo 2 and DROID Maxx 2.
Turbo Charging
No doubt about it, Turbo Charging on Moto-made devices is clutch. Without being scientific about it, usually, I can plug in at about 15%, charge the phone for 30 to 45 minutes, and come away with nearly, if not full battery. It's ridiculously fast. This type of feature is commonplace now on devices from Samsung, Google, and Motorola, and I love it. An added bonus for the DROID Maxx 2 would be wireless charging, but alas, it is not present. According to Verizon's marketing material, with 10 minutes on a charger, your DROID can come away with 8 hours of battery life. Of course, who knows if this is actual world usage, but I can vouch that Turbo Charging does do a great job at quickly putting juice in your phone's battery.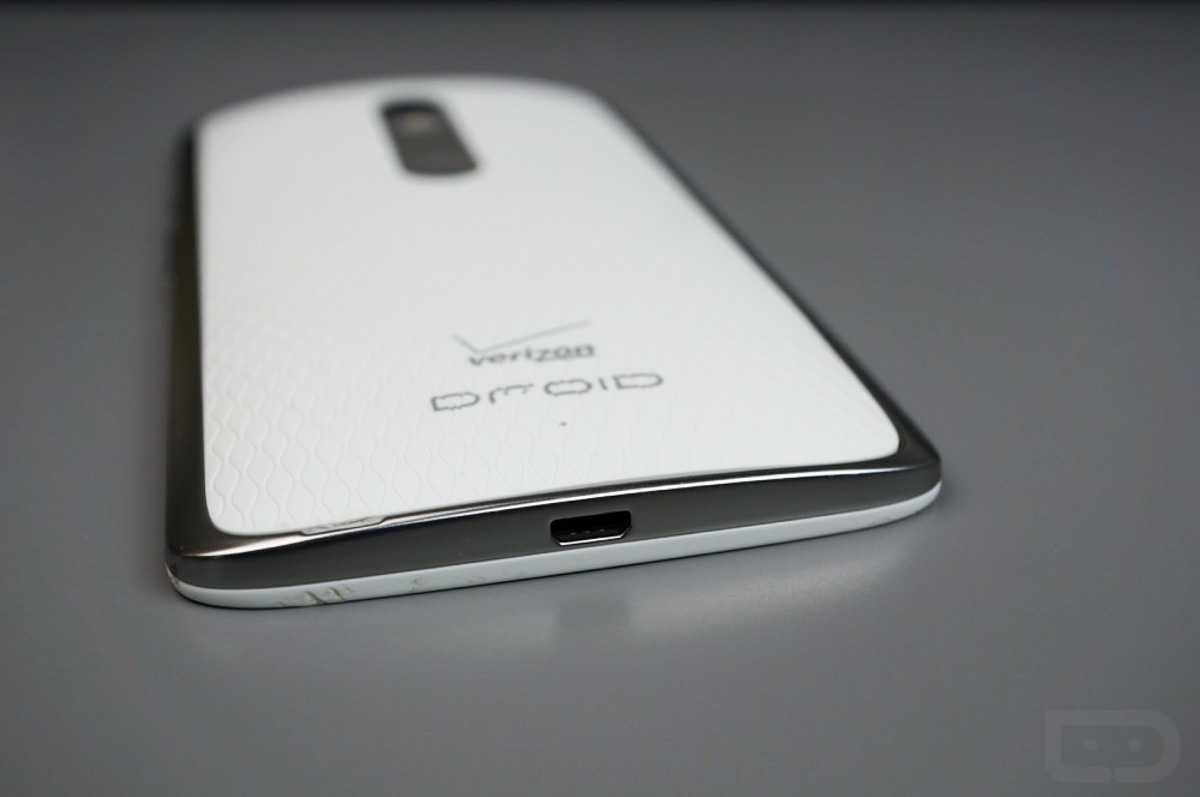 Somewhere in the Middle
---
Specs
For specs, the DROID Maxx 2 lands somewhere right in the middle of the smartphone landscape. It features a 5.5″ Full HD LCD display, Snapdragon 615 processor (along with the Contextual Computing Processor), 2GB of RAM, 21MP rear-facing camera, 5MP front-facing camera, Bluetooth 4.0, NFC, 16GB of onboard storage, microSD card support for up to 128GB of expandable storage, and the large 3,630 mAh battery. This is not a bad package, but where the device comes up short is in the processor department. The Snapdragon 615 and 2GB of RAM are a deal breaker for me, as I would want at least a processor from the Snapdragon 800+ lineup, but Motorola and Verizon clearly wanted to cut cost somewhere. The device also lacks a fingerprint reader, something we are seeing on nearly all flagship devices in late 2015. Highlights when using the device are the microSD slot, NFC (allows for Android Pay support), and the 21MP camera. These things save the phone in my opinion, and that's without mentioning the very large capacity battery, of course. For a price of $384 full retail, honestly, I would say go check out the Moto X Pure Edition for a few bucks more.
Display
The 5.5″ Full HD display on the Maxx 2 is an LCD panel. To my eyes, it looks just fine, and oh boy can it get bright. When viewing in the dark, and you turn the brightness all the way up, there's no doubt you could burn your poor little retinas, something I do not recommend. After you unbox the phone, the Adaptive Brightness is turned on automatically. In my experience, the Adaptive mode was very weak, auto dimming when I did not wish it to, and even bumping up the brightness when it was not necessary. Because of that, I decided to toggle that feature off, having complete control over my device's brightness through the dedicated dial in the notification pulldown.
As for the display itself, I would say it's just okay. It's definitely nothing crazy special, but it's not bad, either. Depending on the brightness you have set, details and colors appear just fine to the eye, but I do wish there was a bit more color saturation. This is where I am a tad bias, as my eyes do prefer the look of AMOLED panels over LCD. With that said, the Maxx 2 does feature a setting for Color Mode. With this, you can toggle between "Normal" and "Vibrant." The normal mode displays "realistic" color, while the vibrant mode gives off enhanced color and saturation. Given my fondness for saturated things, I stuck with Vibrant and was happy enough with what I saw. My only main beef with the display is Motorola's Moto Display software, but I get into in a lower section.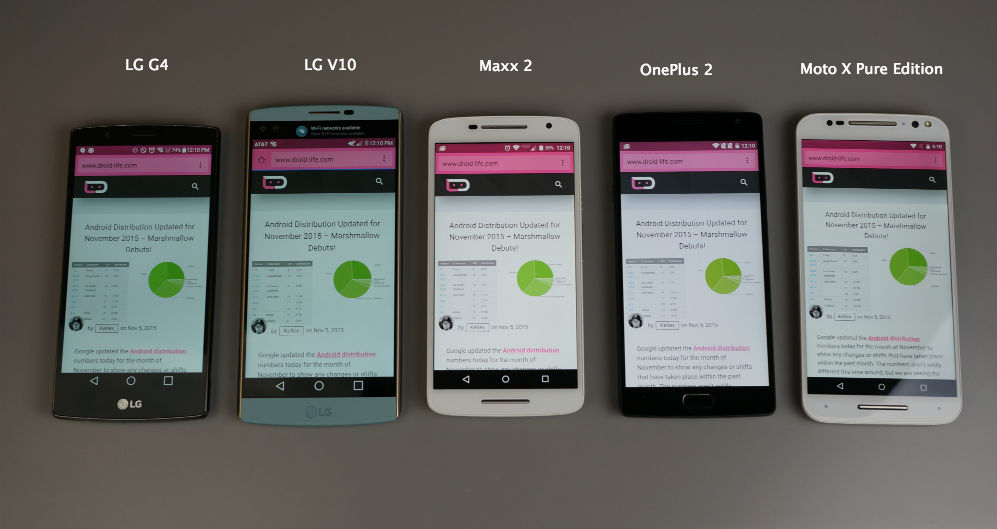 Macros for fun.
Camera
The camera found on the Maxx 2 is pretty decent, but nowhere near as good as a camera you would find on other devices currently on the market. While it definitely won't be marketed against an iPhone, Galaxy, or Nexus camera, Motorola has come a long way in this department, so we must give the company a bit of credit. Unlike other previous Moto shooters that were downright awful, this phone is actually usable. However, even though the camera takes decent pictures, the software and camera UI is pretty terrible.
Motorola's camera app is still using a slide out roller selector thing, and due to the performance issues I mention below, it can become very frustrating trying to pull the selector out, and snapping shots in a timely manner. The sooner Motorola ditches this UI, the better.
Many photos turn out fine without using any HDR mode, but when the device was set to Auto HDR, I found that the phone really enjoyed snapping photos in HDR. Hardly any were taken without it. The overall results are fine, but I would say this device does much better handing macro shots than landscape situations. One fun feature, which is found on other devices, is the ability to take a selfie in lowlight, and the display shines white to act as a flash. I see Apple touting that feature for the new iPhone, so I figured I should mention that here. Yes, "DROID Does" is still relevant.
Below I have posted a few sample shots I took throughout my time with the phone. For a zip file containing all photos at max resolution, click here.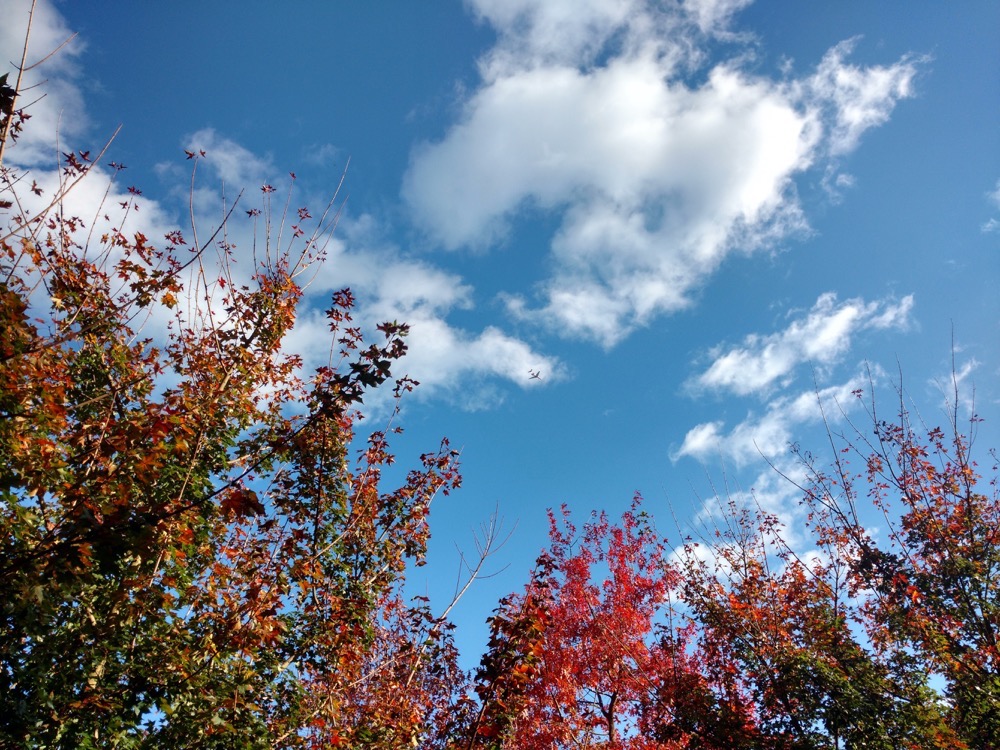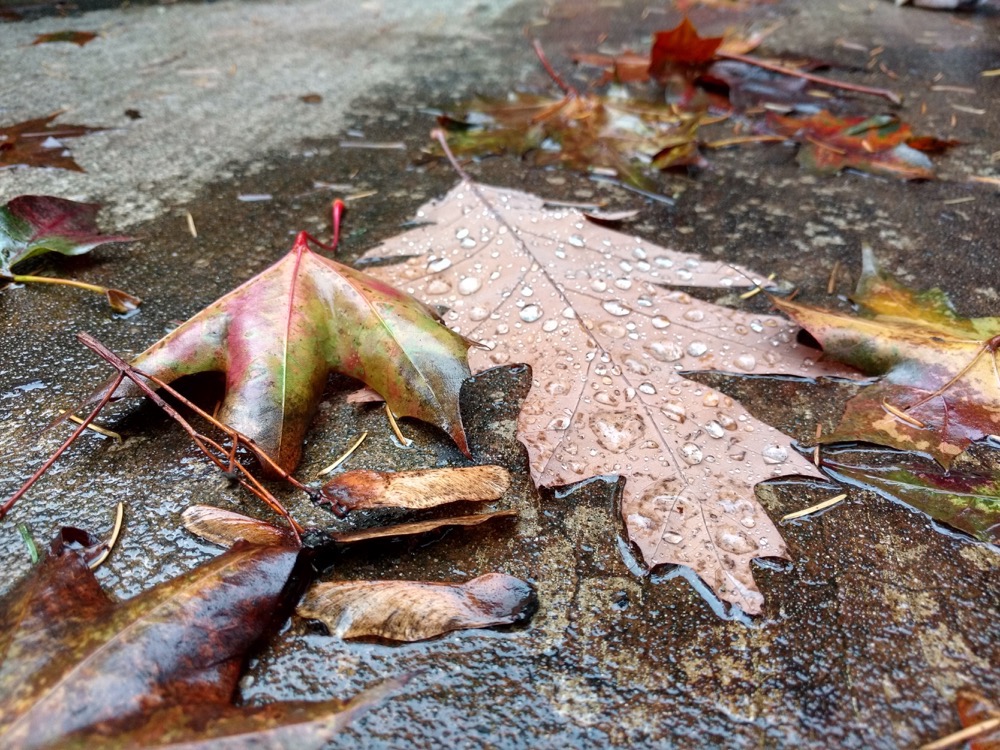 Night: HDR On vs HDR Off
Price
For $384 at full retail, or about $16 a month through a payment plan, the Maxx 2 is a solid little package, but I can't help but think about what else I could get for my money. The Moto X Pure Edition starts at just $399, and it basically tops this device in all categories. There is also the Nexus 5X, which is a solid little phone, starting at $379. As consumers, it is great to have so many choices at a low price, so really, it will be up to you to decide which you want to spend your money on. Keep in mind, however, that the other two devices I mentioned will likely receive software updates ridiculously faster than the Maxx 2.
The Not-so-Good
---
Performance
You might hear me talk about "jank" and stuttering performance on Android devices. Sadly, the DROID Maxx 2 falls heavily under this category, with its Snapdragon 615 processor and 2GB of RAM. It seems odd to me that a phone running basically stock Android has constant lag and frame rate droppage, which only results in me getting visibly frustrated and irritated. These feelings should never come from a phone. This device's performance reminds me of when we needed task killers on Android. If your phone felt sluggish, just kill the tasks. If it felt sluggish again, kill the tasks! Keep doing this until you are so paranoid about performance that after each app you open, you kill the tasks. It's a vicious cycle. Thankfully, Android is much more mature now and handles tasks well, but the DROID Maxx 2 still manages to stutter, hiccup, lock up on apps, and basically underperform at every turn. On a good note, when the device is processing HDR images, as mentioned above in the camera section, it actually processes with little delay.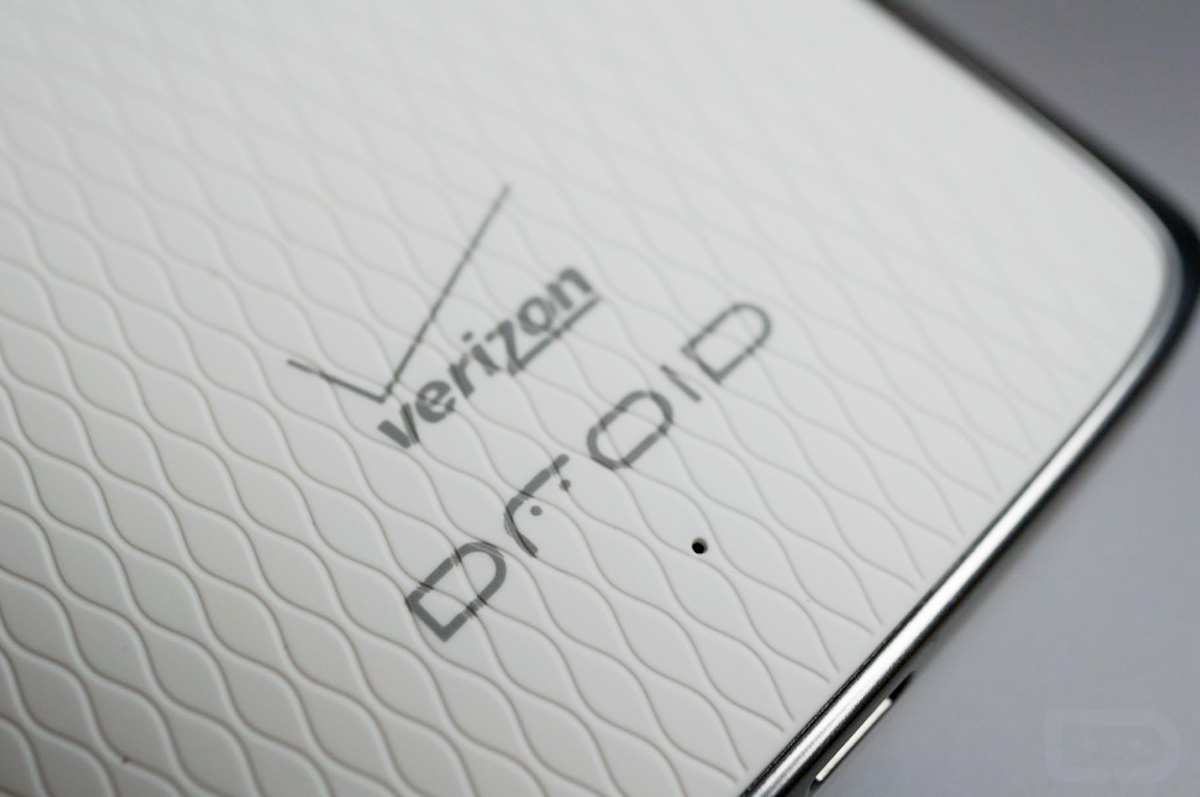 Availability
As you could have easily guessed, the DROID Maxx 2 is a Verizon exclusive. That means you won't find it on any other carrier. While I really despise carrier exclusives, as it limits you to using it on a single carrier, unlike an unlocked smartphone, it is what it is. The DROID brand will likely always be a Verizon thing, until it dies. Don't get me wrong, if you are on Verizon for the foreseeable future, there is nothing wrong with this, but I simply don't recommend non-unlocked devices these days. The benefits of being untied to a contract are too good.
Moto Display and LCD Screens
Moto Display used to be my favorite aspect of Motorola devices. But now, with the switch over to LCD panels, I have to say, it pretty much sucks. Every time your phone receives a notification, which you can view through Moto Display without having to turn on the device's screen and unlock it, the LCD panels lights up like crazy. When Motorola was using AMOLED panels, which allows for individual pixels to be lit, this feature made much more sense. The display on this device does not handle pure black all that well, so when Moto Display is active, you can see light streaks across the front of the phone. It's not classy, and pretty much looks downright bad. Motorola, hear my cries, please go back to using AMOLED.
Other Notes
Busted headphone jack: The unit we received for review has a busted headphone jack, so I was unable to listen to music through it. Hopefully this isn't a widespread issue. (Edit: After trying two pairs of headphones with both not working, I found a pair of earbuds that work just fine. Whether this is a headphone/cord issue or possible isolated device issue, I have been contacted by Motorola PR and was informed this should not be a widespread problem for buyers.)
Camera Bug: The second time I opened the camera app, toggling HDR off and on, the processing of the image was extremely broken. Colors were off, images were distorted. Thankfully, it did not happen any other times, but it is something to look for if you purchase this phone. Hopefully it is just a bug in the software that can be fixed with an update to the Camera app.
Bloatware Count: 22 apps. This number does not include "shortcut" trickery they place in the app drawer that looks like games for kids. When clicked, you must download the games. So scummy, Verizon. Shame on you.
Videos
---
Unboxing and Hands-on
[responsive_vid]
Gallery
---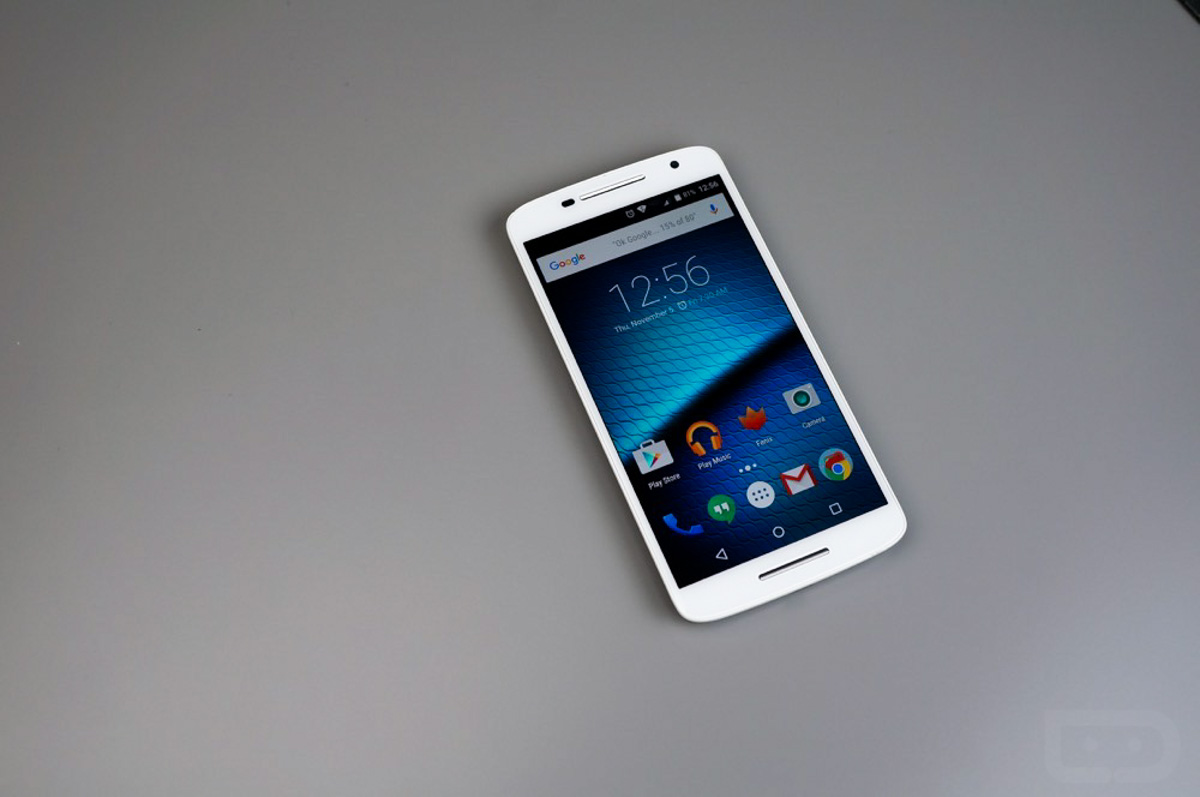 The Verdict
---
In closing, while the DROID Maxx 2 is a neat little package, it just doesn't do it for me. Performance is extremely sluggish at times, the camera is a major step backwards from other devices, and frankly, there are much better options currently on the market. For almost $400, sorry, I expect better. I can get a Moto X Pure Edition for that price. With the DROID Maxx 2, you will have good battery life, but you may never know when to expect an Android update thanks to Verizon's "certification process," and that's never a good thing for Android owners.