What happens when you take the best Android phone you can buy today and toss a protective shell on it, enlarge its battery, and make it waterproof? You get the Samsung Galaxy S6 Active, an AT&T exclusive that is aimed at the "active" crowd who enjoys working out, has a job that requires a tougher phone, or those who want a little extra protection around a phone without giving up flagship-level specs and experiences.
I've spent the last couple of weeks with the Galaxy S6 Active, taking it on daily runs and a couple of hikes, to try and put it through what I would consider to be "active" tests. I also used it as a daily phone for checking email, messaging, cruising YouTube, playing music, and running my favorite apps, which is the way most will use it, since most of us aren't working out or smashing our phones with hammers 19 hours a day. I didn't drive over it with a car or throw it off of a building, because well, that's just stupid. I used it like an active person would.
This is my Galaxy S6 Active review. 
About this review
---
Before we get into this, understand that this review is going to be much shorter than a typical review of ours. After all, this phone really is just a Galaxy S6 with a bigger battery and water/dust/shock-proofing. There are some obvious design tweaks, new buttons, and no fingerprint scanner, but the processor, display, camera, and software are all identical to the other Galaxy S6 phones. So we won't be talking about those areas, necessarily, because well, we wrote up a massive Galaxy S6 review that touched on all of them. So if you want to catch up on all of those areas, be sure to read our Galaxy S6 review.
In this review, we'll focus on what has changed from the S6 to this Active version. We'll talk design, using the phone, battery life, and whether or not this would be a good phone for the active crowd, a regular person, or both.
Ready?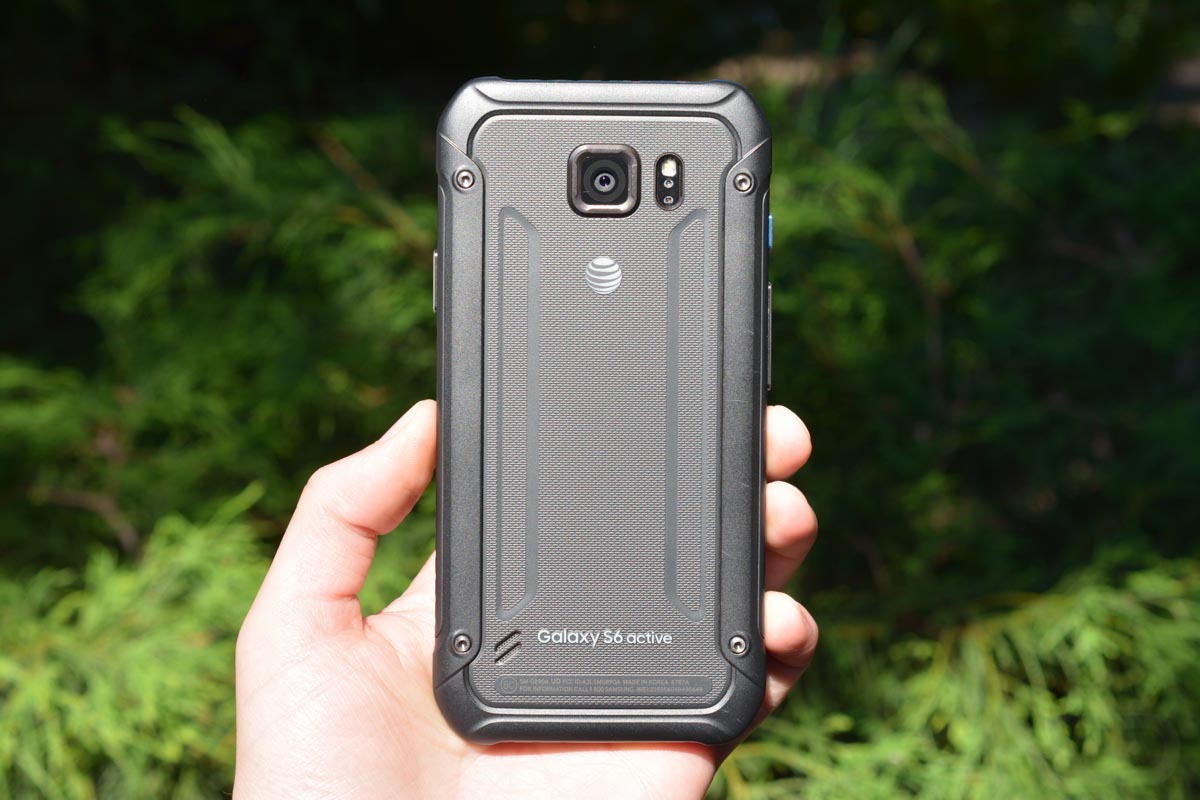 Design
The design of the Galaxy S6 Active certainly wants you to believe that it is ready for battle. It sports a metal-esque outer protective frame with exposed screws, noticeable texture throughout its body and sides for extra grip, and a camo paint job on some models. Nothing screams "Active!" like camo, right? I wouldn't necessarily call this phone pretty, but "manly" would pass. This phone wants you to think it can withstand a punch or drop or hammer smash and it probably can. Not that I took a hammer to this review unit, but I'd imagine that if this phone dropped from your hand to a hard surface a number of times, it would survive them time and time again. In fact, AT&T claims that this phone "Meets U.S. Mil-STD-810G for water-resistance and to withstand dust, shock, vibration, temperature extremes, humidity, and high altitude." See, it's pretty tough.
In terms of size, the Galaxy S6 Active is slightly taller, wider, thicker, and heavier than the regular S6. The size and weight differences are due to the fact that it sports a bigger battery and has a protective layer around. I wouldn't call this phone "big" when compared to something like the Galaxy Note 4, but if you go from regular S6 to this, you will notice a difference in the size.
Outside of the appearance, this phone differs from the regular Galaxy S6 in that it has three physical navigation buttons and an additional "Active" button above the volume rocker on its left side. I am in no way a fan of this navigation button setup. I can get used to a single, physical home button on the Galaxy S6, but having to fully press a back and app switcher is just not an enjoyable experience. It adds extra time when you want to do something as quick as going back a screen or hiding the keyboard. And not only are they not fun to use, but they look pretty ugly as well. Seriously, look at the random symbols and design of these things. And look, physical buttons aren't a deal-breaker when you look at the rest of the package here, it's just that I would 10 times out of 10 prefer the regular Galaxy S6's setup over this.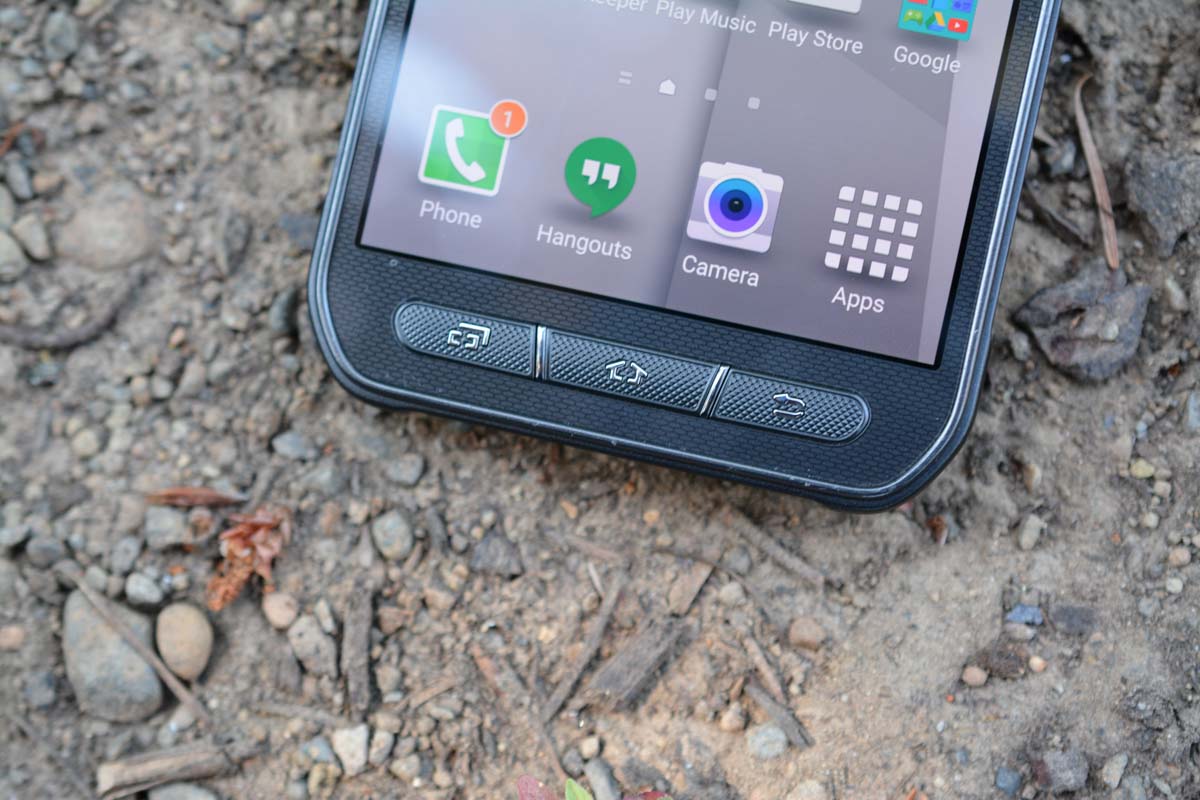 As for the "Active" button, you get an additional button that can be programmed to quickly launch apps. I don't know why this has anything to do with a person being active or not, but it's there and does indeed open apps quickly. You can set it to open one app on a short press, along with a second app on a long press. For the most part, you need your phone awake and unlocked in order to take advantage of this, but you can tell it to allow these presses to work with the screen locked too. I used the button all of two or three times I think. I could see how this could be useful, but in the way I use my phone, I just didn't see a need for a new button.
Overall, the phone isn't the ugliest phone on the planet, but it's not exactly a looker either. With its combination of ruggedness and odd button designs, it's neither modern nor industrial. It's kind of a mix of "Hey, I think I'm tough so I need a tough-looking phone" and "Dude, at least my ugly phone will survive if I drop it in the toilet." But hey, maybe you don't care what your rugged phone looks like as long as it can survive some hurt. After all, that is sort of the point here.
Using the phone
If you talk about a software experience on the S6 Active, outside of its "Active" button and the lack of a fingerprint scanner, it's identical to the regular S6. This is the same supposedly toned-down TouchWiz, same notification pulldown and lock screen, the same settings experience, the same stock apps, and you even have the double-tap-home to quickly launch the camera. I really couldn't tell you a difference between the two.
Now, if you talk about in-hand, hardware use, it does differ. As I mentioned above, the phone is slightly larger and heavier, plus it has that new Active button. As a runner, I tend to run with my phone in hand, so that I can quickly control apps, check my run stats, etc., and so I noticed the change in thickness when going from the regular S6 to the Active over the last couple of weeks. I got used to it, though, and those extra grippy spots throughout the phone's frame really help.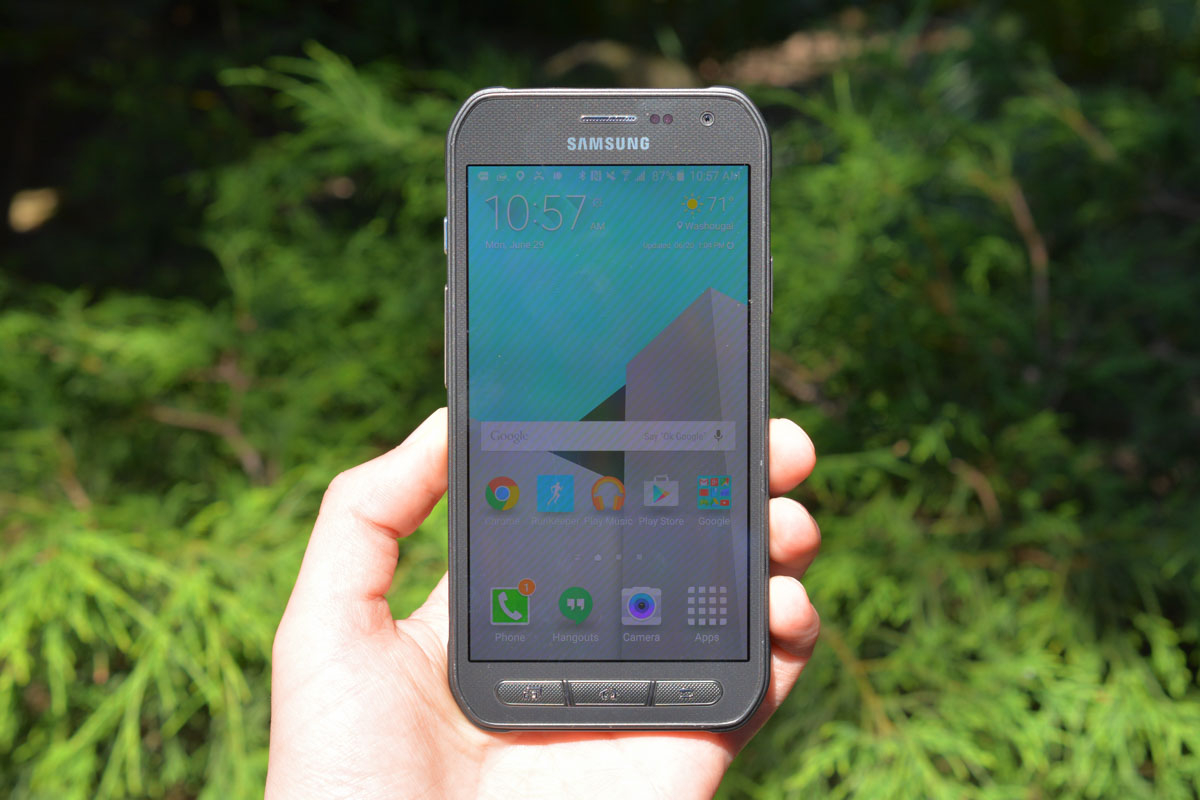 What I didn't care for, is that new Active button. Not that I don't see a use for it, but because it was added, Samsung had to slide the volume rocker down the side of the phone a bit. Because of this adjustment, I found that I was constantly accidentally adjusting the volume when I didn't want to be. With the regular S6, the volume rocker is placed up high so that it is out of the way when holding your phone. On the S6 Active, that damn volume rocker is exactly in the place where I hold my phone with a full grip. This silly move is as comically bad as the one HTC made with its volume rocker/lock button setup on the One M9.
Samsung, for whatever reason, also tossed the headphone jack back up on top of this phone, even though they moved it to the bottom on the regular S6. As you probably know, I'm always going to be on #teambottomjack and so this move doesn't make me happy. With a top headphone jack, the cord on your headphones is constantly in the way, making for a hell of a frustrating experience, especially when you are out doing something active, like running.
This phone isn't a disaster to use or anything, it's just that Samsung made some small tweaks that unfortunately, hurt the overall experience when compared to the regular S6.
Battery Life
How pissed were you when you saw that the S6 Active had a bigger battery (3,500mAh) than your recently-purchased regular S6 (2,550mAh)? Hold that thought, because it's going to get worse. In my time with the S6 Active and its massive 3,500mAh battery, I came away incredibly impressed by the fact that this phone can easily pull you through a heavy day, yet Samsung hardly increased size or weight.
During my testing, with over two hours of screen-on time each day (a mix of WiFi and LTE), I could have easily hit the 25+ hour mark without needing a charge. Since I live in an AT&T black hole of signal death that destroys all batteries, that's pretty incredible battery life. For a normal user, with a good AT&T connection, I could see this phone getting you well into a second day. Even on days where I went straight terrible LTE connection, I was pushing to 20+ hours of use.
After having spent the last couple of months with an S6 and its mediocre battery life, I can't tell you how refreshing it has been to use a phone that doesn't need to take advantage of fast charging twice per day. If there was ever a time for a company to release a "MAXX" version of a phone, it would be Samsung doing a Galaxy S6 MAXX, that kept everything about the regular S6 the same, outside of a slightly thicker body that could house this big of a battery.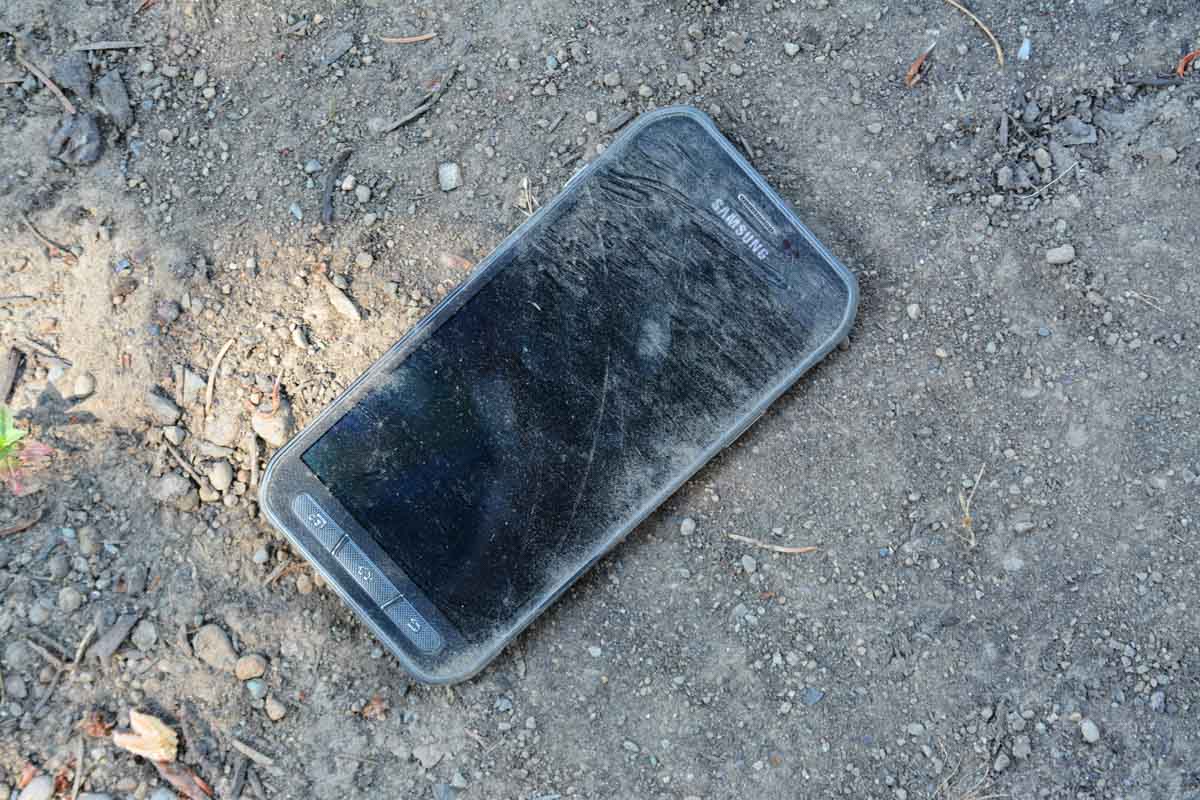 The Active side
As an "active" phone, this phone totally passes the test. As I mentioned, I took it regularly on sweat-filled runs, packed it around on hikes, dropped it a couple of times, tossed it regularly in the bathtub to confirm that it can withstand some water, let my son throw it around the house, and even spit beer all over it (on accident). I never felt like this phone was going to be in trouble. Not only does the battery last forever, but I always felt a sense of security while using it. If I was in a situation where it could drop or I might spill on it, I wasn't worried. I can't say the same for my regular Galaxy S6.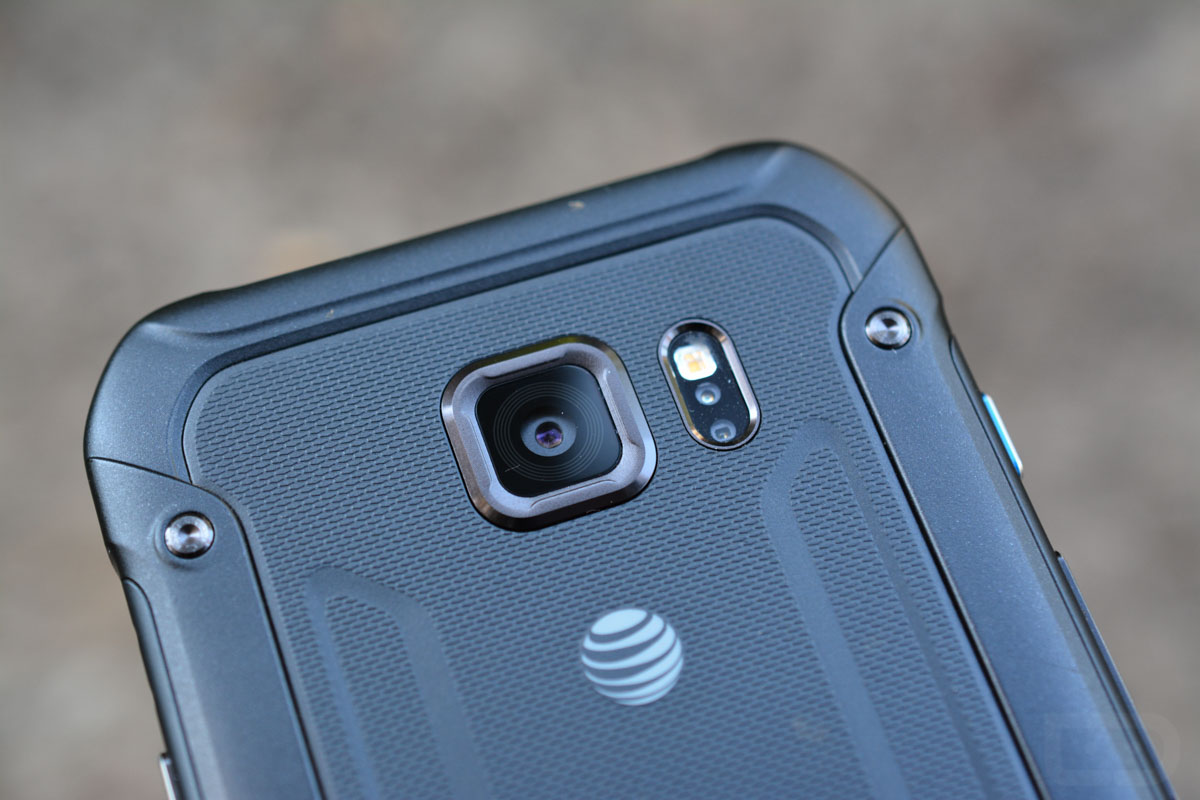 Camera
Samsung tossed the same 16MP camera into the S6 Active as was used in the regular S6. Since the camera used in the regular S6 is considered by many (including us) to be the best in the business, I can't imagine you will be disappointed in this area. The UI is the same. The quick launch shortcut is the same. The speed of the focus and shutter are the same. It's awesomely the same.
If you want differences, you'll find it in the pre-loaded Sports and Aqua modes. The Sports mode you can download on the regular S6, but the Aqua is (for obvious reasons) exclusive to the Active line. In this mode, you are basically just activating the Active and volumes buttons as your shutter and video record, respectively, when underwater
Here are some samples that I captured.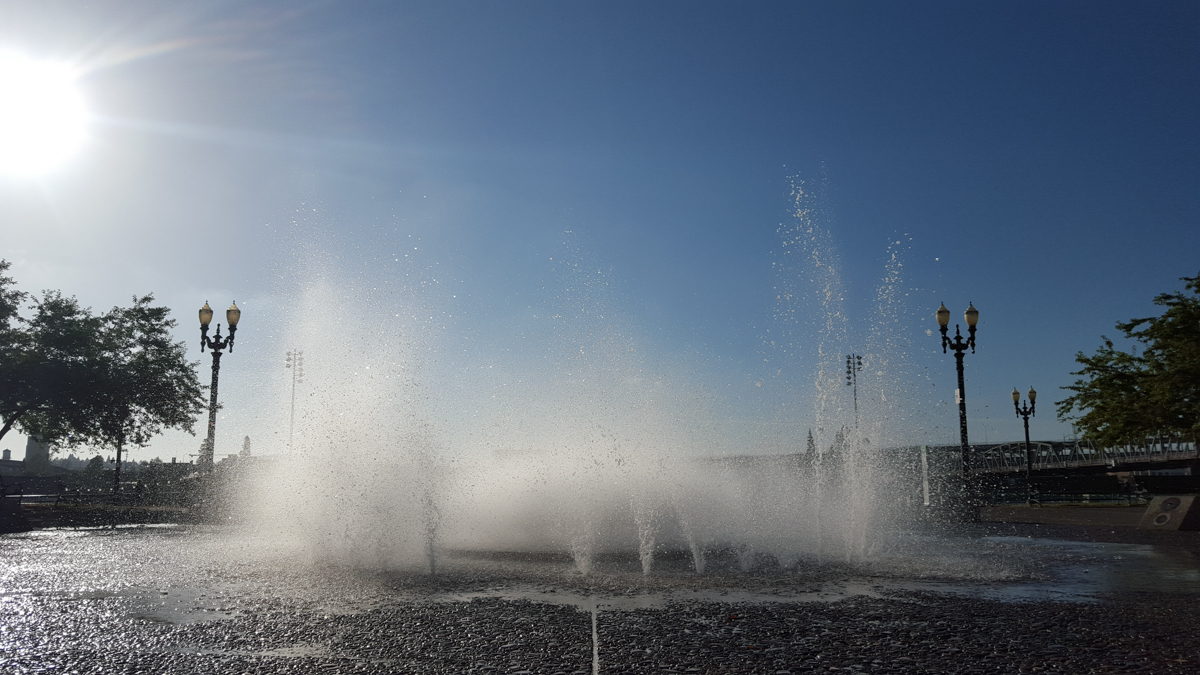 Full resolution: 1 | 2 | 3 | 4 | 5 | 6
Other notes
No fingerprint sensor:  Nope, no fingerprint sensor on this phone. Most of you probably don't care, but this is one of the differences from the regular S6, which does impact the level of convenient security that we bragged about in our S6 review.
Performance:  Thanks to that Exynos 7420 processor and 3GB RAM, this phone is absolutely fine in terms of performance. It's fast, apps load and switch quickly, the camera fires right up when you want it to, and it reboots in a hurry should you need to bypass Samsung's memory leak.
Storage:  This phone comes with 32GB of storage and that's it. There isn't a microSD slot and you don't have options for more storage in more expensive models. Hopefully, 32GB is enough for you.
Fast and wireless charging:  This phone features both wireless charging (both standards too) and fast charging. Trust me, you'll need the fast charging on a battery this big. Well, you'll need it when you actually end up charging this battery beast.
AT&T exclusive:  We hate carrier exclusives, but this Active line has been exclusive to AT&T for years now. It won't shock anyone that you can only buy this phone through AT&T, it's just too bad, because there are plenty of customers of other carriers that could benefit from this phone.
Gallery
---
Video
---
[responsive_vid]
Final thoughts
---
The Galaxy S6 Active is for the most part, a really great phone. It has almost all of the good stuff from the Galaxy S6, yet is also equipped with a massive battery that will last you more than a day, and can withstand some water and rough play. The camera on this phone is awesome, as is the display.
If you want some negatives, I'd say that the design itself is quite ugly, but that's my personal opinion. I don't like the button setup either. But really, the biggest downside here is that this phone is an exclusive to AT&T. Options like this need to be available to more people, especially when this phone specifically addresses some of regular Galaxy S6's biggest weaknesses.
I'd pick up a Galaxy S6 Active if I really needed a phone that was super tough and water resistant, because it's every bit as good as the regular Galaxy S6 in the other areas that matter.