During their MWC press event, after teasing the world for weeks prior, Samsung stood on stage and presented two phones they were extremely proud of. You could tell by the presentation that these phones were going to bring them back. There wasn't a Broadway play. There wasn't a gimmick in sight. Samsung ran through a list of features, design elements, and changes from past thinking as directly as they could because nothing needed to be hidden or glanced over. There was no need for a distraction.
They hammered home the fact that these phones were faster than anything they had done prior. They cut bloat. They removed jank. They built them with the best materials available. They included tech that no other phone(s) before or after will have for some time. They won that day and then some. They may have won the year with a single presentation alone. After a horrendous 2014, Samsung needed to do something major for 2015. They did it. The Galaxy S6 and Galaxy S6 Edge are remarkable phones from top to bottom, edge to edge.
We have spent time with each over the past couple of weeks, trying to find something missing or deal breaking. If you want a spoiler alert as we dive into this, here it is – we didn't find one.
This is our Samsung Galaxy S6 Review.
Edit:  Our Galaxy S6 Edge review is done too.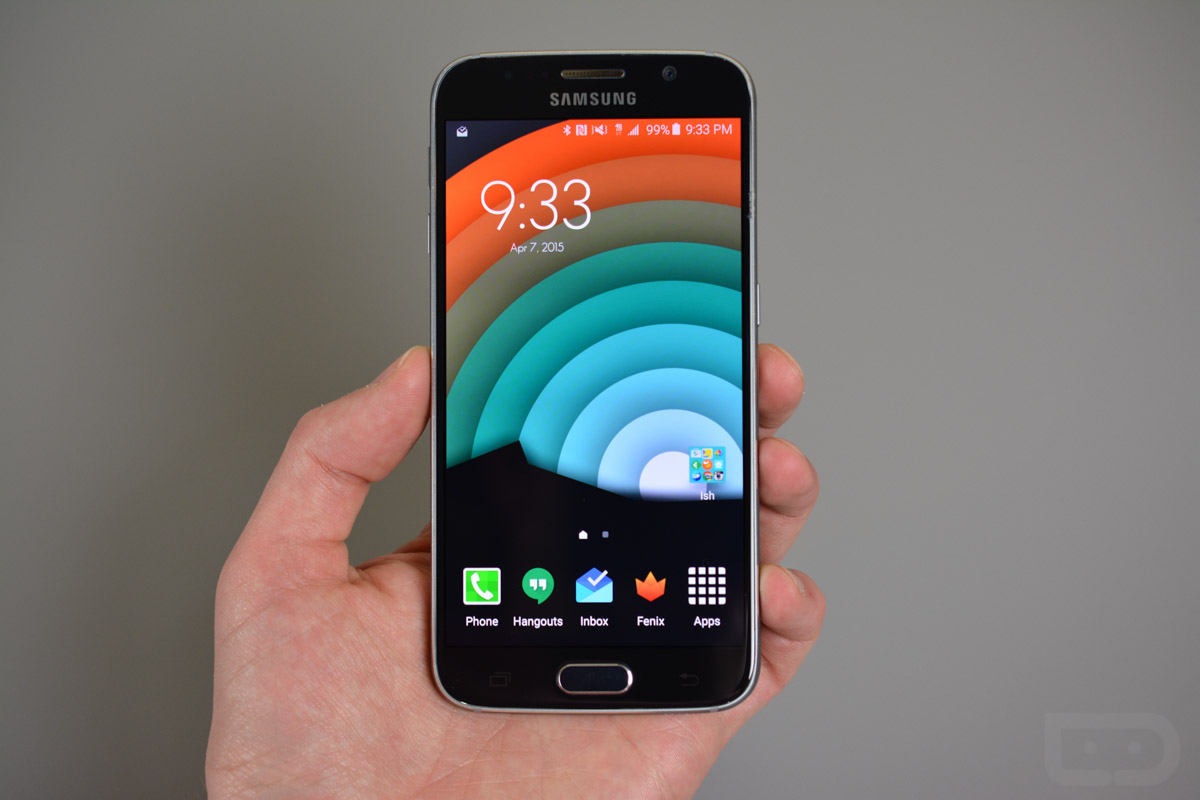 The Good
---
Specs
I think it's safe to say that Samsung has created the ultimate smartphone with the Galaxy S6. Well, they are 95% of the way there, which is saying something in a world that can't seem to give us the perfect phone, even though we know a couple of companies are capable of giving us one. Samsung used the best of the best in this phone. They gave us their own processor (Exynos 7420 octa-core), that by all means, is better than Qualcomm's controversial, hot-headed Snapdragon 810. They put the best display (5.1-inch QHD Super AMOLED) ever in a smartphone.  They may have given us the best camera too (16MP with Optical Image Stabilization). They tossed in faster storage (UFS 2.0) and RAM (LPDDR4), a payment system that tops everyone else's (Samsung Pay built on LoopPay technology), support for the two wireless charging standards that matter, fast charging, and a 5MP wide-angle selfie shooter in the front.
So why "95%" of the way there? They did leave out a micro SD slot, got rid of the removable battery, and forgot to make the phone waterproof. I actually added these three things to the "Not-so-Good" section below, because for some, these missing features could be deal breakers. For me, they aren't.
Samsung killed it with this phone in the specs department. Killed it.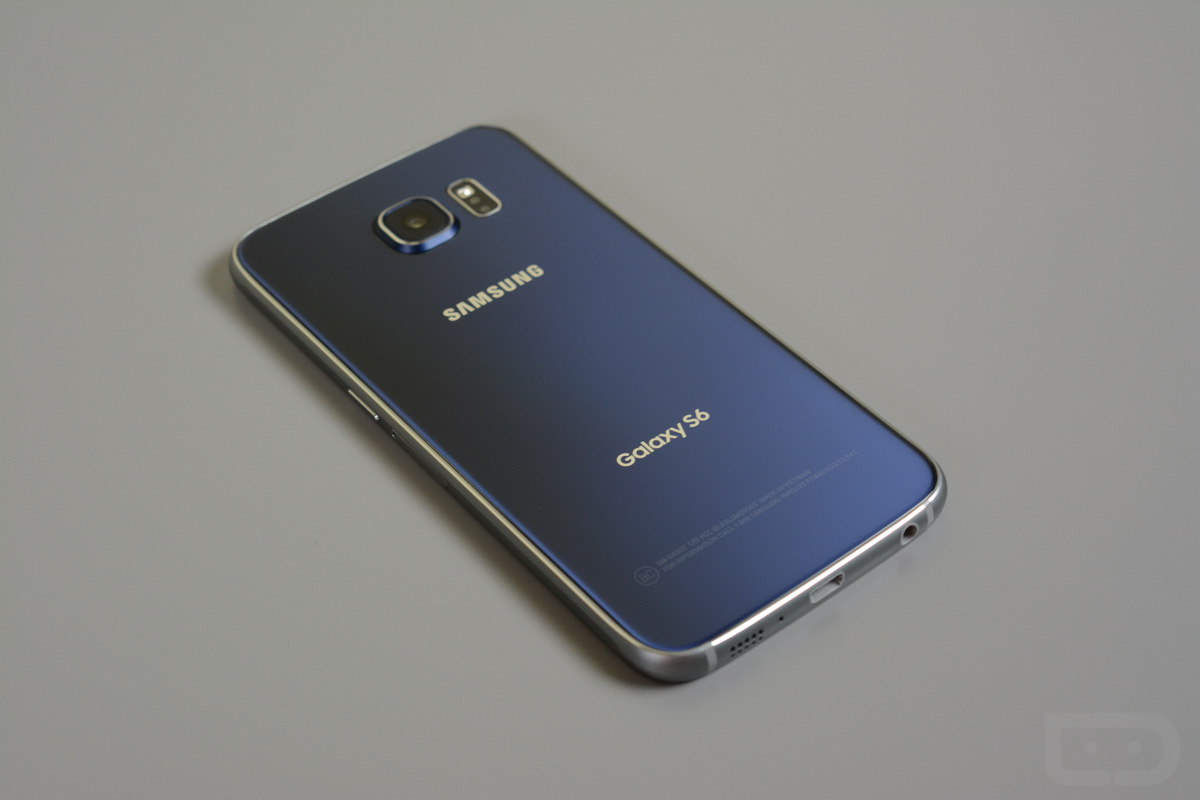 Design
Samsung has completely ditched any sort of plastic in favor of a design that reminds me of a fine gemstone. Light reflects off it at different angles, changing the color along the way. In this particular Sapphire Black version, you are sure it's black, but then it's blue too. What a beautiful phone this is.
It's built with front and back Gorilla Glass 4 panels that blend into a metal frame. The device isn't seamless from front to back, but it feels as though it is even though there are separate parts as you move around the phone. Samsung has perfectly placed each piece to make you think this is a unibody device.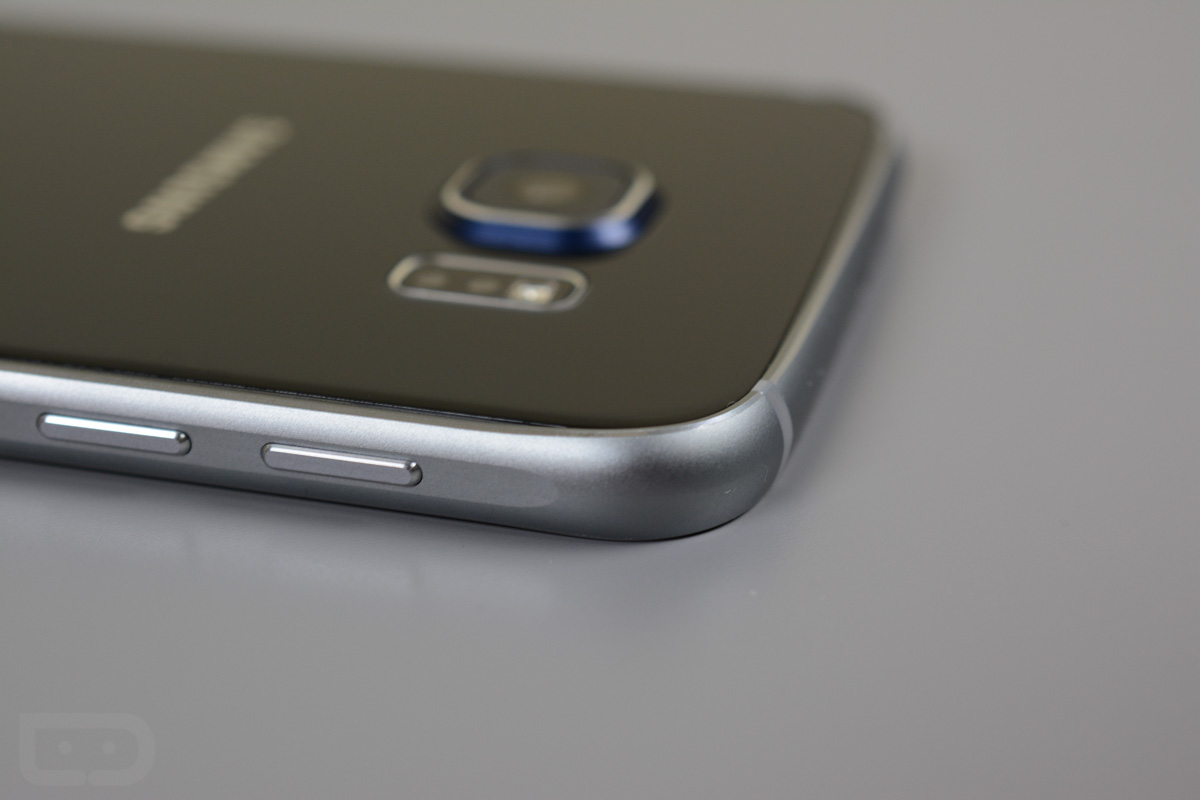 When holding the Galaxy S6, it doesn't feel like any other Samsung phone before it. It feels strong, elegant, and premium, three things I'm not sure I have ever said in reference to one of their phones. The metal frame reminds you that this is the new Samsung, while the glass tells you how different this phone is from any other on the market. Each side has been rounded just the right amount, so that the phone sucks into your palm without the slightest sharpness. Unlike the Galaxy S5, this phone was built specifically for the human hand.
As for usability, Samsung went with a modest 5.1-inch display that comes as close to the side edges as you can get. This means you can reach across it to swipe out panels or touch that notification bar without much of a shimmy. The power and volume keys rest on each side of the device, almost exactly where you would place your thumb and index finger each time it is picked up. And the headphone jack has been moved to the bottom, which is the location I will take every single day of the week.
If you want to find an issue with this phone's design, you could argue that the camera hump is a bit unsightly and could potentially cause the lens to scratch easier. I personally, have grown to like the exposed module, though I'm not sure just why yet. Maybe it's the fact that it adds some dimension to a phone that is so fluid from one side to the next.
The Samsung Galaxy S6 is the best looking, most premium feeling phone I've ever placed in my hand.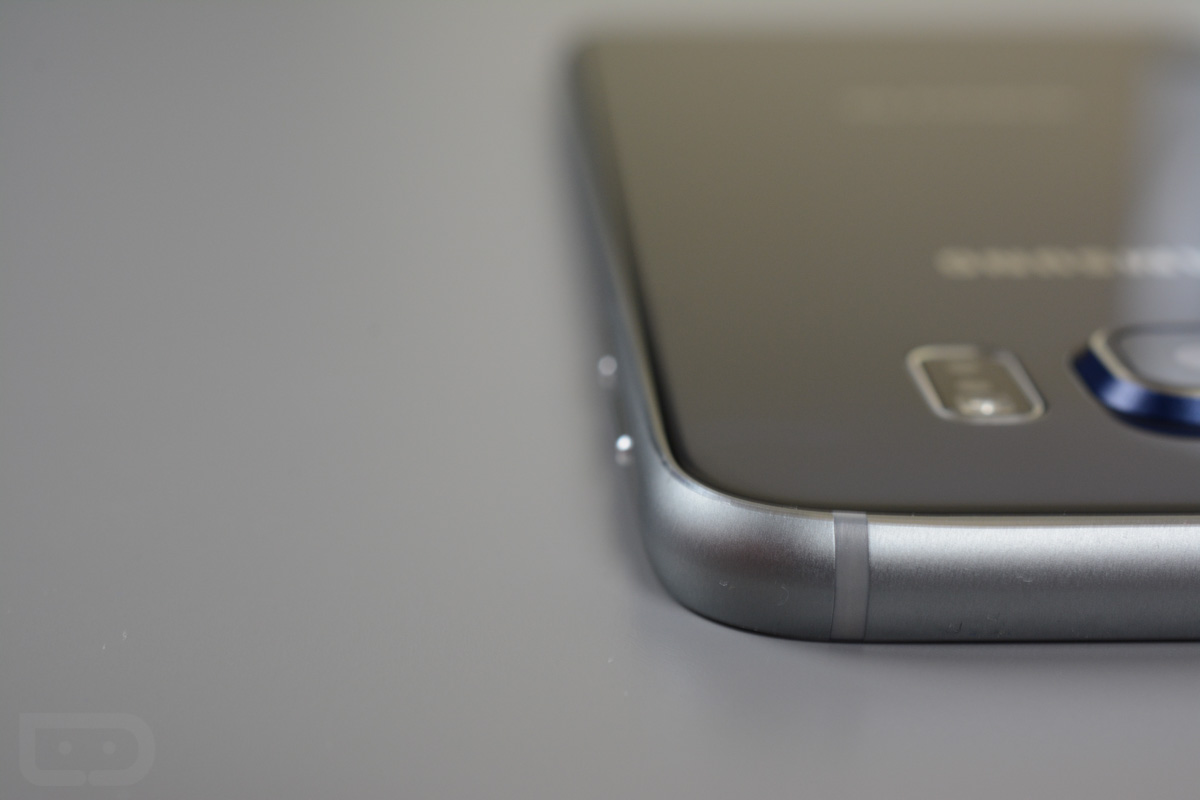 Display
For years, Samsung has topped display charts with their HD AMOLED panels. Starting with the Galaxy S4 and Note 3, through to the Galaxy S5 and Note 4, you could argue that the only display competitor to Samsung's newest phone was the previous phone they had released months prior. LCD purists will tell you that AMOLEDs still have too much contrast and that colors don't look natural, but those haven't been true criticisms in some time. In fact, display experts have named Samsung's AMOLED panels as the best in the smartphone business for long enough now, that we couldn't even tell you the last time an LCD took the crown.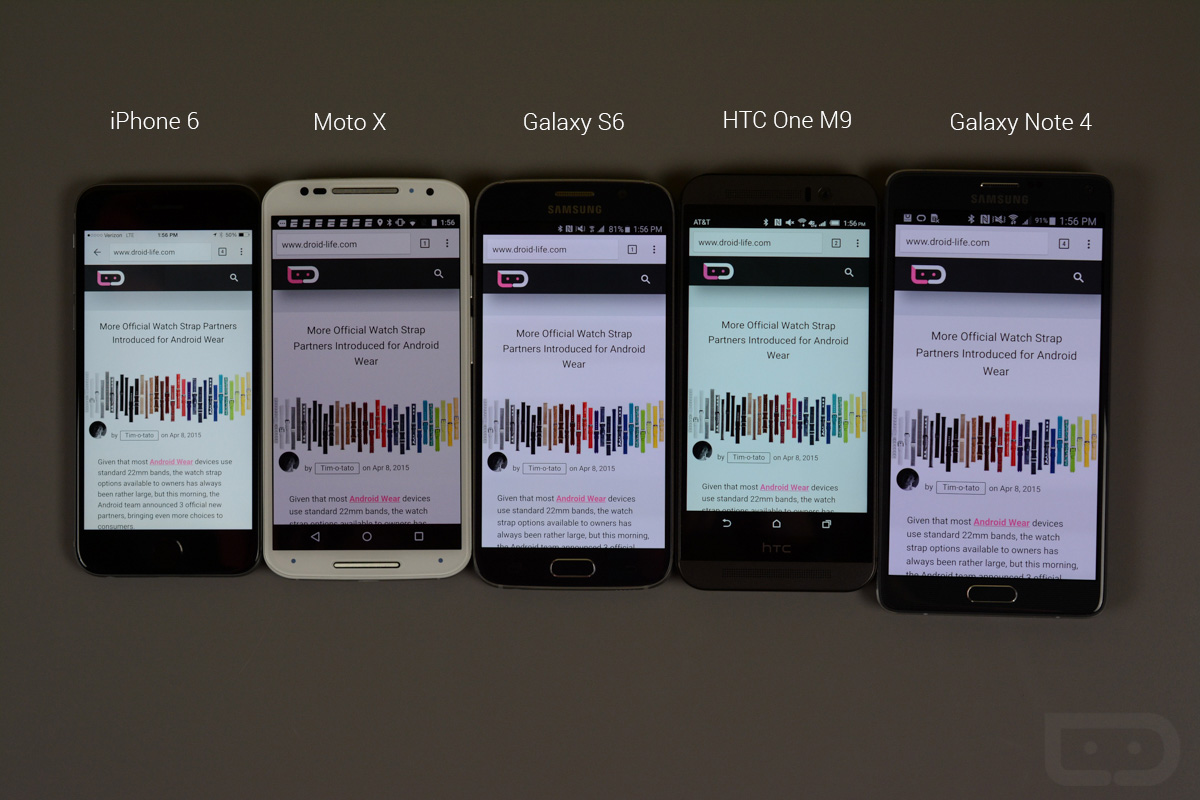 With the Galaxy S6, you once again have a fantastic display to look at, one that is in my book, the best available overall. At a QHD resolution, you know that Samsung is packing in more pixels than your eye can even attempt to realize (577 per inch to be exact). But what may surprise you is how accurate the colors appear and how impressive the viewing angles are.
The pictures above are a good series to show you viewing angles, color reproduction, and how bright the panel can get when compared to other leading phones. In the top-down photo, you can see that the LCDs in the One M9 and iPhone 6 get slightly brighter, and may even show whites a bit more accurately. Still the Galaxy S6 isn't overdoing anything here, but does show white as slightly grey instead of pure white. It's not off-putting, but different. As you start to angle from top-down, this is where the Galaxy S6's display really shines. You can see how well it holds that brightness and clarity at the steepest of angles, whereas panels like the One M9 are almost impossible to see with even the slightest move away from top-down. As far as colors go, I like that the Galaxy S6 and Note 4 AMOLEDs really pull in definitive colors from the watchbands pictured, while the LCDs seem to wash out the light greys and yellows/browns on each edge.
Samsung also tosses in a couple of viewing modes that let you decide if you want the punchy, saturated colors of an AMOLED, muted natural tones, or if you want the display to decide for you which is best depending on the app or screen you are viewing.
Macros for fun. Diamonds are forever.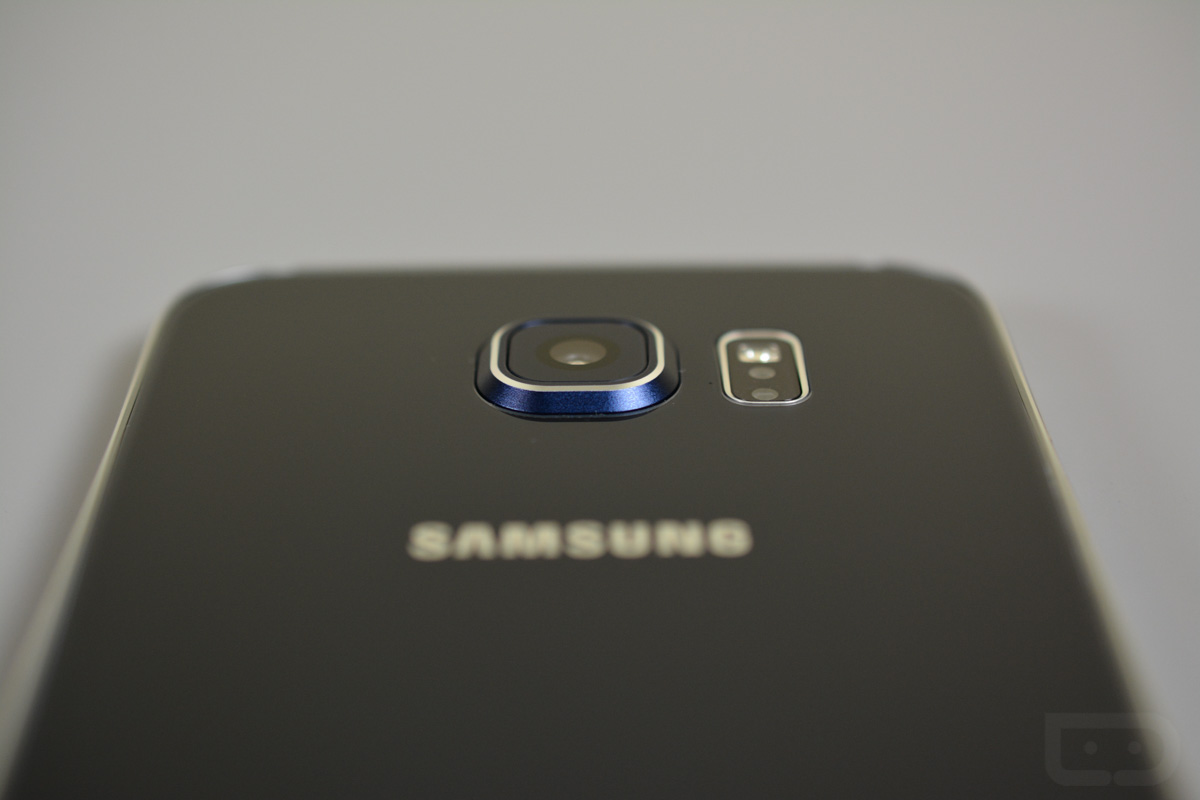 Camera
This is how you do a smartphone camera, folks. The 16MP camera in the Galaxy S6, that would be the shooter that has optical image stabilization (OIS) and a F1.9 lens, is the best I have ever used. It's insanely fast to focus and shoot in almost any scenario. The only other time I have been this impressed with a smartphone camera, is when I was reviewing the iPhone 6. Hate that fact or not, Apple has forever been the king of smartphone cameras. Thankfully, Samsung has officially come to play – and maybe even win.
Before we get to the samples, let's talk first about the camera experience. Not much has changed from one Samsung to the next, but things do seem to be cleaned up a bit. You have your gallery, video, shutter, camera-switch, and mode buttons all along the right side of the UI. On other, you have an expandable menu that allows you to quickly control effects, HDR, timer, flash, and even jump into additional settings. Samsung includes full manual or "Pro" controls, has a selective focus "bokeh" mode, panorama option, and slow/fast motion capture. This camera has it all. It also has a quick launch shortcut (double tap the home button from anywhere) that makes this the fastest camera on the planet, in my opinion.
OK, so it's fast and has a straight-forward UI, but what about picture quality? To my eye, it takes incredibly impressive pictures full of crisp detail and correct color reproduction. Whether you are shooting macros, are in an arena with whacky lighting, are out on the town in dimly lit dive bars, or are shooting moving pictures of your children, this camera can do it all. It's versatile yet powerful. It's quick yet precise. This is the first time I can remember an Android phone taking pictures and there not being a hand behind my back with fingers crossed, hoping it comes out OK. This phone takes good pictures almost all of the time, and that's a huge deal.
Point. Shoot. Point. Shoot. Point. Shoot. Enjoy.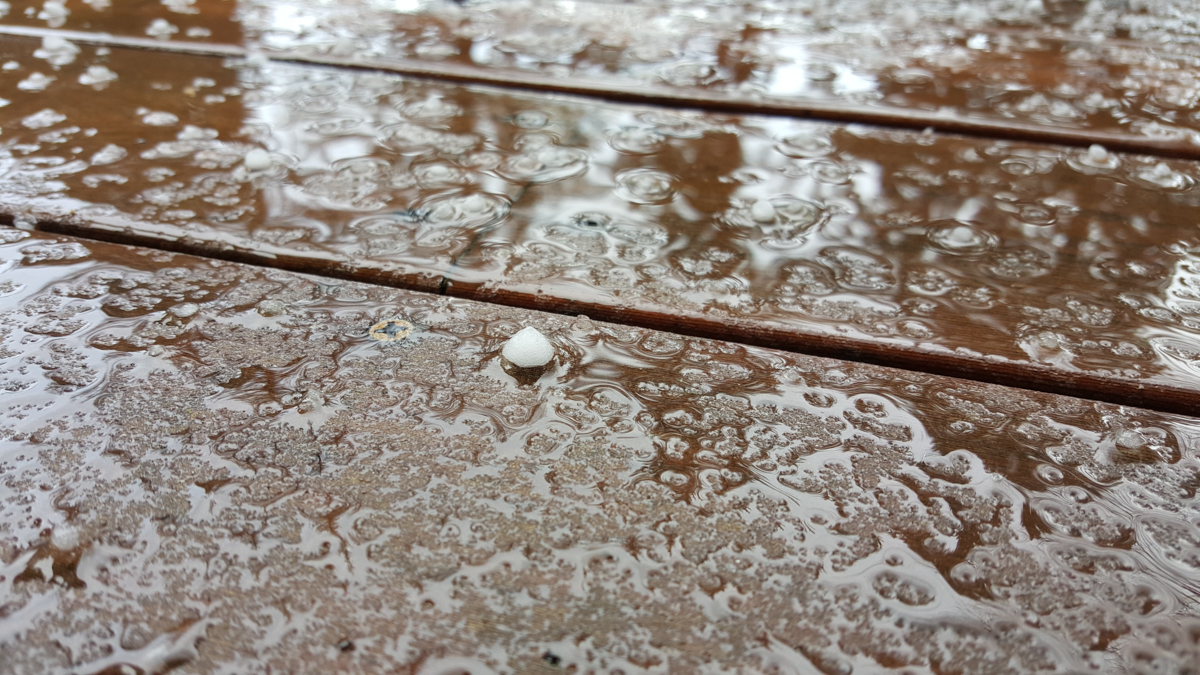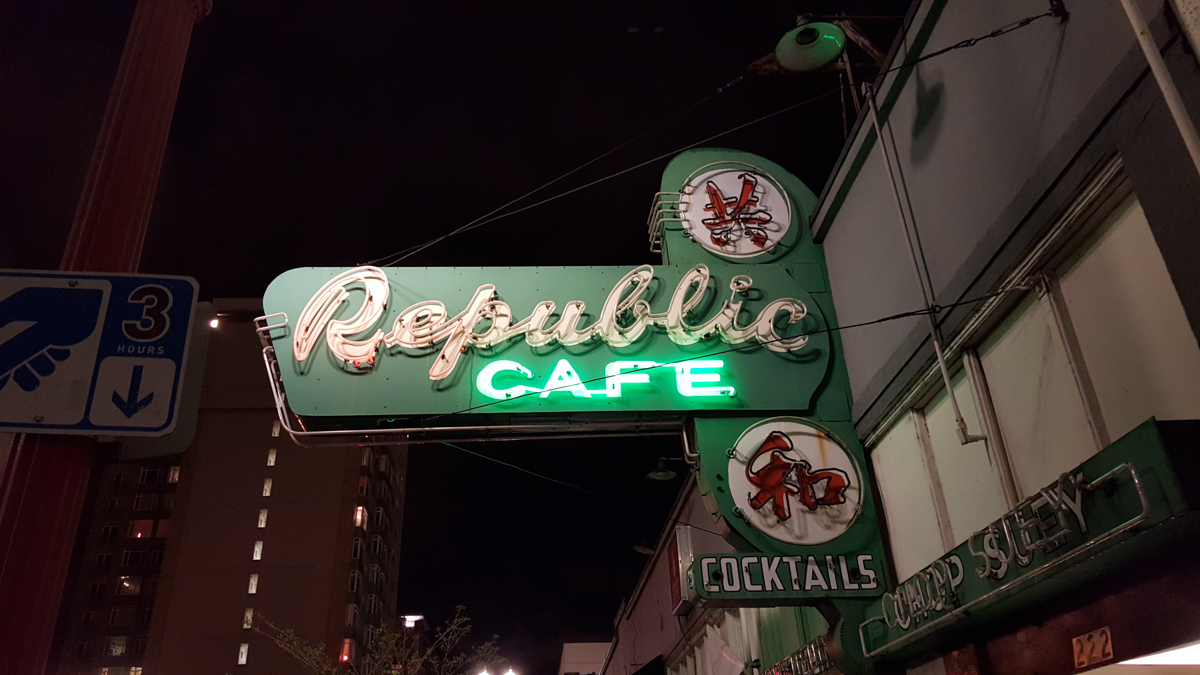 Full resolution:
1 | 2 | 3 | 4 | 5 | 6 | 7 | 8 | 9 | 10 | 11 | 12 | 13 | 14 | 15 | 16
Performance
Over the last couple of years, the word "jank" has been associated with Samsung's phones more often than I can count. Jank, meaning jittery lag and overall unimpressive performance, thanks to TouchWiz and the rest of the bloat that Samsung included in all of their phones. With the Galaxy S6, Samsung made it a point to fix all of that. They toned down TouchWiz, took out unused features, and managed to smooth almost every thing out from one screen or app to the next.
Samsung added a double-tap shortcut for launching the camera, to get you snapping pictures faster than ever. They took out unnecessary menus in the app drawer, leaving you with the basics. They even simplified Multi Window and the app switcher to get extra fluff out of the way.
As you cruise through the Galaxy S6 with its Exynos octa-core processor and 3GB RAM, you won't see many hiccups or stutters. Apps open and close swiftly, as does the app drawer, settings menu, home screen editor, etc. It's all fast. Well, almost all of it. There is one area that continues to be a tad slow for me, and that's the transition of moving from the camera into the gallery and then back out again. I don't know what it is, but there is always a 1-2 second delay when moving from the camera to the gallery or vice versa. I'm probably nit-picking and only noticing it because everything else is so lightning quick.
Otherwise, Samsung really did clear up the jank.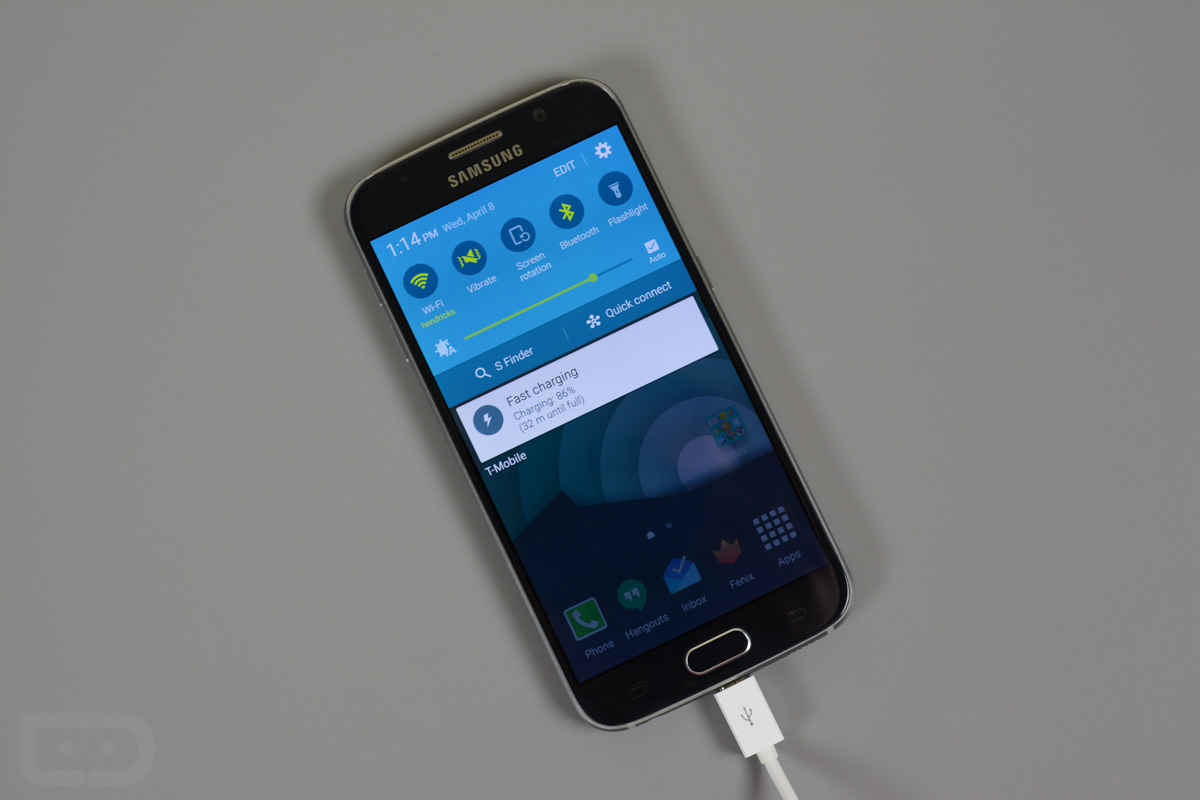 Wireless and Fast Charging
In case you couldn't tell, we kind of like to geek out over things like charging – both wirelessly and quickly. Samsung gave the charging obsessed the ultimate phone with the Galaxy S6. Not only does it include wireless charging for the two big standards (Qi and PMA), but it also can charge incredibly quickly with Fast Charging. So on one hand, you have the ability to charge with almost every single wireless charging pad on the planet, along with tables at places like Starbucks. And that's all without a special case or adapter or anything. Samsung built in the technology, making it easier than ever for you to charge your GS6. Second, they gave you fast charging capabilities, which means with a proper charging cable, you can grab a 50% charge in as little as 30 minutes time.
I'm guessing that most of you, assuming you buy this phone, will begin to fall in love with all things charging. Seriously, the convenience here is unmatched by any other phone. Charge without wires, or charge with one at an insane rate. How can you beat that? The Galaxy S6 has an arguably small-ish non-removable battery, but with these options built-in, you probably won't care.
Fingerprint Sensor
You need a fingerprint sensor in your life that is as good as the Galaxy S6's. Why? Because it secures your phone without changing the way you use your phone. This is how new technologies are supposed to be implemented. Let me explain.
Previous Android attempts at fingerprint sensors were not great. They required a swipe over the sensor, which is something that isn't exactly an easy gesture when holding a phone with one hand. Also, since it requires movement, accuracy with a method like this is tough to maintain. With the Galaxy S6, all you need to do is place your finger or thumb on the button for a split second and it unlocks. It's that simple, once you walk through the phone's training steps. There is no gesture or swipe required.
I say that you all need this in your life because the physical home button on the Galaxy S6 is your starting point for interaction. You tap it to wake the phone, so your thumb is already there, touching the fingerprint sensor. With a single click to wake the phone, followed by another second with your thumb on the button, you can unlock your phone. It doesn't change the way you typically interact with your phone, but is securing it should you lose your phone, if someone steals it, or if your child grabs it and wants to download $2,000 in in-app purchases on their favorite game.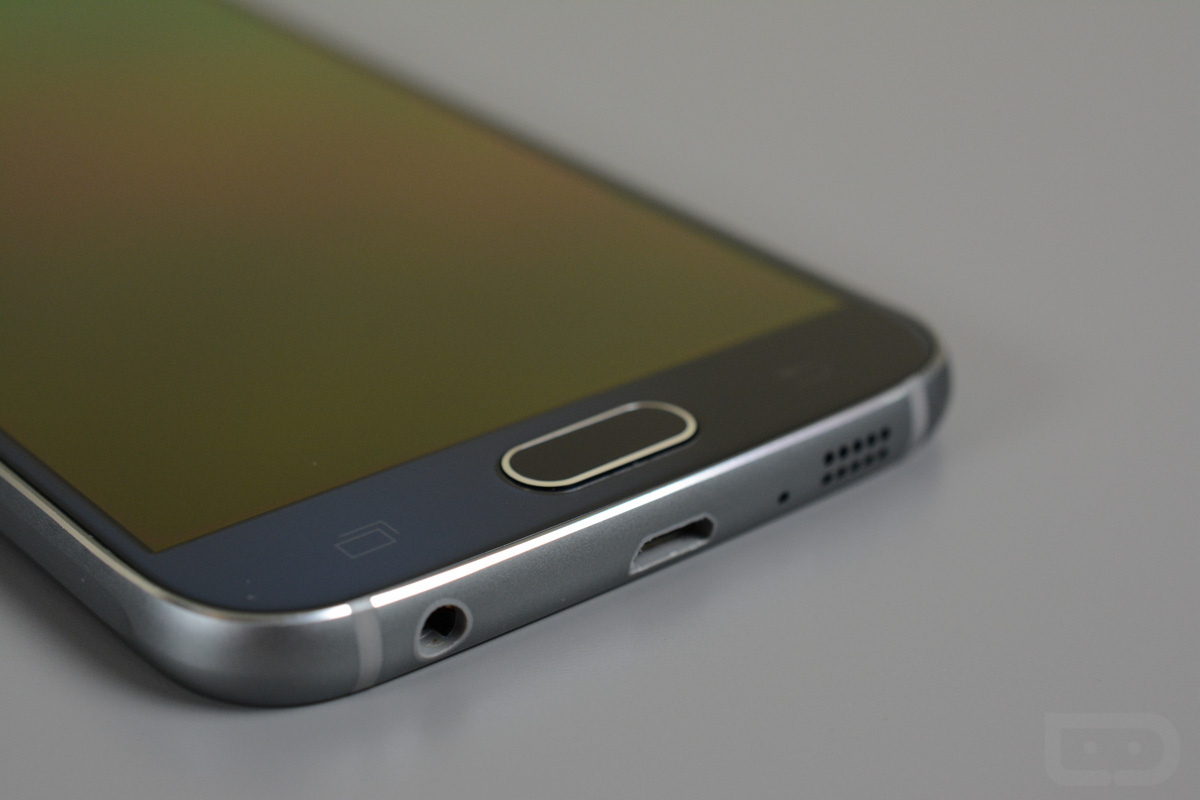 Availability
The Galaxy S6 is available everywhere. Verizon, AT&T, T-Mobile, Sprint, US Cellular, Cricket, and others all have this phone for purchase. You can even buy it at Target and Walmart and Best Buy and Amazon. You should have zero issues picking up this phone or at least getting one in hand for a few minutes to test it. This seems like an obvious thing, but if you were at all involved in smartphones three or four years ago, you'll remember the frustrating experience we had with specific carrier variants and availability because of them. Times have changed for the better.
Accessories
When Samsung releases a new flagship, they try to accompany it with a series of official accessories. From flip covers to protective cases and wireless charging pads, Samsung has got you covered. But what we really love about phones like the Galaxy S6, phones that are exactly the same size and shape no matter where you buy one from, is the fact that dozens and dozens of 3rd party accessories makers will flood the market with other, affordable accessories for them. If you don't want to spend the money on Samsung's $50 flip cover, you will easily be able to find a similar option through Amazon for under $20. You'll find some for under $10 as well, along with dozens of wireless charging pads and headphones and cases that are either minimal or ultra-protective. You see, when you have a single design, it is so easy for your favorite accessory makers to have products available. Also, don't forget that the Galaxy S6 is like the iPhone of Android, so companies that specialize in accessories would be foolish not to have be ready for its launch.
Somewhere-in-the-Middle
---
Battery Life
EDIT:  I see everyone is completely scared now that I posted these battery numbers. Let me preface this by saying that I am notorious for having lower battery life numbers than almost everyone else in the world. I can't explain why that is, but it's just the way it is. Go look at my Moto X, Nexus 6, and Turbo reviews – they all have the same 2 hours of screen on time, and die relatively the same. Maybe we should call it the "Kellen Battery Life Test" so that you can add 2-3 hours of use and screen on time to the numbers I post in each review. Either way, this is actually average battery life for me, whether it looks disappointing or not. I would imagine that my odd numbers (even though they are like this in every review) will be slightly better for you.
Battery life for me has been what I would call "average" at this point. However, I really need to do some additional testing before I can fully decide where this section needs to end up. Most of us with the phone are under the impression that there is some sort of a WiFi calling bug on the T-Mobile version that can substantially limit battery life. This is something that has been tough to prove, which is why I need more time here. I spent the first handful of days with the phone with WiFi calling turned on, but have since gone with it and WiFi off for the most part. I also may have identified a battery-draining beast of an app that is now no longer on my phone. In other words, my battery tests are not fully complete, at least to my standards.
During my first week with the phone, I have seen a steady 11-13 hours of normal use on a single charge. Yesterday, with that previously mentioned battery-draining app gone mid-way through the day, battery life seemed to get a boost to over 14 hours. Again, you can see why I now want to do some more testing.
For now, though, because April 10 is almost here and you need something, these are the numbers I saw over the last week.
After a couple of additional days of testing, I will update this post, likely by the time April 10 gets here.
Update:  As I mentioned above, I decided to take two more days to see if some tweaks and an uninstalled app would make any difference in battery life. They didn't. I'm still getting 11-13 hours of use. But, as I mentioned in that edit, this is my battery life, and my battery life is almost always lower than everyone else's. Your's, I would imagine, will be better than this by a couple of hours.
TouchWiz
As a fan of stock Android, I'm probably never going to be a big fan of an Android skin. Samsung's TouchWiz, in particular, has almost always been my least favorite. Its blips and bloops and droops and water noises and Choco Cooky fonts and ugly icons and terrible color schemes have always driven me a bit mad. When I use a Samsung phone, I almost always apply as many third party apps to it as possible to try and hide Samsung's vision of Android. All of that has changed somewhat with the Galaxy S6.
Samsung actually listened to its loudest critics this time around, toned down TouchWiz a bit, got rid of some of the bloops and blips and water noises, and overall, gave us a lighter, faster moving Android Skin. I still don't know that I would call it modern or anywhere near what it would look like under a can of Google's Material Design paint, but it's no longer completely gross. Sure, the icons are the same old icons, there are far too many settings even though Samsung trimmed a bunch out, and all of the gestures, Flipboards, and bloatware are unnecessary. With that said, I'm finding that TouchWiz isn't always in my way – it's just there, doing its best to not annoy or slow me down anymore. That's a positive, no?
Options like Multi Window remain, giving you the opportunity to perform two tasks at once or use two apps at a time. I also like that Samsung allows you to control little things like vibration intensity, grid size on the home screen, shortcuts to my most used settings, and download big files faster with Download Booster. I really appreciate the floating box that appears when a call arrives, as well, so that I don't have to leave what I'm doing. But mostly, I turn all of Samsung's stuff off to give me my own Android experience. It's all there if I want it, but on most days, I find that I don't, and that's not a bad thing.
TouchWiz is getting better, even I can admit that.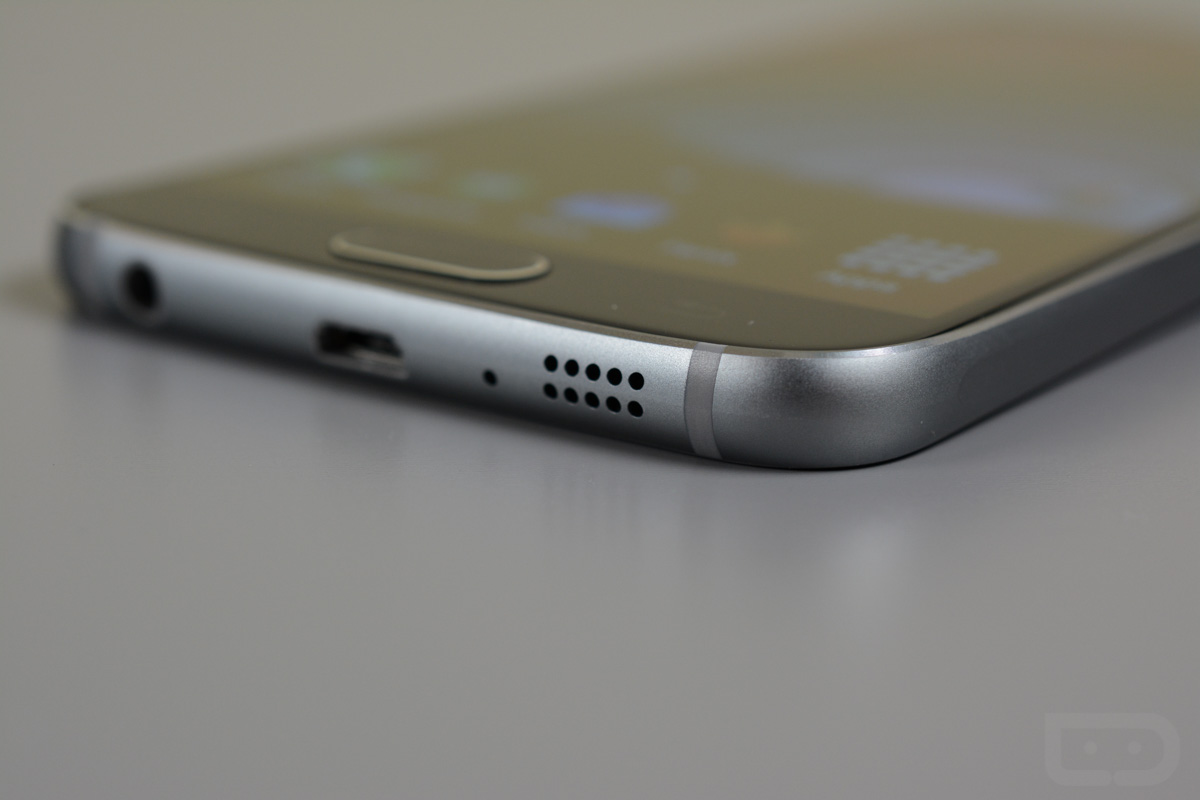 The Not-so-Good (for some)
---
No SD Card Slot, Removable Battery, or Waterproofing
If you are at all interested in the Galaxy S6, then you probably already know that it doesn't feature a micro SD card slot, removable battery, or any form of waterproofing. For some, those exclusions are deal breakers. For me personally, I can tell you that during this review period, I never once said out loud, "Man, I really wish this phone had a micro SD slot, removable battery, and was waterproof." That's not to say that Samsung's 180 on all three of these features from one year to the next isn't something to complain about, it's that I've become used to these features not being included in phones. I can't even tell you the last time I thought about swapping a battery. In fact, I don't think that I ever want to swap a battery again in my life.  Waterproofing is obviously a nice addition, but I'd much rather take this premium design than plastic flaps and faux metals. The SD card slot I could use, but with cloud storage of photos and music streaming services galore, I can't say that I'm all that worried about even filling up a 32GB Galaxy S6.
And again, I fully understand how the lack of these three things could cause someone to turn to another phone. In many situations, they are extremely important. They just aren't for the majority of smartphone users.
Other Notes
---
Pricing:  The Galaxy S6 and S6 Edge are expensive phones. That shouldn't shock you since Samsung tossed in all of the tech we just mentioned, but be aware of that fact. The 32GB (least expensive) Galaxy S6 starts at $199 on contract and $599 should you buy it from Verizon. Tack on another $100 to each of those numbers if you want the Edge. At other carriers, the prices only go up.
Speaker:  Samsung bragged about the solo speaker in the Galaxy S6 during their press event, saying that they had greatly improved it all around. I will say this – it gets plenty loud and doesn't sound like complete garbage. It can get a bit tinny at times, when cranked to the max, but overall, isn't an area I would complain about. The placement isn't great, though, meaning it's easy to cover up when the phone is held in landscape. It's also never going to be as loud or good as the dual-front-facing speaker setups on the Nexus 6 and HTC One family.
Video
---
Galaxy S6 Unboxing
[responsive_vid vid_url="3uRRixf9uC8″]
25+ Tips and Tricks
[responsive_vid vid_url="Kvhf9KLLmSA"]
Galaxy S6 vs. Galaxy S6 Edge
[responsive_vid vid_url="Q3nb8QhYqto"]
vs. iPhone 6
[responsive_vid vid_url="xLF2HIEV2VQ"]
vs. HTC One M9
[responsive_vid vid_url="HE_SeMDY_hM"]
Galaxy S6 Edge Unboxing
[responsive_vid vid_url="WRtW4QAzWHc"]
Galaxy S6 Edge Features
[responsive_vid vid_url="jJA0VGC9zMQ"]
Gallery
---
The Verdict
---
You should probably buy this phone. In fact, if you have an upgrade available or are in the market for a new smartphone, why aren't you buying the Galaxy S6? That's probably the correct question at this point. The Galaxy S6 features the best display in a smartphone, along with the best camera, best build quality, and is the most futureproof.  The Samsung Galaxy S6 is not only the best phone available today, it's going to be for a long time.
Good luck, rest of the smartphone industry. Hopefully, you were preparing for this moment or else 2015 is going to be a rough year for you.
---
Galaxy S6 Links:  AT&T | Verizon | T-Mobile | Sprint | Amazon | Best Buy