More information is hitting the web for Samsung's upcoming round smartwatch, and just like last time, it's coming straight from Samsung. The company released its SDK for the device this morning, detailing its possible look and specifications. 
For specs, it is shown that the device will feature 1.65″ display, with a resolution of 360 x 360. In addition, the spec sheet shows the smartwatch should feature 2G connectivity, GPS, heartbeat sensor, gyro sensor, acceleration sensor, pressure sensor, and magnetic sensor.
More importantly, Samsung's UI for the device has been outlined, as the company hopes to wrangle in developers for its Tizen OS for wearables. From the photos posted, it appears the rotating bezel is quite important to basic navigation and functionality, as spinning it can do a multitude of things. On the main screen, you can twist the bezel to see different screens, such as music controls, emails, and trending news.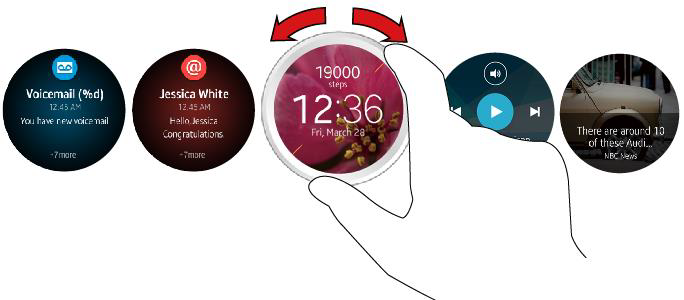 It appears the watch could also come with a preloaded gallery app, allowing users to view photos, and also zoom in and out using the bezel. The photos also show off a few watch faces, but at this point, all of that could change, given that these are purely mockups at this point.
View the other photos below, then share your thoughts down in the comments section. Does this watch sound cool? With the popularity of the Galaxy S6 and S6 Edge, it is possible that the market for a smartwatch such as this could be rather large.