You all remember Samsung's line of Gear devices, don't you? They were the wearables that were originally rushed to market, featured nipple cameras, and only worked with Samsung devices. They also ran Tizen, were re-done a number of times yet never seemed to catch anyone's attention unless they are a part of an eBay flash sale, and always had questionable designs that weren't really classic or mainstream. Remember now? Get ready for a new one! 
According to Samsung, the 7th generation Samsung Gear device is on the way and they want developers to help create awesome apps for it before it launches. But that whole developer thing isn't really the story here – the teaser image for the device is. It looks like Samsung is going to produce their own fully round smartwatch.
The teaser poster, which is included below, says "Get ready for the next Gear," and is joined by a circular watch face, along with circular apps from companies like CNN and Yelp.
Samsung did not say when we should expect this new Gear device, only that this is the first time they are offering up a chance for developers to get a hold of a new SDK ahead of time. My guess is that it will join the Galaxy Note 5 later this summer.
If Samsung makes a new Gear watch that is round, are you interested?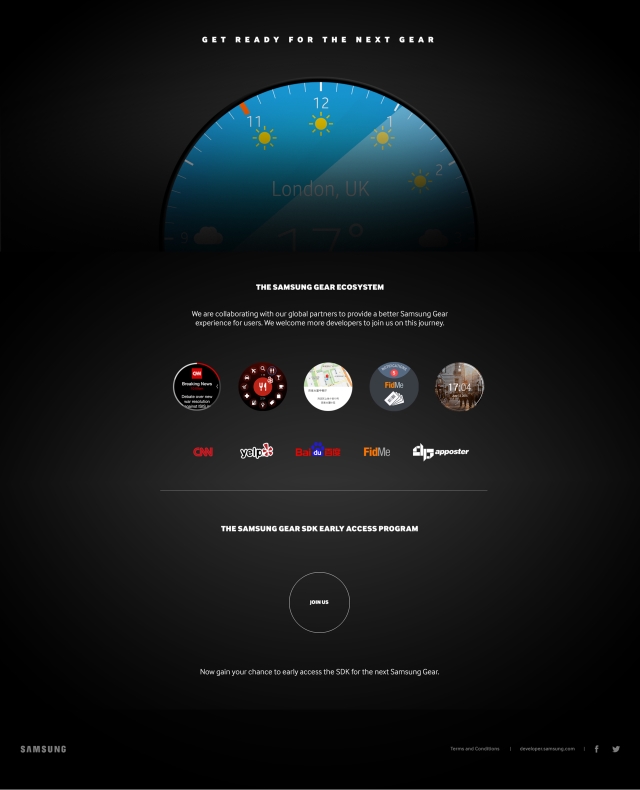 Via:  Samsung