This morning, German electronics retailer, Cyberport, posted up listings for a phone that they are calling the HTC One M9. Along with those listings, they included 8 high-res, official-looking press images of the device in both gunmetal and silver/gold, a massive list of specs, pricing, features, and just about anything else you could ask for when a device has been made official. Except, of course, the HTC One M9 won't be official until next weekend. So what's the deal? Is this really it or not? If so, are you disappointed? 
There are a two things to look at here. First, the images match up in form and color scheme to the early leaks we saw back in January. In other words, the phone looks exactly like last year's One (M8), except that it only has a single camera sensor on the back and a really ugly, two-tone colorway in one of the models (silver and gold). This is also the form factor we saw early on and immediately thought was a shell or dummy device to throw off the trail on what may be the real HTC One M9.
Second, this phone looks nothing like the leak that @evleaks gave us. So far, the image that Evan gave us a week or so after the original One M9 leaks starting rolling out, is the only image of that particular device. No one else has come up with a leak or render or anything close to that single image, outside of a report from HTC Source that didn't include photos.
So which is the real phone? Tough to tell. I certainly don't know. The early leaks – which match up to the phone in this post – are the device we have seen the most, but then again, @evleaks has been right more than any other leaker in recent memory, especially when it comes to HTC stuff. Leaker @upleaks, who also has a good track record with HTC leaks, seems to be leaning towards the device featured in this post as being the real deal, but won't fully give his blessing. HTC Source, a site dedicated to the HTC beat, seems to be on the side of @evleaks. I'd say it's a split at this point.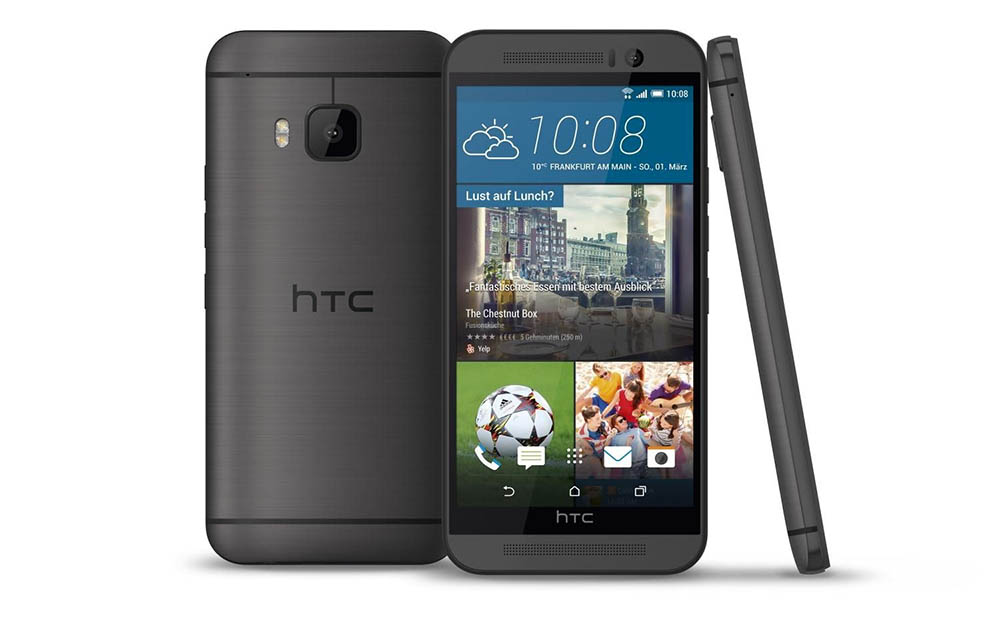 My gut, is telling me to go with the image that @evleaks posted and that HTC Source is also behind, which would be the phone not featured in this listing from Cyberport. While a company like Apple can re-release the same phone design two years in a row and still be successful, HTC probably won't ever be in a position to do that, especially if you consider how weak sales of the One (M8) were. Sure, they can keep a similar design from one year to the next, just like they did with the One (M7) and One (M8), but the phone shown here is basically just the One (M8) all over again with some swapped internals and a single camera. If HTC were really to do that, it just feels like they are digging their own grave.
And look, I could be wrong, but man, I hope I'm not. The phone that @evleaks gave us looks modern, fresh, and like the future. It looks like a phone that is ready to bring HTC back. The phone here, just looks like we're living out 2014 again.
So here is what I want to know. After taking a look at the images in this post and the full set of specs pulled from Cyberport listings, let us know your thoughts. Would you be disappointed if this is the real deal – if this is the HTC One M9?
Note:  Before I could even get this post up, Cyberport pulled its listings.
Specs
---
Processor:
2 GHz Qualcomm Snapdragon 810 Octa-core processor
Memory:
3 GB of memory
32 GB internal memory
Maximum memory expansion to 128 GB (microSD)
Display
12.8 cm (5.0 inch ) display
1080 x 1920 pixels
Capacitive touch screen , multi-touch
Camera
20 megapixel camera
4.0 MP front camera pixels Ultra
Photo light
Maximum video resolution: 3264 x 2448
Communication
GSM : Quad-band (850/900/1800/1900)
UMTS : Quad-band (850/900/1900/2100)
Wi-Fi 802.11 a / ​​b / g / n / ac
Bluetooth 4.1
LTE
NFC
DLNA
Maximum download speed: 300 Mbit / s
Maximum upload speed: 50 Mbit / s
Interfaces
USB 2.0
microUSB
Headphone-out
Locating & Sensors
GPS
Gyro sensor
Motion sensor
Digital compass
Proximity sensor
Ambient light sensor
Battery & Transit Times
Battery Type: Li-polymer
Power: 2900 mAh
Operating system
Android 5.0 Lollipop
General Data
Without Simlock
WITHOUT Branding
Color: gray
Weight: 157.5 g
Dimensions (H x W x D): 144.6 mm x 69.7 mm x 9.61 mm
SIM card Nanosim
Scope of delivery (in the box)
HTC One M9
USB cable
USB Charger
Headset
User manual
Special Features
-Stylish aluminum design and a naturally curved shape that fits perfectly in your hand
-Overwhelming sound experience with front speakers and surround sound
-Fascinating detail thanks to 20-MP main camera with auto-focus and BSI sensor and Ultra ™ pixel front camera
-HTC Sense 7 extends the personalization options, such as with HTC SenseTMSingle Home and Themes
-Powerful HTC Boom Sound ™ audio with Dolby Audio ™ and 3 microphones
-Blink Feed: now choose from more news sources and received directly is up to date on the home screen
Gallery
---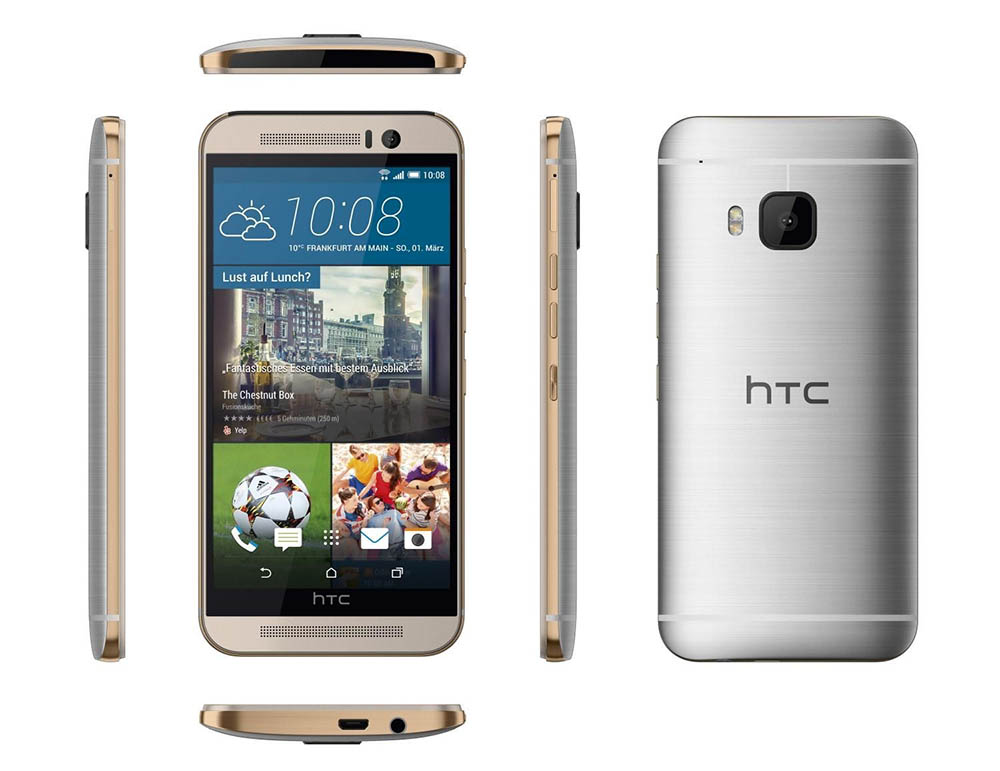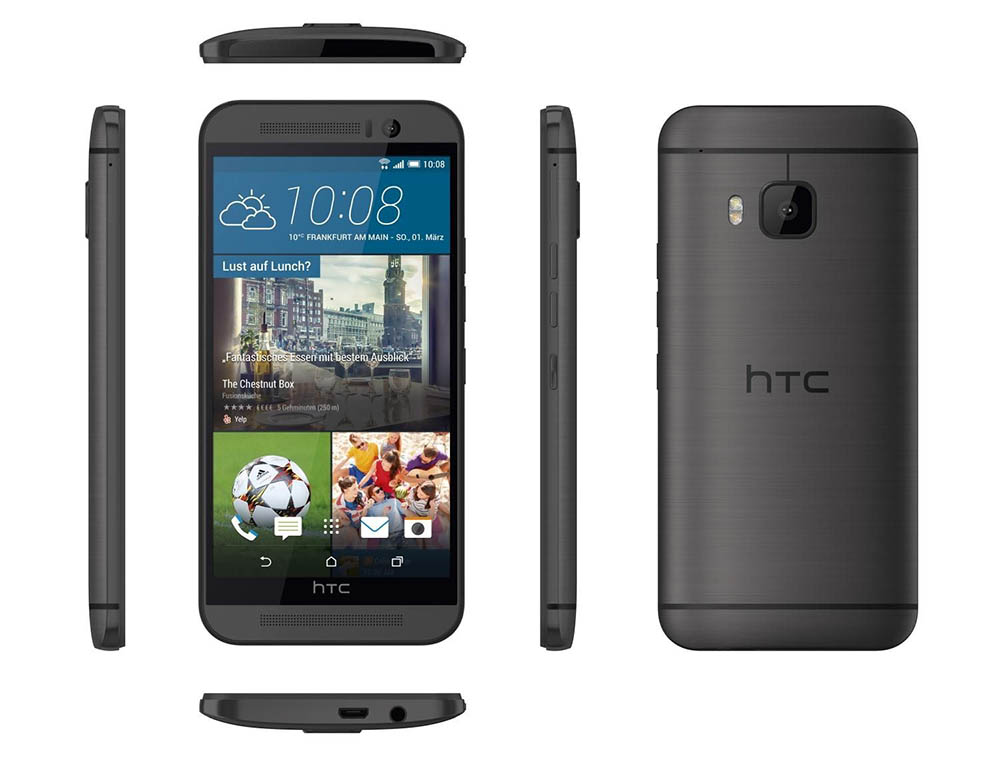 Listings
---
Via:  Cyberport [2] | @evleaks