The DROID TURBO will officially be unveiled on October 28 by Motorola and Verizon. We know that because that's what Verizon has told us through their DroidDoes.com site. We know what the phone looks like, thanks to an image (accidentally?) posted through @DroidLanding that was quickly deleted. We were pretty sure we also knew most of the specs after seeing the user manual for the device surface at the end of last week, along with a tip about the battery size. We know a lot about the DROID TURBO already. Well, we are hear to tell you the rest.
Ready? 
Full specs
Display:  5.2-inch QHD with Gorilla Glass 3 (2560×1440, 565 pixels per inch)
Processor:  2.7GHz Qualcomm Snapdragon 805 (Quad-core)
RAM:  3GB RAM with 64-bit access
Storage:  32GB
Camera:  21MP with dual LED flash (4K video capture, Quick Capture gesture, Highlight reel)
Battery:  3,900mAh hour (48 hours of power); wireless charging
Accessories:  Includes Turbo Charger (8 hours of charge in 15 minutes)
Connectivity:  4G LTE and XLTE-ready, with VoLTE and Advanced Calling 1.0 coming within 30-90 days of launch (Advanced Calling 1.0 required for simultaneous voice and data)
Durability:  Water repellent (coating guards against everyday spills and up to 20 minutes in a downpour), scratch resistant
Body:  Metallized Glass Fiber (MGF), rear cover reinforced with layer of Kevlar
Moto Apps:  Moto suite including Moto Voice, Actions, Assist, and Display; Moto Migrate
Exclusive Zap Apps:  Zap Zone, Zap to TV, Zap with Voice
Colors:  Metallic Red and Metallic Black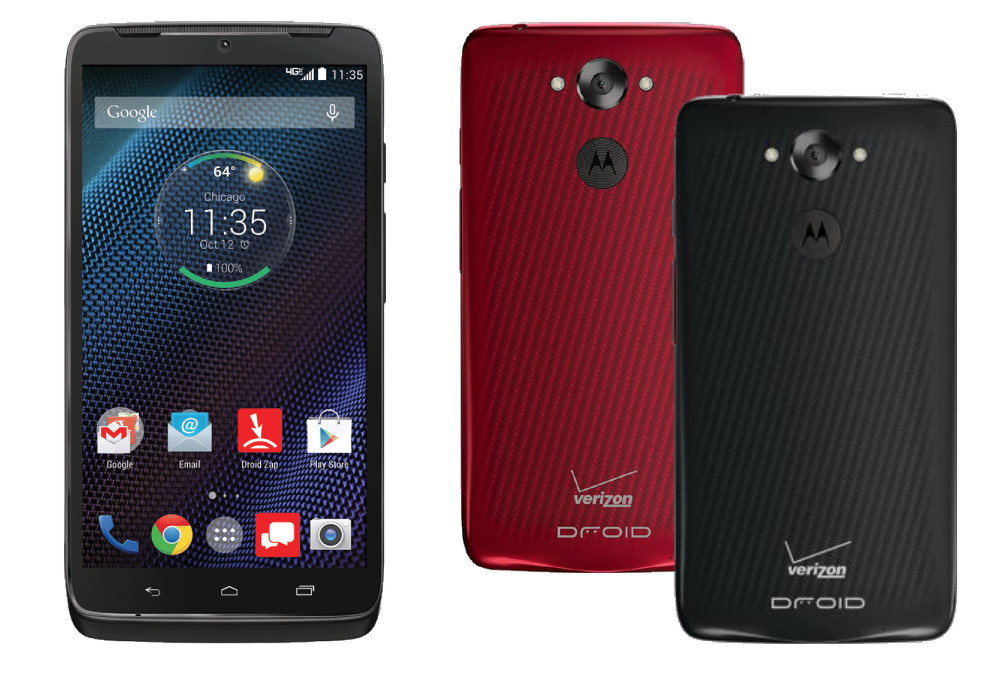 As you can see, this is indeed a device worthy of the DROID name. It packs next-gen specs across the board, like its Snapdragon 805 processor, QHD display, 3GB RAM, and massive battery. It certainly looks like a DROID with its Kevlar back and metallic design. It also should run a lot like the new Moto X, with mostly stock Android coupled with the Moto suite of apps like Voice, Display, Actions, and Assist.
Verizon and Motorola are also tossing in a DROID Zap suite of apps as well, to give owners of the TURBO an exclusive sharing experience. With Zap Zone, you use your phone to create a "Zone" for quickly sharing pictures between friends. With Zap to TV, you can create instant slideshows using your Chromecast. With Zap With Voice, you can capture a screenshot of your phone by saying, "OK, DROID TURBO, Zap my screen."
The only thing we need to know now is the price of this phone. With the Moto X priced at $99 on-contract, could we see the TURBO at $199 on-contract? We will know that last bit on October 28.