It is starting to feel like Motorola and Verizon are on the verge of announcing the DROID TURBO at any moment. After last week's leak of the back panel, a stop off at the FCC, and sources of ours becoming increasingly familiar with the device, we now have a benchmark through GFXBench that lists out a set of specs that have regularly been associated with the next DROID. In short, it sounds like a beast. 
According to a GFXBench listing, we are looking at a phone with a 5.2-inch QHD (2560×1440) display, 2.65GHz Qualcomm Snapdragon 805 processor, Adreno 420 GPU, 3GB RAM, 20~MP rear camera, 2MP front camera, and Android 4.4.4. The device will also likely carry 32GB of storage out of the box, though the device benchmarked here had around 21GB available.
Thanks to info that we found in the phone's FCC listing, it should also sport a DROID MAXX-like battery, support Motorola's Turbo Charger, and maybe even wireless charging.
The phone will be slightly bigger than the new Moto X, partly because of its bigger battery, but also because it will have capacitive navigation buttons.
If you love the look of KEVLAR patterns on the back of a phone, this might be the phone to consider as we close in on the end of 2014.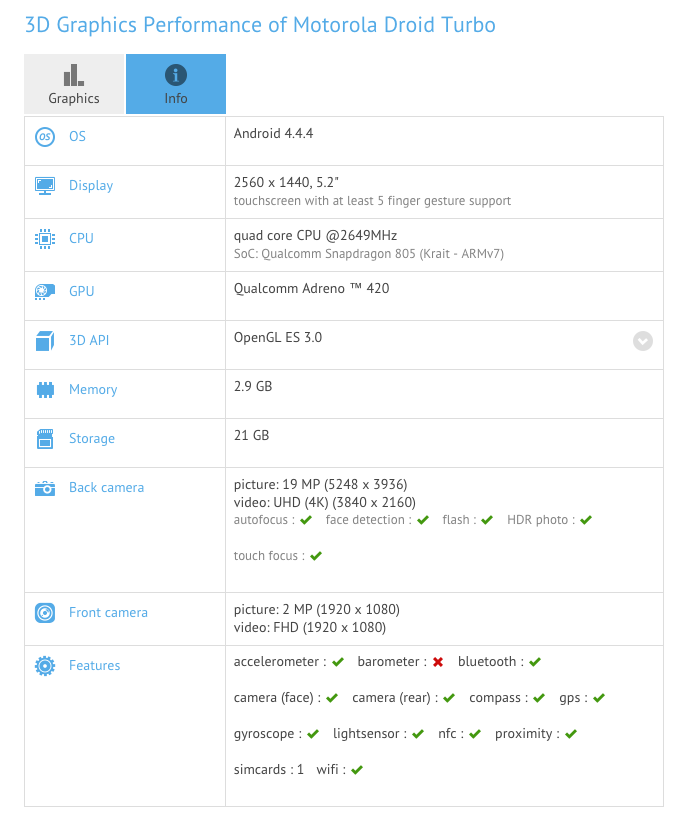 Cheers Justin!