Hot off the heels of LG's G Watch R announcement, Samsung released full details of an upcoming curved wearable of their own, the Gear S. The watch, unlike the G Watch R and Moto 360, is powered by Tizen, much like the other wearable devices Samsung released alongside the Galaxy S5. 
The Gear S features a curved 2.0″ Super AMOLED display, dual-core 1GHz processor, Samsung Gear Apps support, a freakin' Home button, 512MB of RAM, 4GB of storage, 3G connectivity, Bluetooth, and a 300mAh battery.
While no pricing has been made available, Samsung states the watch will be made available globally beginning in October.
Below is the full list of specifications and device gallery.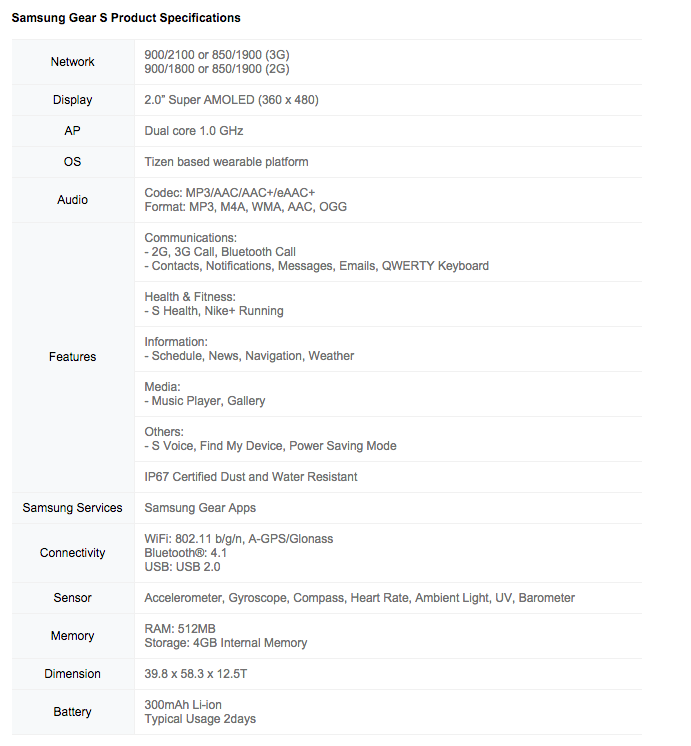 Samsung Gear S Enhances the Smart Wearable Experience

The Gear S offers a beautiful curved design combined with 3G connectivity on the wrist

Seoul, Korea – [August 28, 2014] – Samsung Electronics Co., Ltd. today unveiled the Samsung Gear S, the next generation smart wearable device that expands the smartphone experience to the wrist. The new Samsung Gear S delivers an up-to-date smart wearable experience with 3G connectivity and wearable optimized features to meet the evolving needs of consumers.

"Samsung is leading this exciting and rapidly developing wearable category through progressive innovation," said JK Shin, CEO and head of IT & mobile communication at Samsung Electronics. "The Samsung Gear S redefines the idea of the smart wearable and the culture of mobile communication. It will let consumers live a truly connected life anywhere, anytime."

Designed with an elegant, curved Super AMOLED display and flexible band, the Samsung Gear S fits comfortably on user's wrist. Through 3G connectivity, the Samsung Gear S offers a new, powerful wearable experience and gives consumers the freedom to live their life on the go.

Industry-Leading Curved Super AMOLED Display

The Samsung Gear S features a 2-inch curved Super AMOLED display, providing a richer view with a beautiful and easy-to-use user interface. It allows users to read messages and notifications at a single glance with features such as conversation view and condensed font. The Samsung Gear S's chic, curved design fits comfortably around the contours of the wrist, while its customizable screen options and changeable straps empower users to express their own taste and style.

Truly Connected Experience

The Samsung Gear S extends its communication capabilities to include 3G as well as Bluetooth and WiFi connectivity, allowing users to stay informed with seamless notifications from social networks, calendars and applications even when away from their phone. It lets users to instantly reply to incoming messages using the onscreen keyboard, or utilize enhanced S voice functionality to ensure tasks can be completed immediately. Finally, with the Samsung Gear S, people can seamlessly make and receive calls directly from their wrist, or get calls forwarded from their smartphones.

The Samsung Gear S allows consumers to control how they want to connect, switching easily between 3G and Bluetooth connections, and automatically synchronizing information when paired to a smartphone.

Extended Features & Applications

The Samsung Gear S provides easy access to relevant information through essential widgets and combined notification boards. Its powerful features include turn-by-turn pedestrian navigation provided by HERE, a 24-hour news and views service from The Financial Times 'fastFT', works together with advanced-reading technology from Spritz, and the ability to see and respond to important social notifications instantly with Facebook. Together, these features allow users to be live and actionable while on the go.

The Samsung Gear S is also a perfect health and fitness companion with more enhanced multi-sensors, built-in GPS, and robust S Health features. In addition, applications such as Nike+ Running allow users to track their runs and stay motivated while on the move, without their smartphone.

Also announced today with the Samsung Gear S is the new Samsung Gear Circle. When paired with a smartphone, users can easily receive calls, listen to music, and make voice commands in style through a Bluetooth connection. It features a magnetic lock which clasps around the user's neck when not in use, as well as a vibrate function to signal incoming calls and notifications.

Both the Samsung Gear S and the Gear Circle will be available in global markets in phases through Samsung's retail channels, e-commerce websites and via carriers beginning October.