LG hasn't wasted any time in announcing their brand new round smartwatch, the G Watch R, a device that sports a circular Plastic OLED display and surprisingly premium build materials.  This is far from the cheap plastic square we saw when LG announced the original G Watch just a couple of months ago. 
The new G Watch R sports a 1.3-inch circular P-OLED display (320×320), 1.2GHz Snapdragon 400 processor, 512MB RAM, 4GB storage, 410mAh battery, IP67 dust and water resistant rating, and runs Android Wear. The device is made of a durable stainless steel frame, along with an interchangeable 22mm calf skin leather strap, giving it "an air of modern prestige. LG is calling this the first circular Plastic OLED display that uses 100% of its watch face, which is them taking another shot at the Moto 360.
Can someone tell them that the "30" is upside down?
The G Watch R (what a name) will be available in the fourth quarter of this year. No pricing was announced, but if you are attending IFA in Berlin next week, it will be on display for your viewing pleasure.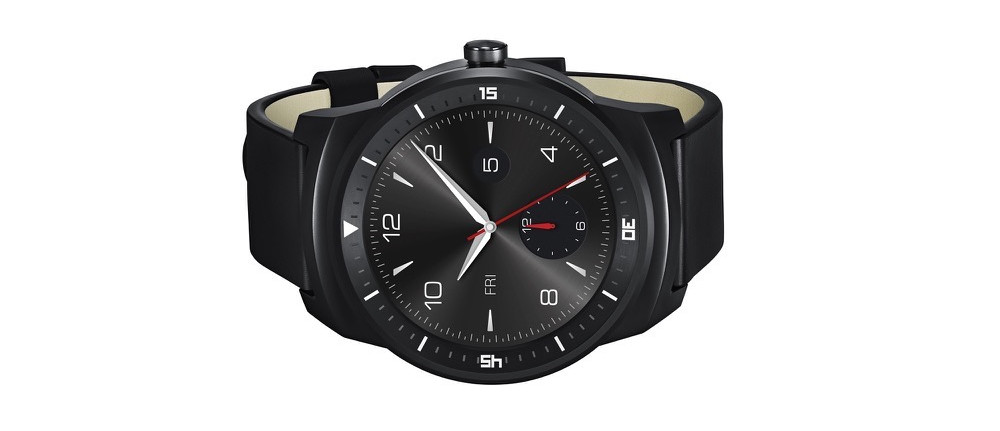 LG READYING SNEAK PEEK OF NEW G WATCH R AT IFA 2014

New Android Wearable First to Feature Full Circle P-OLED Display

SEOUL, Aug. 28, 2014 — Following the June release of one of the first-to-market wearable device powered by Android Wear™, LG Electronics (LG) is quickly expanding its wearable product offerings with the unveiling a new Android Wear device — the LG G Watch R at IFA 2014 in Berlin next week. The LG G Watch R is the world's first watch-style wearable device to feature a circular Plastic OLED (P-OLED) display and utilizes 100 percent of its watch face.

The most eye-catching feature of the LG G Watch R is its 1.3-inch full circle P-OLED display that produces stunning image clarity even under bright sunlight and superb clarity when viewed from any angle. Powered by a powerful 1.2GHz Snapdragon 400 processor, the LG G Watch R offers 4GB of storage, 512MB of RAM and a durable 410mAh battery. This Android Wear device will effortlessly run all compatible apps available in the Google Play Store and with an Ingress Protection Rating of IP67, the LG G Watch R is designed to run for up to 30 minutes in one meter of water.

With Android Wear™ at its core, the LG G Watch R delivers essential and relevant information exactly at the right time and place through voice recognition notifications. With a suite of LG health and fitness apps, users can also monitor their heartbeats with the support of the embedded photoplethysmography (PPG) sensor. And the smart notifications provide users with important reminders of missed calls and messages, upcoming meetings, events, and local weather forecasts.

With an artisanal elegance, the LG G Watch R boasts a refined aesthetic that is reminiscent of traditional timepieces. Replete with a circular watch face, this elegantly crafted Android wearable has classic curves encased in a strong, durable stainless steel frame and carries a suite of watch faces that are accessible with a simple touch of the display. Its interchangeable 22mm calf skin leather strap also complements its overall aesthetic, giving it an air of modern prestige.

"What we've noticed in the year of the wearable is that this is a category that can't be compared to smartphones and tablets," said Dr. Jong-seok Park, president and CEO of the LG Electronics Mobile Communications Company. "Wearables are also accessories and consumers will want more than one to choose from. So we wanted to complement the modern design of the original G Watch with the classic look of the G Watch R. Customers can't go wrong with either device."

The LG G Watch R will be available in key markets early in the fourth quarter of 2014. Prices and details of availability will be announced locally at the time of launch. Visitors to IFA can see LG G Watch R up close in Hall 11.2 of Messe Berlin from September 5-10.

Key Specifications:
■ Chipset: 1.2GHz Qualcomm® Snapdragon™ 400
■Ÿ Display: 1.3-inch P-OLED Display (320 x 320)
■ Memory: 4GB eMMC / 512MB RAM
■ Battery: 410mAh
■Ÿ Operating System: Android Wear™
(compatible with smartphones running Android 4.3 and above)
■Ÿ Sensors: 9-Axis (Gyro/ Accelerometer/ Compass), Barometer, PPG
■ Color: Black
■Ÿ Other: Dust and Water Resistant (IP67)