The first half of the last two years has been all about the competition between HTC and Samsung's new flagships. This year, the battle became testier than ever thanks to HTC calling out Samsung for what it perceived to be a lack of innovation and the continued use of plastics in its Galaxy S5. While you could argue that HTC is either wrong or right, there is no denying the continued success of all things Samsung, with the Galaxy S5 likely only continuing the trend.
We aren't necessarily going to try to settle the battle between these two (that is up for you to decide in the end), but after having reviewed HTC's new One (M8), it is now time for us to share our thoughts on Samsung's Galaxy S5. Tim and I have spent three weeks with the phone, so as you can imagine, we feel like we have a pretty good grasp on everything it has to offer. And just like with our M8 review, we have tag-teamed this one.
This is our Galaxy S5 review. 
The Good
---
Specs
Much like Samsung's previous flagship Galaxy S devices, the Galaxy S5 does not disappoint on paper. The device features a gorgeous 5.1″ 1080p Super AMOLED display with a resolution of 1920 x 1080 (432 ppi), a Snapdragon 801 quad-core processor clocked at 2.5GHz, 2GB of RAM, an Adreno 330 GPU, massive 16MP rear-facing camera sensor, 2.1MP front-facing camera, removable 2,800mAh battery, the world's first dedicated heart rate monitor in a smartphone, a fingerprint scanner, expandable storage thanks to a microSD card slot, Bluetooth 4.0, NFC, 4G LTE connectivity, and finally, comes running Android 4.4.2.
As mentioned, on paper, this device should be an insane flagship from Samsung. As we have seen with other devices, specs are only a small portion of a much larger picture, though. From our time with the device, Samsung's continuous assault on Android with loads of pre-installed software somewhat bogs down the performance of the Galaxy S5, but the specs clearly speak for themselves.
Before release, rumors had pointed to Samsung throwing in a QHD display (2560 x 1440) into the Galaxy S5, but that didn't pan out. Whether that is a good or bad thing is hard to say, given that we don't know quite yet how having a QHD display on a smartphone will affect battery life and performance.
Speaking in just terms of specifications for a smartphone, the Galaxy S5 easily has other handsets from different manufacturers beat out. -T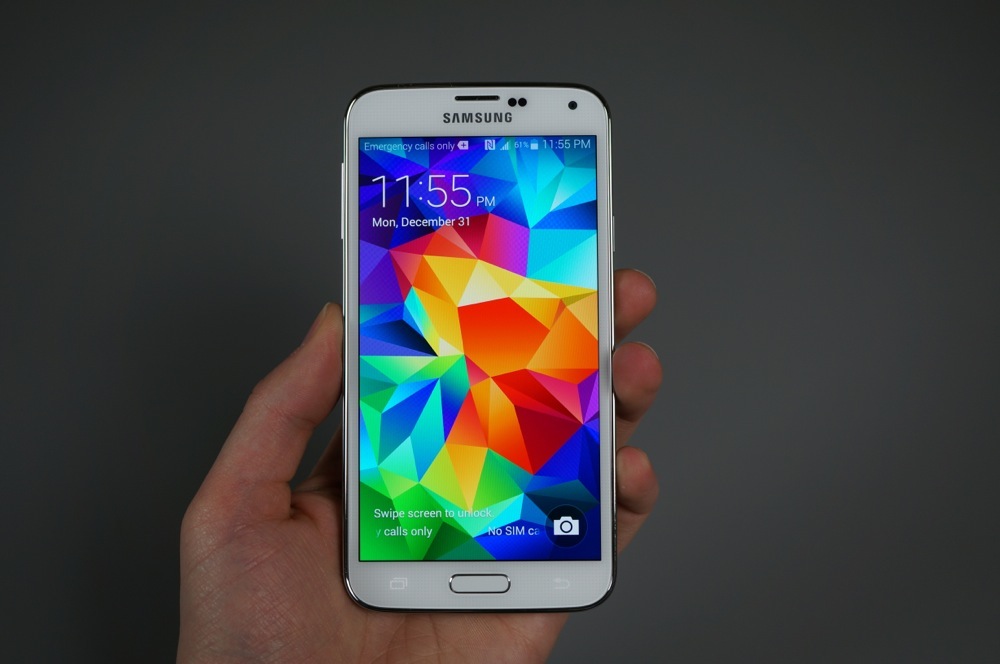 Display
In a report released just days before the Galaxy S5 went on sale across the globe, DisplayMate called the phone's display the "best performing smartphone display that we have ever tested." I would have to say that I agree with that idea. This display is stunning to look at. The Galaxy Note 3 probably had my favorite display up until this point, but the GS5's 5.1-inch FHD Super AMOLED display tops it. As an AMOLED, the colors aren't oversaturated (a critique often expressed in the past when compared to LCD panels), but they certainly seem to have that "pop" that we love without looking unnatural.
Brightness levels are outstanding, the different modes (Cinema, Standard, Dynamic, Photo) allow you to adapt it your current needs (Cinema is said to be the most accurate), screen sensitivity is as good as it is on any Android phone, and the viewing angles are some of the best we have seen to date. Videos look stunning and photo viewing will impress even the pickiest of pixel pros. This is the display you should want in all of your phones.
If you take a look at the comparisons (above-right) of the GS5 to the One (M8) and Nexus 5 at full brightness, you can see how much better the viewing angles hold on the Galaxy S5. When looking at all three from the top down, they all look mostly the same, but the tones on the GS5 come off a bit richer than the other two. My eyes tend to see LCD displays washing out colors, which to me is what we are seeing on the wood of the image on the LCDs of the N5 and M8, along with the grey top bar on the Droid Life home page.
Pixel gurus, you will find the diamond arrangement (above) on the Galaxy S5 to be quite odd looking when spied at it through a macro lens. With that said, your eye can't see this arrangement without a macro lens, so you won't notice it when viewing the phone at a normal distance. Sure, it's not a typical pixel arrangement like you would find on the One (M8), but it produces beautiful results. -K
Camera
The camera on the Galaxy S5 is very good for a smartphone. With its 16MP sensor, Samsung is once again leading the charge on Android when it comes to mobile optics. While the camera software has more features than you'll probably know what to do with, Samsung has at least tried to hide most of them in a Settings menu so that you don't feel overwhelmed. But if you want to adjust exposure, change to specific modes, use HDR, toggle flash, set a timer, detect faces, or shoot in burst mode, you can. It really is all there, plus Samsung will even let you download new shooting modes for those specific situations where you want to have some extra fun with your smartphone camera.
The UI in general, though, is much better than in years past. First of all, you can quickly access the camera from the lock screen of the phone with a simple swipe up from the camera icon in the bottom right corner. Once inside, you'll see your shutter, video, mode, and gallery buttons on the right. On the left, you have a button for switching between front and rear cameras, plus three customizable shortcuts, and then a full settings menu. I'll admit that there are too many buttons, but they aren't necessarily placed poorly. And, once you take advantage of those three shortcuts, I think you'll find the camera UI to be quite good. It's nothing new or refreshing like Google's new Camera, but it works.
If you want to talk photo quality, look no further than the photo below, that Tim took. Can you see the amazing detail on that bug? If not, click here to see a crop. Thanks to the 16MP resolution, this is what the camera is capable of, something the HTC One (M8) will never be able to replicate with its 4MP sensor.
The rest of our samples show the brilliant color the Galaxy S5 is capable of capturing, how well it takes macro shots, its ability to capture a face, how well it takes landscape shots that contain different levels of shadow and light, and how its selective focus can create solid bokeh for a camera that only has a single lens (yes, we are looking at you, HTC).
I will say that Tim's 16:9 shots all seem to have correct exposure and accurate color, while the photos I shot in 4:3 often look overexposed. I also ran into issues indoors while at the Trail Blazers' arena where the camera couldn't handle the crazy amount of unnatural light and gave me all of four acceptable photos out of 10-15. The rest of my results were perfectly fine.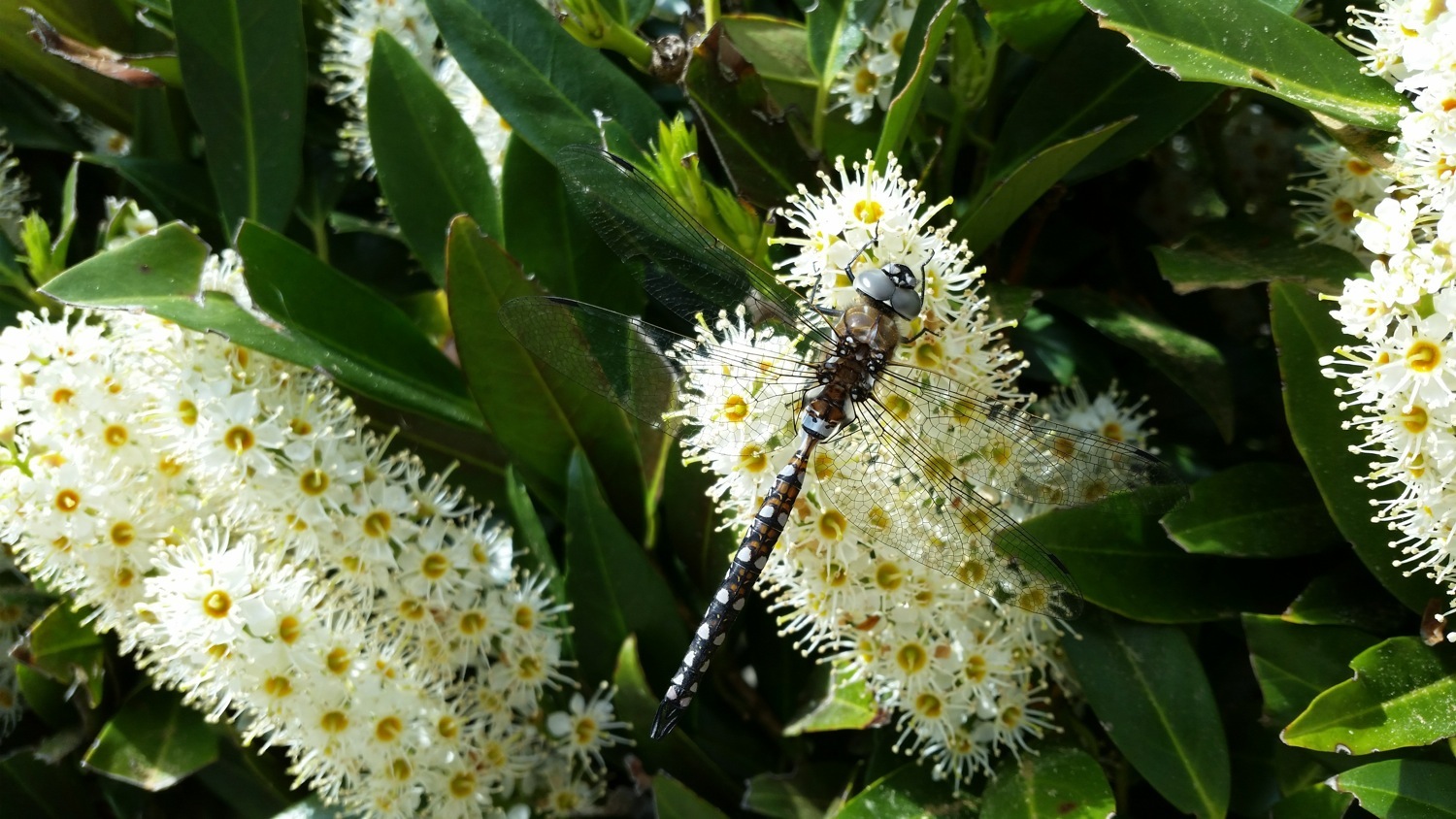 The Galaxy S5 features a couple of notable shooting modes that are worth pointing out too. You should most definitely download Surround Shot (Mode>Download), as this is a take on Google's Photo Sphere. In the Settings menu, there is also a mode called Selective Focus, which allows you to refocus photos after you have taken them.
Overall, the camera on the Galaxy S5 did not disappoint. You may want to play with the exposure depending on the setting, but overall, the camera straight out of the box is capable of taking brilliant photos with high amounts of detail and punchy colors that are certainly share-worthy.
Removable Battery, SD Card Slot, and Wireless Charging
Samsung continues to stick with a handful of features that others continue to either ignore or move away from. First, they put a removable battery in the Galaxy S5, just like they have with all of their phones. This means you can swap batteries when in need, but also potentially change the look of your phone by tossing on a new back cover. Second, Samsung included a micro SD card slot as well, that holds up to 128GB cards. Google wants the SD card to die a quick death, but Samsung has realized that its users want the extra, removable storage. And last, Samsung has already created a line of wireless charging accessories (not quite available yet, though) because they realized the benefits of not having to plug in your phone each time, especially with the new flap that covers the charging port on the GS5.
It's these little things that help Samsung phones stand out from others, in my opinion. I for one, love having expandable storage even if developers hate it. I also like being able to lay my phone down on a charging pad without ever needing to find a cable. -K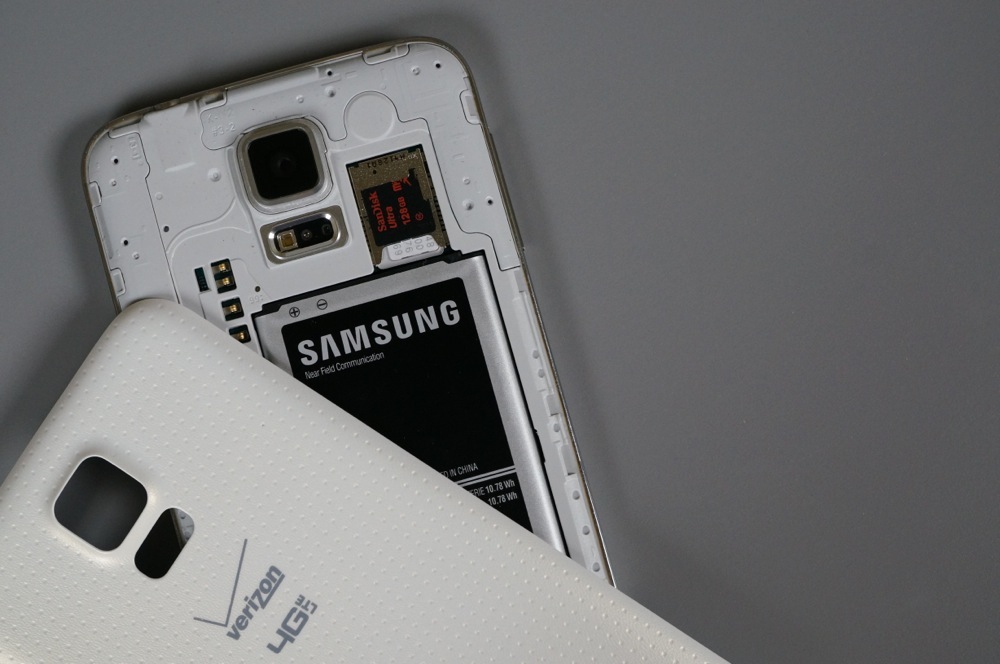 Availability
As is tradition, Samsung continued to make the Galaxy S5 one of the most widely available devices in the entire world. Global launch took place on April 11, with roughly 125 countries having access to it. Here in America, all of the major carriers like Verizon, AT&T, T-Mobile, and Sprint had the device on launch day, available for $199 on contract. The device to this day is still purchasable for the same $199 price on contract, but can be also picked up for $599-$649 off contract depending on which carrier you go through.
If subsidies or locked bootloaders aren't your thing, there is a Developer Edition of the Galaxy S5 in the works, which is reported to come to Verizon and other carriers at some point down the road. As we saw with the Galaxy S4, there could also be a Google Play Edition of the Galaxy S5 coming, but there has been no word or confirmation from Google or Samsung as to whether it will actually happen.
With availability of the device so open across the world, it's no wonder why Samsung is so strong in the Android marketshare numbers. -T
Accessories
Ever since Samsung started producing a single device in a single form factor for all carriers across the globe, an overwhelming amount of accessories have been available. With a single design, accessory manufacturers have flocked to their devices, so you are almost guaranteed to be able to find something you will like for the Galaxy S5, whether it be a new slim case, an ultra-protective cover, screen protector, or dock. And since everyone is producing Galaxy accessories, you will find them priced reasonably as well. The more options, the more competitive the pricing has become. -K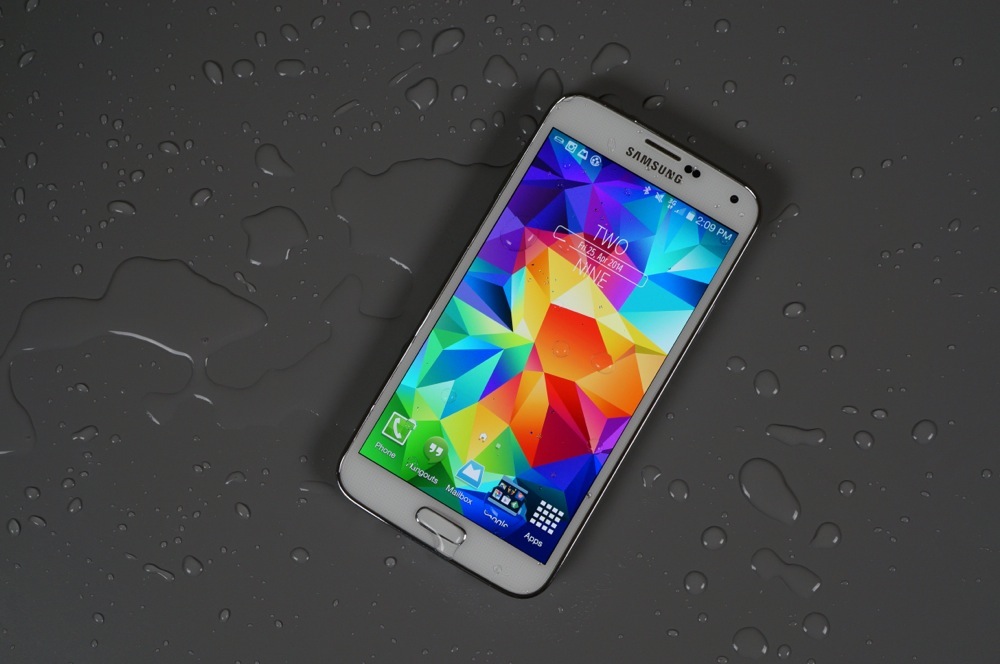 Water and Dust Resistant
On the water and dust resistance scale, the Galaxy S5 weighs in at IP67. The 6 means it has complete dust protection and should be sealed fully. The 7 means that it is water resistant in up to 1m of water for 30 minutes. That's not bad at all, especially if you plan on dropping your phone in a toilet, sink, or puddle of water occasionally/accidentally (not recommended). It should survive all of that over and over again, assuming you have the back battery cover and micro USB port cover sealed properly. Thankfully, Samsung will remind you constantly to check the seal on both of those locations in case you run into a situation where you need that Ip67 protection to come into play.
During my quick water test, I took the Galaxy S5 and dunked it for a minute or two in vase full of water. I then laid the phone on a table, dropped more water all over it and snapped some pretty pictures of the results. As you would expect, the phone survived and still works just fine to this day.
Keep in mind that the phone is water resistant, not waterproof. This is not the ultimate, survive-all, kind of phone, but it was built to survive some of those common situations I mentioned above. The fact that Samsung made it IP67 is a bonus in our book. -K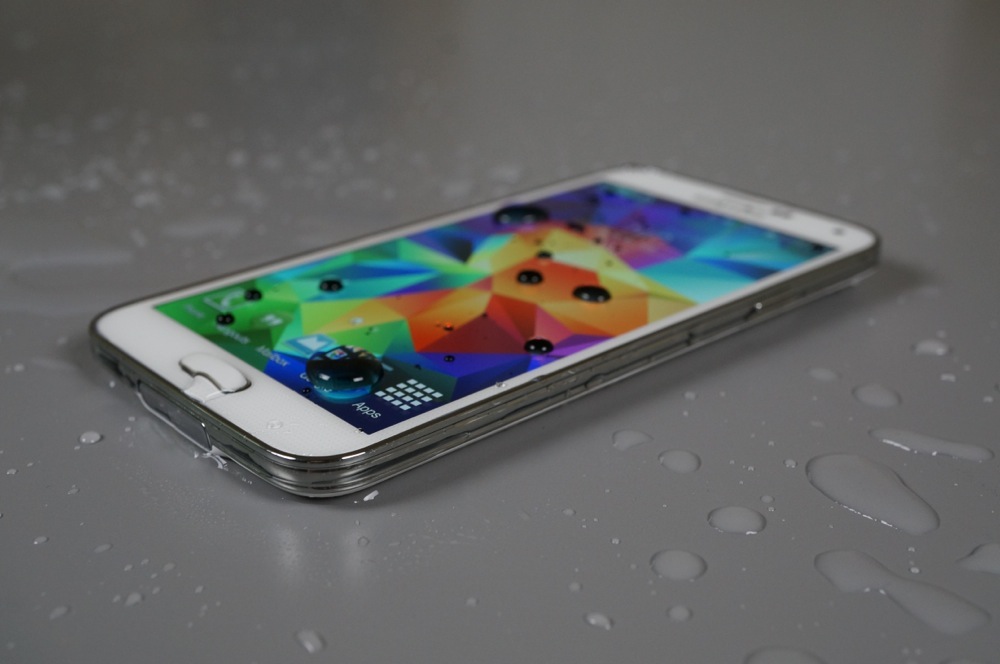 Somewhere-in-the-Middle
---
Battery Life
It seems that Kellen and I differ slightly on how we feel about the battery life. I thought the Galaxy S5 did better than I had initially expected, but Kellen experienced rather dismal battery performance from his time with it. For the sake of fairness, since we both live in different areas and have the Galaxy S5 on different carriers (me on AT&T, Kellen on Verizon), we will say that the Galaxy S5 battery life hits par for the course. It is powered by a Snapdragon 801 with 2GB of RAM, while also lighting up a 5.1″ Super AMOLED 1080p display. Let's face it, the battery, no matter its size, has its work cut out for it.
While I personally was able to get a solid day out of the Galaxy S5 which included a normal day of work, errands, and late night grub runs (two sets of screenshots on the left). If I didn't go anywhere throughout the day and then didn't plug in the phone overnight, I could get a day and a half easily (mostly on WiFi). The battery life isn't outstanding, not by any means, but it wasn't bad either. It was just what you would expect from a device with a ton of features running in the background and top tier specs.
Kellen, on the other hand, had pretty terrible battery life to report, which can be seen in the two sets of screenshots on the right. It could be that Verizon doesn't have great coverage in his area. As you can tell from his tests, his signal wasn't green most of the time, so the battery life was likely suffering. Reports elsewhere tend to be more in line with my results, not Kellen's. Battery life shouldn't be something to worry about if you purchase the Galay S5.  -T
TouchWiz
For years, we have complained about the dated design and overwhelming number of features contained in Samsung's TouchWiz skin atop Android. With the Galaxy S5, Samsung is finally giving us a major makeover that combines the design world's new love of all things flat, while still maintaining a familiar TouchWiz aesthetic that long-time Galaxy owners will understand. It's actually quite pretty for the most part, but the whole experience can still be overwhelming to someone looking to do the simple things. As is the case in most smartphone situations, and something Motorola proved to us is an organizational focus for its phones, less is more.
As far as the look of the new UI of TouchWiz is concerned, I get the feeling that most of you will be satisfied. Gone are the Gingerbread-like columns and colors, in is the flatness. From the new notification pull-down circular icons to the revamped Settings menu and the somewhat-Android-guidelines-followed redesigns of core apps like S Health and the Gallery, Samsung has made steps towards a better Android skin. You will still be annoyed by bloopity blooping touch noises (please turn them off) and overwhelmed by the 37 categories in the settings area, but it at least looks much better.
Where we found problems with TouchWiz in the Galaxy S5 is where we always find problems. There are far too many settings (again, there are 37 to try to figure out), too much nature-noise non-sense going on, and still far too many features that we aren't sure we will ever really need. Things like Toolbox, Multi Window, and One-handed Operation are quite useful in a variety of situations, but others like the Fingerprint scanner, Motion Gestures, and Air View just seem so unnecessary or half-baked. And what happened to really helpful features like app shortcuts and widgets on the lock screen? Why did Samsung allow Verizon to kill off Paypal fingerprint authentication? Where is Download Booster on most U.S. variants? Why can't I swipe between the panels in the Dialer? Why is it so painful to create a folder on a home screen? Can we ease up on the bloatware? Why does Samsung insist on investing in their own Apps store when we have Google Play?
TouchWiz has changed for the better in many situations, but again, the same overwhelming nature of it still makes it one of our least favorite Android skins. The Galaxy S5 is yet another phone that we would advise you install a 3rd party launcher on immediately. -K
Speaker and Headphone Output
Coming from an HTC One (M8), the Galaxy S5 was quite a step down in the audio department. I listen to music on headphones a lot throughout any given day, and when I notice that audio quality and overall volume is somewhat poor, it drives me from a device rather quickly. What the Galaxy S5 does well is that Samsung baked in its own audio settings, which allows users to control a very wide range of EQ settings. You have your presets like Rock, Hip Hop, and Classical, but it also has a variety of different artificial effects your music can be sent through. For example, if you want a more auditorium tonality to your music (with more echoes and open sounds), you can select Concert Hall. If you want a classic rock vibe, you can choose a Tube Amp preset, which brings sort of a warm and crunchy tone. As someone who spent years in a metal band, obsessing over tones and effects, I was somewhat surprised at how much of a variety I can choose from on the Galaxy S5.
Unfortunately, these presets don't exactly make your music sound any better. To top it off, I found that the Galaxy S5 didn't get loud enough for me or feature a "full" enough sound. I was left wanting more bass or more mids, longing to have HTC's BoomSound software on the device. The One (M8) features fantastic speakers for when you want to not wear any headphones, and of course, the Galaxy S5's single speaker can't live up to that. Sure, the GS5's speaker gets plenty loud, but the sound just isn't as close in the quality department to HTC's. -T
Health Features
When Samsung announced the Galaxy S5 with heart rate monitor and its new line of Gear wearables, I was really excited to dive head first into this new fitness-focused ecosystem. I can tell you right now, that after using its set of fitness features, that I have already stopped using because I have other fitness products I prefer. With that said, it's something that can be improved over time and could be very useful to some who don't already own fitness trackers, so don't completely write it off just yet.
The Galaxy S5 comes pre-loaded with S Health, the hub for most of your fitness categories like pedometer tracking, exercise records, heart rate and food logs, coaching, weight management, and your profile. The pedometer is a tracker that needs to be turned on each day, as it won't track your steps otherwise (automatically). The Exercise option allows you to track things like running, walking, cycling or hiking. Running is where most of my testing took place. You can take your heart rate using the built in heart rate monitor (Samsung says this is a first for a smartphone). And if you would like to fully take your fitness tracking to the next level, can keep a diary of your food intake, manage your weight, and even use Samsung's coach-like feature that tries to motivate you to workout more.
I took the Galaxy S5 on a run that used GPS and the phone tracked my run very well. The pace was spot on with my other trackers, plus it gives you a heat map of your pace throughout, tells you speeds, elevation, and will even let you take a picture to put a memory with your workout. The calories burned count was in the ballpark of where it should have been as well. During runs, you can set goals, use an audio guide, and add music, just like any good fitness tracker would do.
The heart rate monitor works, I think. Since I don't have another heart rate monitor to compare it to, I can't exactly say that it is bad. I can tell you that the phone does a hell of a lot better job than something like Samsung's Gear Fit. As you check your heart rate regularly, Samsung logs them, tosses them in pretty graphs, and really keeps tracks for the most part to help you monitor performance. If you don't have a heart monitor, this is at least an option.
My problem with S Health generally comes back to all of the work required to maintain everything. Beyond the sluggishness of the app, it just seems like you are constantly having to tell S Health every single little thing about your life. From keeping up your weight to counting calories for each meal to telling it to start tracking steps to dealing with a faux coach to attaching third party apps to bringing in info from a Gear device to checking your heart rate. It is a lot of work that I found I didn't have time for. Samsung has updated the app several times over the last couple of weeks, though, and even added a new Sleep tracking app that can pull in info from Gear wearables, so it's clear that Samsung is fully invested in this new healthy ecosystem. If you are needing the structure of a fully-featured fitness tracking solution, this may do an acceptable job. It will also keep you from having to buy anything else since the Galaxy S5 tries to do it all. -K
The Not-so-Good
---
Design
The design of the Galaxy S5 just feels like a step in the wrong direction for mankind. The phone is abnormally large when compared to what Samsung did with last year's flagship phone. They squared it off, making it uncomfortable in the hand. They tossed on a slippery, dimpled exterior coating. They increased bezels dramatically. There is this really obnoxious flap that covers the charging port that will likely break within two months of use. And the faux-metal rim job is nothing but an ugly disaster that makes the whole package look and feel cheap.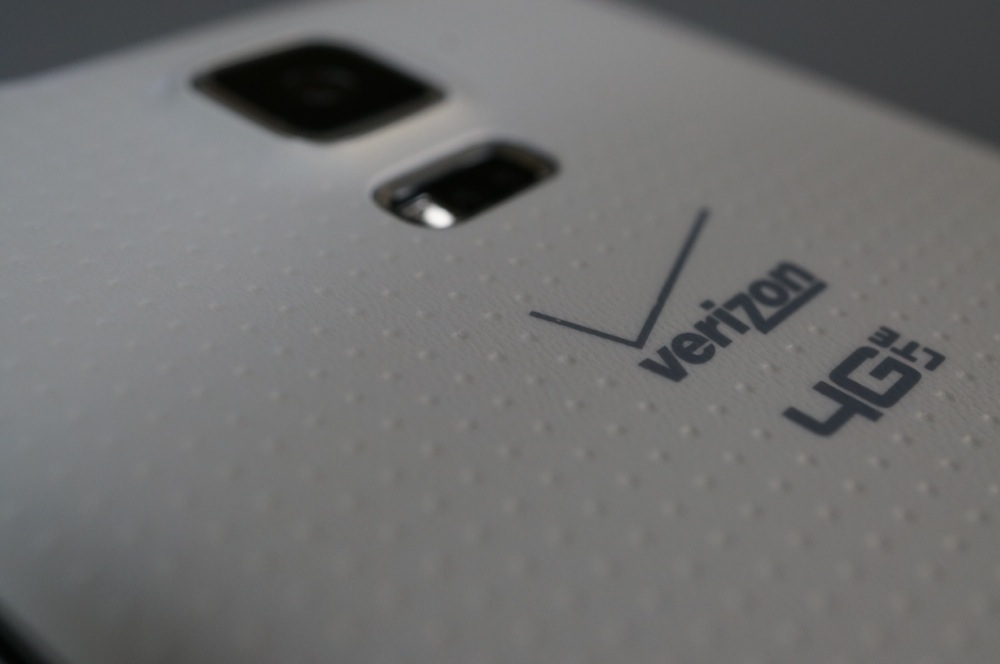 Last year, Samsung bragged (and rightfully so) about how they had made the Galaxy S4 smaller than the Galaxy S3, but upped the screen size and shrunk the bezels. This year, they barely bumped up the screen size from 5.0″ to 5.1″, yet added 6mm of height and another 3mm of width. I'm not saying that they needed to work some miracle and create a smaller S5 than S4, but why the huge jump in size?
As for the shape of the phone, I can tell you right now that if you are going to make your phone this big, you better think about rounding it off some. HTC understood this with the One (M8) and Motorola clearly did with the Moto X. Round things feel better in your hand. The Galaxy S5, has rounded corners, yet somehow feels so squared off that it's uncomfortable and at times awkward to hold.
Bezels are bezels. We hate them, you hate them. The Galaxy S5 has an extra amount of bezel when compared to the Galaxy S4 or other flagships of today (not counting the One (M8)). Since the phone grew so much, I really would have not liked to see this much bezel hanging around.
My complaint with the flap that covers the charging port is two-fold. But first, understand that I am fully aware that it is needed in order to make the phone water resistant. I get it, I get it. The problem with the flap, is that it is very difficult to maneuver out of the way of the massive USB 3.0 cable that is used to charge the Galaxy S5. It is also as difficult to re-attach the flap. It takes some real wiggle-work in order to get this thing in place. Finally, I am actually surprised in my three weeks of testing that it hasn't broken off. If this flap lasts you two years, I would be shocked.
Finally, Samsung removed the gross, glossy coating of previous phones, instead going with a dimpled, almost matte finish. It looks a lot better, but it has been slippery in my testing. Also, the faux-metal rim around the phone – come on, Samsung, you can do better than that. This phone is just begging for a case like no phone has begged before. -K
Performance
Now comes the sad part, which if you would have asked me when we traveled to New York to see the Galaxy S5 for the first time, I would have called you crazy. The overall performance and multi-tasking capability of this device is rather embarrassing and hard to comprehend. As we said in the specs section up top, this device features next-gen hardware – a Snapdragon 801 processor clocked at 2.5GHz, 2GB of RAM, an Adreno 330 GPU, and runs Android 4.4.2 Kit Kat. Even with these specs, the Galaxy S5 seems to lag and stutter all over the place, with issues most apparent when switching between applications. I have had the device completely freeze at least a few times when web-browsing on the Chrome browser, as well as just skimming through my Twitter timeline clicking on external links. The new multi-task button also fields a solid 2-second delay before popping up your list of recently used apps. My worst nightmare came to fruition when I was playing a game called Impossible Road, making it all the way to around the 40-50 level checkmark. At that time, the Galaxy S5 stuttered momentarily, sending my ball completely off course into the oblivion, with no chance to recover it. Is that experience something I want from a 2014 flagship? Absolutely not.
Should we blame TouchWiz for this outrage? With nothing else to directly point the finger at, we say yes. The reason most people would instantly blame Samsung's skin is that if you were running plain vanilla Android on this device, it would have the potential to fly. What's worse is that the Moto X, a device with specs from two years ago, appears to handle and perform with less hiccups and frustration. Could the performance somehow be tweaked in an update to the Galaxy S5 to allow it to perform better? Absolutely.
It's not all bad, though. When taking pictures with the Galaxy S5, I didn't seem to notice any lag, allowing me to snap shots and get all of the right moments with no problems.
In the end, I was asked by a reader that if I was forced to choose one device from 2014 to have for a full year, would it be the Galaxy S5? From my experience with the phone's performance alone, I can easily say there is no way I could handle these types of frustrations for any long period of time. Sorry to say, but once this review is up, I don't think I will ever touch the Galaxy S5 again as a daily driver. -T
Other Notes
---
Fingerprint scanner:  As mentioned above, the Galaxy S5 has a fingerprint scanner. It can be used to unlock your device, authorize Paypal payments on some versions, and login to your Samsung account. It is pretty limited in its current form, so there really isn't much to share about it. This really isn't a selling point of the phone or an area you should really care much about. I can't imagine many of you utilizing it often, especially since it can be rather finicky. To see it in action, check out our "how to" in the video section below.
Bloatware count:  I counted at least 19 pre-installed bloatware apps on the Verizon variant of the Galaxy S5, while Tim found at least 15 on the AT&T model.
Video
---
Unboxing and Quick  Tour
[responsive_vid vid_url="aCa5ef5SvxA"]
25+ Tips and Tricks
[responsive_vid vid_url="gyeJtzYNspM"]
5 Reasons the Camera is Better Than the HTC One (M8)'s
[responsive_vid vid_url="YrzycT8Ruyg"]
How to:  Setup the Fingerprint Scanner
[responsive_vid vid_url="YFXOOOpO-bc"]
Gallery
---
The Verdict
---
The Samsung Galaxy S5 is by all means a perfectly good smartphone. This isn't a major reinvention of the previous year's model, though. While the display is out-of-this-world good, the rest just sort of feels somewhat unremarkable. The camera is good, not ground-breaking. The water resistance is nice, but nothing new to phones. Battery life is acceptable, not DROID MAXX-like. TouchWiz's design has changed for the better, but still causes too much phone lag. And the whole phone design feels extremely dated and out-of-touch.
Look, the Galaxy S5 is a phone that will sell in the millions, we know that. Samsung knows that. They didn't do anything here to wrong their current or potential customers. Many of you will buy it, love it, and likely think that it is the greatest piece of technology ever built. You know what? There is nothing wrong with that. If you want to watch videos on a stunning display, take fabulous photos, and use a phone that is in an ecosystem that has clearly won the world over, by all means do it. Buy the Galaxy S5.
This just isn't the phone for me (or Tim it sounds like). I want more than just a beautiful display. I don't want all that bezel or size. I don't want a physical home button or TouchWiz's lag or all that bloatware. I would take the camera, but others have capable cameras. Where is that thing, that is trying to draw me in? Maybe there isn't supposed to be one? Or maybe it's coming in the rumored premium version of the Galaxy S5 later this year. Or maybe it will be here in the Galaxy S6.
---
Links:  Galaxy S5 deals at eBay | Amazon